In most communities in America, cars, trucks and streets dominate the environment where people live. Heavy traffic and aggressive drivers make many roads smelly, noisy, unsafe, and stressful. Most streets lack bike lanes. Public transit is inadequate. Many streets away from downtowns lack sidewalks.
Even in downtowns and along shopping streets, where there are usually sidewalks, the outdoor landscape tends to be dominated by parking lots, streets, and traffic. Some restaurants provide outdoor seating, but the dining experience is harmed if the seating is along a busy street or idling cars. Streets and roads are useful for getting to places, but few of them are places where one generally wants to spend time.
The proliferation of electric and low-emission cars will lessen some problems related to traffic, chiefly the pollution and the dirt. But a road that is now congested and stressful, with speeding drivers, will continue to be congested and stressful, even if the vehicles are electric-powered.
For too long, cars have dominated urban policy planning. Yes, some people will want to drive. But we need to accommodate the many people who prefer public transit, biking, or walking.
Even people who drive to a destination generally want to enjoy a walkable, car-free zone during their outings, especially while dining. Creating car-free zones is a great way to achieve this goal.
Bellevue's green city vision
The City of Bellevue has been holding public meetings, in person and online, in which it is inviting comments about the future of Bellevue. At Bellevue Deep Dives, city employees meet with residents to discuss plans for the future of housing, accessibility, and transportation in the city, especially in view of the coming of light rail. At one such Deep Dive, there was the following poster:
Bellevue has been declared a Walk Friendly Community, and many residents included "walkability" in their lists of what they desire for the city.
Parks are a respite from cars, but they are few and far between. Moreover, most parks lack restaurants, ample seating, and regular entertainment.
In accordance with the desirability of having places where people can walk, gather and and enjoy art and amenities, I examine, in this article, options for car-free zones in Bellevue.
Bellevue too can have car-free zones where people can walk, sit, eat, relax, dance, flirt, and listen to music.
Where to establish car-free zones in Bellevue
I spoke with Kevin McDonald, a principal planner in the Transportation Department of the City of Bellevue, asking him for guidance about where to have a car-free zone. He said that the best place would probably be near the 130th Street light rail stop, between Northup Way and Spring Boulevard, because that area is planned for restaurants and such, and because it is currently sparsely developed, with light industry and some green areas. You can get an idea of what it's like by looking at Google maps or at the photos towards the end of this article.
McDonald also pointed out that Old Bellevue (Main Street west of Bellevue Way) might also be suitable for a car-free zone, though it's further from a light rail stop, and though some store owners there, and some residents in adjacent areas, may oppose such a zone.
Some of the blocks in downtown Bellevue between Bellevue Way and I-405, north of Main Street and south of NE 4th Avenue, might work too. They're closer to the Downtown Bellevue light rail station, and they currently include many restaurants and shops. The area is ripe for redevelopment as light rail and the arrival of Amazon workers bring more prosperity and demand. I think, for example, of the block with H Mart, Office Depot, PetSmart, and Blazing Bagels. Currently it's dominated by an ugly parking lot (which could, perhaps be moved underground or eliminated entirely in favor of a car-free zone.)
This article, however, will concentrate on two locations:
Old Bellevue — which is already a dining and shopping district, with some on-street dining
130th St, which will be completely re-developed in the future
Proposal 1: Main Street in Old Bellevue
Already Old Bellevue is one of the most walkable, pleasant and upscale shopping streets in the city. The street is narrow, with trees in the median and trees and shrubs along the sidewalks. Traffic tends to move slowly. Several restaurants on the street have outdoor dining.
It is reminiscent of downtown Kirkland, near Marina Park and Heritage Park. That area too is walkable and has a vibrant night life, with shopping, dining, and bars. Below are some photos I took of Old Bellevue along Main Street.
Here's an example of outdoor dining on Main Street, with seating on the sidewalk:
This restaurant has seating along the curb, protected by (ugly) barriers:
I suggest making part of Main Street between Bellevue Way and 100th St NE car free, starting with one weekend a month, beginning some time in the spring or early summer. The ugly barriers could be removed during times when the street is car-free, and dining and other activities, such as music and dancing, could be allowed on the street.
The north-south streets 102nd Avenue NE and 103rd Avenue NE could also be car-free, up to NE 1st Street.
During our rainy season, outdoor dining probably wouldn't work so well, unless canopies or tents were installed to protect diners from the rain, as was done with the following restaurant in Old Bellevue: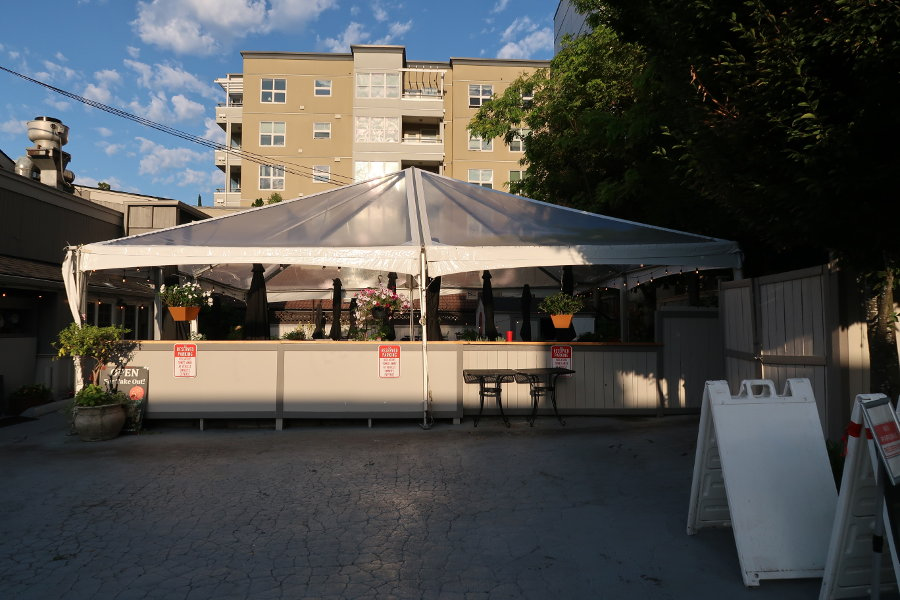 If the monthly car-free zone becomes popular, its frequency could be extended to every weekend and, eventually, to a permanent status.
Many restaurants and stores on Main Street are likely to thrive during times when the street is car-free. But some stores (for example, the rug store and the furniture store) may suffer, because customers would have to come back later or make other arrangements to obtain their purchases. Perhaps there could be exceptions to the car-free rule that would allow cars to enter the area for pickups and other special cases at certain times of the day. Or, maybe those stores could be encouraged to move to another location.
Emergency vehicles, of courses, would be able to enter the car-free zone and limited exceptions could be made for disabled and elderly people who are car-dependent.
Old Bellevue is five or six blocks from the future Downtown Bellevue light rail station. Parking is limited near Old Bellevue. There's plenty of parking at Bellevue Square, but that parking is meant for people who shop at Bellevue Square, and on weekends traffic and parking are difficult.
It is tempting to suggest creating a parking lot, perhaps underground, near the area. That may be necessary but it will encourage more driving. Already traffic tends to be heavy there on weekends and during rush hours. It's better to encourage public transit, biking, carpooling, and walking.
Main Street is a through street, and past 100th Avenue NE, it becomes Lake Washington Boulevard NE. However, during periods when the street is car-free, traffic could be diverted so that eastbound traffic on Lake Washington Blvd turns left at 100th Avenue and drives one block to NE 1st Street, next to Bellevue Downtown Park. Likewise, westbound traffic can enter turn off Bellevue Way onto NE 2nd Street, which merges into NE 1st Street. True, this diversion of traffic will be annoying for people living along that route, but the proposal is for the car-free zone to be only on certain weekends, at first, and the benefits are significant.
There are buses (e.g., Sound Transit route 550) that go along Bellevue Way, but more frequent buses and shuttles (e.g., from the Downtown light rail station) would make it easier for people to enjoy Old Bellevue, as well as Bellevue Square.
It's unclear how this proposal will mesh with Kemper Freeman's plans to develop hotels and other facilities near Bellevue Square, which is laid out in the following presentation: Beyond Retail: Developing a Destination.
Proposal 2: 130th Street between BelRed Road and Northup Way
Work has begun on designing the BelRed corridor, including the area near the light rail stop at 130th Street.
The Part 20.25D BelRed Amended section of the Bellevue Land Use Code (LUC) identifies five kinds of streets in the district:
Arterial (116th Avenue NE, 120th Avenue NE, 130th Avenue NE south of NE 15th/16th Street, 148th Avenue NE, 156th Avenue NE, Bellevue-Redmond Road east of 148th Avenue NE.);
Shopping (130th Avenue Shopping Street north of NE 15th/16th Street);
Green (generally located between stream corridors and trail connections);
Local, Bellevue-Redmond Road from 124th Ave NE to 148th Ave. NE., and transit boulevards.
So, the area near 130th Street is already planned for shopping. Currently, 130th Street between BelRed Road and Northup Way is nothing like the vision described in planning documents. As you'll see in the photos below, the area is light industrial or is undeveloped.
Since so much of the 130th Street area will be redeveloped, establishment of a car-free zone is a real possibility here, if the political will, citizen pressure, and commercial interest can be maintained. Wonderful things are possible in that area.
Because redevelopment of the 130th Street area is still in the early stages, it is difficult to envision concrete plans for making a car-free zone. I suggest, though, that completely eliminating non-essential vehicular traffic from the area north of the Bel-Red light rail station for one or two blocks would be a feasible option. Public art, a public plaza, and paths to parks and green zones would enhance the experience.
Additional background on car-free zones
Next I'll share some background information on the topic, first exploring if shopping malls qualify as car-free zones, then looking at how car-free zones have been developed in various cities.
Are shopping malls car-free zones?
Shopping malls provide a car-free zone, surrounded by parking. Depending on the the details, shopping malls may be walkable, pleasant places to hang out, dine, and shop.
Or shopping malls may be horrible, soulless strip malls, or cookie-cutter indoor malls surrounded by ugly parking lots.
Some Bellevue malls are thriving (e.g., Bellevue Square and Crossroads Mall). Others are struggling (e.g., Factoria Mall, where about half of the stores are empty, including the large building occupied until recently by Walmart).
Some malls are outdoors (e.g., Redmond Town Center, and numerous strip malls). Others are indoors (e.g., Bellevue Square and Factoria Mall).
Crossroads Mall is unusual in that it is a mixture of outdoor stores and an indoor area. Its indoor area has a large food court, with ample seating, as well as a performance stage, tables for chess and other activities, various shops, and even a branch of the King County Library system.
The shopping complex consisting of Bellevue Square, Bellevue Plaza, Lincoln Square and surrounding shops is high end and is thriving. It provides some indoor seating and several food courts. It includes bowling, bars, hotels, and movie theaters.
Shopping malls may be car-free zones inside, but typically their parking lots are crowded, and traffic is heavy getting to and from the malls. This is certainly true for Bellevue Square.
When enclosed shopping malls first became popular in the United States, they were lauded as being a new way to bring community and public spaces to the suburbs. Unfortunately, malls have generally not lived up to their promise. Malls are too often soulless and bland. The same franchises have stores in most malls. Rare is the mall with an excellent restaurant. (Perhaps that's because the shoppers are a captive audience, and there is little incentive to make a high quality restaurant.) In recent years, many malls have closed down.
However, with good planning, and with good public transportation options, malls can be viable car-free zones.
What some cities have done with car-free zones
During the Covid-19 lockdown, many cities experimented with car-free zones, restricting cars to local traffic only. This was tried in Bellevue in 2020 where "[r]esidential streets in four neighborhoods were temporarily closed to non-local motor vehicle traffic to provide more room for people to safely move while physical distancing during COVID-19." While a Healthy Street pilot was concluded early in Newport Hills due to resident complains, the pilots in three other neighborhoods received positive or mixed reviews. Seattle also had a similar program, Stay Healthy Streets/Keep Moving Streets, which has resulted in some streets remaining permanently open to pedestrians and cyclists.
A Wikipedia article on Pedestrian Zones has more such images and information. It says that pedestrian zones in Japan are called hokōsha tengoku (歩行者天国, literally "pedestrian heaven"). Also, in Japan many train and subway stations have attached shopping areas, often with multiple floors of locally owned shops. Closer to home, Seattle's Westlake Center is similar in its setup. Also, Seattle Center is an example of a car-free zone with museums, public spaces, and a food court. Likewise, Pike Place Market extends over seven acres and has scores of shops and outside dining spots. According to Wikipedia, Pike Place Market is the "33rd most visited tourist attraction in the world, with more than 10 million annual visitors."
The New York Times has an article about car-free zones in New York City: How New York City Lost 63 Miles of Pedestrian-Friendly 'Open Streets'. The program, which was made permanent last year, gave New Yorkers more public spaces, but is retreating in many areas. Community advocates hope to stop that slide. The article contains links to articles about similar initiatives in other cities.
Additionally, another Wikipedia article on car-free cities provides information on more ambitious plans to reduce cars in cities. I will quote this article in some detail because it illustrates the range of options available:
Barcelona

As part of the city council's 2014 Urban Mobility Plan, Barcelona, Spain, has implemented nine city block wide pedestrian-only spaces, known as "superblocks". The perimeters of these blocks remain open to all cars and city buses, while the interior only allows local traffic that must travel under 10 mph. The city's government cites several aims for this plan, including more sustainable mobility and a revitalization of public spaces. The COVID-19 pandemic gave birth to proposals for radical change in the organisation of Barcelona, such as the Manifesto for the Reorganisation of the City after COVID19, published in Barcelona and signed by 160 academics and 300 architects, being the elimination of the car one of the key elements.

Car-Free Cities, WIkipedia, 2022
Nuremberg

Since the 1970s, Nuremberg, Germany, has closed major traffic corridors in phases, amounting to a largely carfree city center. In 1988, the city closed the last through-way through the center of the city on a trial basis. With a year, this transformation reduced overall traffic flow by 25% and increased air quality significantly. The removal of cars from the city center was accompanied with the renovation of buildings and installation of new art pieces, producing an appealing pedestrian precinct.

Car-Free Cities, WIkipedia, 2022
Ghent

In Ghent, Belgium, a circulation plan has been initiated and now the entire city heart (35 hectares) is partially carfree. Sections exist where cars can drive as well as sections that are car-free. In some sections, public transport, taxis and permit holders may enter but they may not exceed 20 km/h. A parking route exists around the city center, employing a parking guidance system to ensure access to all parts of the city and underground parking garages.The transition to carfree has significantly reduced traffic congestion and increased the use of other modes of transport, such as bikes and public transportation.

Car-Free Cities, WIkipedia, 2022
Notice that being car-free isn't an all-or-nothing matter. Some car-free zones are only relatively car-free. They allow local traffic and restrict traffic speeds. Streets with narrow lanes, turnabouts, speed bumps and other traffic-calming measures also make cities more car-free.
This summer I went for vacation to Lake Pend Oreille in Idaho. While there, I visited the nearby town of Sandpoint, where they had a Saturday market downtown in a park-like setting. It was the most pleasant part of my trip. There were dozens of vendors selling foods, accessories, clothes and crafts. Families, kids, and lovers milled around in the shade of trees, while listening to a band playing folk, jazz, and dixieland music. Many people sat on rocks or on benches. Everyone seemed happy. Life was good. I recall a little child with a big smile on her face and I figured she must have been feeling blessed to be living in such a wonderful world with a supportive community.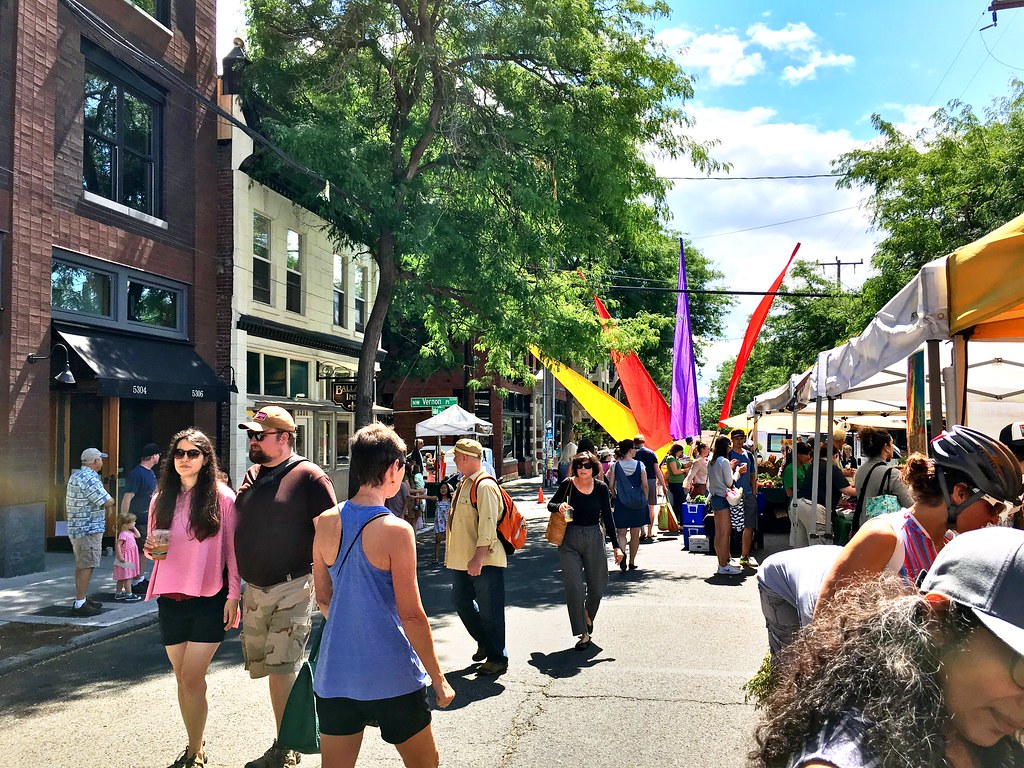 Eugene, Oregon has similar weekend markets, with a more hippy ambience, and in Seattle, the Ballard Farmer's Market transforms Ballard Avenue NW into a pedestrian street on Sundays throughout the entire year.
Unfortunately, while there are farmer's markets in Bellevue, they tend to be pricey and inconveniently located, with no place to sit and with no music.
Final words
Of course, it's easier and cheaper to let the developers and business interests decide how the city develops. That is likely lead to strip malls; car-oriented development; little public art; ugly, utilitarian buildings; unpleasant outdoor dining, and few green areas.
Public spaces can cost some money to build, but developers can be forced to accommodate such spaces if the city council makes rules to that effect. Moreover, public places will make the city much more pleasant to live in, work in, and visit. Unfortunately, developers and business interests have oversized influence on city council elections and policy, as discussed in my article on WA Liberals, Changes are coming to Bellevue. Who will control them? Who will benefit?
But it's not even clear that a car-free zone would cost much money, if it's established in an area such as Old Bellevue. The city would just have to close off the street to traffic and invite stores, restaurants, and vendors to set up shop on the street.
With the rise of online shopping, it's possible that traditional retail will continue to deteriorate. Perhaps it's time for the citizens to fund and subsidize public shopping, dining and entertainment infrastructure. (For comparison, think about public utility districts and state banks, such as the one in North Dakota). Public-private partnerships can allow everyone to win.
It's possible to make Bellevue more people-oriented, not car-oriented. Many cities have done this already. The aim is to restore some balance and make Bellevue a fun place to live and work.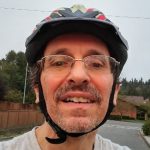 Donald Smith (Guest Contributor)