Welcome to December 2022 Edition
Now that the carnage of Budget Season has passed, we can move to more pressing concerns. Comprehensive plan meetings! Also, make sure you sign up for any and all of The Urbanist's upcoming events, including our talk with Futurewise, a meetup with Tiffani McCoy, and Urbanist Book Club discussion with Alexandra Lange. And don't forget to hear our discussion on The Urbanist Podcast and pick up her book Meet Me by the Fountain, An Inside History of the Mall.
Important Comprehensive Plan Meetings
The Seattle Office of Planning and Community Development (OPCD) is hosting a series of community meetings for the Comprehensive Plan Update it is working on for 2024. See our primer for the latest information about the plan and check out our talk with Planning Commission member Matt Hutchins for a lot more depth. Futurewise also has a guide for what to expect and prepare for those meetings. Here's the schedule of the remaining four community meetings OPCD has planned throughout Seattle this winter. The agency is also accepting comment online.
Thursday, December 1 – 6:00-8:00pm:
Langston Hughes Performing Arts Institute
104 17th Ave S, Seattle, WA 98144
Metro Bus: 8 and 27
Thursday, December 8 – 6:00-8:00pm:
South Seattle College, Brockey Center
6000 16th Ave SW, Seattle, WA 98106
Metro Bus: 125 and 128
Monday, December 12 – 6:00-8:00pm:
Loyal Heights Community Center
2101 NW 77th St, Seattle, WA 98117
Metro Bus: D Line and 40
Tuesday, January 10 – 6:00-8:00pm:
Meadowbrook Community Center
10517 35th Ave NE, Seattle, WA 98125
Metro Bus: 65
The Urbanist Event Signups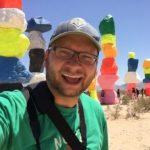 Ray Dubicki is a stay-at-home dad and parent-on-call for taking care of general school and neighborhood tasks around Ballard. This lets him see how urbanism works (or doesn't) during the hours most people are locked in their office. He is an attorney and urbanist by training, with soup-to-nuts planning experience from code enforcement to university development to writing zoning ordinances. He enjoys using PowerPoint, but only because it's no longer a weekly obligation.