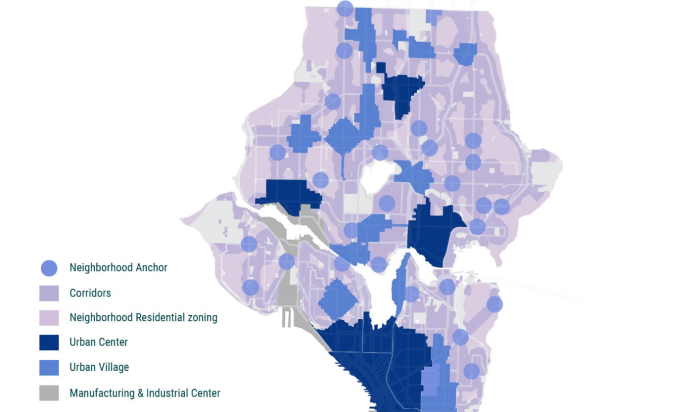 The Seattle Office of Planning and Community Development (OPCD) cleared another hurdle in crafting its growth plan for the next 20 years with a scoping report published today. The report summarizes comments and lays out the Comphensive Plan alternatives that OPCD is studying in greater detail. It also keeps the five alternatives that the department had floated, which The Urbanist broke down in June, but more clearly defined each option. OPCD has bumped up housing density slightly in each case, making the combined Alternative 5 more robust, in particular.
However, the bolder Alternative 6 advocates requested did not make it into OPCD's plans. A Share The Cities-led coalition of housing advocates (including The Urbanist) argued for a more aggressive option to address housing inequities, better moderate housing prices and provide more affordable housing types, and shift more intense growth to areas with low displacement risk. Tech 4 Housing organizer Naishin Fu helped bring that coalition together.
"We are glad to see that many suggestions made by a coalition of organizations, including Tech 4 Housing, were incorporated into the revised alternatives," Fu said in an email. "Yet, we are disappointed that there is no alternative that allows even more density everywhere, with a vision of creating more space for parks, trees, pedestrians, and bikers, and to prevent displacement in an equitable way. Community members engaging in the process thus far have spoken loudly and clearly that this is what they want."
OPCD announced a series of listening sessions starting on November 14 at New Holly Gathering Hall in order to gather more feedback on the Comprehensive Plan.
Existing Urban Village framework largely untouched
Instead, Seattle's "urban village" framework — in which most growth is concentrated in the roughly 30 urban villages and urban centers designated in 1994 — remains in all of the alternatives, but the spaces between the villages is filled in to varying degrees. OPCD proposes adding one urban village in North Seattle centered around the N 130th Street light rail station, which is set to open in 2026, shortly after Lynnwood Link opens in 2024.
Alternative 1 is the no-change alternative that keeps existing land use patterns in order to provide a baseline for the study, which will project the bare minimum growth to conceivably meet obligations under the state Growth Management Act and the regional Vision 2050 in this option. The remaining alternatives study higher levels of growth.
In the "Focused" Alternative 2, neighborhood "anchors" are carved out of existing business districts and patches of multifamily in between a sea of "Neighborhood Residential" (née single-family) zones. The "Broad" Alternative 3 diffuses lower-intensity changes ranging up to sixplexes "on larger lots" throughout the Neighborhood Residential zones. OPCD's new map for a transit-corridor-focused Alternative 4 shows a broader swath of zoning changes around major transit corridors, "ranging from duplexes, triplexes, and fourplexes to five-story apartments." OPCD notes the study would look at corridor-style changes on about half of Neighborhood Residential zones. The "Combined" Alternative 5, meanwhile, stacks all the aforementioned broad, anchor-focused, and transit corridors approaches together. We'll break the alternatives down in greater detail below.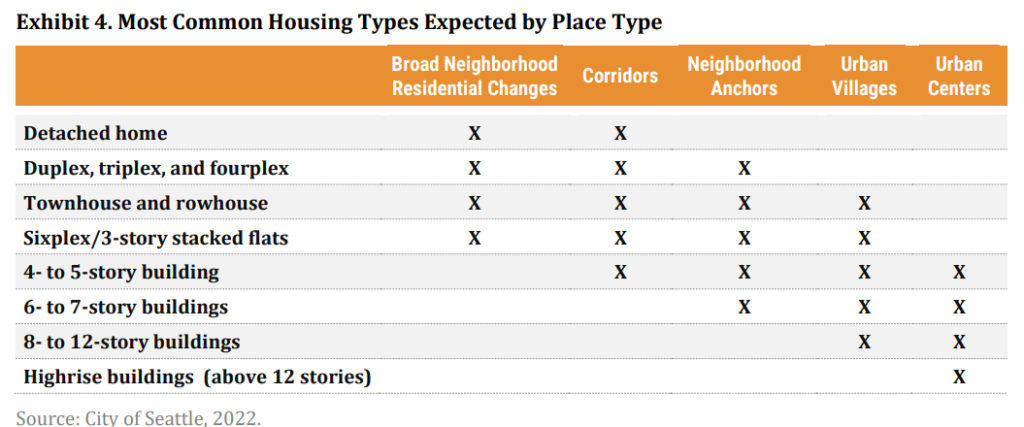 Additionally, the study will look at expanding the boundaries of some of the most anemic urban villages (Admiral, Greenwood–Phinney Ridge, Morgan Junction, and Upper Queen Anne) and urban village expansions near future light rail stations when service comes to Uptown, West Seattle Junction at Avalon, Othello at Graham Street in 2031.
In Alternative 5, OPCD also considers designating Ballard an "Urban Center" in anticipation of Ballard Link light rail arriving in the 2030s. This would make it easier to add highrise zoning in Ballard in the future, but OPCD doesn't anticipate adding highrise zoning in Ballard or expanding the borders in the 2024 update, staff said.
The study that OPCD has sketched out generally doesn't look at increasing density within the borders of the existing urban villages, but there are some exceptions. In order to ensure eligibility for local transportation grants, Alternative 5 would study higher levels of growth in six urban centers and villages, including Northgate, Crown Hill, Othello, Rainier Beach, South Park, and Westwood-Highland Park. That would give the City the option to include those zoning changes if it is deemed worthwhile, whether for grant-qualifying reasons or otherwise.
Affordability and anti-displacement measures
OPCD is still grappling with whether Mandatory Housing Affordability (MHA) requirements would apply in the newly upzoned areas. Generally, MHA will apply under existing law if the density increase is significant enough to trigger it, OPCD staff said. As such, this might leave a gray area that could be excluded for Neighborhood Residential zones (where adding two accessory dwelling units are already possible on many lots) becoming fourplex zones. But it's hard to see any grounds to exclude areas upzoned to allow four- or five-story apartment buildings.
Beyond MHA, the City will look at affordable housing incentives similar to what Portland deployed with its Residential In-Fill Project, which passed in 2020, phasing out single-family zoning in the city. "The City will also study potential height, floor area, or density bonuses for affordable housing projects," OPCD noted in the "Broad" Alternative 3 section of the report. OPCD acting director Rico Quirindongo said the City was studying a suite of other anti-displacement strategies, too. The report mentions "funding nonprofit groups to purchase property to support community stabilization" and "updating tenant relocation assistance requirements."
How much growth?
For official study purposes, Alternatives 2, 3, and 4 will study the implications of adding 100,000 new housing units by 2044, but Alternative 5 would study adding 120,000 new housing units. On an annual basis, that works out to an average of 5,000 net new units per year in those three scenarios or 6,000 per year in Alternative 5, which is a slower pace of growth than Seattle has experienced in recent years. On average, Seattle has built about 8,000 new housing units per year since 2015.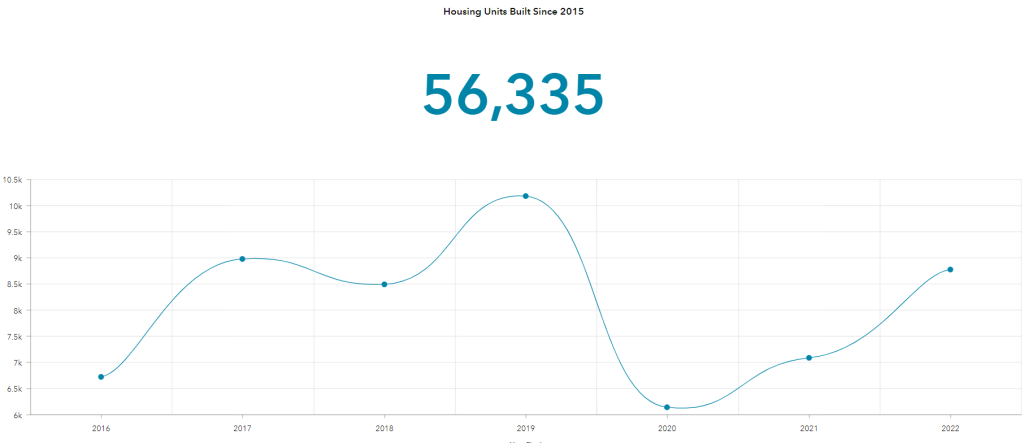 However, OPCD staff said those study parameters are just used to model changes rather than act as upper limits or targets. They said they could see more growth exceeding those benchmarks, particularly if something similar to the Amazon boom of the past decade happens again.
Maybe the next two decades won't see any growth drivers as dramatic as the Amazon boom, but it also seems quite possible Seattle's population could continue to boom, whether driven by a strong, diversified tech sector or biomedical research or some new innovation we haven't even dreamed up yet. Plus, Seattle has a mild climate and could continue to be attractive to refugees of the climate crisis elsewhere and California's never-ending housing crisis that somehow makes our housing market seem cheap in comparison. Plus, locally more Puget Sound residents might chose to live in Seattle if more housing options existed in the city, both in terms of affordability and quality.
Alternative 1 – No Change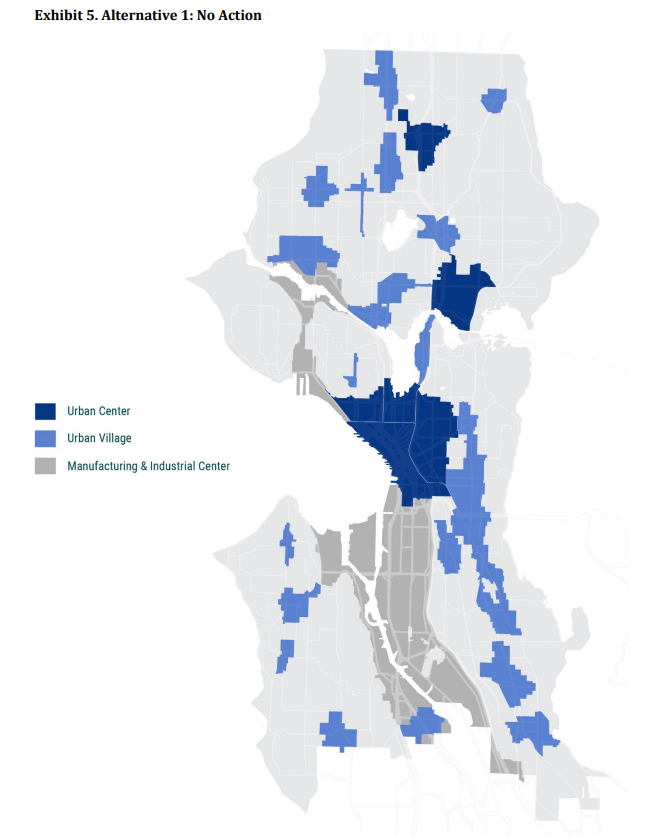 Alternative 1 is a baseline no-action alternative required by law. The study would model 80,000 new units over the 20-year horizon. Growth would continue to be funneled overwhelmingly to urban centers and villages, with little alternative.
Alternative 2 – Focused
No Seattle doesn't have measles; those blue dots represents "neighborhood anchors," where OPCD would focus midrise and lowrise zoning around existing business districts and nodes that fall outside existing urban villages. The study would look at eight anchors in West Seattle, four in Southeast Seattle, five sprinkled just north or east of Capitol Hill, three in Magnolia, one along Nickerson Street, and about 20 spread across North Seattle. That's 41 in all, by our count.
"Each potential neighborhood anchor is shown as a circle of 1,000-foot radius (about three to four blocks), trimmed where necessary to prevent overlap with any industrial zoning or other growth areas," OPDC wrote. "Neighborhood anchors could contain a mix of residential and mixed-use development from townhouses to five- to seven-story apartments and mixed-use buildings. The neighborhood anchors within the 130th and 145th Street station areas are shown with more detailed specific boundaries due to previous neighborhood planning work in that area."
Some neighborhood anchors of interest include Madison Park, Madison Park, Madrona, Laurelhurst, Upper Fremont, South Wallingford, Tangletown, Loyal Heights, North Greenwood, Wedgwood, Bryant, Seward Park, Alki, Georgetown, and Roxhill. OPCD said this option would help achieve the city's 15-minute neighborhood dreams of residents being able to meet most of their needs within a 15-minute walk of home. But there remains some doubt whether little 70-acre "anchor" zones dropped in these neighborhoods would be enough to achieve that transformation.
Alternative 3 – Broad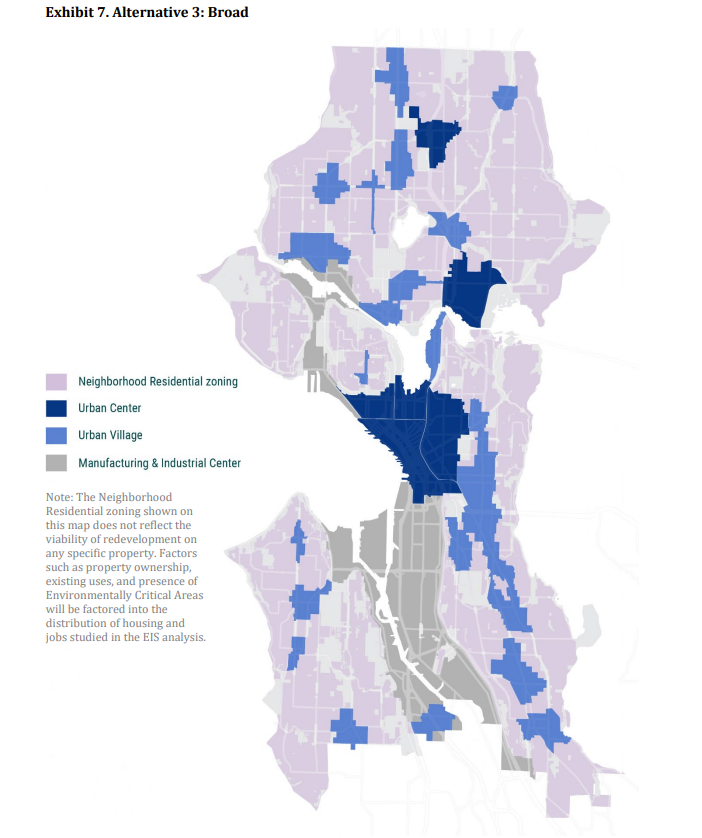 Broad Alternative 3 is focused on missing middle housing types and homeownership opportunities in Neighborhood Residential zones.
"This alternative will study allowing detached and attached homes in all Neighborhood Residential areas, including duplexes, triplexes, and fourplexes as well as stacked flats including sixplexes on larger lots," OPCD writes. "Market-rate development in these areas will continue to have a three-story height limit, consistent with current rules in Neighborhood Residential zones. The City will also study potential height, floor area, or density bonuses for affordable housing projects."
Alternative 4 – Corridors
Alternative 4 doesn't tackle rezoning all Neighborhood Residential zones, but it does look at making changes to about half that are on transit corridors or near major parks. "Within corridors, this alternative would allow housing ranging from duplexes, triplexes, and fourplexes to five-story apartments," the agency wrote. As shown in the map above, OPCD is studying a fairly broad swath around frequent transit service.
"The corridors studied in this alternative are defined as areas within a 10-minute walk from a light rail station and a 5-minute walk from frequent bus transit service and entrances to large parks," OPDC wrote. "Frequent bus transit meets the City's existing definition of at least four trips per hour between 6 a.m. and 7 p.m. and twice hourly in other timeframes on weekdays and weekends. Large parks include large multi-block parks designated as Tier 1, 2, or 3 though the City's Outside Citywide initiative. Under this approach, corridors include about 50% of areas currently zoned Neighborhood Residential, excluding parks. Within corridors, this alternative would allow housing ranging from duplexes, triplexes, and fourplexes to five-story apartments. These corridors also include some areas already zoned for multifamily and commercial development that could also have changes in height."
In scoping comments, OPCD noted it heard criticism that this option forced too much growth on busy, polluted thoroughfares, and they broadened out the zoning changes to include areas on quieter streets.
"We received comments on the importance of encouraging housing near transit, shops, and services without focusing it primarily on the busy streets where these amenities are located," the agency wrote. "Consequently, this alternative would tend to focus growth in locations that are just off busy streets in existing Neighborhood Residential zones. However, this alternative would still study some additional residential growth on lots located directly on busy streets."
Alternative 5 – Combined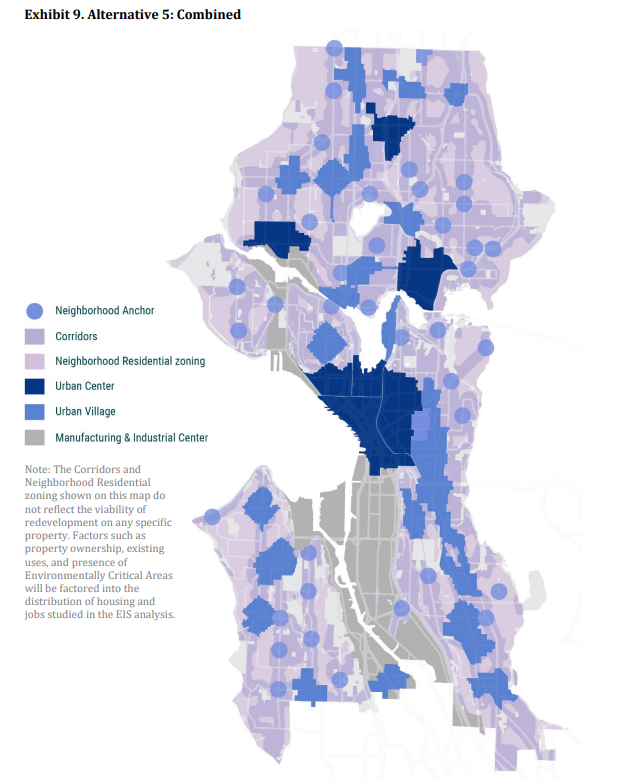 Alternative 5 stacks the three previous approaches on top of one another. The result could be a considerable makeover of zoning outside existing urban villages. Higher density anchors and linked by medium-density corridors all on the backdrop of making Neighborhood Residential a fourplex and sixplex zone. Plus, the four aforementioned urban village expansions, six upzones within existing urban villages, and a new urban village added around 130th Street Station are included in this alternative.
It should make for an interesting study, but it's also hard to communicate given the complexity of changes. And does such an approach have the political support to become a reality? Time will tell.
Make your voice heard
To gather feedback on the updated plan, OCPD will also be hosting in-person community meetings at five locations throughout Seattle and accepting comment online.
Monday, November 14 – 6:00-8:00pm:
New Holly Gathering Hall
7054 32nd Ave S, Seattle, WA 98118
Light Rail: 1 Line
Metro Bus: 36
Thursday, December 1 – 6:00-8:00pm:
Langston Hughes Performing Arts Institute
104 17th Ave S, Seattle, WA 98144
Metro Bus: 8 and 27
Thursday, December 8 – 6:00-8:00pm:
South Seattle College, Brockey Center
6000 16th Ave SW, Seattle, WA 98106
Metro Bus: 125 and 128
Monday, December 12 – 6:00-8:00pm:
Loyal Heights Community Center
2101 NW 77th St, Seattle, WA 98117
Metro Bus: D Line and 40
Tuesday, January 10 – 6:00-8:00 pm:
Meadowbrook Community Center
10517 35th Ave NE, Seattle, WA 98125
Metro Bus: 65
OPCD will provide translated materials. To request an interpreter at one of these meetings, contact Aja Hazelhoff: aja.hazelhoff@seattle.gov.
Correction: Originally this article stated that the Ballard Urban Center upgrade would entail expanded borders, but that would not happen with the 2024 update. Such a move would happen under a future zoning process, per the existing plan, OPCD clarified. Apologies for the confusion.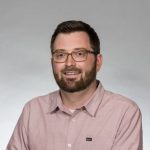 Doug Trumm is publisher of The Urbanist. An Urbanist writer since 2015, he dreams of pedestrianizing streets, blanketing the city in bus lanes, and unleashing a mass timber building spree to end the affordable housing shortage and avert our coming climate catastrophe. He graduated from the Evans School of Public Policy and Governance at the University of Washington in 2019. He lives in East Fremont and loves to explore the city on his bike.