It's becoming increasingly difficult to remember, but prior to the onset of the Covid pandemic, street cafés, sometimes called streateries, were few and far between in most American cities. Now this outdoor dining option has become a fixture in many places, including in Puget Sound, where the City of Seattle recently passed legislation making expanded dining outdoor opportunities permanent, amid what Urbanist reporter Ray Dubicki described as an end-of-the-year land use policy smorgasbord.
With the boost from pandemic-era legislation, street cafés have become a fixture in a variety of locations across Seattle, such as a popular stretch along Ballard Avenue.
Beyond the Emerald City, a growing number of municipalities are also working to establish programs to make it easier for businesses to activate sidewalks and parking spaces with outdoor dining. The Urbanist checked in with a few to learn more about the current status and future of street cafés in their jurisdictions.
Bellevue
Similar to Seattle, Bellevue began an expanded outdoor dining pilot, dubbed Al Fresco Dining, during the pandemic, although it applied only to certain areas of Downtown Bellevue, notably pedestrian-friendly Main Street.
The pilot was very popular. A survey found that 80% of respondents said that outdoor dining areas made them more likely to visit Main Street in the future, and about 70% were satisfied with curbside dining areas (e.g. streateries), while 75% were satisfied with sidewalk cafés.
The survey also found that while inclement weather during summer of 2021 negatively impacted restaurants' financial performance as a whole in Bellevue, restaurants with sidewalk café seating or curbside dining generally still outperformed their pre-pandemic revenue.
As a result, the City of Bellevue has extended the Alfresco Dining pilot into 2023; although, communications officer Michelle DeGrand said "specific program details are still being worked out."
Support for the pilot came from Microsoft, which provided sponsorship for the Main Street dining area by paying for traffic control, ramps, and other elements. The Bellevue Downtown Association (BDA) provided technical assistance with restaurants' permit application and general marketing support and coordination for the program.
During warmer months, the BDA identified 40 plus businesses across Bellevue with outdoor dining, the majority of which were located in Downtown, although only five businesses created streateries on Main Street.
During the pandemic the City of Bellevue waived the lease fee for using city sidewalk space, although the annual fee of about $2 per square foot, may be returned in 2023. Participating businesses in Bellevue also pay application and review fees of $325 and inspection fees of $217 per hour.
It seems likely that street cafés and sidewalk cafés have a future in Bellevue given their popularity — even if it means losing some parking spaces.
"While some [survey respondents] expressed concerns about parking, a strong majority of respondents indicated they were willing to sacrifice some on-street parking for outdoor dining space and a more active street life," DeGrand said.
Everett
Support for outdoor dining is not new to Everett.
"We always had a café seating program that's free," said Tyler Chism, who is the City of Everett's placemaking manager.
Everett has always been open to street cafés, in part because its large downtown and abundant parking have dampened potential controversy over loss of parking spaces, Chism said.
"We try to be good hosts for anybody — whether it's a resident or business owner – that provides quality of life amenities for tourists or residents," Chism added. "And we try to make it as easy as possible for creative uses of right of way."
But openness to these creative uses has not translated into widespread adoption of street cafés — at least not yet. While it was possible to receive support from the City to create street and sidewalk cafés, many restaurant owners opted to use city funded Everett Forward grants to instead cover operational expenses like rent, payroll, updating takeout programs, and website improvements.
"Ultimately we wanted to support our downtown retailers and restaurants and that meant letting them use funding for expenses that were more useful and appreciated than streateries," Chism said.
Still Everett did support the street cafés that opened by paying for fencing and road safety items during the beginning of the pandemic.
While these pandemic streateries have since downscaled to sidewalk cafés, Everett envisions they will be back and the City is taking strides to facilitate this return by creating a more formalized outdoor seating program that would include pre-approved streatery designs, which Chism described as "off the shelf," and lists of resources for businesses.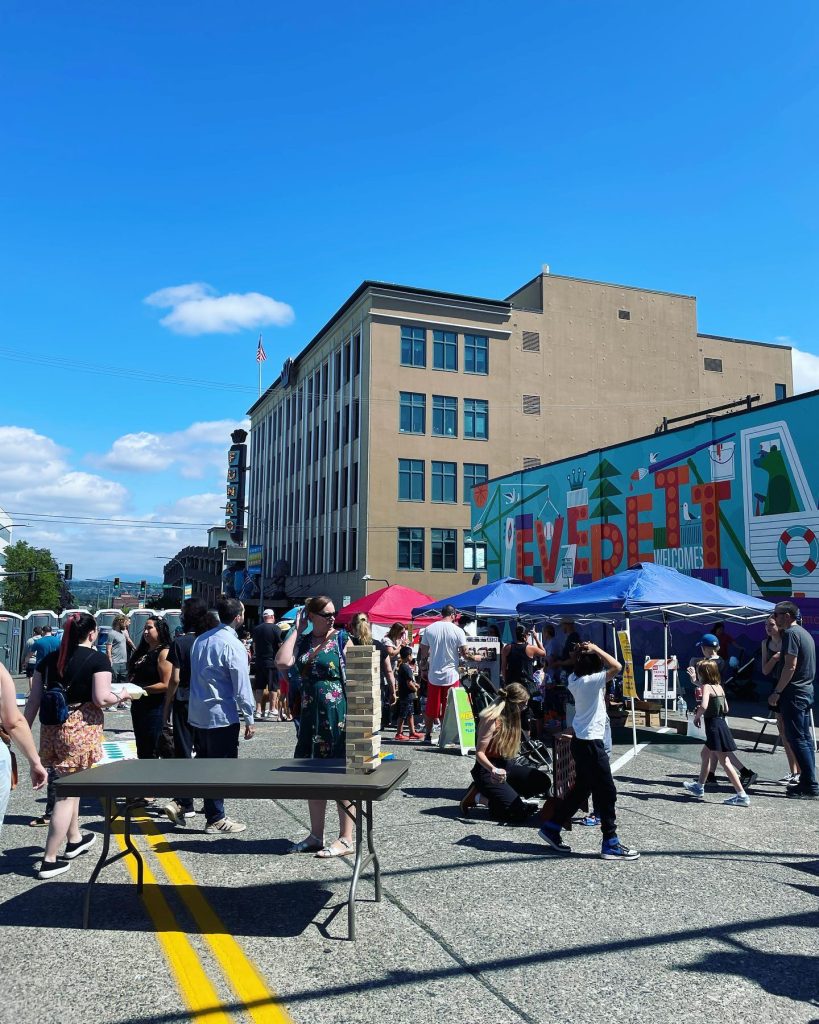 Downtown Everett took a hit during the pandemic, but the City hopes that placemaking efforts, like making it easy and affordable to hold special events, changing city code to allow for downtown food trucks, and supporting the creation of murals by matching interested businesses with local artists, will help the neighborhood to grow.
"We want to make it easy for residents who want to shut down the streets to do cool things," Chism said. "This isn't the Downtown Everett your grandpa would remember."
Tacoma
During the pandemic, the City of Tacoma began a Curbside Cafe and Marketplace program that has since become permanent.
"The City's goal is to find ways to partner with our businesses to bring vibrancy to our community and enhance the livability of Tacoma for residents, people who work here and for visitors. The Curbside Café and Market Place Program is an example of this partnership," said Megan Snow, communication specialist for the City of Tacoma.
Downtown businesses like Wooden City, The Mix, and Dystopian State Brewing have used street cafés to expand their business presence and dining options. According to the City of Tacoma, about 16 businesses have received permits through the Curbside Café and Marketplace program. The permits are technically temporary, but they can be regularly renewed. "The temporary status is so that the City can be responsive to sidewalk and infrastructure needs or concerns," Snow said.
Additionally, any site plans for street cafés must be reviewed and approved in advance by the City of Tacoma. Similar to Everett, Tacoma has reduced costs to businesses by waiving application fees, street use fees, and the cost of on-street parking.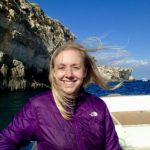 Natalie Bicknell Argerious (she/her) is a reporter and podcast host at The Urbanist. She previously served as managing editor. A passionate urban explorer since childhood, she loves learning how to make cities more inclusive, vibrant, and environmentally resilient. You can often find her wandering around Seattle's Central District and Capitol Hill with her dogs and cat. Email her at natalie [at] theurbanist [dot] org.