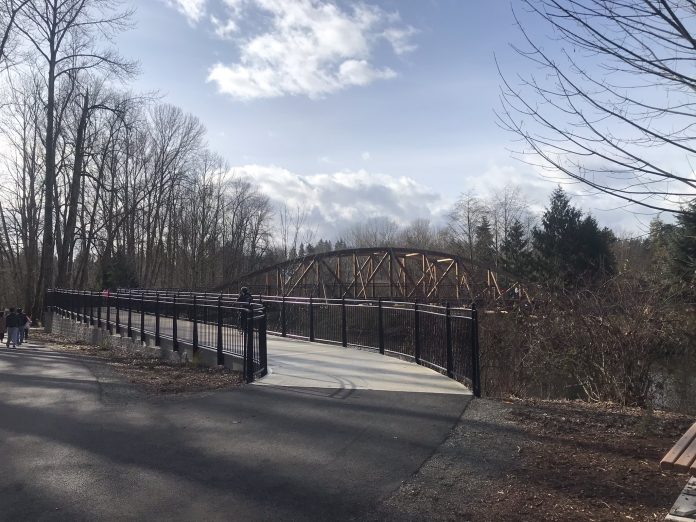 The City of Bothell is poised to adopt an update to its citywide bike plan, providing itself a literal road map for the city of just under 50,000 people to be able to revamp its city streets to become safer and more accessible for people riding bikes. The newest version of the plan, released late last year and presented to the Bothell City Council earlier this month, aims to create bike facilities for people who aren't comfortable biking on city streets, providing a huge opportunity to connect riders to the regional trail connections that exist in Bothell. Bothell is at the end of both the Burke-Gilman Trail to Seattle and the Sammamish River Trail to Redmond.
The newest draft of the plan seems to represent a big improvement over a previous version of the plan, drawing unanimous praise from the members of the city council. As the plan was being developed over 2022, voices inside Bothell, including some members of the planning commission, expressed disappointment that the plan seemed to assume the goal of creating a separated bike network was not going to be achievable any time soon and focused its resources on minimal improvements that wouldn't really change the game, like adding shared lane markings to general traffic lanes.
"I would think the thing that's going to get people on bikes is protecting them from vehicles," Cary Westerbeck, a member of the planning commission, said during a meeting reviewing a previous draft of the plan last year. "I think it'd be better to have one or two really key, point A to point B, downtown to Canyon Park and east-west routes that are almost completely protected…before we sort of scatter a little bit everywhere like fairy dust."
It looks like Bothell city staff took that advice to heart in retooling the draft plan. The new plan focuses on those separated routes connecting the city's neighborhoods, laying out several near-term projects that are set to complete segments of that network.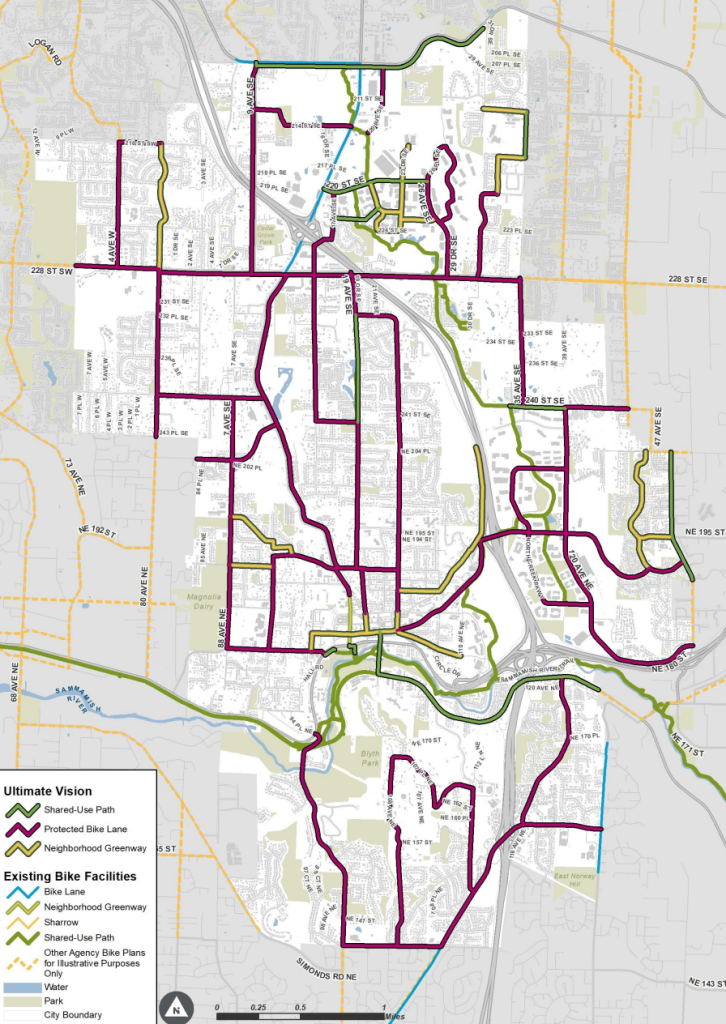 "The goal is to provide a bike network that will be used by the majority of users — those in the casual and less confident category — and is equitable," the introduction to the plan states. "For Bothell, this means making biking available to people who aren't comfortable riding a bicycle, as well as people of all ages, races, ethnicities, physical abilities, and economic backgrounds."
With the plan, the city hopes it can become more competitive for regional, state, and federal grants, some of which require the city to have adopted official plans for bike facilities. "I'm super pumped to go ask people for money for stuff," Bothell Mayor Mason Thompson said this month.
"This bike plan is a good start to the development of our bike infrastructure for Bothell. It can be funded and implemented, but the plan is a living document and will be updated to accommodate changing conditions and lessons learned as we go, as well as [to] address non-infrastructure elements of a bike system, such as wayfinding, education maintenance and bike storage," Steve Morikawa, Bothell's director of capital projects, told the city council.
At the center of the city's proposed bike network expansion is Bothell Way NE, a former segment of SR 527 that was transferred to the city of Bothell and decommissioned as a state highway south of I-405 in 2011. Last year, Bothell received a $19 million federal grant that will help to fund a $63 million overhaul of a 1.3-mile segment of the street starting close to downtown Bothell and extending to the north, though not all the way to 228th Avenue as the bike plan lays out. The new segment will include bike lanes on either side of the street, and will be widening the street to add an additional traffic lane in each direction, though those new lanes aren't planned as transit-only as the city's documents (below) suggest.

It remains to be seen how much appetite there will be in Bothell to create bike facilities on streets that it isn't also widening at the same time. In addition to Bothell Way NE, the plan cites planned bike lanes on 228th Avenue SE, which the city is currently in the process of widening from three to four lanes, as one of the near-term projects that get the city closer to its planned bike network. Adding protected bike lanes on streets where there is plenty of room to repurpose a car lane might prove technically easy but politically more challenging.
Bothell's update to its bike plan joins other new multimodal plans on the Eastside, including a new update to the active transportation plan in Kirkland, Bothell's neighbor to the south. After adopting the update to their plans, the Kirkland City Council then acted on them by approving a new $20 vehicle license fee, starting in 2024, that will be entirely dedicated to walking and biking improvements. Like the previous version of Bothell's bike plan, though, advocates in Kirkland have noted how much the project list to improve bike facilities relies on paint on the road rather than separating bike routes to create facilities people are comfortable using.
Bothell has already established a transportation benefit district, a first step in adopting a vehicle license fee that could fund transportation improvements like the more-rapid expansion of the city bike plan, but no elected officials in the city have yet signaled an intention of actually adopting that fee. For now, taking the step of adopting the plan and outlining what the long-term vision is represents a step forward over painting sharrows on a traffic lane and calling that a win.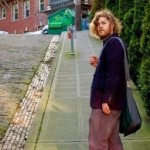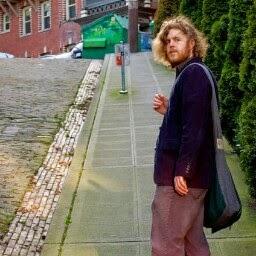 Ryan Packer lives in the Summit Slope neighborhood of Capitol Hill and has been writing for the The Urbanist since 2015. They report on multimodal transportation issues, #VisionZero, preservation, and local politics. They believe in using Seattle's history to help attain the vibrant, diverse city that we all wish to inhabit. Ryan's writing has appeared in Capitol Hill Seattle Blog, Bike Portland, and Seattle Bike Blog, where they also did a four-month stint as temporary editor.