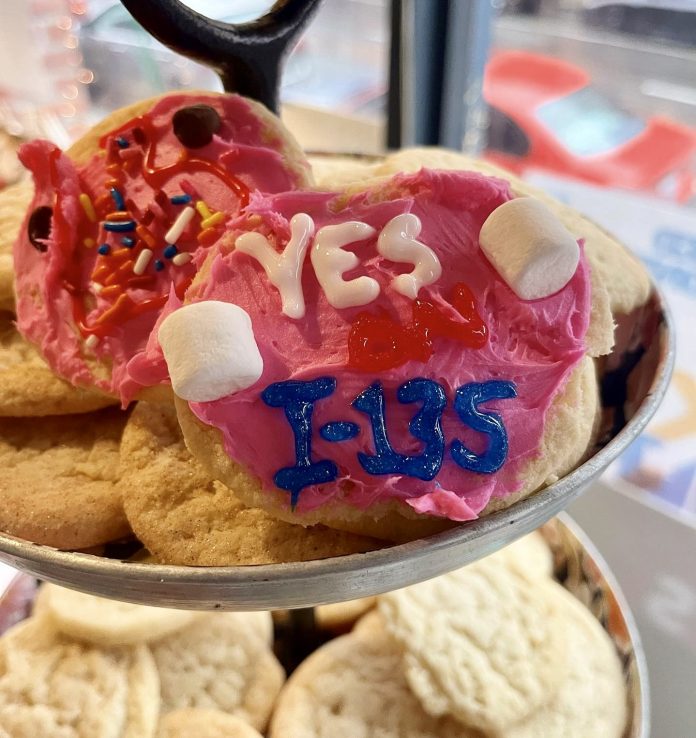 House Our Neighbors' coalition members reflect on how the campaign achieved social housing victory.
Ballots are still being counted, but with a 14-point lead established as of Friday, it appears that Social Housing Initiative 135 in Seattle is headed for a win. This may come as a surprise to some, since the social housing model is unfamiliar to most Americans and public housing tends to get a bad rap in the U.S. But for those involved in the 18 month-long campaign effort, the warm reception given to social housing by Seattle voters reflects the positive feedback they received along the way.
Following the victory, The Urbanist checked in with Tiffani McCoy, House Our Neighbors campaign co-chair, Jacob Schear, House Our Neighbors field organizer, and Camille Gix, House Our Neighbors steering committee member. All three are also staff members at homeless advocacy nonprofit Real Change, which in addition to staff provided resources and volunteers to the I-135 campaign.
Just barely missing the signature-gathering threshold in time to qualify for the November ballot pushed the initiative to a lower-turnout special election in February. The larger and more progressive-leaning Midterm electorate may have been friendlier, but that obstacle didn't faze the campaign and proved quite surmountable in retrospect. While some more establishment groups and leaders withheld or offered only tepid support, many progressive groups rallied behind the initiative, including the MLK County Labor Council, 350 Seattle, and The Urbanist Elections Committee, which endorsed the measure in July.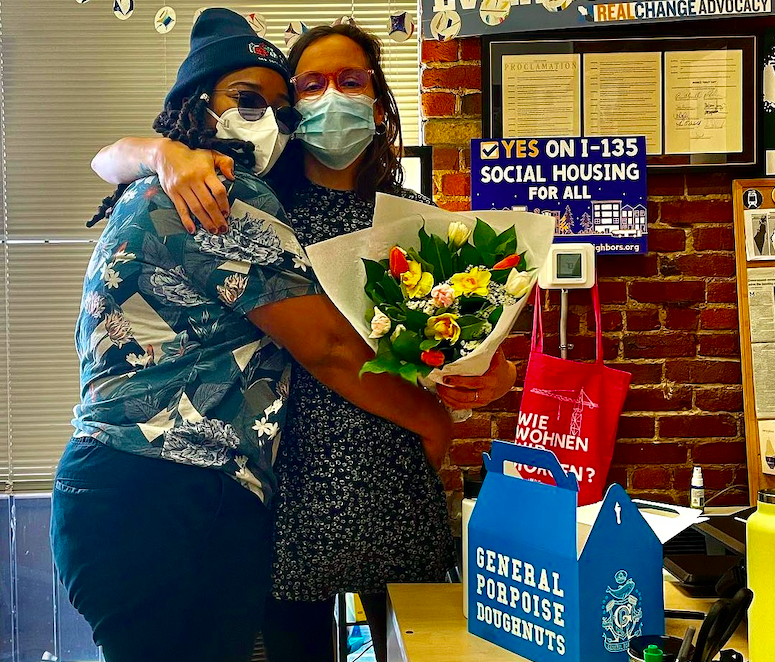 Lots of love for social housing, but lots of work was needed too
"Having that decisive of a margin in a vote, it's just more exciting than surprising," McCoy said when asked how she felt as she watched the election results roll in.
"Social housing is a fairly new here, and it's not something we've done really in the United States at scale," Jacob Schear observed. "That being said, I think people liked it once we talked with them a little bit about what it was. People really appreciated the true and permanent affordability at its core and recognized that as something we need to be moving towards in Seattle."
Still getting Seattle voters on board with social housing wasn't a simple matter. It was the result of drafting the right kind of initiative, creating a campaign message that resonated with voters, and mobilizing a dedicated team of volunteers and community partners. While 18 months might seem like a long time, it passed quickly for those engaged in the campaign.
"We were definitely bummed at first about not making the November ballot," McCoy said. "But honestly, at the end of the day, it was actually a huge relief because it was just the staff at Real Change that were doing this full-time. Everyone else was volunteers. And we needed that break. We were not going be able to pivot from beginning of August [when signature gathering ended] to November. We wanted to take some time, breathe, keep our communication in line with our values."
Drafting the initiative
The writing of the initiative began with a research committee that explored various social housing models in other parts of the world. Committee members came from different academic backgrounds — architecture, housing finance, and green development were all represented. The Urbanist's executive director Doug Trumm was among those consulted in the drafting phase. The group made a point of reaching out to experts when they were confronted with topics in which they lacked expertise.
Camille Gix worked on the drafting process from beginning to end. By her account, it was a more vigorous effort than people who have criticized the initiative realized.
"We've heard a lot of critique about how it was very half-baked or what not. Even from supporters who think that it wasn't well thought through. And you know, that is not only a bit offensive and patronizing, but it's just not true either," Gix said. "We worked with experts from around the country in various fields. And then we did a two month-long community feedback process where we talked to impacted communities, and got their input to make sure this was as rock solid as possible."
The work group created a framework for the initiative by combining language from proposed California Social Housing Act AB2053 and public development authority (PDA) models from Washington State. They also created a spread sheet of all things they observed in social housing models from other parts of the world and wished to see included in the initiative, and they made sure these items were represented in the draft. After that, the text was passed on to the campaign's lawyer, Knoll Lowney, who made sure everything checked out legally.
Along the way differences in point of view emerged, the most significant being disagreement around income eligibility for future residents. Some research committee members with backgrounds in homelessness advocacy were uncomfortable with the idea that the housing would be made available to households earning up to 120% of area median income (AMI). But in the end the group came to the conclusion that having a mix of incomes would be important — not only for the success of the ballot initiative but also the future social housing created by the public developer.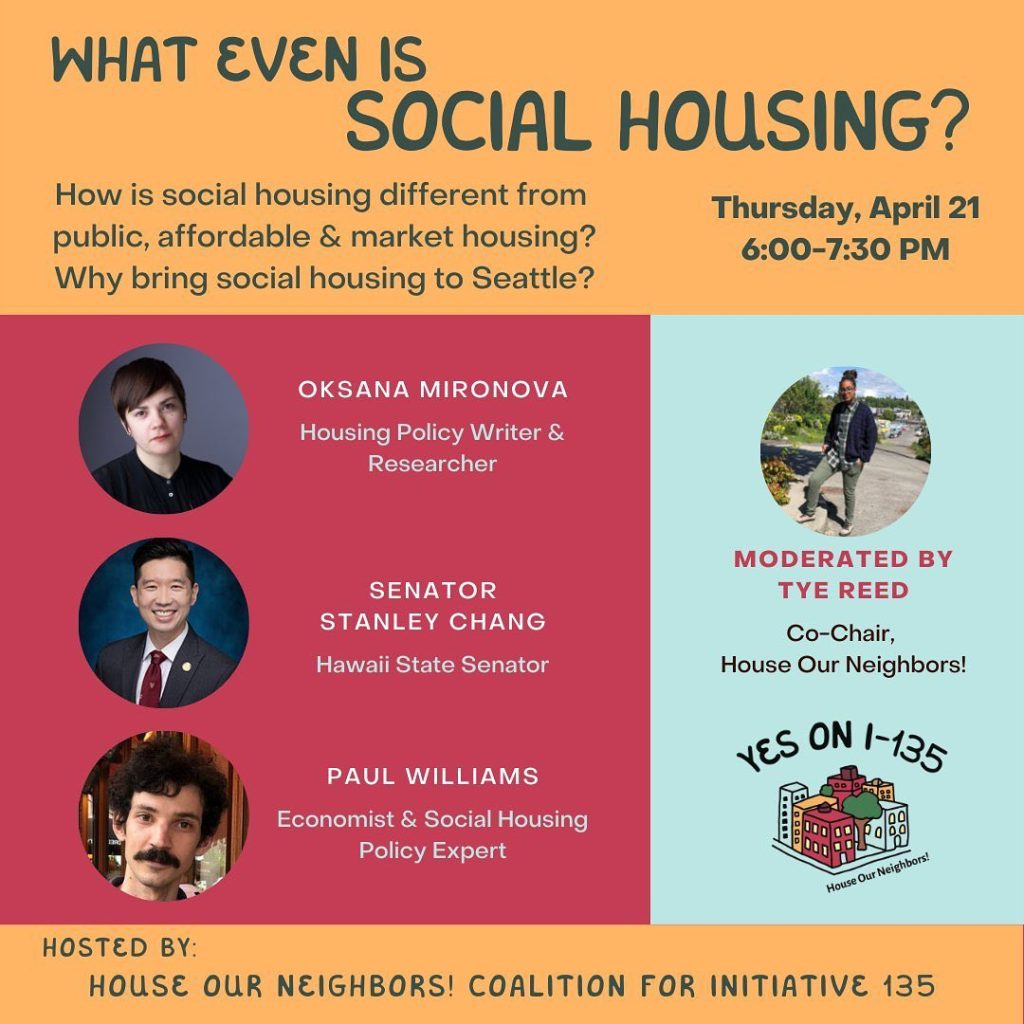 "We're very glad that the people that advocated for the higher income cap did so because ultimately it wouldn't really be social housing if we had lower income caps. It would just be more of a replication of what we're doing, but publicly owned," Gix said.
Another challenging aspect of writing the initiative came from deciding how to create the governing board for the public developer. The choice to create a model in which social housing residents would make up the majority of board members was unconventional and stirred up some controversy — it would prove to be one of the items highlighted in the Seattle Times op-ed against the initiative. But the committee remained unswayed.
"We wanted to make sure that the tenants in social housing had power over the decisions made for the developer," Gix explained. "Having a resident majority board was something that a lot of technocrats critiqued because it hasn't really been done elsewhere, but it was super important to us and something that we've never really wanted to bend on."
Selecting the other board positions also proved to be a challenge and the committee consulted with experts to determine what types of skillsets would be necessary for a citywide housing developer. As part of that process, positions were tweaked — for example, a housing finance board seat was updated to specify that the board member must have experience in public housing finance because of the significant differences that exist between private and public finance in housing in the U.S.
The end result was an initiative that got a lot of people excited — and for different reasons. For the core supporter group of young renters, capping rents at 30% of household income was appealing, while for older renters who may have experienced problems with the quality of housing or hikes in rents, the fact that social housing residents would be able to sit on the governing board was seen as a major benefit. Others, in particular members of unions, liked the soft income gap that would allow them to grow in place — not mention the union-built green building standards.
"I think that the fact that people like teachers and resident physicians and nurses and other people who are typically excluded from affordable housing in the city would have an option for them that wasn't on the private market was really appealing," Gix said.
To finalize the language, the committee did a formal presentation to vendors at Real Change. They also invited supporters from the No on proposed Seattle Charter Amendment 29 (Compassion Seattle) campaign for feedback as well as other community groups. The committee knew the initiative was ready when they received a thumbs up in response.
"We continued to reach out to the people who endorsed the No campaign and kept working until we got them to an endorse a Yes for social housing," McCoy said. "Those folks really took on this campaign as their own."
Taking social housing to the streets
For the House Our Neighbors coalition, conversations with the public about what benefits social housing could provide for Seattle predated the drafting of the initiative.
"We started tabling even before we actually had the initiative written," Schear said. "We were just out there trying to build awareness about social housing."
The House Our Neighbors coalition was able to do that because of the committed team of volunteers and community partners it had assembled during the No to Charter Amendment 29 campaign opposing Compassion Seattle. After the proposed charter amendment was struck down by a judge, the energy that had been tapped into by the opposition needed a new outlet — and advocating for social housing proved to be a match that kept volunteers and partners inspired to continue their organizing work.
Having a ready-made team and the support of Real Change made it much easier to spring into action for outreach. But the campaign still needed to have the right message to succeed. McCoy believes that their choice of going with a positive message was the right one, even if it was difficult to maintain at times.
"We just continue to see sweeps, we just see people priced out of the city. We keep seeing very small wins from the City Council, even in the spite of the massive struggle of the community," McCoy said. "But we didn't want to necessarily tap into that anger because that has also really paralyzed a lot of people and made folks not want to engage in the electoral process."
Instead the campaign decided to focus on a vision, not a vision centered on incrementalist progress, but one that would go big — and not just for affordability: Achieving environmental sustainability and creating union jobs would be part of the vision too.
"For us, we wanted to make sure that the left had something to look forward to and build for. So we put forward our vision of the world that could happen if we organize," McCoy said.
The importance of volunteers and community partners
By and large, the House Our Neighbors' social housing message was received well by Seattleites from the beginning.
"This was by far the most positive experience I had doing campaign outreach," Schear said. "Having done dozens and dozens of canvasses and tables, I could probably count on one hand the number of negative interactions that I've had."
But it wasn't enough to just get people excited about the idea of bringing social housing to Seattle. The campaign needed people to come out and vote. This meant mobilizing key parts of electorate, such as renters. Community partners such as Washington CAN, the Seattle Democratic Socialists of America, and UFCW (Food and Commercial Workers Union), played a big role in communicating with prospective voters.
In addition to tabling and canvassing, volunteers ran text banks that reminded people who signed pledge cards to turn in their ballots. They also helped people print ballots and gave advice on where people could turn them in by the deadline. One voter who experienced issues with printing his ballot was so inspired to vote that he told the campaign members he would take an Uber to the King County Elections office in Renton to make sure his vote for social housing would be counted.
"A lot of people were like, oh, a February election, that's gonna be really tricky. Or how are you gonna make sure that the progressives get out to vote?" McCoy said. "But we actually had a tremendous show of support, especially on that last day."
Looking to the future
Just as the campaign against Compassion Seattle evolved into the social housing initiative, plans are in order for the House Our Neighbors coalition's next steps. The steering committee will continue to meet and take on new projects, among which will be the important work of helping set up the public developer.
"We want to make sure that what is in the initiative translates into the real world" Schear said. "Volunteers are ready to get out there and are definitely looking to stay engaged, so that's really cool too."
That will mean making sure that the members of the first governing board of the Seattle Social Housing Developer are appointed within 60 days of election's certification on February 24th. The coalition will also be advocating for the Seattle City Council to provide immediate in-kind support, including salaries for a chief executive officer and chief financial officer which the board will be responsible for hiring, as outlined in the initiative.
But future work will not be limited to ensuring the success of the public developer. House Our Neighbors also plans to organize around the 2024 Major Update to Seattle's Comprehensive Plan to ensure housing affordability is prioritized in the plan. McCoy and other members of the coalition have backed expanding housing further by adding a more ambitious Alternative 6. They are also following the upcoming Seattle City Council races this election cycle and plan to make sure that creating Social Housing is a top priority among candidates.
"I think that we have a voice that is valued and we have the integrity we built during the campaign. And so, people look to that," McCoy said. "I hope we are able to keep fighting in this state. There is a lot of love in the coalition and a lot of fight."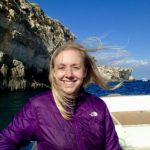 Natalie Bicknell Argerious (she/her) is a reporter and podcast host at The Urbanist. She previously served as managing editor. A passionate urban explorer since childhood, she loves learning how to make cities more inclusive, vibrant, and environmentally resilient. You can often find her wandering around Seattle's Central District and Capitol Hill with her dogs and cat. Email her at natalie [at] theurbanist [dot] org.