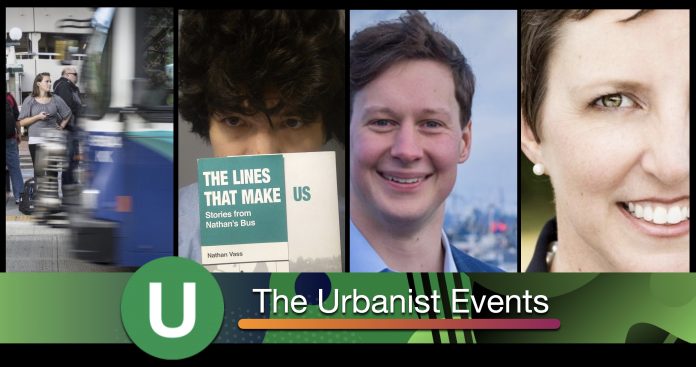 Now that the Vernal Equinox has passed, thoughts here at The Urbanist turn to thinner socks with our Birkenstocks and other rites of spring. We have four wonderful events scheduled for the next few weeks, one in-person and three virtual. Hope you will join us!
March 28, 2023 6pm to 8pm
Boost Transit Now Social Hour
Local transit service has languished in the pandemic era. Riders have dealt with missed trips, growing delays, and the increasing feeling they're forgotten. We need to get transit back on course. Let's boost transit now. Meet other advocates who share that vision and discuss ways to make it happen. The event will include a brief program with remarks from leaders from The Urbanist, Seattle Subway, and Transit Riders Union. RSVP on Eventbrite for the March 28 event at Optimism Brewing from 6pm to 8pm.
April 4, 2023 6pm to 7:30pm
The Urbanist Book Club with Nathan Vass
The Urbanist Book Club is pleased to welcome Nathan Vass to our April 4th Book Club Meeting, which will start at 6pm via Zoom. He is the author of The Lines that Make Us, a series of essays and observations about experiences driving a King County bus through some of Seattle's most diverse neighborhoods. Nathan is well known to readers of The Urbanist as a long time contributor of his work The View From Nathan's Bus and has appeared on The Urbanist Podcast to talk about his work. Sign ups are available here.
April 11, 2023 6:30pm to 7:30pm
Urbanist Talk with Councilmember Andrew Lewis
Seattle City Councilmember Andrew Lewis has been an advocate for increasing permanent supportive housing as chair of the city council's select committee on homelessness. He's also pushed the City to establish a program to provide civilian emergency response, citing the success of a pilot program in Denver. On transportation, he's pushed for safe streets investments like a redesign of Thomas Street and called for the pedestrianization of Pike Place — after a stakeholder process of course. The work will likely be a cornerstone of his first bid for reelection later this year. Join the council member virtually on April 11th at 6:30 by signing up here.
May 9, 2023, 6:30pm to 7:30pm
Urbanist Talk with Sound Transit CEO Julie Timm
Sound Transit CEO Julie Timm moved into the agency's leadership in September, after a nationwide search drew her across the country from the Greater Richmond Transit Company. Now running one of the largest transportation expansion projects in the U.S., Timm will oversee the near term opening of extensions to Bellevue and Lynwood, and the longer term growth to Everett and Tacoma. The agency has a lot of work to do, starting with The Urbanist's list of tasks for the incoming CEO and moving through the contentious West Seattle and Ballard Link Extensions. Join us to talk with Julie Timm on May 9 at 6:30 by signing up here.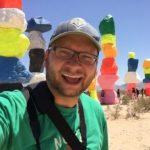 Ray Dubicki is a stay-at-home dad and parent-on-call for taking care of general school and neighborhood tasks around Ballard. This lets him see how urbanism works (or doesn't) during the hours most people are locked in their office. He is an attorney and urbanist by training, with soup-to-nuts planning experience from code enforcement to university development to writing zoning ordinances. He enjoys using PowerPoint, but only because it's no longer a weekly obligation.