In Seattle, we love to walk. Every day, walking accounts for one quarter of our trips. But can Seattle step up to be "the most walkable city in the nation?"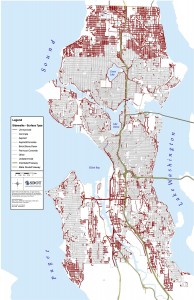 Becoming the most walkable city in the nation is the stated vision of the latest draft of the Seattle Pedestrian Master Plan. To some, this vision seems more like a delusion, because 26% percent of our sidewalk network is missing, and every neighborhood has streets of fast-moving traffic that feel nearly impossible to cross. But we're optimists at Seattle's grassroots walking and biking advocacy organization, Seattle Neighborhood Greenways. We believe becoming the most walkable city in the nation is achievable.
Here's how.
First, we have to acknowledge the magnitude of what we need to accomplish. Completing our missing sidewalk network will cost at least $2.04 billion, using Seattle Department of Transportation (SDOT) estimates. The cost of building all of the crosswalks, curb ramps, and signals that are needed to navigate our streets is harder to estimate, but it's in the billions of dollars as well. On top of this, the Vision Zero safety program that focuses on fixing the most dangerous streets and making it safer for people to walk is significantly underfunded. At the current rate of funding, completing all this will take hundreds of years.