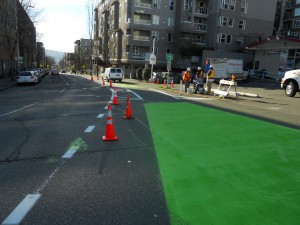 Last week, the Seattle Department of Transportation (SDOT) rolled out some big bicycle improvements along Roosevelt Way NE. The agency deployed new protected bike lanes (PBLs) from NE 45th St to the University Bridge. But, many more changes are on the way for Roosevelt Way NE as SDOT gears up for repaving, pedestrian, transit, and bicycle improvements. In preparation for that, the agency is reaching out to area residents, employees, and others to discuss the preliminary plans through three drop-in events. The agency hopes to gain some feedback, create dialogue, and answer questions.
Aside from the community engagement aspect of the event, it's a great opportunity to thank SDOT staff for the new PBLs and remind them that there is strong support for safe streets that benefit all users.
Details from SDOT below:
The city is leveraging a 2015 paving project to create a multi-modal corridor to make bicycling safer and more predictable and add transit improvements along Roosevelt Way NE. Doing so minimizes construction disruptions and helps meet our goal of providing people with more travel options. These changes will make Roosevelt feel more like a neighborhood business street and less like an alternative to I-5.

We want to work with residents, businesses and others to understand their access needs and determine how we can continue to address those needs with the addition of the new facility. Please join us to ask questions and share your thoughts at one of our drop-in sessions. You can also read our Questions and Answers.

Tuesday, January 20|2 – 3:30 PM: University Heights, 5031 University Way NE

Wednesday, January 21|8 – 9:30 AM: Wayward Coffeehouse, 6417 Roosevelt Way NE

Thursday, January 22 | 5:30 – 7 PM: University Heights, 5031 University Way NE

Stephen is a professional urban planner in Puget Sound with a passion for sustainable, livable, and diverse cities. He is especially interested in how policies, regulations, and programs can promote positive outcomes for communities. With stints in great cities like Bellingham and Cork, Stephen currently lives in Seattle. He primarily covers land use and transportation issues and has been with The Urbanist since 2014.