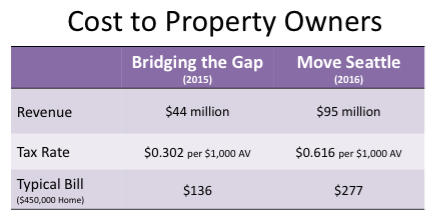 Members of the Seattle City Council will meet today for a special ad hoc meeting of their Select Committee on Transportation Funding. Council members will discuss the Transportation Levy to Move Seattle, a nine-year transportation levy. This levy is the successor to the current Bridging the Gap levy, which is set to expire at the end of 2015. Mayor Ed Murray is enthusiastically supportive of the new levy, which help him realize the goals of his bold Move Seattle transportation program. The Mayor transmitted Council Bill 118402 earlier this month for the Council to consider, today being the first time to do so. If the City Council adopts the Council Bill as an ordinance (which won't happen today), Seattle voters would see the proposal appear on their November ballots.
The City Council legislative aids have prepared some great data points to show how the Bridging the Gap levy and Transportation Levy to Move Seattle measure up against each other and where new priorities and investments would go. For instance, they note that pedestrian and bicycle improvements in new sidewalks, additional bike parking, and other walking and biking investments would roughly double under the proposed levy from $2.7 million to $4.5 million annually. Meanwhile, basic street maintenance investments would increase markedly from $20 million to $27 million annually. 180-lane miles of arterial streets and spot improvements would be made in this investment category.
Another highlight from the report that many will like is the focus on corridor mobility projects. The report estimates that corridor mobility project could deliver an array of projects that users of all modes will like, including: $79 million for seven transit corridors, $13 million for signal timing improvements, $17 million Intelligent Transportation System improvement, $9 million for the Burke-Gilman Trail extension, $16 million for the Fauntleroy Green Boulevard, and $35 million for other transit corridor improvements.
The hidden detail here is how the City can leverage these investments. By spending $79 million in transit corridors, the City could eek out $207 million in federal grants and other sources.
So let's move on to the details of the legislation itself. The proposed transportation levy covers four core areas by:
Granting the City authority to the levy a specific property tax within Seattle and establish sustainable finances;
Defining specific areas for transportation investments to be administered by the program;
Creating a comprehensive oversight and accountability framework; and
Offering precise ballot title language for the proposition that voters could see in the November General Election.
Levy authority and financing. The City could levy up to $930 million in property taxes over the life of the Transportation Levy to Move Seattle. Actual levy authority would be limited to $95 million in the first year with tax collection running from 2016 through 2024. Assessments would be based upon the value of property the preceding year of tax collection (e.g. 2016 levy collections would be from 2015 assessments).
Proceeds collected from the levy may be either invested or deposited into funds. The legislation gives priority to proceeds being directed to Transportation Fund, but future subfunds could be established if deemed necessary. Meanwhile, there is flexibility granted to the City in temporarily investing proceeds in other financial instruments. Any earnings deriving from such investments must either be reinvested or deposited in an appropriate Transportation Fund. To pay for elements of the program, the City may choose to issue a debt instruments like bonds and notes. Any debt created could be paid for by proceeds generated by tax collection or Transportation Funds.
An interesting provisio to transportation investments funded under the program is this: If the City Council does not appropriate or transfer at least $40 million dollars from the general fund for transportation in any given year, the City may not collect any taxes from the levy in following budget year. The only exception to this is in this instance where City Council determines that there economic or financial conditions that prevent the Council from appropriating the required $40 million. Under such a circumstance, the City Council would need a three-quarters majority to resolve such a determination and levy the tax.
Areas of transportation investments. The priorities of the Transportation Levy to Move Seattle is focused on four pillars of investment: Safety, Affordability, Interconnectivity, and Vibrancy. Here's a flavor of some specific project areas that each of the four pillars will work to improve:
The Safety pillar is a broad category that looks toward investments in bridges and structures, Vision Zero programs, and general investments in pedestrian and bicycle infrastructure.
The Affordability pillar places an emphasis on street maintenance by making paving spot improvements and maintenance of primary streets.
The pillar of Interconnectivity would make light rail improvements with partner agencies, create new sidewalks and accessible crossings, and make corridor mobility improvements in areas like signal optimization and increased transit speed and reliability.
Finally, the pillar of Vibrancy would emphasize individual neighborhood projects, planting and trimming of landscaping, enhance drainage facilities, and freight mobility improvements like the Lander Street Overpass.
The City will determine specific year-to-year improvements and funding allocations by the annual City budget or supplemental ordinance. The precise makeup of the transportation investments hasn't been settled upon at this time. But, the City will enact projects that will most effectively achieve the goals of the program.
Oversight and accountability. A 16-member oversight committee would be created to monitor the program and advise city government. The primary tasks of the oversight committee would be to review all revenues, expenditures, and implementation of projects and priorities associated with the program. On an annual basis, the oversight committee would present its findings and recommendations to the City Council, Mayor, and SDOT in order to aid them in their governance of the program. A broad range of members would be represented on the oversight committee, including: the Chair of the City Council Transportation Committee, City Budget Director, ten Seattle residents (five appointed by the Mayor and five appointed by the City Council), and one member from each of the transportation advisory boards (Pedestrian, Bicycle, Transit, and Freight).
Meanwhile, SDOT would also have a hand in accountability to the public and city officials. The Department would be required to prepare a comprehensive yearly progress report on the program. Specifically, SDOT would need to profile Move Seattle projects and described its financial plan for transportation improvements. The progress report would ultimately be delivered to the City Council, Mayor, and oversight committee.
Ballot title and enactment. If adopted by the City Council as-is, the City would designate the measure as yet another Proposition 1. The current language of the measure isn't exactly concise, but it does clearly explain the purpose and cost of the levy to voters. Only a simple majority of voters would need to give their blessing for the measure to be enacted. The following is what they may find on their November ballots:
The City of Seattle's Proposition 1 concerns replacing funding for citywide transportation maintenance and improvements. If approved, this proposition would replace an expiring levy and fund bridge seismic upgrades, transit corridor and light rail station access projects, pedestrian and bicycle safety projects, upgraded and synchronized traffic signals, street maintenance and improvements, freight mobility projects, and neighborhood street fund projects. It authorizes regular property taxes above RCW 84.55 limits, allowing collection of up to $95,000,000 in 2016 and up to $930,000,000 over nine years. The 2016 total regular tax limit would be $3.60/$1,000 assessed value, including approximately $0.62 additional taxes.
The Select Committee on Transportation Funding will meet again on Tuesday (June 2, 2015) at 5.30pm for a public hearing on the proposal.

Stephen is a professional urban planner in Puget Sound with a passion for sustainable, livable, and diverse cities. He is especially interested in how policies, regulations, and programs can promote positive outcomes for communities. With stints in great cities like Bellingham and Cork, Stephen currently lives in Seattle. He primarily covers land use and transportation issues and has been with The Urbanist since 2014.