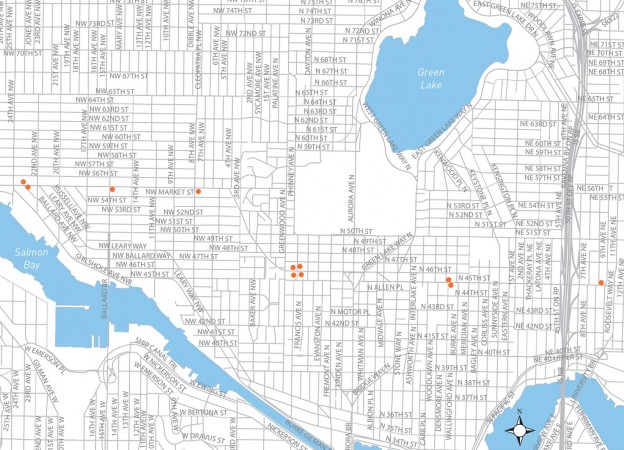 Later this month, the Seattle Department of Transportation (SDOT) will flip the switch on newly installed real-time information signs (RTIS) in North Seattle. Between Ballard and the University District, riders at 11 bus stops will see the fruits of RTIS as part of technology and service upgrades along the corridor of King County Metro Route 44. RTIS, however, represents just the first of many big investments that SDOT hopes to make in the corridor over the coming years.
I spoke to Bill Bryant, SDOT Transit Division Deputy Director, to get a clearer picture on the RTIS program and where SDOT plans to go in the future. Bryant was candid about improvements to the corridor of Route 44 saying that RTIS will enhance the user experience of riders in a variety of ways:
Certainty. Bus riders will get immediate information about their next departure options. Research suggests that riders feel less stressed when they know when their bus will arrive, and as a result, the total perceived wait time is less. Riders feel more in control about their future and see transit as reliable, and even certain.
Economic benefits. Since riders can anticipate the arrival of a bus and know how much time they have available to them to do other things besides just wait. Bryant said that riders can economize their time by walking down the street to make small purchases, pickup a cup of coffee, or even delay their intended departure.
Equity. Unlike smartphones, RTIS is a technology that all riders have access to and can benefit from. Bryant noted that it also happens to be more convenient than pulling out a mobile device and tapping through multiple screens to determine the status of a bus. RTIS, instead, quickly cycles through data and displays all available options.
SDOT is using real-time information signs similar to those seen at many RapidRide and Rainier Avenue stops. The signs contain LED-lit reader boards viewable from two sides. Depending on sign size, up to four bus trips can be displayed on the reader boards simultaneously with routes cycling through sequentially based upon next arrival times. All buses departing within a 30-minute window will be shown on the Route 44 RTIS displays. Data for the signs is sourced from OneBusAway (OBA), which is powered by Metro's bus tracking system. But unlike RapidRide stops, the real-time information signs along the corridor will not be equipped with ORCA card readers. When asked if they would be in the future, Bryant said that they were designed to easily accommodate ORCA readers in the future.
Riders will want to know that data being provided by RTIS is reliable. Bryant is confident that OBA's data should be fairly accurate throughout the corridor. But he did noted that the information shown on signs is only as good as the data going in. Data for buses close to the beginning of the routes (e.g. Market St & Ballard Ave) could occasionally spit out bad information as buses return to their terminals, much like they do today with OBA data. So there's a word of caution there, but it will still be a dramatic improvement over the status quo.
Initial installation of the signs required temporary closure of some bus stops along the corridor, which many local riders may recall from earlier this summer. Working in conjunction with Metro, SDOT chose to temporarily close these stops in order to anchor the signs into sidewalks and tap into the City's fiber network.
It's also worth mentioning that SDOT chose stops with the highest number of average daily boardings along the corridor. Each stop currently has between 100 and 1,000 daily weekday boardings. Individually, the stop-level boardings may not seem like much, but it's worth bearing in mind that Route 44 serves upwards of 7,700 riders each weekday. The stops selected by SDOT for RTIS collectively serve nearly 4,225 riders across 16 bus routes each weekday, meaning that a substantial number of riders will benefit from reliable bus arrival information.
| Stop Location | Direction | Average Daily Boardings | Routes at Stop | Transfers at Companion Stops |
| --- | --- | --- | --- | --- |
| Market St & Ballard Ave | Eastbound | 1000 | 17X, 18X, 29, 40, 44 | 17X, 18X, 29, 40, 44 |
| Market St & Ballard Ave | Westbound | 375 | 17X, 18X, 29, 40, 44 | 17X, 18X, 29, 40, 44 |
| Market St & 15th NW | Eastbound | 425 | 44 | D, 15 |
| Market St & 8th Ave NW | Eastbound | 290 | 28X, 44 | 28, 28X |
| 46th St & Phinney Ave | Eastbound | 390 | 5X, 44 | 5, 5X, 82 |
| 46th St & Phinney Ave | Westbound | 120 | 44 | 5, 5X, 82 |
| 46th St & Phinney Ave | Southbound | 100 | 5, 82 | 44, 5X |
| 46th St and Phinney Ave | Northbound | 180 | 5, 5X | 44, 82 |
| 45th St & Wallingford Ave | Eastbound | 380 | 16, 44 | 16, 44, 82 |
| 45th St & Wallingford Ave | Westbound | 275 | 16, 44, 82 | 16, 44 |
| 45th St & Roosevelt Way | Westbound | 690 | 44, 167, 810, 821, 855, 860, 871, 880 | 66, 67, 68 |
Forthcoming RTIS Projects
Route 44 isn't the only bus line getting some swanky tech upgrades. Bryant said that SDOT is mulling over a package of RTIS projects as spot and corridor improvements in Greenwood, Uptown, and along 23rd Ave:
Holman Road was recently repaved and getting a suite of streetscape improvements as part of investments from the Bridging the Gap program. Bryant's Transit Division hopes to piggyback on the corridor project to install an RTIS at the eastbound stop of Holman Rd & Greenwood Ave. The stop is currently served by the frequent Route 40 (Downtown-Northgate) and offers connections with Route 5 (Downtown-Shoreline).
An eastbound stop on Denny Way & 2nd Ave N could also see an RTIS appear in the future. This stop is notably served by several bus routes: 1, 2, 8, 13, 15X, 17X, 18X, 24, and 33.
The 23rd Ave corridor undergoing a full Complete Streets project to repave and rechannelize the street from four lanes to three lanes (one lane in each direction plus a center turn pocket). Certain stops along the southern half of Route 48 (University of Washington and the Mount Baker Transit Center) will get the RTIS treatment, but Bryant says that precise locations have yet to be determined at this time.
Bryant also added that 15th Ave NE in the University District would be a likely candidate for more RTIS due to high ridership demand at stops in both directions from Pacific St to NE 45th St.

Stephen is a professional urban planner in Puget Sound with a passion for sustainable, livable, and diverse cities. He is especially interested in how policies, regulations, and programs can promote positive outcomes for communities. With stints in great cities like Bellingham and Cork, Stephen currently lives in Seattle. He primarily covers land use and transportation issues and has been with The Urbanist since 2014.