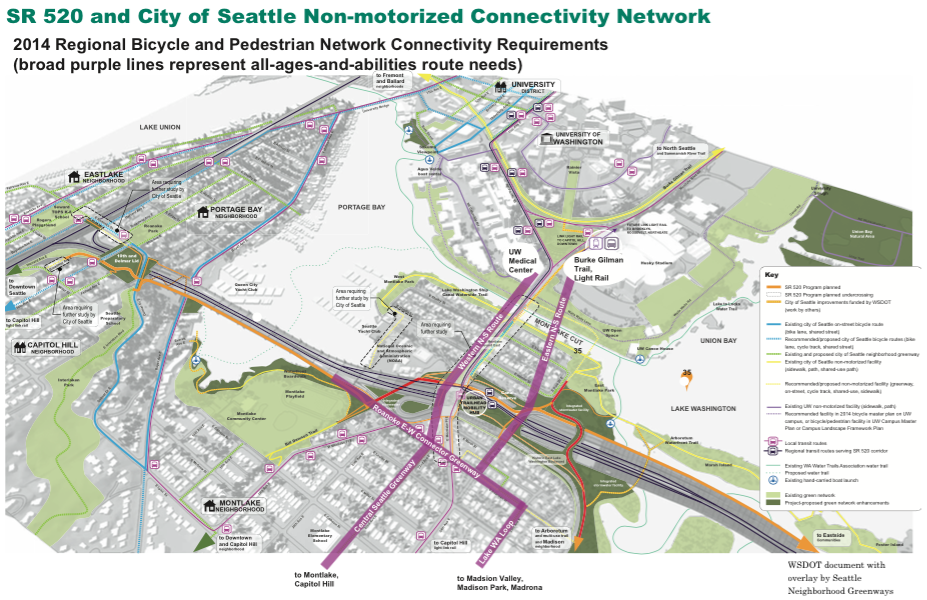 Completing the SR-520 expansion and reconstruction was fully funded as part of the Washington State Legislature's transportation package. The $1.64 billion SR-520 highway project will be set in concrete for the next eighty years. It must work. It must work for kids walking to Montlake Elementary, elders walking from the Husky Light Rail Station to the Arboretum, or a physician in scrubs biking from the Central District to the UW Medical Center.
The SR-520 and the Montlake Bridge area is one of Seattle's key geographic chokepoints for walking and biking. The Ballard, Fremont, University, and Montlake bridges provide the only usable walking and biking connections across Lake Union and Portage Bay. The SR-520 expansion project will either reconnect or further divide our communities. As Sally Bagshaw said in February of 2013, the success for the design will now be judged against whether or not the connections are safe enough that "you would let your eight-year-old walk or ride her bike unescorted."
While the project is planning a number of excellent connections as shown in the graphic below, some of the connections will not be usable by eight year olds and other vulnerable populations due to the lack of eyes on the street to provide surveillance. Instead, there are a few key walking and biking desire lines that must be usable by people of all ages and abilities for the walking and biking system to work.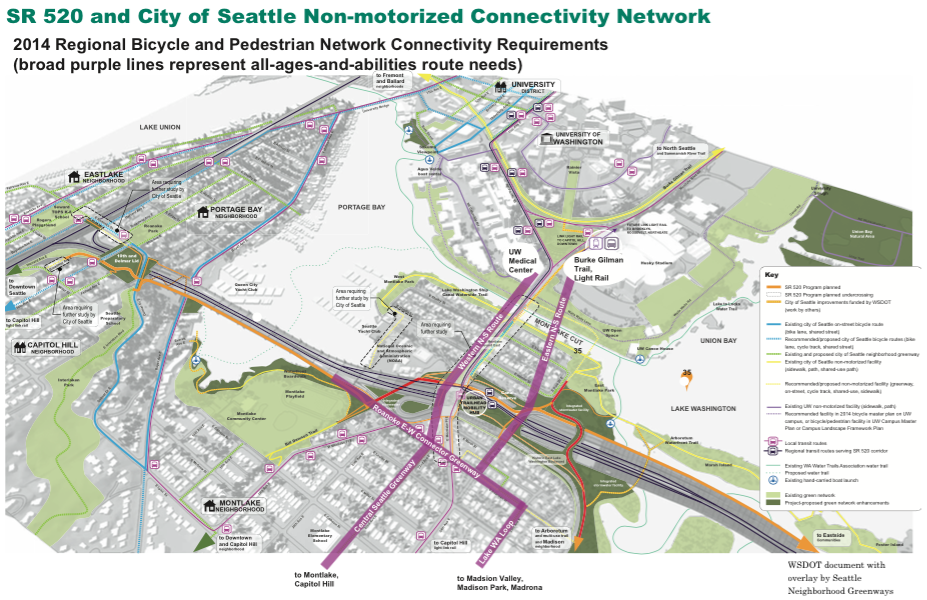 The Seattle City Council has released, and is looking for feedback on a draft resolution outlining the City's official position on how to improve the design.
While there is a lot to like in the draft resolution, including a new walking and biking Montlake Cut bridge (instead of an unneeded vehicle bridge), a trail on the Portage Bay segment of the 520 bridge, an E-W Roanoke walking and biking connection, and a more useful "land bridge" over the 520 highway in Montlake in lieu of a larger lid, unfortunately the current SR520 Draft Resolution does not include the top three needed fixes outlined in a letter sent to the city seven months ago by a coalition of community and healthy transportation groups:
Single lane on-ramps and raised crosswalks

at the Montlake interchange so that people can safely walk across.

Protected bike lanes on Montlake Blvd

to allow people to safely bike through the interchange.

A neighborhood greenway along the Lake Washington Loop

paid for by WSDOT, to provide a key link in the non-motorized system, and protect the neighborhood's quality of life by mitigating cut-through traffic.
Here's how you can make an impact
Show up and tell the Seattle City Council that we need to get this right at a special public hearing tomorrow evening (Wednesday, September 16th). The hearing will take place at University Christian Church at 4731 15th Ave NE in the University District and begins at 5:30 PM.
While in person testimony is an order of magnitude more impactful, there are other options to voice your opinions if you can't make the meeting. You can email, or better yet call, Councilmember Tom Rasmussen, Chair of the Transportation Committee, directly at 206-684-8808 or tom.rasmussen@seattle.gov.
For questions or how to get more involved, contact Gordon Padelford from Seattle Neighborhood Greenways.
Article Note: A version of this original appeared on Seattle Neighborhood Greenways.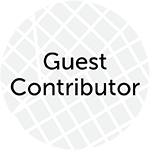 Gordon Padelford (Guest Contributor)
Gordon Padelford seeks to empower local neighborhood greenways groups and leaders. Gordon loves walking, biking, parks, safe streets, hiking, and living in Seattle. He got involved with Seattle Neighborhood Greenways through volunteering with his local group, Central Seattle Greenways, where he coordinated the SR 520 campaign and organized the 2013 Livable Streets Mayoral Forum.