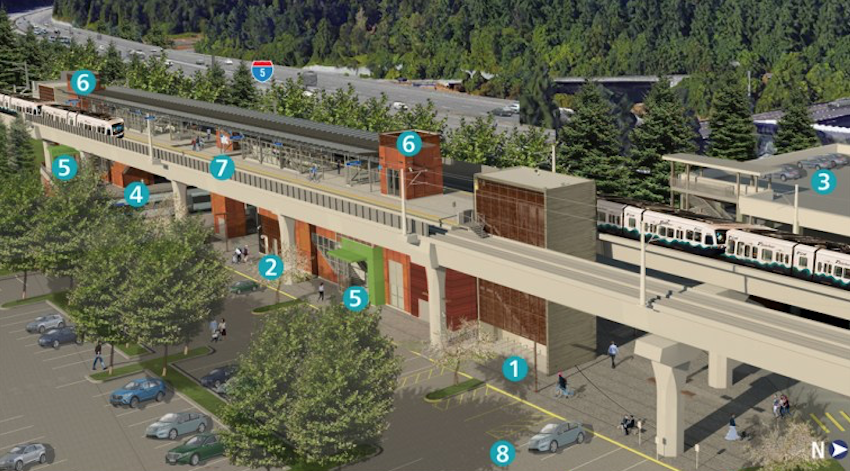 Sound Transit has released updated designs for Mountlake Terrace Station, the penultimate station on the Lynnwood Link extension slated to open in 2023, marking the 60% design milestone. Earlier this month, Sound Transit released updated designs for two stations in Shoreline on the same line. The 60% design milestone is an important step toward final design set mid-way between the 30% and 90% design phases.
60% Station Design
The new designs of Mountlake Terrace Station have brought clarity as to how the station will look and function. Renderings show a mix of textures and materials to be used, including green paneling accents, copper metal pieces, pavers, and concrete. The station will be elevated running next to the existing parking garage and cross 236th St SW, just east of I-5. Plaza space will be below the elevated station footprint, though a major change from the 30% design includes a larger south plaza. Part of that will be delivered during the initial Sound Transit investment, but an extension of it eastward from the elevated station footprint would come later. The overall design concept otherwise remains the same from the one presented in the fall.
This slideshow requires JavaScript.
The stations will also include an art program, which is being designed by Kipp Kobayashi. At this time, renderings of station artwork by Kobayashi are not available, but his work typically focuses on human interaction. The following are some of his work throughout California:
This slideshow requires JavaScript.
City Concerns Over Parking and Trees
Last week, Sound Transit appeared before the Mountlake Terrace City Council after city officials decided to delay approval of an agreement authorizing the transit agency to construct light rail within city-owned right-of-way. City councilmembers expressed concerns over the number of trees to be removed during light rail construction and the lack of any new parking spaces to constructed at Mountlake Terrace Station–the station already has 900 parking stalls at the existing transit center. Mountlake Terrace News has the story:
Responding to questions from Mountlake Terrace Mayor Jerry Smith, Lynnwood Link Project Manager Gwen McCullough reaffirmed that the agency won't be providing any additional parking for the new light rail station.

During construction, McCullough said, the 236 surface parking stalls at the Transit Center will be temporarily removed, but Sound Transit will restore them once the project is complete. The agency also will provide temporary parking nearby to make up for the  stalls lost during construction, she said. However, once the light rail station opens, "there will not be any additional stalls," she added.
Another worry of councilmembers is the replacement of Mountlake Terrace trees that will be removed during light rail construction. That issue was addressed by Fred Wilhelm, deputy project director of Sound Transit's Lynnwood Link Extension.

"We understand that trees throughout the corridor are a big concern," Wilhelm said. "We are going to replace a tremendous amount of the trees we are going to take out." He added that the agency is working with five different jurisdictions and each one of those jurisdictions has different requirements for tree replacement.
Tree replacement by Sound Transit is expected to be well over 500 trees. The transit agency will need to remove approximately 250 trees for construction.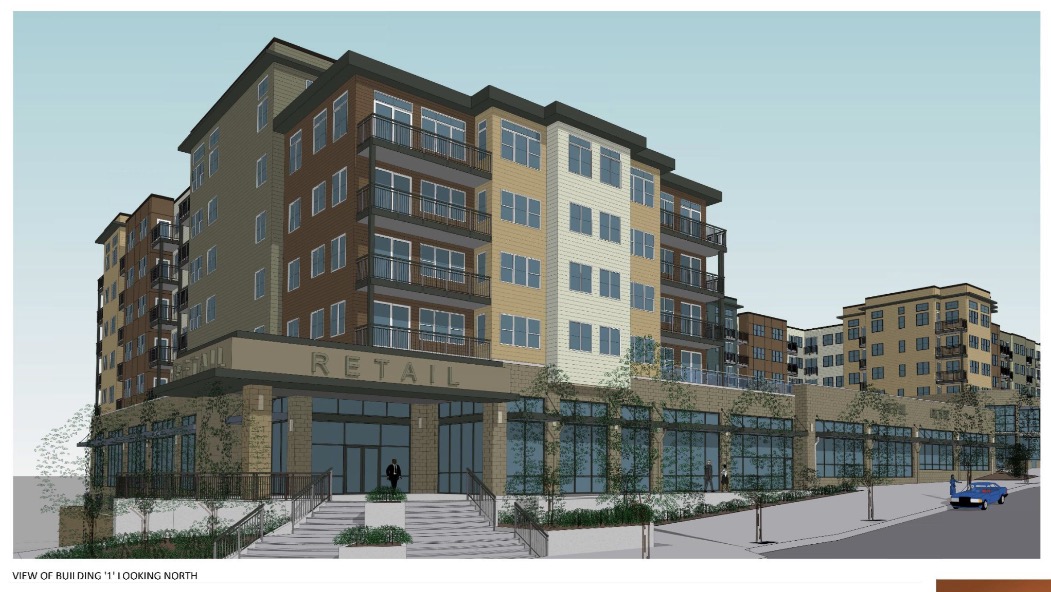 In respect to Sound Transit's parking discussion, Councilmembers urged the transit agency to consider other means of providing parking near the station, such as sharing parking at the Gateway TOD site just south of the station. That development entails construction of three large-scale buildings that are to be primarily residential (over 500 units) with a mix of retail and commercial uses. The development is planned to be supported by hundreds of parking stalls, both structured above ground and below ground, and in surface parking areas. Construction of the development is already underway.
Next Steps
The right-of-way use agreement is still a necessary piece of the puzzle for future construction of Mountlake Terrace Station. Sound Transit also needs to obtain a conditional use permit–expected to be issued in November–from the city, prior to requesting additional funding from the Federal Transit Agency that will top $1.1 billion. The agency hopes to file the funding request in November and receive grant approval in May 2018.
In the interim, Sound Transit is aiming to complete the final design process. An online open house for the 60% design is open for public comment and feedback. Sound Transit will also hold an open house on Wednesday (June 28th) from 6pm to 8pm at the Nile Shrine Country Club in Mountlake Terrace. Later this summer, Sound Transit will release updated designs for Lynnwood Station bringing it to the 60% design milestone as well.
Sound Transit Brings Two Lynnwood Link Stations To 60% Design

Stephen is a professional urban planner in Puget Sound with a passion for sustainable, livable, and diverse cities. He is especially interested in how policies, regulations, and programs can promote positive outcomes for communities. With stints in great cities like Bellingham and Cork, Stephen currently lives in Seattle. He primarily covers land use and transportation issues and has been with The Urbanist since 2014.