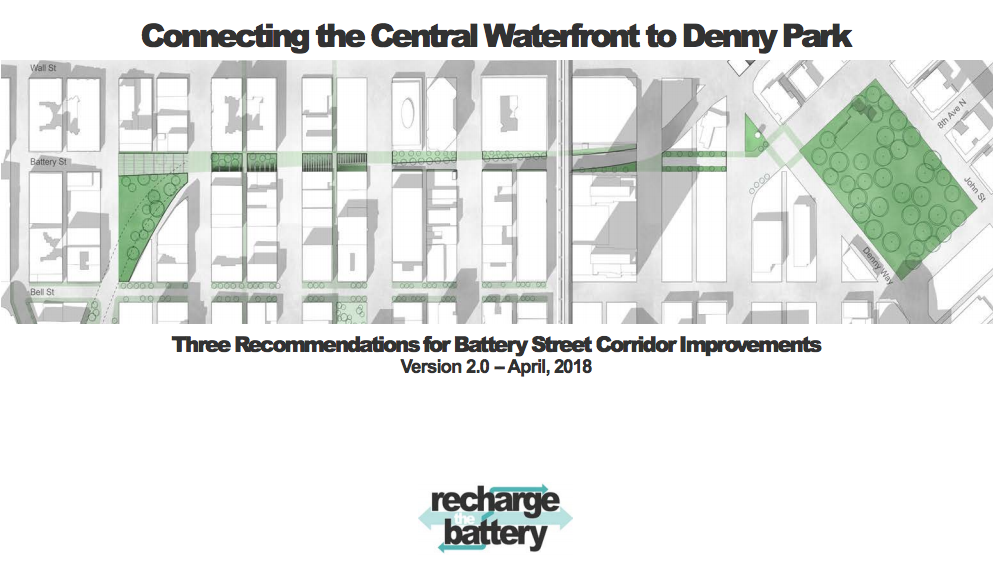 In late March, the Seattle City Council voted to turn the Battery Street Tunnel into a modern-day urban landfill. Many local community groups and green organizations had coalesced to form Recharge the Battery, a campaign that would transform the soon-to-be disused SR-99 tunnel into a semi-subterranean park and green stormwater infrastructure facility. The Washington State Department of Transportation, however, had other ideas in mind for the tunnel, using it as a permanent repository for concrete, steel, and other wastes from SR-99 viaduct that will be dismantled over the next few years. The cost to transform the Battery Street Tunnel into an urban park–well over $100 million–likely factored into the decision-making to stick with the urban landfill option, despite the severe shortage of park spaces in the densely-populated Belltown.
Advocates at Recharge the Battery are still intent on seeing Battery Street become a community asset for residents, workers, and visitors. "We are urging officials to include provisions for green stormwater infrastructure and funds for a designed park between Western and 1st Avenue that will retain features of the tunnel's iconic south portal," they say. "We are also asking for bicycle and pedestrian priority treatments, street trees, and other features that offer environmental benefits and quality of life improvements for the residents of Seattle."
This slideshow requires JavaScript.
The new proposal would essentially connect the central waterfront to Denny Park via Battery á la mode of the Bell Street Park and planned Lake2Bay improvements on Broad Street. The envisioned corridor program would include three subareas:
Western Avenue to Second Avenue – The large footprint of the Battery Street entrance area would be converted into Battery Park. It would have new green space and storage for stormwater, which could create a pond effect. A portion of the park could also be dedicated to cultural recognition. Battery Street on this section would largely be converted from a street to park space meaning that the roadway, except for sidewalks and First Avenue, would be removed.
Second Avenue to Denny Way – This stretch of Battery Street would be transformed into a pedestrian priority street with green features built into it. Recharge the Battery suggests numerous interventions by promoting wider, protected pedestrian zones, bicycle lanes, streeteries and outdoor eating areas, gardens for rainwater, and bus lanes.
Denny Way to John Street on Aurora Avenue – On Aurora, Recharge the Battery has suggested creation of a boulevard feel. The street is planned to continue being wide, but Recharge the Battery thinks a green median in the roadway could soften the street with trees and other flora while helping with stormwater management and treatment. In addition, they propose pedestrian refuge areas for crossings and making strong pedestrian and bicycle connections across all of the reconnected streets on Aurora Avenue generally.
This proposal probably has more legs to it than the semi-subterranean park one since it would be less disruptive to the street network and presumably less costly. On the other hand, the brilliance of the original Recharge the Battery proposal was just how much green stormwater detention and treatment that it could have provided—to say nothing of the unique way of creating public space. It was probably one of the more underrated benefits despite the fact that stormwater disrcharges to Puget Sound are of paramount concern for Seattle and the region. Still, this proposal could go a long way in delivering similar environmental benefits in addition to an improved public realm environment if realized.

Stephen is a professional urban planner in Puget Sound with a passion for sustainable, livable, and diverse cities. He is especially interested in how policies, regulations, and programs can promote positive outcomes for communities. With stints in great cities like Bellingham and Cork, Stephen currently lives in Seattle. He primarily covers land use and transportation issues and has been with The Urbanist since 2014.