Last week, David Allen, 29, was walking along Sand Point Way NE near 40th Ave NE when he was struck by one motorist and then another and left for dead. While there are differing accounts of what actually happened, what's clear is the urgent need for safety improvements along Sand Point Way. David is not the first person to have his life cut short by the highway design of this road, and he certainly won't be the last if we don't fix it. In 2017, the Seattle Department of Transportation (SDOT) studied a number of effective safety improvements for part of Sand Point Way, but has since opted not to pursue most of them. This latest tragedy should highlight the need for improvements, and force local leaders to consider going even further than the original proposals in making Sand Point Way a safer street.
David leaves behind a grieving sister, who has set up a GoFundMe. KOMO News has reported that he was hit by two separate vehicles, both hit-and-runs. One driver has already surrendered to police, but the other is still at-large. The driver who surrendered has told police that they didn't realize they'd hit someone. Consider how fast and inattentively those drivers must have been traveling for this to happen. Two different drivers crashed into a pedestrian, and one claimed to not even realize that they'd done so. David's family is asking the driver of the second hit-and-run vehicle to come forward.
Sand Point Way is currently a deadly mix of high speeds, wide lanes, poor lighting, no bicycle facilities (despite Cascade Bicycle Club being headquartered there), and missing sidewalks. Much of these problems can be attributed to its highway-style design. Last year I wrote about a number of safety issues along the corridor, including drivers exceeding 65 mph and Seattle Department of Transportation (SDOT) not wanting to address portions of Sand Point Way south of NE 65th (due to that stretch being maintained by the Washington State Department of Transportation).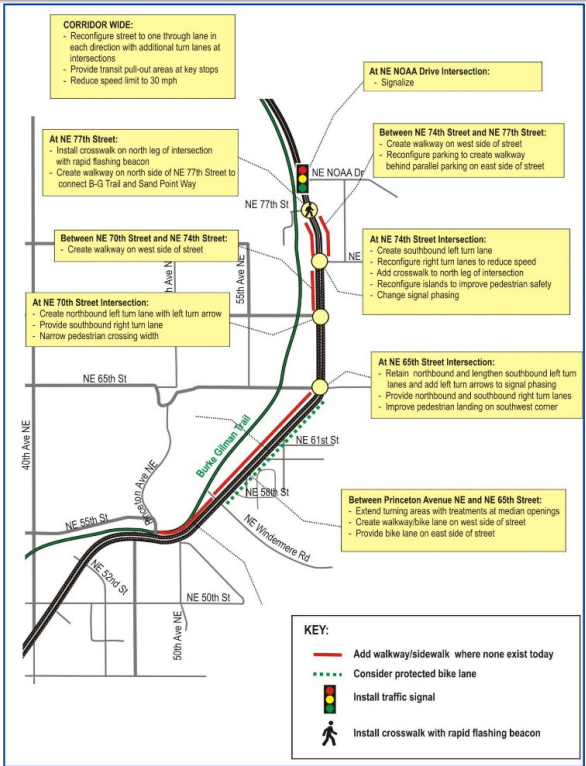 The original proposal from SDOT included reduced speed limits, removal of unneeded travel lanes, a protected bike lane, signalized left-turn lanes, crosswalks with rapid-flash beacons or signals, and numerous other improvements. Unfortunately, it would appear that SDOT has largely scaled back that proposal. Gone are the lower speed limits, the removal of unnecessary travel lanes, and most everything else except for a few sidewalks and a single crossing improvement.
The recent pedestrian fatality is proof that scaling back these safety improvements is a mistake. While funding is limited (and the recent news of "resetting" the Move Seattle levy makes the funding situation even more unclear), funding safety improvements on Sand Point Way should be a higher priority than things like adaptive signals, which often make things worse for pedestrians. Don't take my word for it, though–SDOT feels the same way, with its Complete Streets page claiming that safety should be a higher priority than mobility: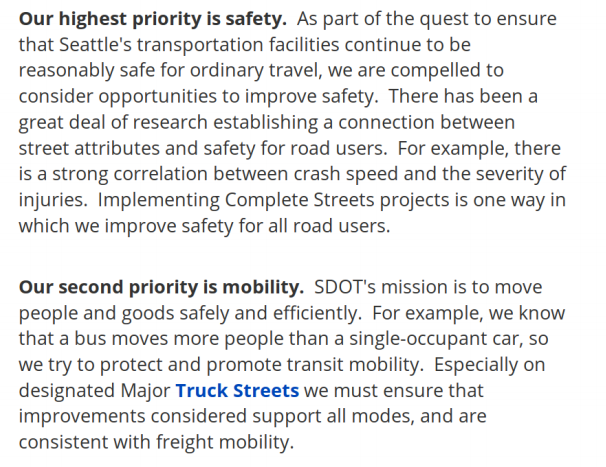 We don't know many of the details that led to the death of David Allen last week, but we do know how to improve overall safety on the corridor. We must begin by lowering speed limits, removing lanes that are not needed, and narrowing those that are needed. Sand Point Way is 4-5 lanes south of NE 75th St, yet traffic volumes along the corridor are much less than the volumes on nearby NE 75th. NE 75th functions just fine with only 3 lanes. The location where David was killed has higher traffic volumes, but it also has 14 and 15 foot wide travel lanes, despite all that we know about wide lanes resulting in higher speeds. Even north of NE 85th St where it becomes only 2 lanes, Sand Point Way has four-foot-wide highway-style shoulders that function to create wider travel lanes.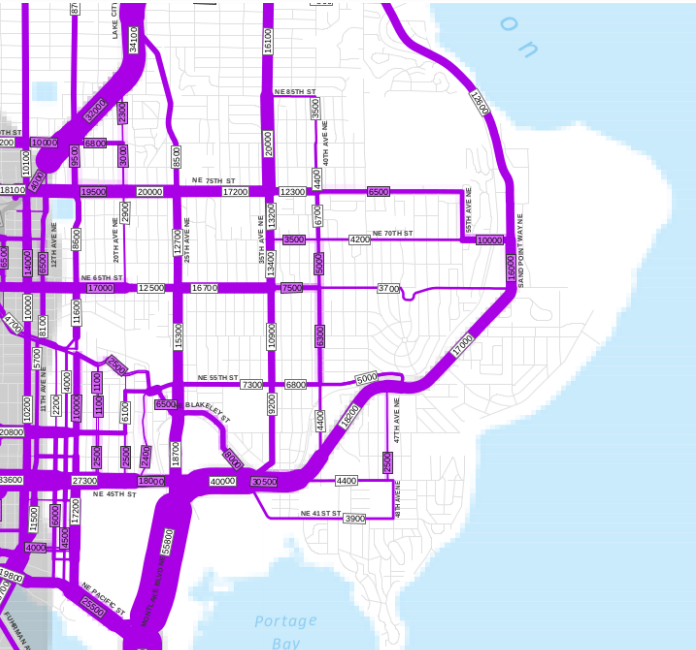 Removal of excess travel lanes creates space for walkways, bike lanes, curb bulbs, and other safety features. The recently-completed safety project on Banner Way NE had a hard cost of less than $100,000. If the $1.5 million dollars in Move Seattle levy funding isn't enough to make similar changes to Sand Point Way, we should be looking at leveraging other funding sources or shifting transportation dollars from other projects.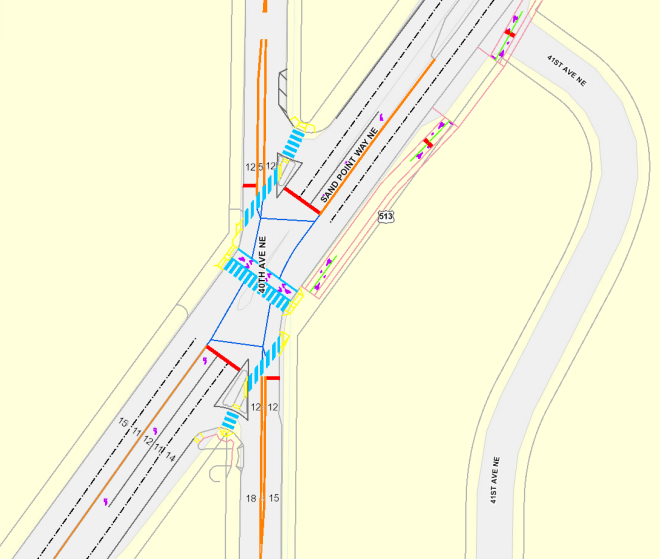 These safety improvements would help people driving on Sand Point Way, as well. In addition to David's death last week, in the past year alone there has been one other death and four serious injuries in three separate crashes. In January of this year, a speeding driver in rainy conditions ran their car off the road and died at NE 75th St and Sand Point Way. The month before that, two drivers collided head-on, resulting in three life-threatening injuries. These life-changing injuries and deaths are preventable by ensuring that drivers travel at slower speeds. Each of those people seriously injured or killed is not just a statistic; they are someone's brother, sister, mother, daughter, friend, neighbor, employee, or employer.
Neighbors who were frustrated with the dangerous nature of Sand Point Way NE initiated this safety project. The problems with this road are clear, and fixing them should be a priority. Our city claims to have a goal of zero serious injuries and fatalities, but we won't get there by allowing 40 mph speedways like Sand Point Way running through urban places where people are walking and biking. I urge all of you to write Seattle City Councilmembers and Mayor Durkan to ask that the Sand Point Way road safety project be expanded, so that we can stop these tragedies from continuing to happen.
Featured image is from David's GoFundMe and courtesy of the Allen Family.
Andres Salomon (Guest Contributor)
Andres Salomon is a dad, safe streets advocate, and former mayoral candidate. He lives in Northeast Seattle.