The sun is finally out and May is Bike Everywhere Month, so what better time to get out on a bike for some car free adventure, be it a quick ride around the city, or riding a trail out of town for an overnight adventure. In urbanist and transportation wonk circles, it is easy to only think of bikes in terms of safety projects and commute rates. But we shouldn't forget that bikes are also fun and a great way to exploring our area. And getting out of the city on bike has never been easier, as our region's growing networks of protected bike trails connects more and more places via safe and carefree (or car-light) routes.
Over many years, new trails have been added and old trail improved to the point where there is now a large mostly connected trail system that allows people to go between many of our regions communities and natural areas. This opens up many fun possibilities including day trips to new towns, camping, and weekend getaways. Trails now connect Seattle to Shoreline, Edmonds, Lynnwood, and Everett via the Interurban North; Renton, Kent, Auburn, and almost Tacoma via the Interurban South; Bothell, Redmond, and Woodinville via the Burke-Gilman and Sammamish River Trail (and Issaquah if you continue on the Lake Sammamish Trail; Kirkland via the Kirkland Connector; Issaquah, Snolqualmie, North Bend, the Cascade Passes, and into the east side via the I-90 / John Wayne Pioneer Trail and many more.
Exploring the region by bike is also a great way to get to know our area. Most of what I know about the Puget Sound is because of biking through the many communities small and large. It is a great way to see towns at a slower pace. It can also turn Kent or Bothell into a fun destination for the day or the weekend. And as Ian Crozier explained recently in an article in The Urbanist, for those looking to go farther without a lot more pedaling, there is always the possibility of combining biking and a bus, train or ferry to extend your reach.
Around the Lake By Bike
As an example of the possibilities, last Saturday I left my house in south Seattle and circumnavigated Lake Washington and the majority of the 58-mile ride was on trail, and pretty flat trail at that, with the balance being on well-biked shared roads. The ride started along Lake Washington Boulevard, which is narrow and a little traffic-heavy but feels safe due to the number of people on bikes. The first trail I encountered was the new Arboretum Trail that winds gently through the park. It is smooth and wide and provides lots of great views of some on the plant collections.
The arboretum trail ends just a few blocks from the start of the new SR-520 bike trail, which while not my destination for the day provides a great new car free connection to the east side. It also allows for people to do shorter loops such a riding the Burke-Gilman Trail around the north end of the lake and back on the SR-502 trail or riding out the SR-520 and back the I-90 trail.
Just a few blocks north of the SR-520 Trail is the Burke-Gilman Trail. Getting on it near the UW light rail station, I rode it north along the lake, stopping in Bothell for lunch at one of the many new businesses in its growing downtown. It is at about this point that the Burke-Gilman Trail becomes the Sammamish River Trail.
The Sammamish River Trail runs roughly from Bothell through Woodinville and some pretty countryside to Redmond, where it is easy to connect to the East Lake Sammamish Trail which runs the length of the lake before ending in Issaquah. From there it is easy to connect to the Mountain to Sound Greenway Trail/John Wayne Pioneer Trail.
Instead on continuing on to Redmond, I opted to get off early and do a mile or two of road riding to the Cross Kirkland Corridor, a six-mile trail that runs from the Totem Lake ares of Kirkland to just east of downtown Bellevue. Currently it is crushed gravel trail, but future plans included upgrades throughout its length–including the potential for sharing the right of way with mass transit.
Where the Cross Kirkland Corridor ends is where the Eastside Rail Corridor will hopefully someday begin. As it is now, I had to make a little jog through downtown Bellevue to connect to the relatively well-marked Lake Washington Loop bike route which took me south before connecting to the portion of the Eastside Rail Corridor that recently opened between South Bellevue and North Renton. The previous route was nice, but the new trail is wonderfully car free and flat.
The few times I have ridden it there have been lots of families walking and biking on it. From where it ends at the north end of Glenn Coulon Park, it was a short and easy ride back to south Seattle via Renton, partially on trail and partially on a stretch of Rainier Avenue that has decent bike lanes–unfortunately more of Rainier isn't getting protected bike lanes.
While the route I described may be long, any number of pieces of this ride would make a great and fairly easy day trip for even the casual biker: go swimming in Medina, get a drink with a friend in Kenmore, check out downtown Renton! There are so many possibilities.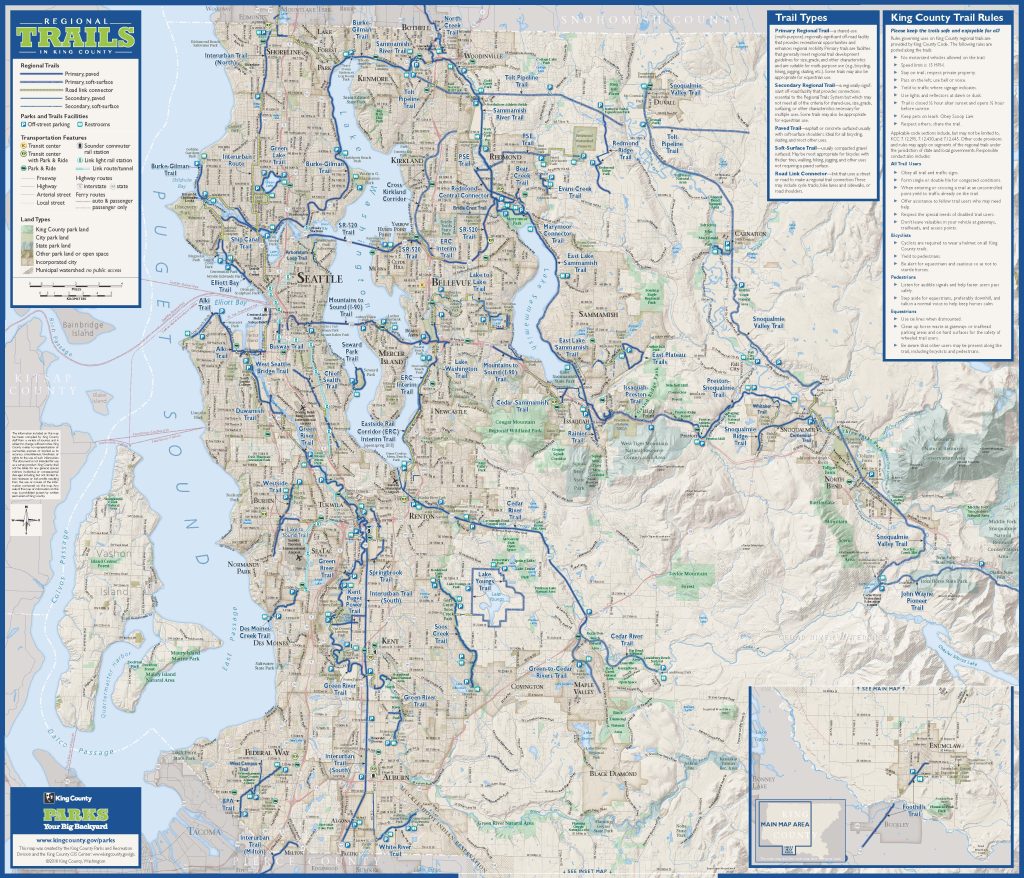 Get Out for the Weekend or Beyond!
Many of us try to live a car-light/car-free lifestyle and biking can help, even for getting out of town for the weekend. The regional trail network has helped make this possible and new trails will provide safe and easy access to even more places. I'll give three simple examples from my own life.
The first is my fiance and I wanted a fun and easy weekend away, so we got a room at a the new McMenamins Anderson School in Bothell, which is a historic school converted to a hotel in downtown Bothell and also a easy ride from Seattle by bike on the very flat Burke-Gilman Trail. Biking there made it feel like more of an adventure and like we were getting farther out of town than the 20 miles from home that it is.
Another time, we wanted to go to the country, so we found a cheap cabin on Vashon and rode the Alki Trail around west Seattle and then continued on to the Fauntleroy ferry to the island and within a few hours of riding we were on a farm.
Lastly, several friends and I rode south on the Green River Trail, then crossed through Renton to the Cedar River Trail which took us almost all the way to Kanasket Palmer State Park where we rented yurts and spent a night siting around a camp fire listening to the sound of the nearby river. There are so many great places just a short ride away.
Bikes, and bikes plus buses, trains, and ferries can open up a whole world of fun places to explore and ways to get out of the city without a car. For those who are interested in this there are some groups like The Bikery and Swift Industries that have had beginner bike camping trips and people like Marley Blonksy who have shared some of their tips and destinations online. And if day trips and over-nighters are not enough, there is always multi-day touring, which is a wonderful way to get out and explore our world at a slow pace than lets you appreciate all the people and places you would fly by in a car.
Whatever your speed, style, and interest, I would encourage people to take advantage of the extensive trail network and transit options to get out and explore some of the beautiful and interesting place in our region and our state. I don't think you will be disappointed.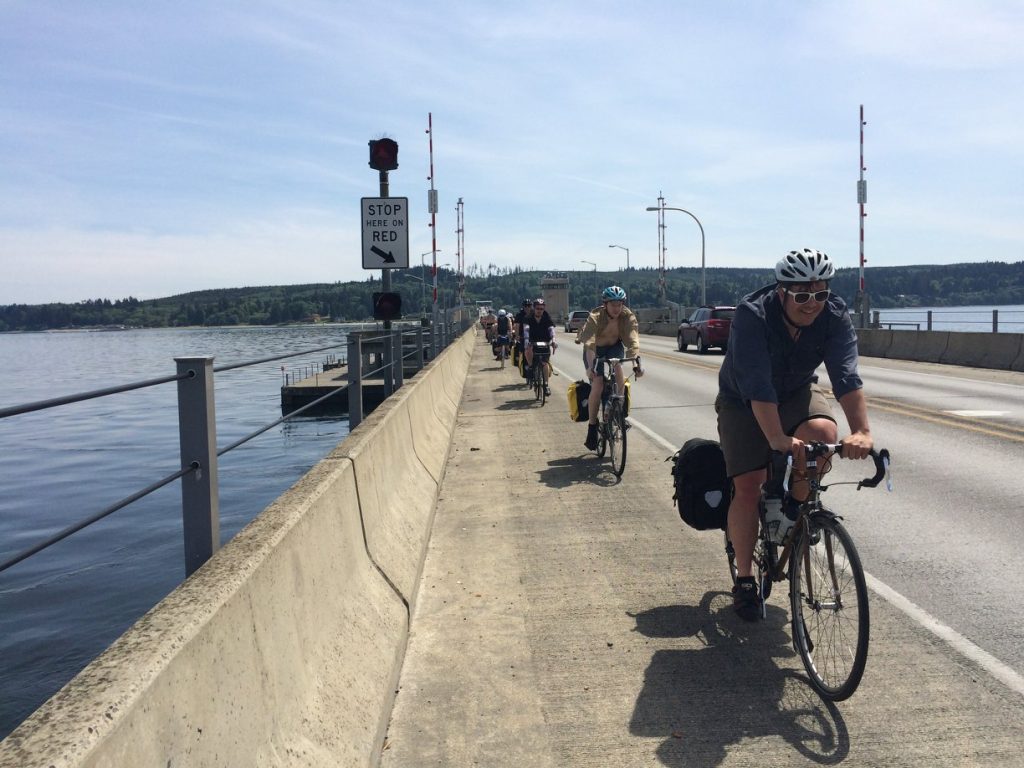 What's Good is a Connected Region if We Can't Have a Connected City?
There is a certain irony in writing about how good our regional connection have gotten (and they could still be better) at a time when our city is backing away from previous commitments to build the Basic Bike Network. The Basic Bike Network is a proposed core set of central city bike lanes that would make it possible to circulate easily and safely through downtown and connect to adjacent neighborhoods by bike.
Other cities have such as Vancouver to the north have experienced surges in bike usage after building such a complete network at once. Instead, we have had a piecemeal approach where isolated bike lanes are added and crucial connections are delayed and people wonder why they aren't used.
If the Basic Bike Network is something you want to see happen, this Friday, May 18th, Seattle Neighborhood Greenways and Cascade Bicycle Club are organizing morning group rides from neighborhood through the city to a rally at Seattle City Hall to show support for building the Basic Bike Network. More information can be found at the event Facebook page or by contacting Clara@SeattleGreenways.org. I'll be there and I hope you will as well.
Bike Everywhere Month
May is Bike Everywhere Month and Cascade Bicycle Club and other organizations are sponsoring numerous events through out the month. Many events can be found at Cascade Bicycle Club's website. In addition, the Cascade policy and advocacy team is shining a light on the unique experience of women, trans and people identified as femme (womxn) in biking and bike advocacy. Throughout Bike Everywhere Month, this May, they're teaming up with partner organizations to host and promote a range of womxn-focused and womxn-led bike rides, trainings and social events with the aim to empower, educate, and encourage women/trans/femme identifying bicycling riding persons. The Urbanist is proud to be a co-sponsor along with Seattle Neighborhood Greenways of "Womxns' Downtown Seattle Happy Hour–there's an Advocate in all of us!" It will be Thursday, May 31st from 5pm to 7pm at the Elephant and Castle in Downtown Seattle. It will be an opportunity to hear from womxn leaders in bike advocacy and close out Bike Everywhere Month in style.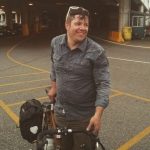 Patrick grew up across the Puget Sound from Seattle and use to skip school to come hang out in the city. He is an designer at a small architecture firm with a strong focus on urban infill housing. He is passionate about design, housing affordability, biking, and what makes cities so magical. He works to advocate for abundant and diverse housing options and for a city that is a joy for people on bikes and foot. He lives in the Othello neighborhood with his fiance and kitty.