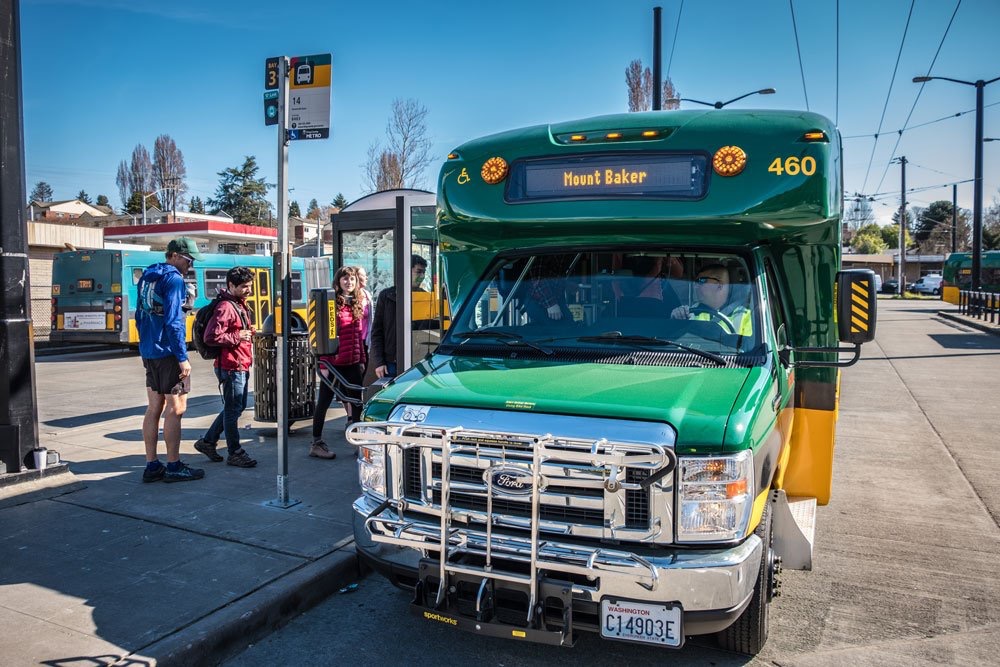 Another Trailhead Direct van route will launch this weekend, connecting hikers and outdoor enthusiasts on weekends and holidays to trails in North Bend. In April, King County Metro Transit restarted a similar service between Seattle and the Issaquah Alps, building on the success of a pilot program from last summer. The restarted service was expanded to include stops in Eastgate (Bellevue) and Mount Baker (Seattle). This was made possible by a partnership between King County, City of Seattle, and several outdoor corporate sponsors.
The new North Bend route will be somewhat similar to the Issaquah Alps service, except that transit vans will depart Capitol Hill instead of Mount Baker and not make stops in Issaquah. Trips to and from Seattle will include stops in the Downtown Seattle core and Denny Triangle, offering extensive opportunities for connections to local bus service and light rail. Riders can also make transit connections to the Eastgate stop in Bellevue. Riders from Issaquah and nearby urban communities can reach North Bend by Route 208 on Saturdays only, but the frequency is fairly poor. For the lion's share of those transit riders, they would need to backtrack to Eastgate to get to North Bend via Trailhead Direct.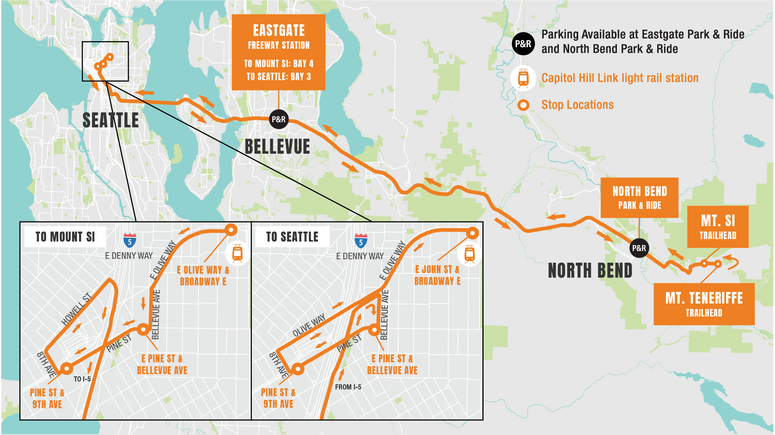 The North Bend route will serve two trailhead: Mount Si and Mount Teneriffe. The Mount Si is certainly the most popular of the two, which makes it very difficult to find parking on many weekends. The vans will also make a stop at the North Bend Park & Ride to and from the trailheads, which should make it easier for those wanting to drive but don't want to deal with the hassle of finding parking at the trailheads. Park-and-riders can also save money buy skipping on the cost of a Discover Pass.
The earliest trips on weekends and holidays will be focused on getting hikers to the trailheads with later trips making the full circuit back and forth. The last trip from Seattle will depart at 1.26pm with the remainder of trips thereafter shuttling riders back toward North Bend, Bellevue, and Seattle.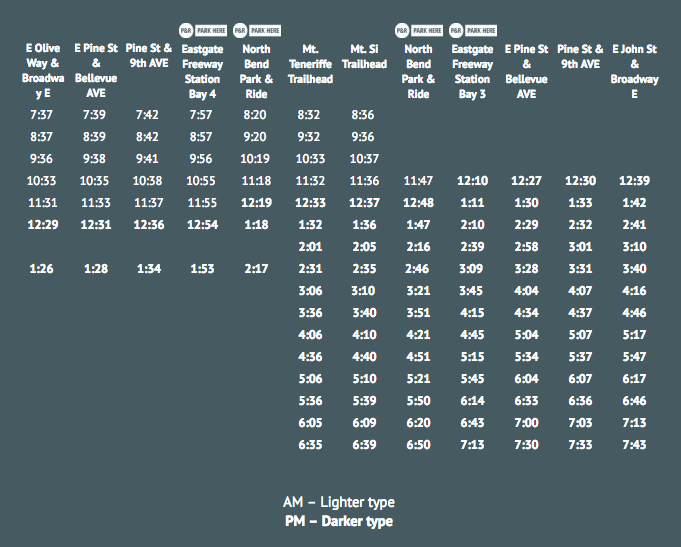 In mid-June, Metro will launch one more Trailhead Direct route for the foothills, which will shuttle hikers to Mailbox Peak near North Bend. The new North Bend route, however, starts this Saturday (May 19th) and will run throughout the spring and summer. Like the Issaquah Alps route, Metro will use small transit vans that can carry a dozen or two riders. Each vehicle is equipped with racks that can accommodate up to two bicycles. Regular transit fares apply, which riders can pay with cash, ORCA, or a mobile ticket.
Trailhead Direct Returns for Another Season with Expanded Transit Service

Stephen is a professional urban planner in Puget Sound with a passion for sustainable, livable, and diverse cities. He is especially interested in how policies, regulations, and programs can promote positive outcomes for communities. With stints in great cities like Bellingham and Cork, Stephen currently lives in Seattle. He primarily covers land use and transportation issues and has been with The Urbanist since 2014.