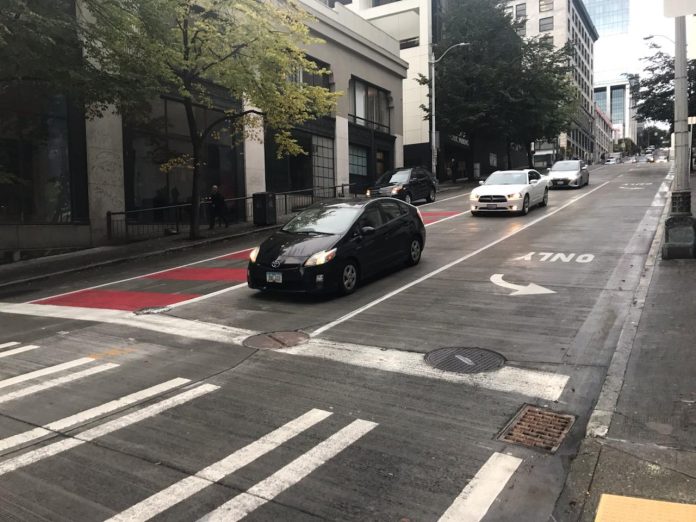 The long-awaited two-way transit corridor on Columbia Street is coming this winter. On Thursday, the Seattle Department of Transportation (SDOT) announced that the project was moving ahead for completion in December. A bus lane already exists on several blocks on the key downtown transit spine in the westbound direction, but it's being added in the eastbound direction.
Riders of a dozen all-day and peak-hour routes between West Seattle and downtown will benefit from the two-way transit pathway, including Routes 21, 37, 55, 56, 57, 113, 120, 121, 122, 123, and 125, and RapidRide C Line. Unfortunately, the Seattle Squeeze situation has gotten pretty dire for West Seattle bus riders, and the City's fix won't fully be in place until early 2020–albeit a bit earlier than originally planned.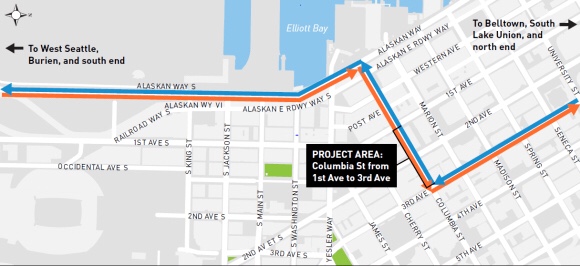 "Northbound buses will remain on the 1st Ave pathway and southbound buses will remain on 4th Ave S until early 2020, when these buses will move to Alaskan Way and begin using this two-way transit pathway on Columbia St to access 3rd Ave," Molly Wright wrote on the SDOT blog.
The project has been predicated on the full removal of the Alaskan Way Viaduct, which was just completed last week with the last segment coming down between Columbia Street and Marion Street. This will eventually allow buses to have a direct path from the new SR-99 to Columbia Street.
SDOT completed reconstruction of Columbia Street itself last year with new curbs and concrete roadway between 1st Avenue and 3rd Avenue. Work to implement the new bus lane boils down to adding new makings on the pavement and transit signals.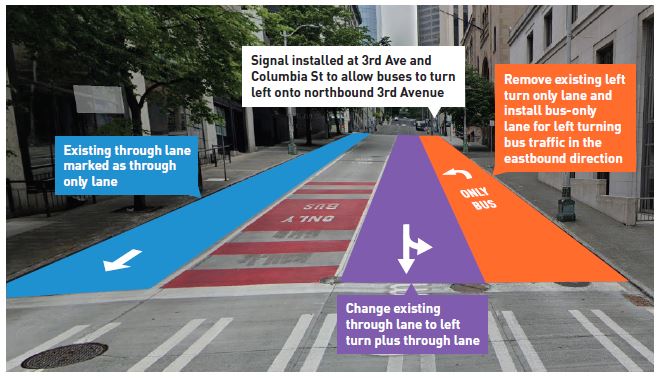 Last week, SDOT took a step in improving bus lanes that the City already has downtown. Crews began striping bus lanes with red "Elmo" paint near intersections. Officials hope that the paint will provide a clearer warning to motorists to stay out of the lanes than just the white "bus only" text on pavement and signage.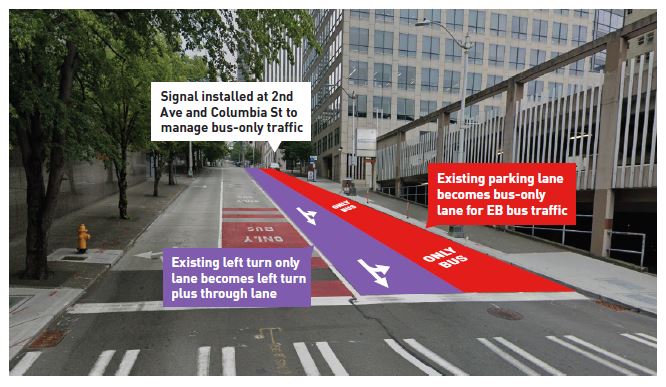 Streets receiving the red paint treatment include:
5th Avenue (northbound) from S Washington St to Marion Street, which will aid buses of the 5th Avenue/6th Avenue transit pathway;
Pike Street (eastbound) from 2nd Avenue to 8th Avenue; and
Westlake Avenue (northbound) from 6th Avenue to 9th Avenue.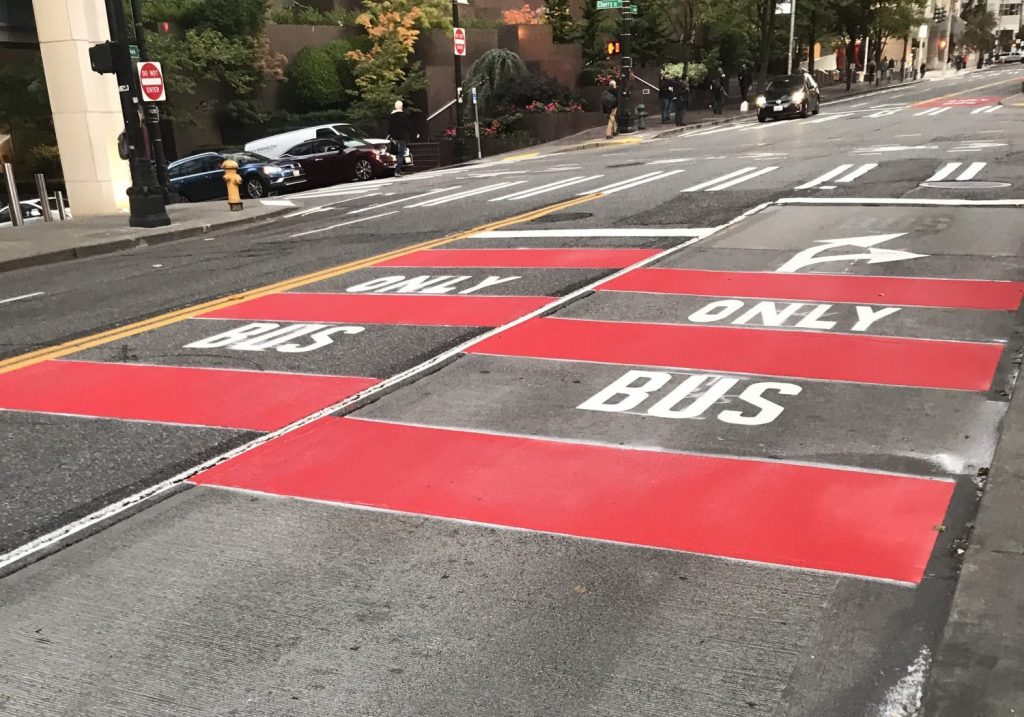 Hopefully, SDOT will conduct before and after field observations to see if higher compliance rates are obtained. Ultimately, compliance is likely to be sporadic without heavy enforcement and the only way to guarantee that is for Washington State Legislature to pass camera enforcement of bus lanes, along with intersection box blocking and crosswalk blocking violations to ensure people transit strops are accessible to pedestrians. Seattle should also continue rolling out bus lanes across the city to keep buses flowing.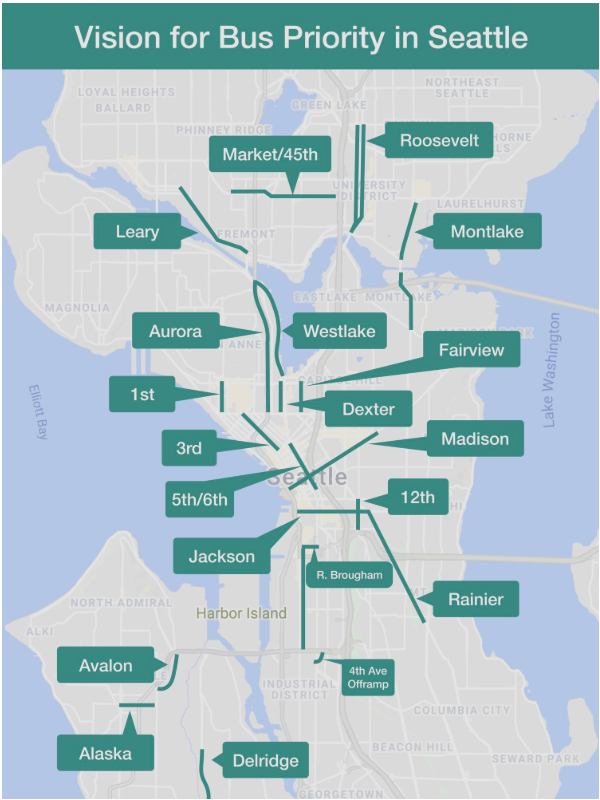 Projects like the two-way Columbia Street transit pathway are well overdue. The City has many immediate and cheap tools available to it, so it's time to put them to use. The 90 blocks of bus lanes the Mayor announced in her 2019 budget are just the tip of the iceberg if we're serious about transit and climate action in this city.
The Urbanist is in the midst of our fall subscriber drive. Please consider becoming a monthly donor. Thanks!
2019 Fall Subscriber Drive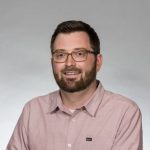 Doug Trumm is publisher of The Urbanist. An Urbanist writer since 2015, he dreams of pedestrianizing streets, blanketing the city in bus lanes, and unleashing a mass timber building spree to end the affordable housing shortage and avert our coming climate catastrophe. He graduated from the Evans School of Public Policy and Governance at the University of Washington in 2019. He lives in East Fremont and loves to explore the city on his bike.