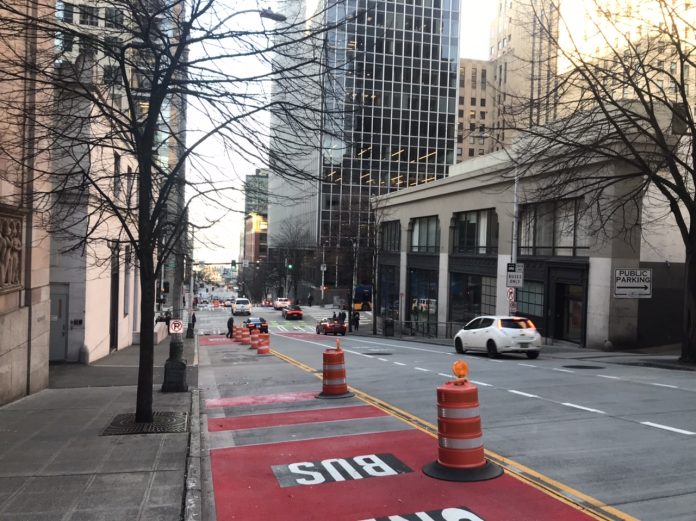 A new transit pathway in Downtown Seattle opens on Saturday. Local officials say that a two-way bus connection on Columbia Street will benefit more than 26,000 daily bus riders, providing easier and more reliable service between the city center and areas to the south. West Seattle, White Center, and Burien riders have been hit hard by the Seattle Squeeze, particularly since the new SR-99 tunnel opened and deconstruction work on the former viaduct forced reroutes to surface streets through SoDo and Pioneer Square. King County Metro all but issued an apology to riders at the end of summer over mounting delays, some approaching a full hour, due to interim routings on 1st Avenue without dedicated bus lanes.
Transit riders on a dozen bus routes will be moved off of 4th Avenue and nearby streets passing through Pioneer Square to the new pathway. King County Metro is planning for Alaskan Way to be new transit pathway along with Columbia Street, where buses will travel along a four-block stretch with the new bus lanes and transit signals. That should speed buses to and from 2nd Avenue and 3rd Avenue transit spines through Downtown Seattle. The new transit pathway will also have other benefits for riders, bringing them closer to light rail, ferries, and eventually streetcar service.
Riders should be aware that bus stops between Madison Street and S King Street may be moved. Stop pairs will be clustered on Columbia Street between Alaskan Way and Western Avenue as well as on 2nd Avenue and 3rd Avenue between Madison Street and Columbia Street. The changes will affect riders on Routes 21X, 37, 55, 56, 57, 113, 120, 121, 122, 123, 125, and the RapidRide C Line.
Two weeks ago, King County Executive Dow Constantine stressed the pain major construction work has caused this past year and the promise ahead. "The Seattle Squeeze has tested the patience and endurance of commuters, and this month we reach an important turning point–putting buses on a better pathway to and from downtown Seattle," he said. "A new hub of connections between ferries, water taxis, buses, and light rail within a few blocks make transferring easy, and will help keep people moving. Our partners at the city and waterfront have prioritized transit, helping make progress toward defeating the climate crisis and bringing more people closer to fast and reliable Metro service."
The arrival of the new transit pathway is certainly welcome, but it could have lessened a lot of pain sooner had the SR-99 construction projects not turned into one debacle after another. Right now, Sound Transit is in the midst of a 10-week project to connect the East Link light rail extension with Central Link in Chinatown-International District. That has brought much lower light rail frequencies and even weekend closures, and ultimately headaches for transit riders.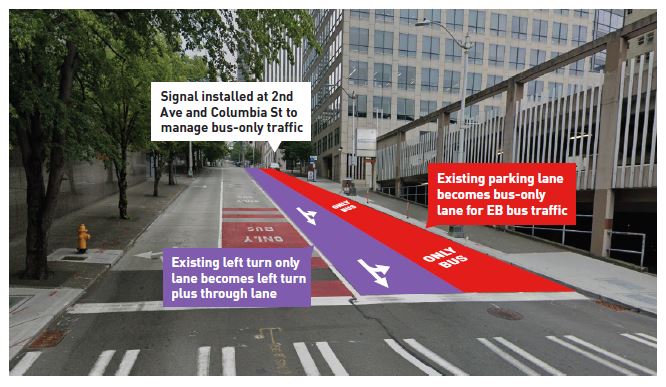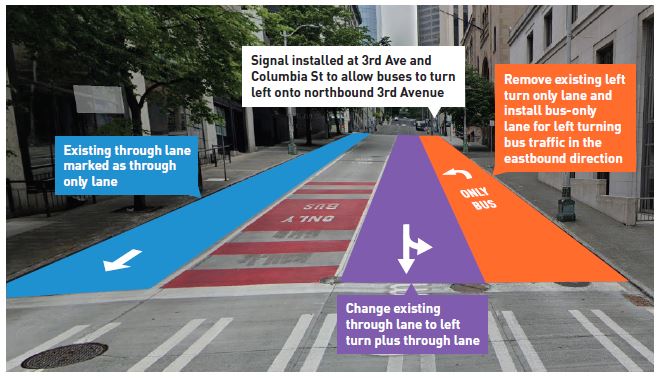 The new transit pathway project was led by the Seattle Department of Transportation (SDOT), which rapidly finished up work in the past week, though prior construction had been done last year. Columbia Street has been converted from a one-way westbound street to a bidirectional street for transit. The three northern lanes will continue to provide for westbound traffic between 3rd Avenue and Western Avenue. A westbound bus-only lane will be sandwiched between two general purpose lanes to reach Alaskan Way. Those general purpose lanes will provide for some turning movements at intersections. Separately, an eastbound bus-only lane will be provided to connect buses from Alaskan Way to 3rd Avenue. New transit signals have also been installed for priority.
Between Western Avenue and Alaskan Way, SDOT has restored Columbia Street to a three-lane right-of-way. A bus-only lane will be located on the south side of the street, a general purpose left-turn lane in the middle, and a bus-only left-turn lane on the north side of street. The project was billed at around $3.5 million due to repouring concrete, sidewalk and drainage upgrades, utility relocation, and installation of transit signals. The cost of actual red "Elmo" paint for the bus lanes was minimal.
On Wednesday, local officials gathered to christen the new transit pathway. Among them were Executive Constantine, Seattle Mayor Jenny Durkan, Metro's General Manager Rob Gannon, and SDOT Director Sam Zimbabwe. More work is ahead for these officials as the focus for the corridor moves to constructing bus-only lanes on Alaskan Way between King Street and Columbia Street, perhaps shaving a few minutes off each trip during peak hours. Those improvements should come by the end of 2021.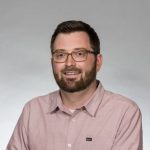 Doug Trumm is publisher of The Urbanist. An Urbanist writer since 2015, he dreams of pedestrianizing streets, blanketing the city in bus lanes, and unleashing a mass timber building spree to end the affordable housing shortage and avert our coming climate catastrophe. He graduated from the Evans School of Public Policy and Governance at the University of Washington in 2019. He lives in East Fremont and loves to explore the city on his bike.