A new survey suggests that telecommuting was already on the rise in Seattle even before fears over COVID-19 prompted the recent spike in remote work as people across the region are being encouraged to work from home to help slow down transmission of the virus.
While COVID-19 is a new threat, the congestion woes for commuters in Downtown Seattle are nothing new. However, recently released survey results from nonprofit Commute Seattle show some noticeable changes to commuting patterns among Downtown Seattle workers in 2019, including a sharp uptick in telework.
Transit, meanwhile, saw its mode share decrease 2% from its peak in the last survey in 2017, and walk share also slipped to 7%. The driving alone rate was up one point to 26%. Commute Seattle noted they were now counting ridehailing trips with just one passenger in the drive alone category, which may help explain driving's uptick after a decade of declines. Beyond methodological changes, drive alone's resurgence and transit's slide may also be tied to a failure to keep buses from getting stuck in worsening congestion, particularly as we entered in 2019 the constrained period known as the Seattle Squeeze. The State Legislature's recent passage of automatic camera enforcement of bus lanes marks a significant step to fix that–if the pilot program can be implemented well.
Commute Seattle's Center City Mode Split Survey is conducted biannually by consultant EMC Research​. This year survey's shows about 6% of downtown employees worked remotely or shifted their schedules to avoid peak-hour commutes in 2019, representing an threefold increase in teleworking among Downtown Seattle employees since 2010. Additionally as many as 14% of the survey's respondents said they telework at least one day a week.
Even the increase that occurred between 2017 and 2019 was pretty remarkable, with 7,740 more workers, an increase of 46%, claiming to have teleworked on a typical weekday in 2019.

Another standout data point from the survey was how many commuters used multiple modes of transportation in their commutes. More than a third of commuters (36%) reported using more than one mode of transportation during the workweek, with transit topping the list of transportation choices.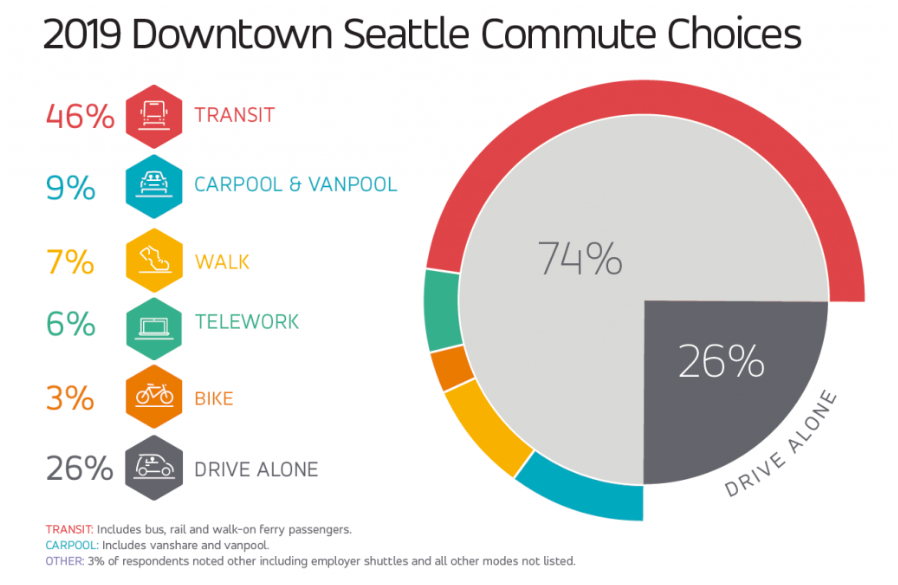 While drive alone numbers did inch up slight in 2019, they remain fair lower than 2010, despite the fact that nearly 100,000 more workers commuted into Downtown Seattle in 2019, an area which was revised for the 2019 report to include First Hill and part of Capitol Hill.
"People choosing to get to work without driving alone–and companies who actively support their employees to make sustainable travel and scheduling choices–have made sustained economic growth in downtown possible," said Seattle Department of Transportation Director Sam Zimbabwe in a statement.
Despite, the increase in teleworking, transit remains by far the most popular way for weekday peak-hour commuters (6am to 9am) to travel downtown, accounting for nearly half (46%) of trips. This translates to more than 135,000 commuters traveling by bus, light rail, commuter rail, streetcar and walk-on ferry trips, a number that is nearly double the number of those who drive alone.
"Metro is gratified that commuters have continued their reliance on public transit, while also using a range of mobility options to reduce dependence upon single occupancy motor vehicles," said Chris O'Claire, director of King County Metro's Mobility Division, in a statement. "We will continue our work as a mobility agency to support the public with transportation options that meet their shifting needs."
Another thing that changed in this year's survey was where exactly was covered with the boundary of the center city. Commute Seattle altered the survey area to match how City defines the boundaries. Northern portions of Uptown and Capitol were removed, as were southern chunks of the Chinatown-International District and Pioneer Square. Meanwhile, eastern portions of First Hill, Pike/Pine, and Capitol Hill were added.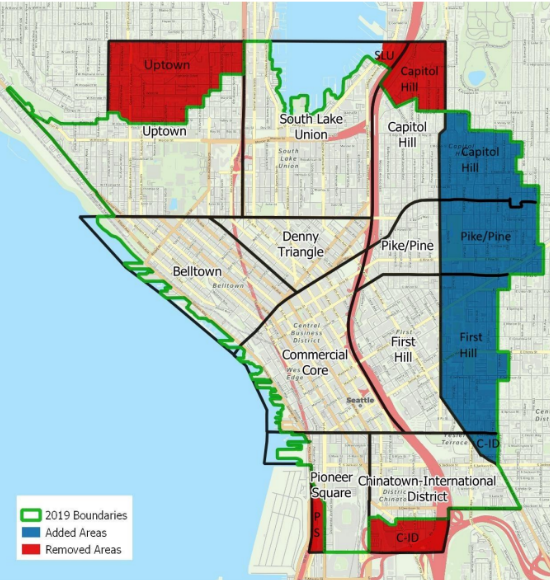 The commute patterns demonstrated by the Center City Mode Split Survey are consistent with numbers published by Richard Florida in CityLab last year, which found that knowledge economy workers living dense cities were far less likely to drive alone to work than other US commuters. That trend is at least in part attributable to the fact that these workers can afford to live in more desirable metro areas and have jobs that allow for the flexibility to work remotely or on an alternative schedule.
However, access to transit and infrastructure for safe walking and biking also wield great influence over people's commute patterns, and it is likely that 25% increase in King County Metro Bus service since 2014, as well as Sound Transit's expansion of light rail, help explain why transit is still the top choice for Downtown Seattle commuters.
If Seattle would like to see drive alone rates back on the decline and transit, walking, and biking rates back on the rise–and our leaders say they would–we need to be more deliberate about rededicating and redesigning street space. Stepping up bus lane expansions, creating a connected network of protected bike lanes, pedestrianizing key walking corridors, and implementing protected intersections are the steps necessary to turn aspirations into reality.
The feature image of Seattle is credited to Mr. Kaya and used via Creative Commons.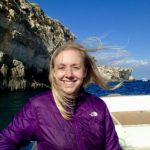 Natalie Bicknell Argerious (she/her) is a reporter and podcast host at The Urbanist. She previously served as managing editor. A passionate urban explorer since childhood, she loves learning how to make cities more inclusive, vibrant, and environmentally resilient. You can often find her wandering around Seattle's Central District and Capitol Hill with her dogs and cat. Email her at natalie [at] theurbanist [dot] org.