Two things were missing from Thursday evening's virtual North Seattle Community Needs Town Hall with Mayor Jenny Durkan. There was no aggressive timeline for reopening businesses. There was no good news about the budget.
Instead, Mayor Durkan and the heads of the city's departments followed one another to discuss on-the-ground responses to residents' issues. From addressing racial violence to keeping people in homes with the lights on, each cabinet member took a turn talking about where citizens can get help and what kind of help they can expect.
The straight-forwardness of the requests were stark. How is the city supporting food banks and making sure neighbors are fed? How do we support mental health of people being kept at home? Who gets tested?
The answers were similarly straightforward. The Office of Labor Standards has an extensive explanation for employers to learn how they shall provide employees with paid sick leave. The city's Covid-19 Resources Page will be a clearinghouse of online resources. The City will not tolerate violence towards members of Asian American communities, and the Office for Civil Rights asks the public to report bias incidents, including slurs, intimidation, or racist graffiti. The office will track reports to develop ways of addressing the issue. The police will still respond to violent incidents.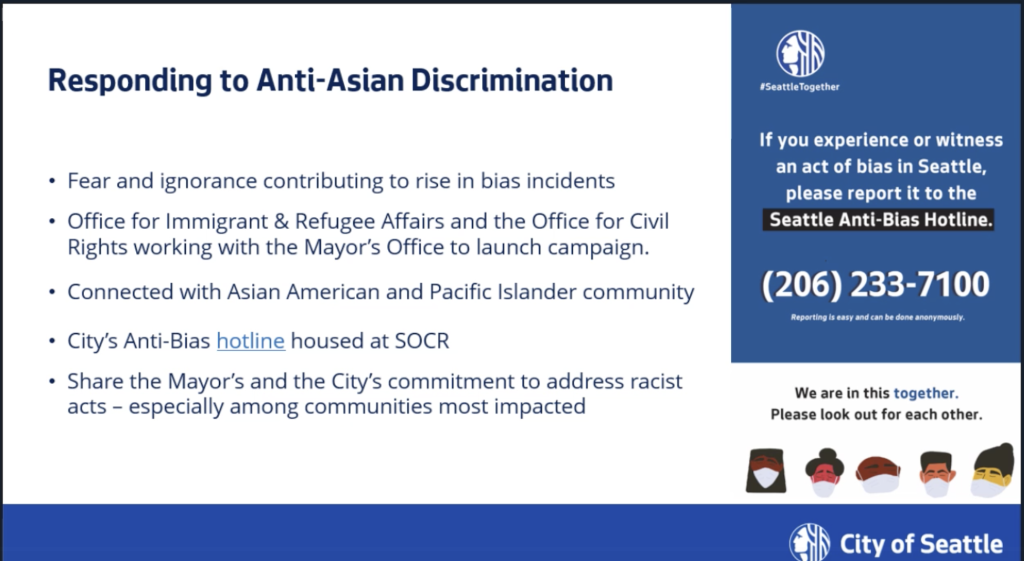 Testing remains deficient. Mayor Durkan drew a line between the lack of testing and the current social distancing and lockdown protocols. "We went into shutdown because we could not see the virus developing in our community," the Mayor said. The city is looking to acquire its own testing, talking with hospitals and continuing to work with federal partners.
Housing consumed a substantial amount of the discussion, from the eviction moratorium to reducing impact of the crises on those experiencing homelessness. The Department of Human Services said they have a three pronged approach–shelter, outreach, and hygiene–for bringing services to people who are unhoused. On Monday, we saw a fourth prong of that approach continues to exist: sweeps of homeless encampments even though there is a shortage of available shelter beds. 
And, according to Seattle Public Utilities and Seattle City Light, no one is going to lose water or electricity during this pandemic. The unity with which utilities suspended shutoffs, fast-tracked reconnections, and waived late fees makes one wonder why these punitive measures are in place to begin with.
On the budget front, Mayor Durkan discussed balancing a $200 to $300 million dollar shortfall. The 2021 budget deficit "may be larger." This will force prioritization. First on that list, according to the Mayor, are programs that directly help the most vulnerable and most impacted by the health and economic crises. After that are basic city services like police and fire. From there, the city will rely on its emergency fund, the rainy day fund, and hoped for federal money. In the mean time, the Mayor is advocating for a state income tax because "it's more fair and more durable."
On a question of following Governor Jay Inslee's phased plan for reopening, Mayor Durkan gave a simple answer. "We don't know yet. The virus is going to dictate the terms."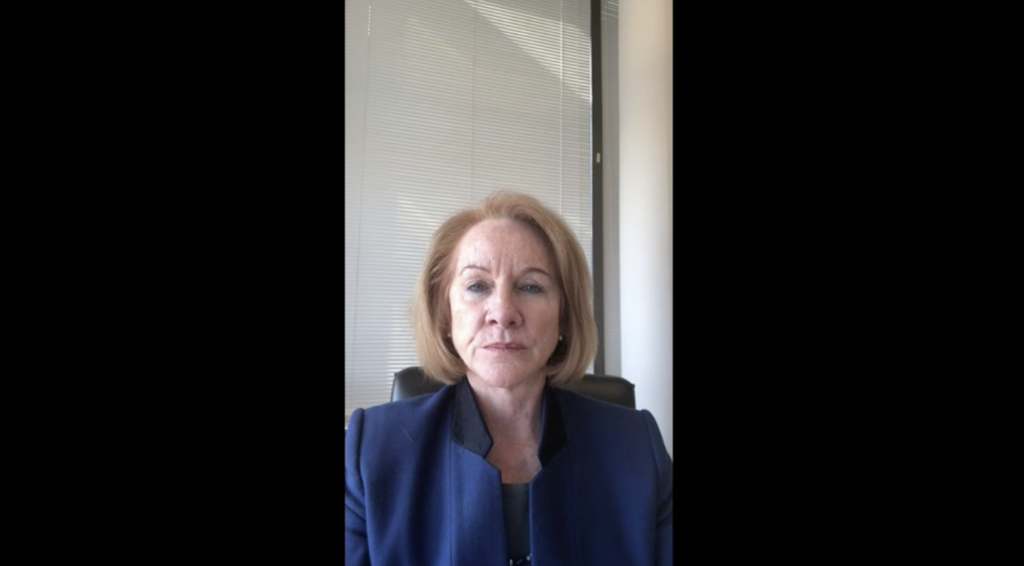 That was a common thread running through all the answers from department heads and the Mayor. At the moment, the terms are being dictated to Seattle from many different fronts. The lack of employees at big businesses threw the city into reacting for the many small businesses who lost all their customers. The city is waiting a federal infrastructure stimulus bill. In a pleasant surprise, Seattle's federal delegation was instrumental in getting gig economy workers into the relief act. Housing requires intervention from all levels of government. And the virus will be with us for years.
A hard listening to this virtual townhall could find a lot of despair. Three months in, and we are still putting out fires. Many of the announced projects and successes are short-term responses to a shocking situation. Not just shocking due to the economy and the virus, but from suddenly finding that the city is on unsteady footing in unexpected places. In her remarks, Mayor Durkan said that the early days of lockdown were difficult because "there is no playbook, but we knew we didn't want to be Italy." That such was a possibility would be traumatic.
To the Mayor's credit, any despair that might be around City Hall is covered up by a lot of consistent process. Not the infamous Seattle Process, but a routine of strong contacts, publicly recognized partners, and working relationships with other levels of government, non-profits, and the private sector. That attempt to build that consistency and trust came through in this virtual town hall.
When asked about supporting mental health, Mayor Durkan offered something that sounded like both a plea and a vision: "Be kind and give each other a break. What we don't get right, we're going to try and do better the next time. Lock hands with partners. Center on values we know are important. Come out of this a stronger and better city. We didn't do everything right, but we got it right."
Consistently showing that her administration is reaching out and hearing partners gives the Mayor some goodwill and leeway to ramp up. We're not going to be Italy, but we're not going to be Oakland or Paris either. In the kind of slow roll that infuriates advocates, Seattle was weeks behind other cities in closing some streets to car traffic for people to exercise and complete essential trips with proper social distancing–and still hasn't extended this "Stay Healthy Streets" lifeline to Seattle's densest neighborhoods. And lifelines are what open streets are: the absence of heavy traffic has led to a rash of speeding and an uptick in deadly crashes.
Yesterday, Mayor Durkan announced that the city's 20 miles of open streets would be made permanent, something none of Seattle's American peer cities have done yet. Making open streets permanent is getting it right, indeed.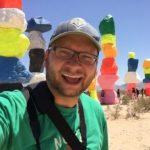 Ray Dubicki is a stay-at-home dad and parent-on-call for taking care of general school and neighborhood tasks around Ballard. This lets him see how urbanism works (or doesn't) during the hours most people are locked in their office. He is an attorney and urbanist by training, with soup-to-nuts planning experience from code enforcement to university development to writing zoning ordinances. He enjoys using PowerPoint, but only because it's no longer a weekly obligation.