Across the world cities are taking bold measures to make it safer to walk and bike for transportation during the COVID-19 epidemic and beyond. Is Seattle's leadership finally jumping on board?
Little good can be said about how the COVID-19 epidemic has upended (and sadly ended) people's lives across the globe. But one undeniable bright spot is how widespread confinement has resulted in a marked decrease in air pollution measured in cities, including Seattle, where the Seattle Department of Transportation (SDOT) has cited a decrease in traffic volumes of nearly 60% during Governor Inslee's Stay Home, Stay Healthy order.
Pollution levels of nitrogen oxide (NO2), a pollutant responsible for acid rain and smog, declined by about 10% between February and March in Downtown Seattle, according to an article published in the UW Daily.
Professor Dan Jaffe, UW Bothell chair of physical sciences, stated that the Seattle area's traffic woes would "probably disappear" if everyone continued to work two days per week from home, a shift that would result in a 10% to 20% decrease in traffic, enough to prevent the traffic bottlenecks that spike commute times and vehicle emissions.
"[I]f everyone figures out, 'Hey, now I know how to telework and I can actually do this two days a week,' our pollution levels would go down, our greenhouse gas emissions would go down, and traffic would get a lot better," Jaffe said.
The same argument Professor Jaffe makes in favor of shifting more employees to telework in order to decrease traffic congestion, and subsequently air pollution, can also be used to advocate for making streets safer and more comfortable for zero-emission forms of transportation like walking and biking. Since not all workers have the luxury of being able to clock-in remotely, it's even arguable that prioritizing walking and biking for transportation would be even more effective at reducing emissions and improving air quality.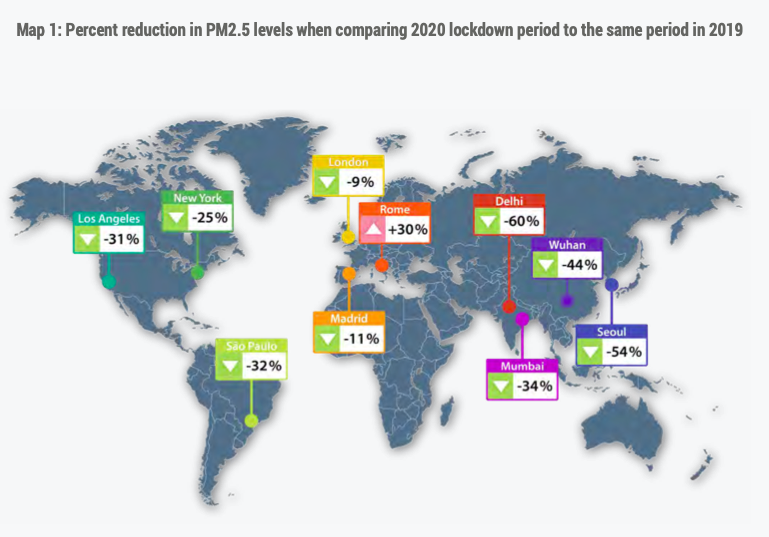 Recognizing that air pollution will only serve to worsen health outcomes during the epidemic, cities like Paris are taking bold steps to dramatic reduce the footprint of cars on the city by pedestrianizing streets, adding new permanent bikes lanes, widening side walks, and increasing greenery.
In fact the Parisian government is taking steps now to ensure that virus fears don't lead to an increase in car traffic in the city. "I say in all firmness that it is out of the question that we allow ourselves to be invaded by cars, and by pollution," Mayor Anne Hidalgo said. "It will make the health crisis worse. Pollution is already in itself a health crisis and a danger–and pollution joined up with coronavirus is a particularly dangerous cocktail."
The rapid expansion of safer streets for walking and biking in Paris follows in line with Hidalgo's pre-existing goal to transform Paris into a 15-minute city, or a city in which all residents can meet their immediate needs within a short walk or bike ride.
While Seattle's leadership has been much more cautious about seizing the current moment to transform the city's transportation system and streetscape, some hopeful signs might indicate that a similar logic might making its way into local decision-making and that positive changes for pedestrians and cyclists might be here to stay.
Durkan announces 20 miles of permanent "Stay Healthy Streets," promises to accelerate construction of bike lanes
The Seattle Department of Transportation (SDOT) announced its first roll out of the "Stay Healthy Streets" pilot on April 16th, beginning with the upgrade of two neighborhood greenways, one in the Central District and another in West Seattle, to exclude through car traffic. Over the following weeks, the City expanded the pilot to convert more neighborhood streets to safe spaces for exercise and transportation.
Yesterday, Mayor Jenny Durkan announced that at least 20 miles of the popular Stay Healthy Streets pilot will remain permanently closed to most traffic. The City of Seattle has also unveiled plans to open an additional three miles of Stay Healthy Streets in Rainier Valley and one-third mile of Beach Drive SW in Alki this weekend.
"We are in a marathon and not a sprint in our fight against COVID-19. As we assess how to make the changes that have kept us safe and healthy sustainable for the long term, we must ensure Seattle is rebuilding better than before. Safe and Healthy Streets are an important tool for families in our neighborhoods to get outside, get some exercise and enjoy the nice weather. Over the long term, these streets will become treasured assets in our neighborhoods," said Mayor Durkan in a press release.
While the prospect of at least 20 miles of neighborhood streets being permanently closed to through traffic represents an undeniable win, advocates are hoping that the City will continue to step up to do more to keep pedestrians and cyclists safe.
The Urbanist has voiced support for Seattle Neighborhood Greenway's (SNG) plan to convert a network of 130 miles safe streets for walking and biking. SNG's plan was created with community feedback and offers ideas for streets to convert in Seattle's densest neighborhoods, including Downtown Seattle, Belltown, and the University District, which have continued to be overlooked.
In a Seattle Times article, SDOT Director Sam Zimbabwe described SNG's Stay Healthy Streets plan as ambitious. "We're going to be as ambitious as resources enable us to be," Zimbabwe said, perhaps alluding to the fact the COVID-19 crisis is widely expected to "knock $210-300 million a hole" in the City's budget.
While Mayor Durkan's promise to accelerate the construction of bike infrastructure is welcome news for many cycling advocates, details remain scarce on which projects will be prioritized and how many miles of infrastructure will be constructed 2020. Residents of South Park, Georgetown, and West Seattle are hoping that their neighborhoods will receive priority, given the current lack of safe bike infrastructure in those areas and new transportation pressures created by the closure of the West Seattle Bridge. The Seattle Bicycle Advisory Board has endorsed their request.
The beginning of the end for "beg buttons"?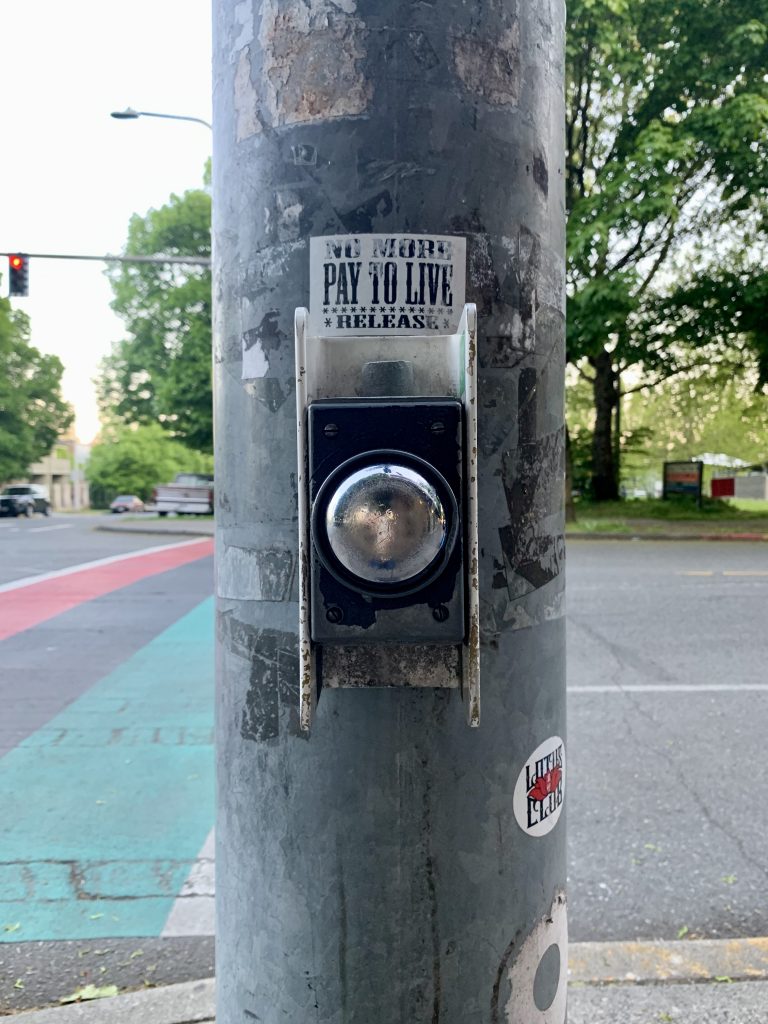 Changes are also coming to how pedestrians are able to move through intersections throughout Seattle. According to SDOT, in a move to reduce crowding at intersections by reducing the length of time people are required to wait, the agency has changed nearly 800 traffic signals to remain on off-peak timing during all times of the day and night.
Additionally, nearly 75% of walk signals in Urban Centers and Hub Urban Villages will display a walk signal every time there is a green light for cars. In practical terms, that means at over 410 traffic signals pedestrians no longer have to scramble to press the "beg button" in time to be able to activate the walk signal.
While the shift may seem small, beg buttons have long been a scourge for many pedestrian advocates because of how they prioritize car traffic through intersections. Additionally, in the era of COVID-19 transmission, needing to press your hand against a button to activate the walk signal has become downright dangerous.
According to SDOT, the agency is continuing "evaluate operations at 100 another intersections" and it plans to formally update traffic signal policy to reflect the new approaches sometime later this summer.
Our goal will be to update and formalize our approach to push buttons so that you won't have to press a button if you don't need to, and also recognizing that there are some places where giving pedestrians control to stop car-traffic makes the most sense.

SDOT Blog, May 7, 2020
While the current 20 miles of Stay Healthy street conversions and SDOT's adjustments to traffic signal policy are relatively modest, it is heartening to know that these positive changes are considered permanent. Hopefully the City will build on these efforts and continue to seek out new innovative ways to prioritize walking and biking for transportation.
The featured photo is from the Seattle Department of Transportation blog.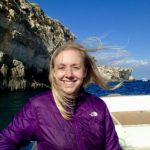 Natalie Bicknell Argerious (she/her) is a reporter and podcast host at The Urbanist. She previously served as managing editor. A passionate urban explorer since childhood, she loves learning how to make cities more inclusive, vibrant, and environmentally resilient. You can often find her wandering around Seattle's Central District and Capitol Hill with her dogs and cat. Email her at natalie [at] theurbanist [dot] org.