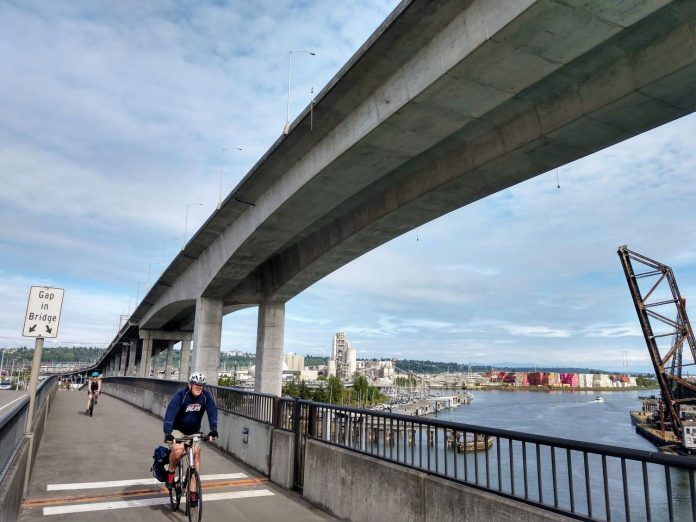 In a recent blog post, the Seattle Department of Transportation (SDOT) has outlined the framework it will use to evaluate options to replace or extend the lifespan of the West Seattle High Bridge. This cost-benefit analysis will be completed in October.
Working with their Technical Advisory Panel, SDOT has come up with six general scenarios. The first scenario doesn't preclude the others. Temporary shoring could allow traffic to return to bridge in 2022, but only extend the bridge's safe usage for around three years. The other options run the spectrum of repair and replace.
Repairing the bridge
SDOT and its advisers have been sounding more optimistic that repair is a viable option, as I detailed last week. It was only a week ago, that the Technical Advisory Panel recommended retaining and exploring the repair option fully. Both options could potentially reopen the bridge in 2022 and extend the lifespan of the bridge by approximately 15 years.
The first repair option is similar to the stabilization work that SDOT is still working on. This option furthers current stabilization work with more comprehensive carbon fiber wrapping and post-tensioning system work. Foundation strengthening would also be included.
The next repair option is a partial superstructure replacement. This scenario only involves replacing the center span of the bridge between piers 16 and 17 with a new steel box girder. Foundation work is also included in this option to ensure bridge stabilization.
Weighing the replacement options
The replace options are the most nebulous at the moment, all concepts have several iterations in consideration. The traffic restoration forecast is also less reliable, 2025 or 2026 is SDOT's current prediction for a replace option. The replace option extends the lifespan projections from at least 50 years and 75 years or longer for the full bridge replacement or tunnel replacement options.
Similar to the second repair option, the first replacement option is a full superstructure replacement. This involves replacing all three high-rise spans between piers 15 and 18 while reusing the foundation–which can be costly and time-consuming to build from scratch. Right now bridge construction with concrete and a post-tensioning steel system, or steel box girders are being considered. Like partial replacement, there'll also be foundation work.


Next is the full bridge replacement in the same footprint option. This option only reuses the roadways leading to the bridge. Quite a few bridge options are being explored for this option. SDOT mentions options such as a steel truss bridge, or a cable stayed bridge.
Lastly is the tunnel replacement, which has the least detail discussed, but has been promoted by retired civil engineer Bob Ortlab in other publications. Nothing would be reused in this scenario. It would likely be the most expensive option.
SDOT's Criteria
Guiding the evaluation of the options are 10 criteria that SDOT has laid out. The criteria won't hold equal weight. The Community Task Force, Technical Advisory Board, and SDOT will be all be discussing and evaluating the varied importance of each point.
The 10 criteria are as follows:
Constructability – Feasibility of the contractor being able to build this concept given site constraints and schedule;
Environment – Temporary and permanent impacts of the concept on the Duwamish River and surrounding area and feasibility of building concept in mandated in-water work windows;
Equity – Equity impact on West Seattle and Duwamish Valley community, on rights of local native population, and on communities of color;
Forward compatibility – Each option's compatibility with Sound Transit light rail, and other potential transportation projects and effect on traffic capacity and waterway navigation needs;
Funding and Cost – Availability of funding and estimated capital costs of each option;
Maintenance and Operation – Need for and ability to do operation, maintenance, and inspection for each option;
Mobility – Effect on movement of people and goods, and overall accessibility of each option;
Multi-modality – Effect on all modes of travel;
Regional business – Effect on business, ship channel, business access of each option; and
Seismic resilience and Safety – Seismic standards achieved by each option and feasibility of future seismic upgrades on each option.
These criteria are critical to ensure that the outcome ameliorates the current situation in a feasible, future-proof, safe, and fair manner. Urbanists will have particular interest in the importance of forward compatibility, tying in the West Seattle light rail expansion may be a way to accelerate the expansion of the light system.
Full replacement with a new bridge or tunnel will probably be the best for future compatibility, but also come at a major capital and environmental cost. I imagine that seismic resilience and safety would also be better with new construction.
Based on the 15-year lifespan of a repair option, I'm very hesitant to endorse repair. Being faced with another West Seattle Bridge crisis in the late 2030s is unappealing, unless the cost0benefit analysis yields favorable results for a replacement planning in the 2030s and repair now.
What to do in the meantime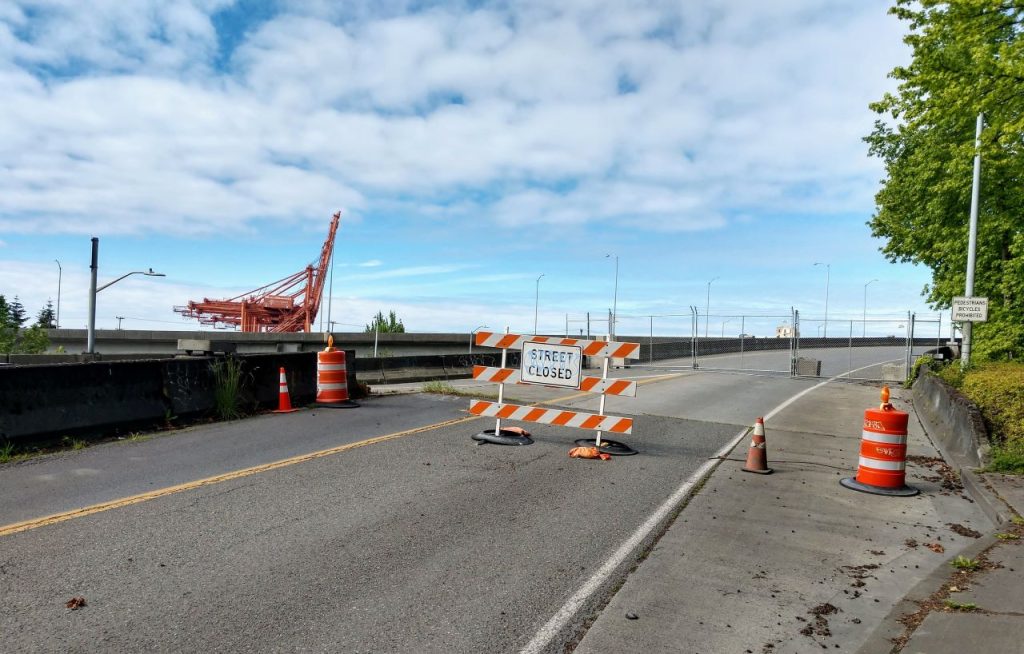 While we wait for the cost-benefit analysis to be completed in October, be sure to follow and perhaps participate in SDOT's community outreach. Current forecasts highlight 2022 as the earliest that traffic can be restored to the West Seattle Bridge corridor. That's at least another two years of irregular traffic flows in West Seattle, which in some ways can be an opportunity to upgrade infrastructure for walking, rolling, and biking.
Especially, if you work or live in West Seattle be sure to complete the Reconnect West Seattle Survey to help meet your short term needs. For more information follow the West Seattle Bridge Community Task Force's meetings. You can also subscribe at the West Seattle High-Rise Bridge Safety Project's website for updates on the bridge and community engagement.
Shaun Kuo is a junior editor at The Urbanist and a recent graduate from the UW Tacoma Master of Arts in Community Planning. He is a urban planner at the Puget Sound Regional Council and a Seattle native that has lived in Wallingford, Northgate, and Lake Forest Park. He enjoys exploring the city by bus and foot.