On Tuesday, King County Metro released its West Seattle Bridge Closure Transit Action Plan. The transit agency operates bus services, water taxis, and van-share in West Seattle.
The comprehensive plan was developed by Metro's West Seattle Bridge Response Team, in coordination with the Seattle Department of Transportation (SDOT) and other relevant agencies. The agencies have set a goal of increasing transit's mode share to 30% from a pre-closure baseline of 17%. It covers two time horizons, June 22 to September 20, 2020, and September 2020 through September 2021.
For the June 22 to September 20 service plan, Metro increased service as the region was started to recover from the first major wave of the pandemic. In this service plan, Metro has been focused on service accessibility, reliability, and demand responsiveness.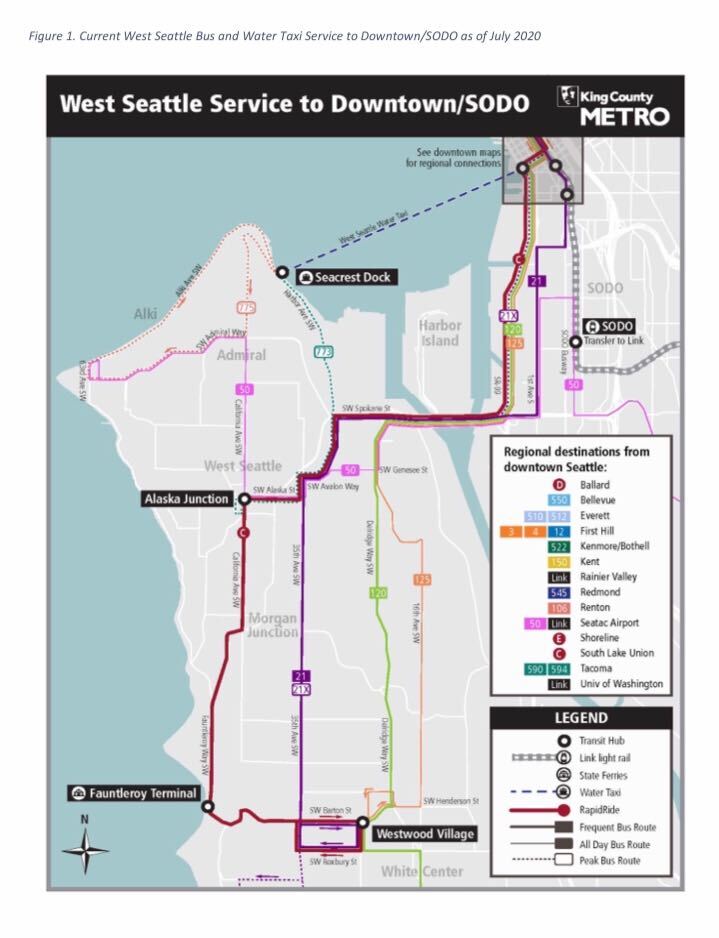 Upcoming transit deliberations
For the next service plan, Metro is planning service changes that are subject to change as the Coronavirus outbreak, West Seattle Bridge, and funding situations evolve. Ridership also faces an uncertain future despite ambitious goals for growth.
The combination of three crises are creating major challenges for Metro. Policymakers worry that telecommuting and discomfort with riding transit will affect ridership for a significant stretch of time. Detours caused by bridge closure are harming the reliability of routes that depend on newly congested and bottlenecked corridors.
Metro is looking for funding from the city or a third party to make service changes and improvements to mitigate the effects of bridge closure and COVID-19. Among the most visible service improvement concepts that Metro plans on considering and developing are:
Water Taxi service upgrades;
Route 773/775 Water Taxi shuttle improvements, including new routes and/or increased frequency;
RapidRide C service for both peak and off-peak trips;
All-day fixed routes between Admiral and Downtown; and
Route 50 service frequency increases.
In the meantime, Metro is planning countywide services cuts as the pandemic and recession hinder revenue streams. Even with the potential voter approval of a new Seattle Transportation Benefit District (STBD) package, Metro expects trip and capacity reductions. The proposal sets aside $9 million annually for mitigating the West Seattle Bridge closure so the peninsula should be somewhat insulated from the overall funding scarcity. Should funding become available, Metro plans on engaging with SDOT and community to identify greatest needs.
During the crisis, Metro will be monitoring demand and available resources to identify new trends and add supplemental services as West Seattleites adapt to bridge closure. Typical turnaround for Metro is a week, but they agency believes they are capable of responding faster.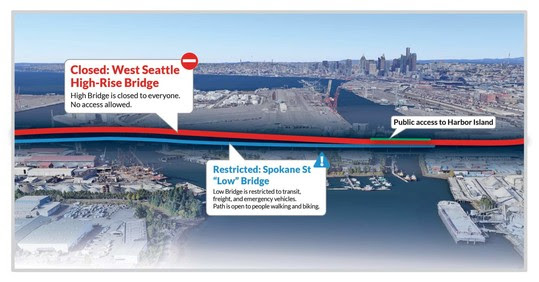 Park-and-ride enhancements considerations are also competing for limited funding in this action plan. Metro has entertained steps to reconfigure existing lots to yield more space, lease additional parking capacity, and partnering with platforms that match drives with reserved parking spaces. Councilmember Lisa Herbold, whose represents West Seattle, has also expressed an interest in expanding the app-based shuttle service Via to Transit, though the cost-per-ride is typically much higher than fixed-route service.
Communications and emergency planning
More detailed and concrete are Metro's plans for community outreach and low bridge closure planning. Uncertainties in funding and ridership are less likely to affect either of these processes.
Metro is planning a customer-focused engagement plan to gain back lost riders, maintain riders, and attract new ridership. Developed messaging covers rebuilding customer confidence in using transit post-Covid, managing expectations, and preparing customers for delays faced in West Seattle.
Additionally, the action plan operates under two scenarios, whether or not the Spokane Street Low Bridge remains open. This part of the action plan is the most solid, as there is already extensive rerouting planned in case the access to the low bridge and surrounding area is lost.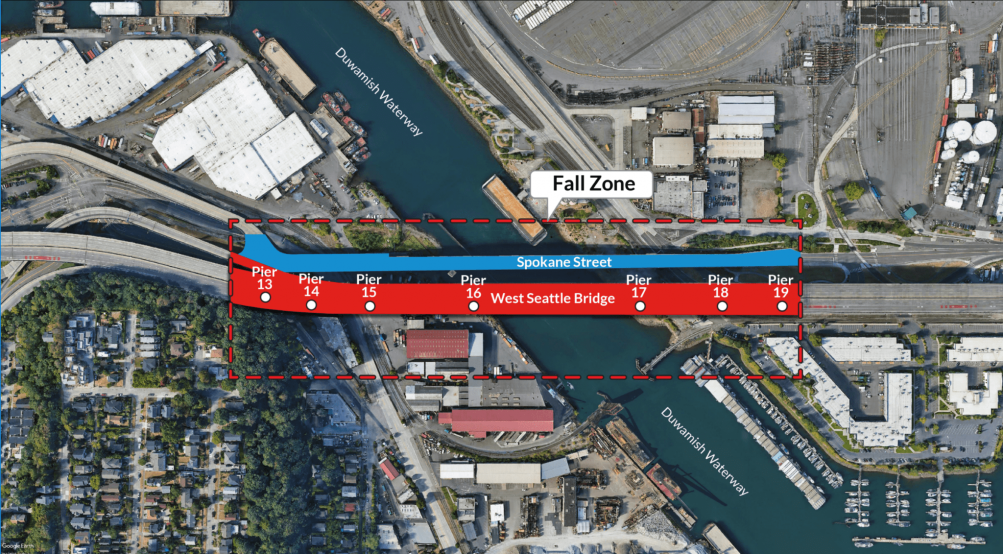 At this point in time, a low bridge closure scenario isn't likely despite a scare about cracking–at least until more intensive work begins on the high bridge that requires a temporary construction closure. SDOT is doing stabilization work that should mitigate most of the risk of structural failure to the high bridge, which would then risk jeopardizing the low bridge in a collapse. These plans may be put into motion during construction for repairing or replacing the West Seattle Bridge.
Past 2021
Ultimately, the goal of the plan is to address mobility needs of West Seattle residents with modes under Metro's purview. Our transit agencies will have to deal with bridge closure until 2022 at the earliest with a repair option or until 2026 under estimated timelines under a replace option. See the latest on the different repair and replace options and cost-benefit analysis here.
A full resolution of the public health issues from Covid is still an unknown time away from us, as is the economic recovery. The near-term reality for the transportation agencies and West Seattle's transportation environment seem dire.
Renewing the STBD is one way to relieve Metro and our other transportation agencies, but some service cuts would still be expected, particularly in the rest of the region. Additional funding is being sought for, as SDOT partners look toward State and federal grants, federal loans, and local funding possibilities to repair/replace the bridge and mitigate the effects of its closure.
In the meantime, be sure to participate in community outreach to push SDOT in the direction to help you meet your short-term needs. For more information and outreach follow the West Seattle Bridge Community Task Force's meetings. You can also subscribe at the West Seattle High-Rise Bridge Safety Project's website for updates on the bridge and community engagement.
Shaun Kuo is a junior editor at The Urbanist and a recent graduate from the UW's Jackson School. He is a Seattle native that has lived in Wallingford, Northgate, and Lake Forest Park. He enjoys exploring the city by bus and foot.