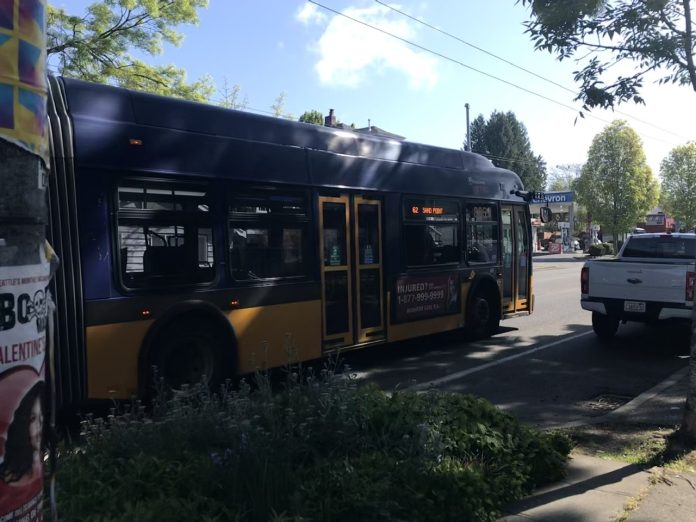 Later this month, King County Metro will implement what is supposed to be a twice yearly service change–though the pandemic has forced volatile interim service changes since March. The September service change will bring a 15% reduction in service hours over pre-pandemic levels, making it the most significant agency-wide service reductions since the bloodbath in 2014. Metro is also pairing a major bus network restructure in South King County with the service change in anticipation of future RapidRide service in Kent, Renton, and Auburn. The South King County restructure should generally improve connections and streamline service, but service in other areas and in Seattle particularly will be notably worse off from the service change.
Falling ridership on commuter routes, suspension of fares, cratering sales tax revenues, and uncertainty about funding from the Seattle Transportation Benefit District (STBD) after December has led Metro to make dramatic changes to service levels with many suspensions, deletions, and reductions. Most of these were already imposed earlier in the pandemic with the most severe reductions coming in March and April, hitting commuter routes with suspensions especially hard.
Since the spring, Metro has restored some service at 85% of pre-pandemic levels, but the agency warned in June that interim service levels might need to be slashed to 80% or 70% of pre-pandemic levels, depending upon available funding sources. Fortunately, Metro is only pursuing a 15% service reduction at this time, bringing annual service hours down from 4,323,595 to 3,657,907. A big chunk of the 665,688 annual service hour reduction is coming out of the STBD which is contracting in half (175,000 annual service hours) from a high of 350,000 annual service hours.

The September service change is billed to include 14 revised, 70 reduced, 52 suspended, and 13 deleted routes, though the deletions are associated with the South King County service restructure as well as five new routes. On top of this, Night Owl service between midnight and 5am will be suspended or reduced on many routes due to loss of STBD funding. Fortunately for South Lake Union riders, Metro is restoring some South Lake Union Streetcar service as part of the service change.
South King County service restructure
Metro is improving service in South King County by making sweeping changes to the bus network, emphasizing connections between mainline routes and importance of Kent Station as an exchange point. The service restructure features five new routes alongside 10 revisions and 13 deletions. Most of the deletions are focused on DART and express routes, though several mainline routes are also being deleted to reorient service. New routes and route revisions essentially make up for the deletions, leaving few areas worse off than before and bringing regular service to some new areas.
Express riders who commute from South King County suburbs to Seattle will notice that there will only be one consolidated express route serving the Kent area instead two routes (at least until Route 157 is restored). Route 162 will serve as the primary express option, though riders could also to connect with Sounder South commuter rail for Seattle at Kent Station. Riders in the Fairwood area of Renton will also notice an improved express connection to Tukwila Station for Sounder South access.
Five new routes will be launched in the service restructure. The most prominent new route is Route 160, which will run from Downtown Renton through Fairwood, East Hill, and Downtown Kent to Auburn Station. This essentially combines Route 169 and the southern portion of Route 180. Metro plans to eventually upgrade this route to RapidRide as part of the RapidRide I Line project.
With Route 180 split, Metro is also creating a new Route 161 that will serve the Kent industrial areas, airport, and tie in Burien. That should provide more direct and valuable service to many riders. Similarly, Metro will blend together Routes 164 and 166 to create a more streamlined new Route 165 that links Burien to Kent and two major local community colleges. The route will run through Normandy Park, Downtown Des Moines, Downtown Kent, and East Hill. Some of the deviations will be eliminated to keep the fairly route direct and send buses down on portions of SE 240th St and 132nd Ave SE where all-day service has been lacking. Highline College and the main Green River College campus will be threaded together by the route, arguably making it the "college express". Additionally, Metro will launch new Route 184, which replaces the Route 180 tail in South Auburn.
To support the new routes and build a complete service restructure, Metro is revising Routes 102, 105, 148, 150, 168, 906, 914, 915, and 917 to provide better local service and feed into the mainline new routes. Meanwhile, Routes 158, 159, 164, 166, 169, 180, 186, 192, 908, 910, 913, 916, and 952 will be retired.
Other service change highlights
Metro plans to operate 53 routes at full service levels. This includes: all of the routes that form the South King bus restructure; Routes 21X, 24, 101, 107, 111, 128, 131, 132, 153, 156, 182, 187, 193, 224, 230, 231, 239, 257, 303, 304, 309, 311, 330, 346, 347, 348, 631 (Burien Community Shuttle), 635 (Des Moines Community Shuttle), 773, 775, 901, 903, 907, 930; and the RapidRide A, B, and F Lines.
Meanwhile, 70 routes and Via to Transit will see lower service levels, which will be particularly acute in Seattle. Many routes will frequencies drop on weekdays and weekends. The reductions affect all-day routes differently with some losing peak and evening frequencies while others only see lowered midday frequencies. Late night service will also be cut, including on Routes 11, 44, 65, 67, and 70. Service reductions apply to Routes 1, 2, 3, 4, 5, 7, 8, 10, 11, 12, 13, 14, 21, 26, 27, 28, 31, 32, 33, 36, 40, 41, 43, 44, 45, 48, 49, 50, 55, 56, 57, 60, 62, 64, 65, 67, 70, 73, 74, 75, 106, 118, 119, 120, 124, 125, 204, 208, 212, 218, 221, 225, 226, 240, 241, 245, 250, 255, 269, 271, 301, 331, 345, 372, and 373 as well as the RapidRide C, D, and E Lines and the South Lake Union Streetcar. (Route-by-route reductions are available from Metro online.)
The 53 routes on the suspended list include Routes 5X, 9, 15, 17, 18, 19, 22, 29, 37, 47, 63, 71, 76, 77, 78, 113, 114, 116, 118X, 119X, 121, 122, 123, 143, 154, 157, 167, 177, 178, 179, 186, 190, 197, 200, 214, 216, 217, 219, 232, 237, 246, 249, 252, 268, 308, 312, 316, 342, 355, 628, 630, and 931. (Metro has a helpful route-by-route analysis to suggest alternative service options where routes are suspended.)
The service change will begin on Saturday, September 19th. No fares will be collected for the time being despite the service change. Metro has indicated that service will be fare-free until protective plexiglass partitions are installed for operators.
Update (9/18/2020): On Friday, September 18th, the Seattle Department of Transportation issued a notice that the South Lake Union Streetcar would be restored with reduced service when the service change goes into effect. Originally the line was on the suspended list.

Stephen is a professional urban planner in Puget Sound with a passion for sustainable, livable, and diverse cities. He is especially interested in how policies, regulations, and programs can promote positive outcomes for communities. With stints in great cities like Bellingham and Cork, Stephen currently lives in Seattle. He primarily covers land use and transportation issues and has been with The Urbanist since 2014.