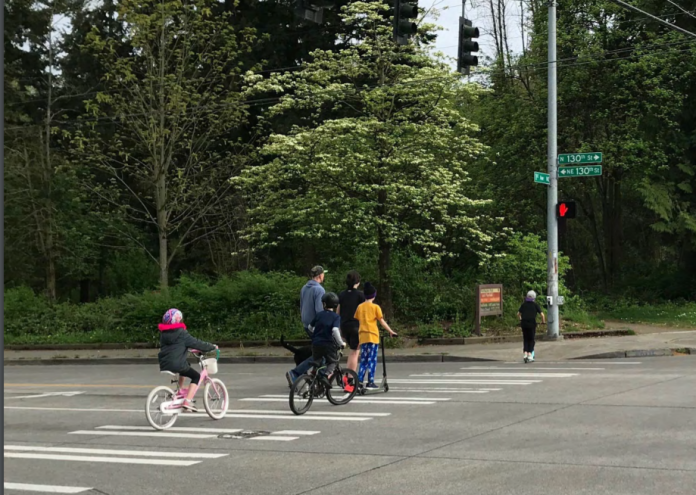 In NE 130th St & 148th Stations Multimodal Access Study, the Seattle Department of Transportation (SDOT) examines the tough conditions for people walking, rolling, and biking in North Seattle. SDOT worked with the local community to identify and understand existing accessibility and mobility challenges to the futures stations, and rate near- and long-term access improvements identified by the agency. The study also hopes to support the Office of Planning and Community Development (OPCD) in its work on the Station Area Plan, and identify potential funding sources and potential project priority.
These North Seattle neighborhoods are characterized by car centrism, lack of sidewalks, and barren bike infrastructure. Analyzed in the study is the area between 115th Street, 145th Street, the Interurban Trail, and Lake City Way NE. What SDOT presents as the existing conditions of the area is no surprise, high-stress conditions for people bicycling on all principal and minor arterials and a road network mostly devoid of sidewalks. The sidewalks that do exist often are narrow, incomplete, missing cub ramps, or have obstructions that limit access for people with mobility impairments. This is accompanied or caused by the road network and bisecting highways that funnels cars at high speeds into crossings that do little to separate transportation modes. The bus network is fair, and set to improve with a bus rapid transit (BRT) addition on NE 145th Street via SR-522 Stride line funded in Sound Transit 3.
Where SDOT and community sees opportunity
SDOT sees much low-hanging fruit to pick in North Seattle, as the problems are clear. The agency wants to improve on the busy streets to create a safer environment for transit riders, pedestrians, and bicyclists. They want to connect Bitter Lake, Lake City, schools, parks, libraries, the Interurban Trail, future BRT stations, and light rails stations. SDOT also singles out Jackson Park as an option for safe, natural, and walkable connections to both future light rail stations in the study area.
The agency will need to overcome busy streets, limited right-of-way, I-5 overpasses limiting access routes to stations, steep grades, and Jackson Park's fenced perimeter and informal paths. Though that hasn't stopped the planning and funding being done for improvements in the area for Your Voice, Your Choice, Neighborhood Street Fund, Neighborhood Greenways and Seattle Bicycle Master Plan 2019-2024 implementation, Seattle Pedestrian Master Plan 2019-2024 Implementation Plan programs.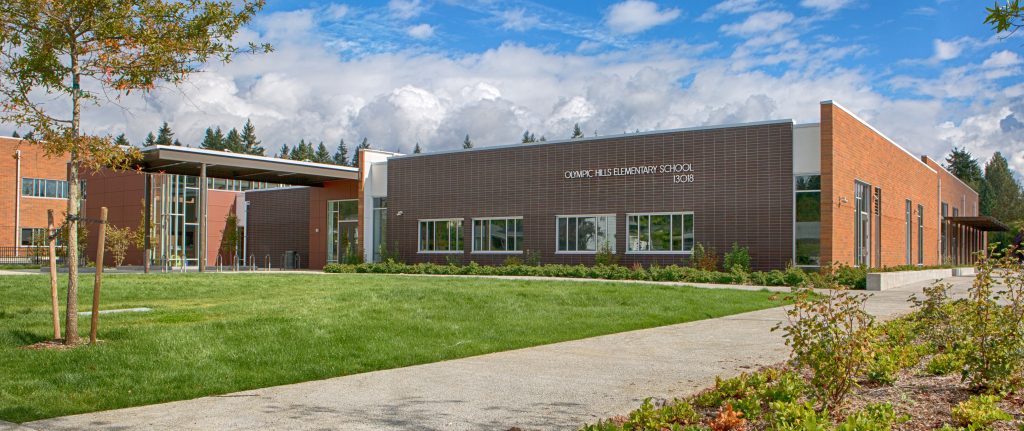 The community has seemed to throw their support behind improving walking and biking safety, even with the disproportionately older demographic surveyed. On the other hand, more than half of the respondents to the first survey owned bicycles and the car ownership rate was lower than the city average. Key themes from surveyed community members include:
Upgrading sidewalks, bike facilities, and street crossings for safer walking and biking;
Safe walking and biking connections along NE 130th St and NE 145th St;
Improving the NE 130th St overpass for walking and biking; and
Improving walking connections around Jackson Park Golf Course.
Through their community outreach, coordination with other public bodies, and internal planning, SDOT began with more than 90 potential projects to consider. They included improvements for:
Walking such as sidewalks, curb bulbs, multi-use trails, low-cost walking improvements, paint for permanent intersection improvements, pedestrian half signs, and signalized crossing;
Biking such as protected bike lanes, neighborhood greenways, intersection improvements, and shared use paths; and
Transit such as transit priority treatments, bus stop improvements, and on-demand rides to transit services.
Now SDOT has returned with a refined list of 18 projects already evaluated by community members. Each project also comes graded on safety, connectivity, and mobility, equity, livability, implementation, and community input. These scores are shown on report cards with priority, modes addressed, community support, and estimated cost range. Potential funding sources and partners are also listed on the side. (Check out the study for details on all the projects.)
Proposed projects
Proposed projects are categorized by three tiers and three subareas. Tier one projects provide direct access to the future stations, tier two projects connect tier one projects to surrounding neighborhoods, and tier three projects complete connections between key destinations like Lake City, Bitter Lake, and the Interurban Trail. Projects are then split into the West Sector, Northeast Sector, and Southeast Sector.
West Sector tier one proposed projects include a rework of the NE 130th St overpass and crossing improvements coordinated with Shoreline on 145th Street (see Ryan Packer's discussion of all the tier one projects from a bicyclist's perspective at the Seattle Bike Blog). For West Sector tier two projects, there's a proposal for a greenway to stretch from either 145th Street crossing to 130th Street, and two shared-use path proposals for separation from automobiles. Proposed tier three projects are all greenways that would create a gridded greenway system that connects Bitter Lake and the Interurban Trail with the stations and East Sectors with strong pedestrian or bike paths.
Northwest Sector proposals mirror West Sector projects, with NE 145th St crossings, redesigned streets, and greenways making up the tier three proposal for a gridded greenway system. Jackson Park distinguishes this sector from the others. The proposal comes with two options. The first alternative involves work with Seattle Parks and Recreation to clear and widen the existing trail along the south side of the park. The other option would involve in-street improvements for pedestrians and bicyclists, it would also install greenway elements along 10th Ave NE, and NE 130th St. Both would include wayfinding and lighting.
Lastly is the smallest section, the Northeast Sector, which also has a greenway proposal to connect with other existing bike and pedestrian infrastructure, a major street redesign, and sidewalk improvements. It hosts the only transit queue jump proposal that would be on NE 125th St, which was also one of the highest rated projects according to community feedback. It's also paired with crossing improvements.
Next steps
Unless the Lynnwood Link extension is delayed, opening of the 148th Street station is now just three years away in 2024. 130th Street station's opening is currently scheduled for eight years away in 2031, but it's completion could be accelerated. In the meantime, SDOT will be working to improve access to those stations. The agency is still working with OPCD on the development of 130th Street and 145 Street Station Area Plan, and identifying funding opportunities for the currently unfunded proposals. The agency needs to plan with King County Metro to restructure the bus network in the station area in advance of the station openings. Lastly, they need to coordinate with other Seattle projects, and partner agency projects, and manage parking and curbsides.
The study was shared on SDOT's blog, be sure to keep an eye out for future community outreach efforts by SDOT in the station area if you would like to share your thoughts.
Shaun Kuo is a junior editor at The Urbanist and a recent graduate from the UW Tacoma Master of Arts in Community Planning. He is a urban planner at the Puget Sound Regional Council and a Seattle native that has lived in Wallingford, Northgate, and Lake Forest Park. He enjoys exploring the city by bus and foot.