There has been quite a lull in pro-housing advocacy opportunities since the controversial Mandatory Housing Affordability and Housing Affordability and Livability Agenda rezones of 2019. But thankfully things are starting to HEAT UP.
Here are the top things we think you should know about in Seattle. This list is for YOU if you're someone who wants to end the apartment bans and end the "keep Seattle like a 1970's suburban dream" nostalgia that grips our opposition in most land use meetings.
Design Review Reforms
Industrial Maritime Strategy
Racial Equity Toolkit for Mandatory Housing Affordability
Residential Name Change
Comprehensive Plan pre-planning
Equitable Development solidarity efforts
Tree Canopy legislation
Elections!
First, An Explainer
What is "Yimby"? YIMBY, Yes In My Backyard, is a term used to describe housing advocates that focus on exclusionary zoning and pushing back on people who want to say "No" to apartments in their neighborhoods. These days, even the White House is talking about the harmful impacts of exclusionary zoning as did the Obama administration before it.
Not In My Backyard, or NIMBY, are the people YIMBYs are pushing back on. In Seattle, we are pushing back on NIMBYs who want homeless sweeps, and NIMBYs who don't want apartments near their neighborhoods.
PHIMBY, Public Housing In My Backyard, is a term we love. It has sprung up to explain a movement for public housing that rejects housing as an investment vehicle by developers or individuals, and instead focuses on a right to housing. This story by KQED explains these tensions in Bay Area housing discussions.
8 Ways to Yimby Your Summer
Design Review Reforms
We are working with Seattle For Everyone and have come up with an 11-page recommendation report to fix Seattle's Design Review. It's pretty wonky. We are looking for non-wonks to help us develop a communication, advocacy and education strategy to promote these critical changes. We attend one design review meeting a month. Volunteers are needed to speak up in favor of critical housing efforts in low displacement risk neighborhoods. Connect with us to help.
Industrial Maritime Strategy
The Urbanist has published a fantastic series of articles from Ray Dubicki, who has focused on the many ways our industrial lands could be improved and how our planning around these lands remains stuck in last century thinking and planning. This fall the city will open their plan to public comment and we hope you'll respond to action alerts. Want to get involved sooner? There's a lot of reading homework to be done. Happening now: Scoping the Industrial Maritime Environmental Impact Statement. The public comment period for this phase will last from July 8th to August 9th at 5:00pm. 
Seattle's Urban Villages Equity Analysis
Our current city executive doesn't deal in nuance or duality so well. "MHA is a resounding success" is the overly simplistic message coming from the city. We agree that the framework of Mandatory Housing Affordability (MHA) brought a critical funding source for subsidized housing. At the same time, it only applied to urban village upzones, which mirrors the map of formerly redlined communities. This meant that communities of color have undergone tremendous change while other, whiter and wealthier communities, have not. This is not fair or good. The long-awaited Urban Village Strategy Racial Equity Analysis has been released. It documents these inequities and allows our city to have an honest conversation about equitable growth. The Office of Planning and Community Development (OPCD) report focuses not just on YIMBY actions, but has quite a bit about PHIMBY work that needs to be done. We can't plan for the future if the current racist and classist land use patterns in our city aren't exposed. Learn more at tinyurl.com/UrbanVillagesEquity.
Comprehensive Plan pre-planning
There's a major comprehensive planning update schedule for 2024. It is the chance to yimby the heck out of our land use and ask for big, bold rezones across every single block in the city. We are convening coordinated meetings every other month to begin to plan for these big changes. Housing Now Seattle recently asked to hear your ideas for their Welcoming Communities Strategy framework in The Urbanist.
Residential Name Change
Ahead of the big comprehensive plan update, one needed baby step is changing the name of our single-family zones to residential. This doesn't sound important. It has drawn opponents from both sides. NIMBYs are mad because they think this is a trick to get rezones to pass more easily. Some YIMBY folks are mad because this doesn't make any zoning changes and feels like a lot of organizing effort and "mission accomplished" banner hanging when nothing will actually happen. YIMBYs are worried this will start up the NIMBY organizing and fundraising that has been relatively dormant since the backyard cottage changes passed a few years ago. 
Councilmember Teresa Mosqueda and the Seattle Planning Commission have tried to enact this name change for years. The Mayor and Office of Planning and Community Development have refused it.
Please take an afternoon to read the 2018 Neighborhoods for All report from the Seattle Planning Commission that explains their thinking. We also recommend you read Jazmine Smith's article "What's In a Name: Ending Exclusionary Zoning".
Equitable Development Solidarity Efforts
Solidarity is critical for the mostly white urbanist community in Seattle to learn how to do well. And slogans and yard signs are a fine first step, but if you're really listening to those communities, you'll hear clear calls to action about land use. Equitable development and whole community anti-displacement solutions have been crafted by most impacted community members. We need to learn about and amplify their efforts. Get ready to join us in championing Seattle's participatory budgeting process. Please read the Disaster Gentrification report from Rainier Beach Action Coalition, the Multicultural Community Coalition, and Puget Sound Sage.
Please fund the organizations doing the work with the community members, who trust them to lead with racial equity at the front. We have signed on to support King County Equity Now whose most recent task is to support the Youth Achievement Center.
Tree Canopy legislation
By not getting involved in the tree canopy legislation that has dominated the Seattle City Council's land use committee for over a year, urbanists and YIMBYs have conceded that space. We need to figure out how to be pro-tree and pro-housing. These things are not at odds. There're examples by Kubota Gardens, at the top of Magnolia bridge, and the Talaris parcel in Laurelhurst, which are opportunities to stand side by side with tree advocates and against wasteful, large lot, luxury, detached housing that is bad for the environment and bad for our tree canopy. 
Elections!
We are excited that so many candidates are saying the right thing about the next comprehensive plan based on their responses to The Urbanist electoral questionnaire. We are not currently endorsing candidates, but have encouraged people to check out endorsements by Seattle 350 Action, MLK Labor, Transit Riders Union, Seattle Peoples Party, Working Families Party, Young Democrats of King County, UW Young Democrats, Sunrise Movement and Seattle Democratic Socialists of America, and The Stranger endorsements, in addition to The Urbanist's political endorsements. 
Who are we?
Share The Cities Community Education and Action Fund are two efforts to make our cities more equitable. We are working towards King County having public broadband, housing justice across Washington State, and are dedicated to meaningful solidarity with the most impacted communities when it comes to digital inequities, climate injustice, and racist land use practices.
As a collective since 2015, we made some noise and some change during the last big push for land use change in Seattle. Recently we became a nonprofit, and hope to grow the power and funding to sustain our work for the long term. We can't wait to stand alongside you to make our cities more inclusive, climate friendly, and welcoming. We believe that yimby is a verb not a noun.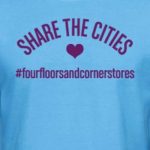 A group of pro-housing activists founded Share The Cities in 2018 to work on land use and zoning justice in District 4 and 5. The organization focuses on access to open space, housing choice, and transit. Follow them on Twitter: @STCActionFund.
.