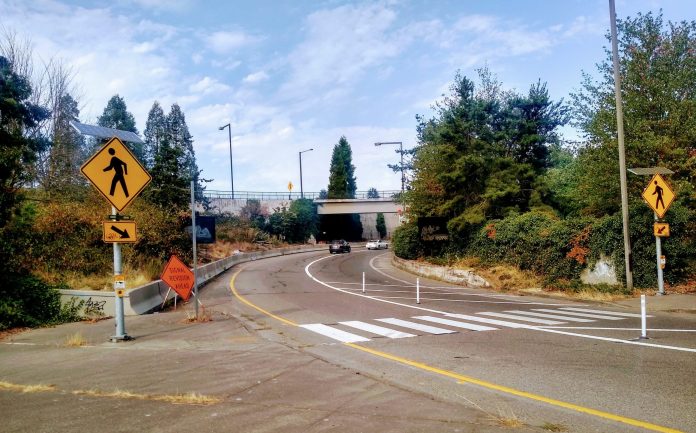 This past weekend, the Washington State Department of Transportation (WSDOT) completed a spot improvement to the eastbound I-90 on-ramp at Rainier Avenue. Within a matter of hours, one of the most treacherous spots to cross along Rainier, with two lanes of vehicle traffic already angling to get on the highway, was made a little bit safer as it got narrowed to one lane using paint and plastic posts. Of course, it remains to be seen how long the posts last and how the redesign influences driver behavior. But the spot improvement will make a real positive difference for people using Rainier Avenue that aren't in a car.
This change may not have happened without the work of transportation advocates pushing hard for significant improvements in areas around I-90's ramps in anticipation of Sound Transit's Judkins Park Station opening in 2023. WSDOT's Jordan Longacre describes how it happened: "These changes came through a collaborative effort between WSDOT, the Seattle Department of Transportation (SDOT), King County Metro and Disability Rights WA. We have a shared interest in improving the pedestrian crossing and relieving the back-ups from the I-90 on-ramp onto Rainier Ave." We covered how the Disability Mobility Initiative is leading the charge for changes along Rainier earlier this year.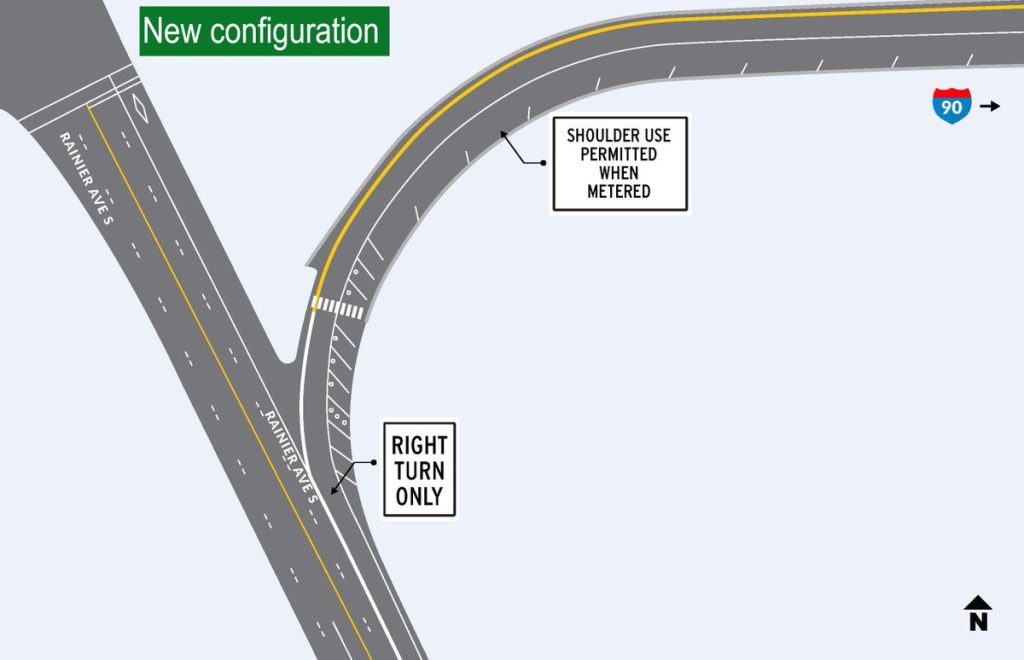 This isn't the only recent spot improvement made to an I-90 ramp along Rainier — in early 2020 a marked crosswalk was added to the westbound on-ramp, a feature that it amazingly did not have before then.
But more significant improvements in the vicinity of I-90 and Rainier Avenue may take some time. The City of Seattle's Judkins Park Station Access Project is funding some access improvements, but those are primarily focused around the Mountains to Sound Trail. WSDOT has applied for a grant to help "identify" further changes to the I-90 ramps, which would most likely (if they were comprehensive) involve squaring up the ramp intersections along Rainier and turning them into regular signalized intersections.
Beyond that, the City of Seattle could step up and ask the question of whether Rainier Avenue needs ramps onto I-90 at all. In the state legislature, Senator Rebecca Saldaña secured funds for a study for the Judkins Park Station vicinity in this past session's senate transportation package, but that package has a long way to go before passage is certain.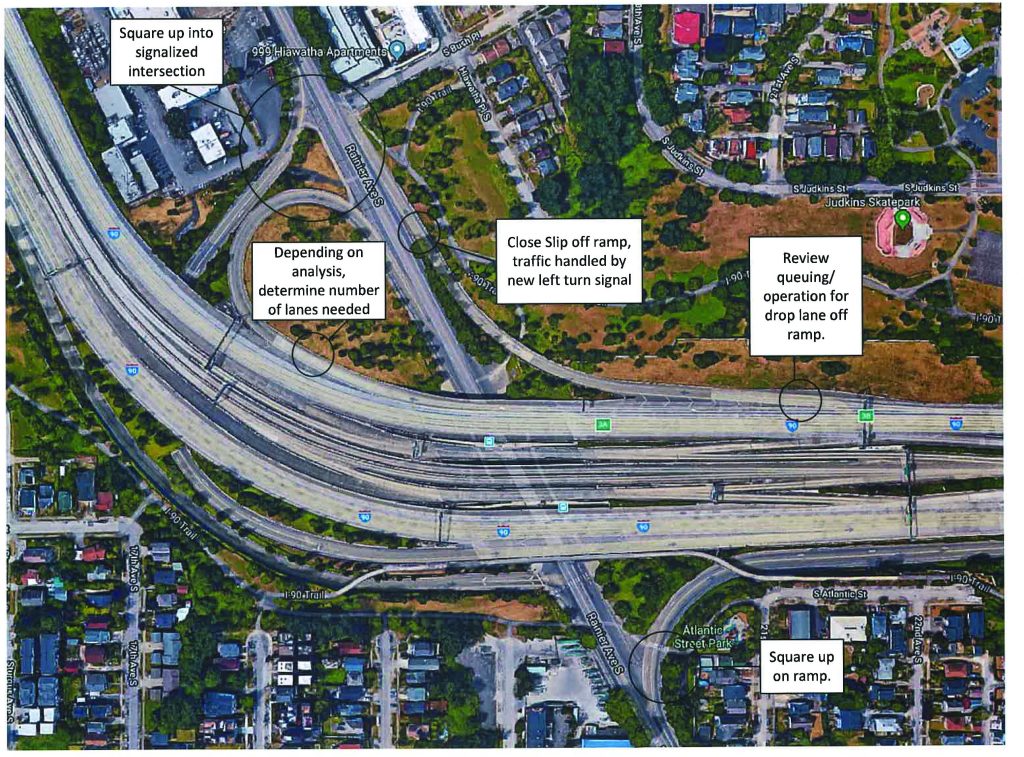 Funding for the newest Rainier on-ramp spot improvements came from the WSDOT Low Cost Enhancement program, which funds projects under $100,000 in cost. Over the 2017-2019 budget cycle (the latest cycle that data is available for), WSDOT funded $9.2 million dollars' worth of low cost enhancements, but only 4% (~$400,000) of that went to bicycle and pedestrian projects like this Rainier on-ramp change. WSDOT hoped to increase that percentage in the latest budget cycle now that the the northwest region of the state has its own Active Transportation Speciality team, but we don't yet know if they did and by how much. But given the dramatic increase of statewide traffic fatalities and serious injuries that have impacted people walking and rolling, that low percentage is deeply in need of being increased.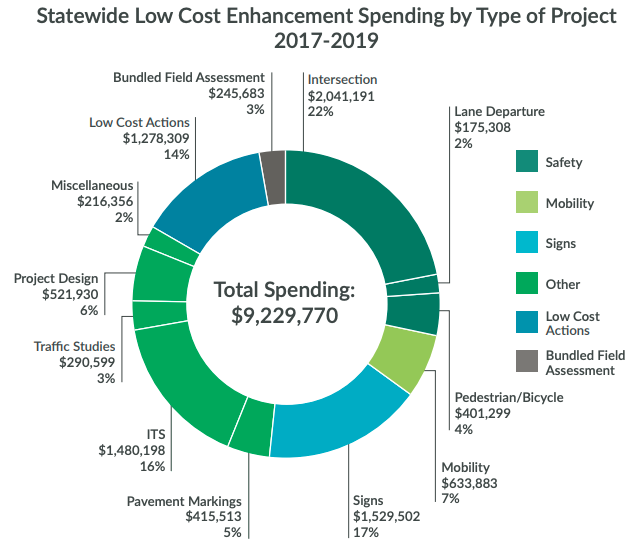 It's likely that the area around the Rainier I-90 ramps will not look significantly different on the day that Judkins Park Station opens in 2023, but there's clear momentum ready. We know there will be at least one ally at the state level ready to carry this fight forward.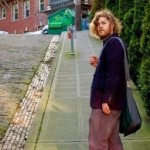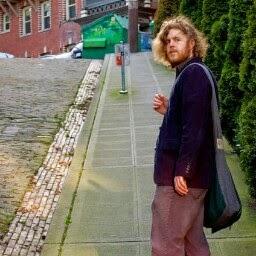 Ryan Packer lives in the Summit Slope neighborhood of Capitol Hill and has been writing for the The Urbanist since 2015. They report on multimodal transportation issues, #VisionZero, preservation, and local politics. They believe in using Seattle's history to help attain the vibrant, diverse city that we all wish to inhabit. Ryan's writing has appeared in Capitol Hill Seattle Blog, Bike Portland, and Seattle Bike Blog, where they also did a four-month stint as temporary editor.