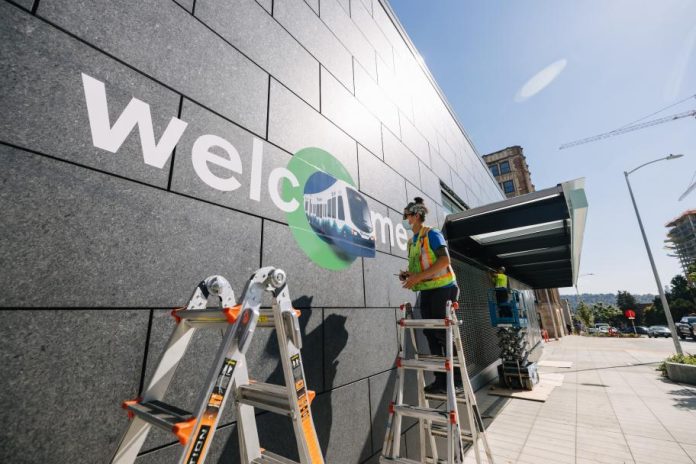 It isn't every day that a city welcomes three new light rail stations that will provide thousands of people easy access to the magic of mass transit. The Northgate Link light rail expansion is a major achievement, and it deserves to be celebrated in a big way. To mark the occasion, several events have been organized near the U District, Roosevelt, and Northgate light rail stations on Saturday. These events provide the perfect excuse to get out and ride the expanded light rail line. As you do so, make sure to respect Covid safety protocols to keep yourself and others safe.
The U District Station to celebrate with a big street party
The U District Partnership is welcoming light rail into the neighborhood in a big way with a neighborhood street fair running from 10am-8pm on opening day. Streets will be closed on University Way NE between NE 41st and NE 43rd Street where the Xfinity Main Stage will offer a lineup of live music. A beer garden sponsored by neighborhood favorite Big Time Brewery will be located nearby. Outside the U District Station at NE 43rd and NE 45th, the street will be also closed to traffic, opening up space for vendors and a kids' activity corner.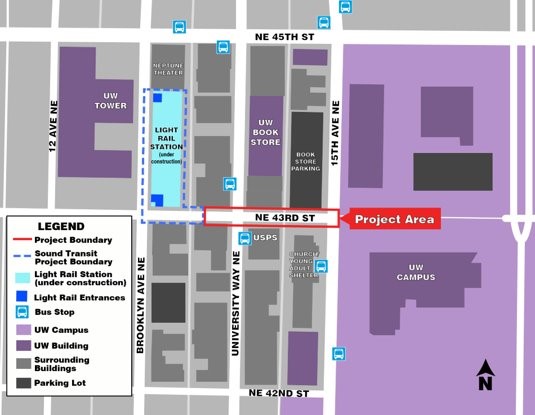 However, the most exciting part of the opening day celebration in the U District might be the $3 food walk. Over 40 U District restaurants and cafés are participating in the event, which is sponsored by Graduate Hotels. The boutique hotel chain is also offering a raffle for free airfare for two and a two-night stay at any one of its 30 plus hotels located across the U.S. To enter the raffle, collect and redeem five stamps from participating U District merchants.
"We are really excited for the Station Opening festival and are looking forward to it bringing more foot traffic to the U District area, especially after a year and a half without students," said Cecilia Rikard in a press release for the event. Rikard is a co-owner of Off the Rez Cafe, located in the Burke Museum."It'll be a new way for people to come to the cafe! Stop by Off the Rez during the festival that day for our Blackberry Cedar Tea Latte and Naked Frybread as part of the Food Walk."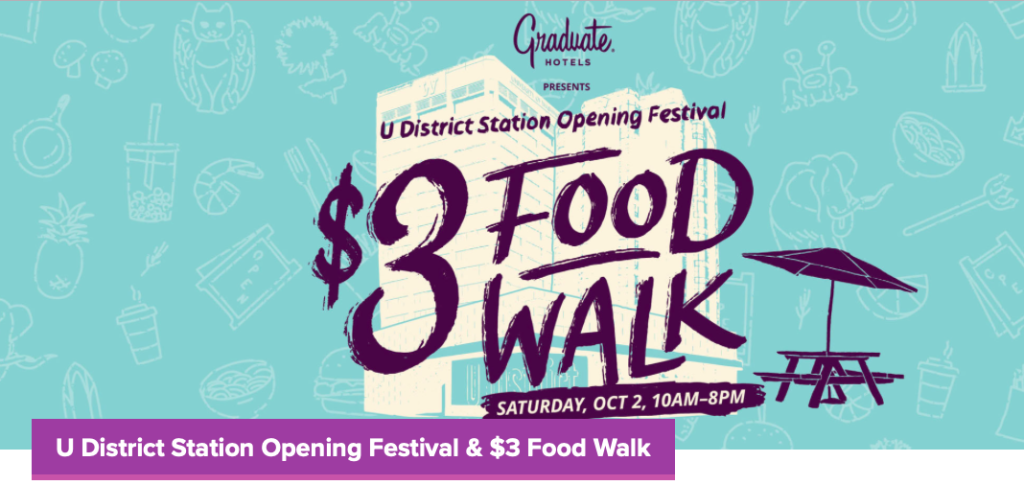 The U District was hit particularly hard during the pandemic by the University of Washington's transition to remote learning, and small merchants are hoping light rail will help to invigorate the neighborhood and lift it out of difficult times. To make the atmosphere even more celebratory, a musical performance by the nationally acclaimed Roosevelt High School jazz band, a lion dance by Seattle's Mak Fai Kung Fu Club, and drumming demonstration by Taiko Kai, group from the University of Washington, will all take place during the street festival.
The U District Partnership businesses also partnered with Sound Transit to create a new outdoor seating area and sidewalk improvements near the station. Mark Pinkaow, owner of Wann Yen / Mark Thai Food Box located adjacent to the new U District Station on NE 43rd, is excited about additional outdoor seating near his restaurant. "The new station and street improvements have really elevated the neighborhood," Pinkaow said.
Roosevelt neighborhood offers food and performances
The Roosevelt Neighborhood Association (RNA) is excited about the new community plaza the light rail station has brought to the neighborhood, in addition, of course, to mass transit access it offers. To celebrate, RNA has organized a family friendly opening day event with live music and dance performances on a stage located at 12th Avenue NE and NE 66th Street. Food trucks will also be available, including a food truck from Don Lucho's, one of Seattle's only Peruvian restaurants — and a favorite restaurant of mine. Check out our Roosevelt destination guide for more restaurant and activity options in the area.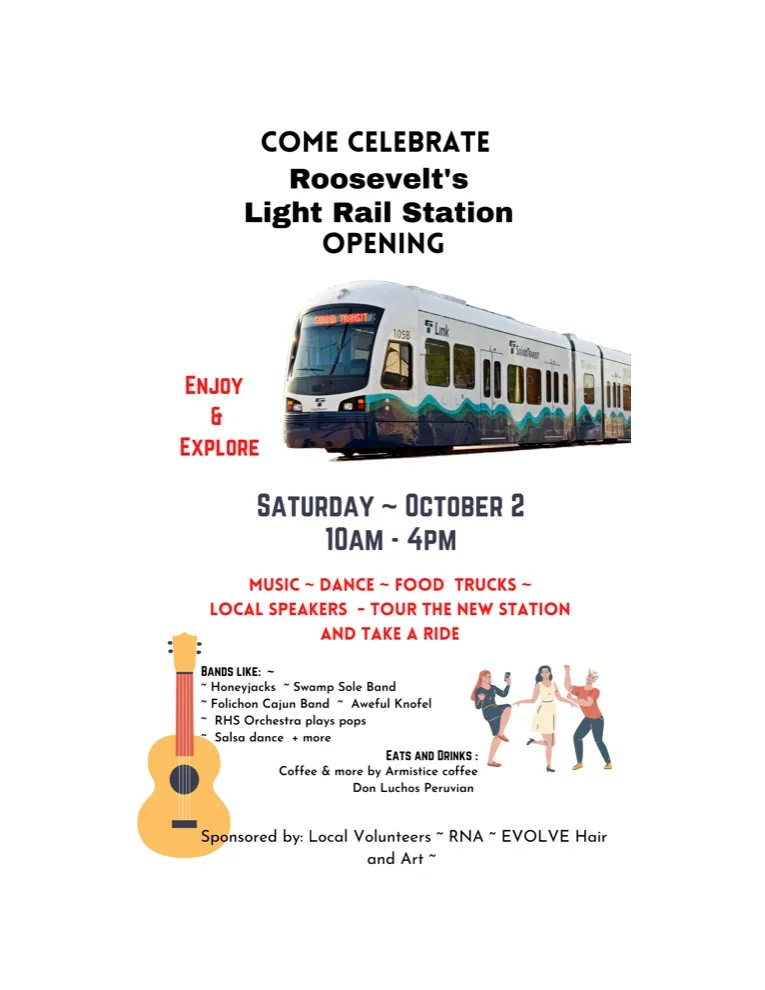 John Lewis Memorial Bridge ribbon cutting at Northgate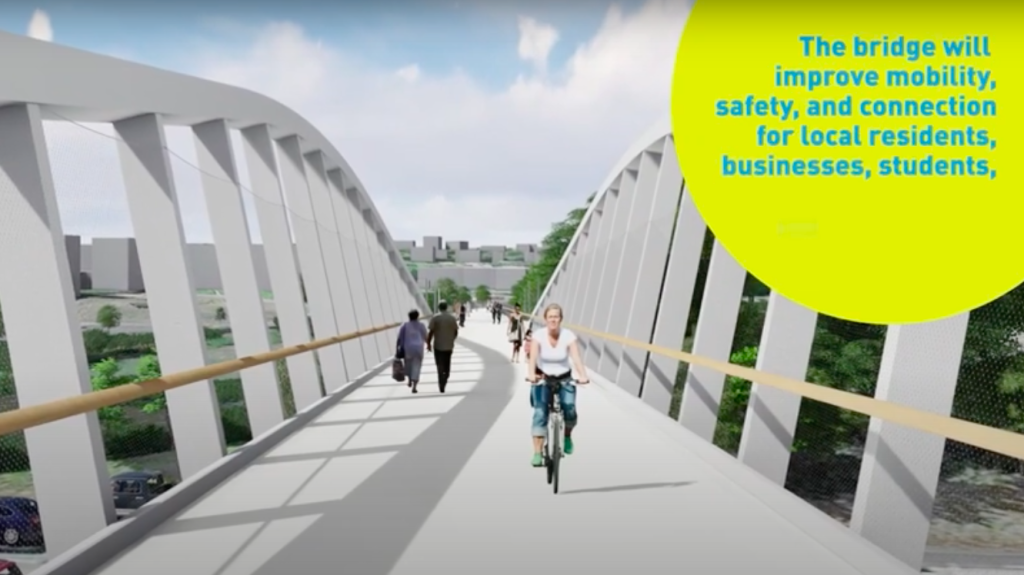 Pedestrian and bike advocates are encouraged to come out for a community event to celebrate the new John Lewis Memorial Bridge. The event will feature a series of speakers and ribbon cutting ceremony on the west end of bridge, near North Seattle College. Then community members will walk, bike, and roll across the new bridge to the Northgate Station. Speakers are scheduled to start at 10am and the event is planned to run until noon. Refreshments and secure bike parking will also be available.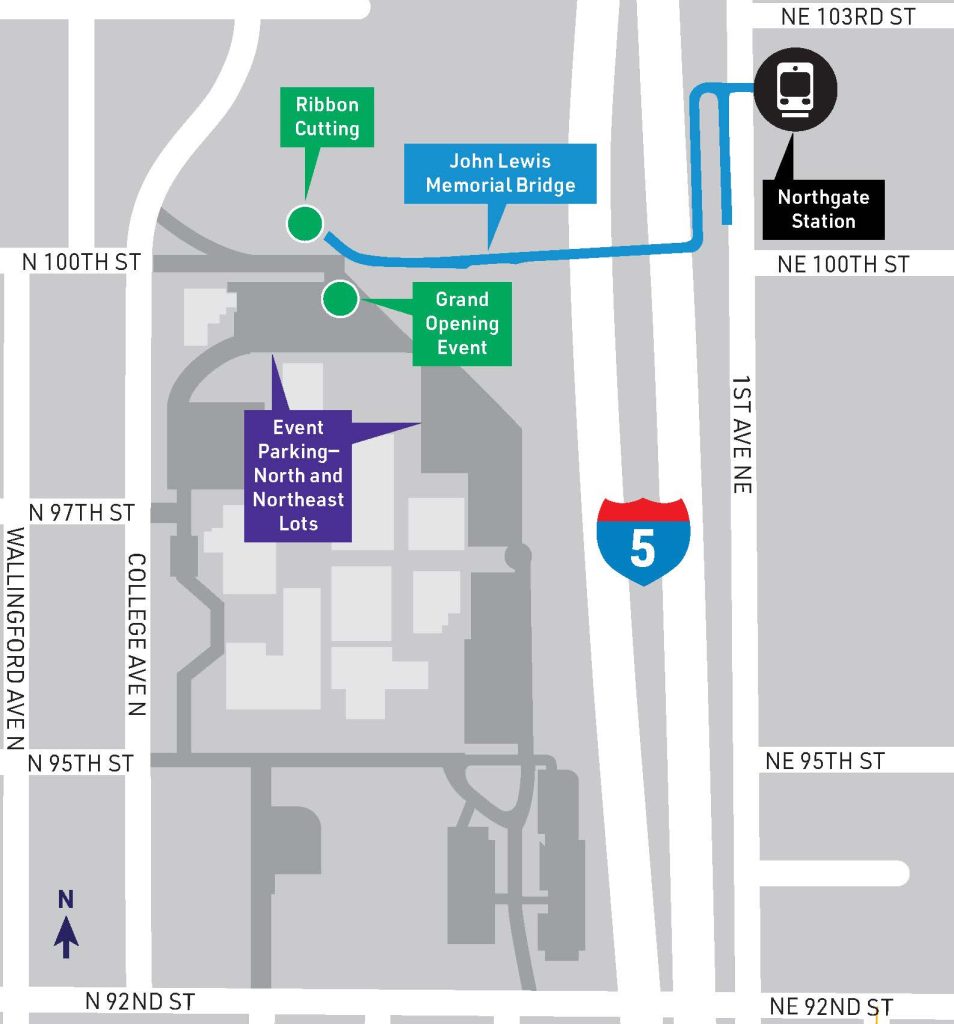 Before or after the event, readers might also want to check out some of the destinations included in our guide to the Northgate Station area, which is more than a big construction site — we promise! At the very least, day-lit Thornton Creek, located a short jaunt from the Northgate Station, is worth checking out for a pleasant stroll between natural wetland habitat and dense apartment housing.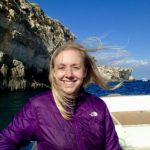 Natalie Bicknell Argerious (she/her) is a reporter and podcast host at The Urbanist. She previously served as managing editor. A passionate urban explorer since childhood, she loves learning how to make cities more inclusive, vibrant, and environmentally resilient. You can often find her wandering around Seattle's Central District and Capitol Hill with her dogs and cat. Email her at natalie [at] theurbanist [dot] org.