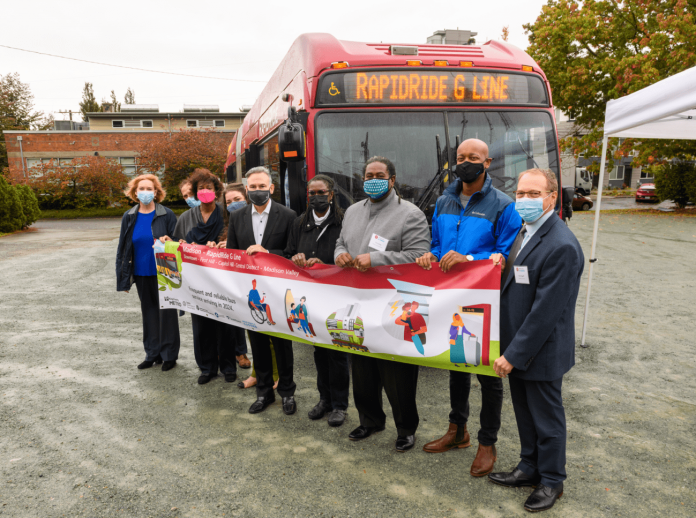 The long-awaited RapidRide G Line project is finally getting underway. The 2.1-mile line will run from 1st Avenue in Downtown Seattle to Martin Luther King Jr Way in Madison Valley, providing very frequent service along the Madison Street corridor in 2024. Along the way, the line will serve First Hill and Capitol Hill, which are some of the densest areas of the city. The project will also deliver other on-board and off-board features that benefit riders and service speed and reliability.
On Thursday, Nuria Fernandez, who is Administrator of the Federal Transit Administration (FTA), was on hand for the groundbreaking ceremony at Capitol Hill's Mount Zion Baptist Church and naturally took a bus to reach it. "By making it easier to board, easier to pay, and ensuring more buses per hour, the RapidRide G Line will better connect the people of Seattle, encouraging more people to get on board," she said. "FTA is proud to join our partners in the Seattle area to expand the bus rapid transit network in western Puget Sound." Fernandez was one of many officials present for the groundbreaking, which is a testament to the sheer number of partner agencies that are funding the $133.4 million project.
Seattle Mayor Jenny Durkan praised federal sponsors, who weren't present, for their support and highlighted the importance of the project. "While Seattle builds the best transit and transportation infrastructure in the country, support from our federal partners has become even more critical," she said. "Senator Murray, Secretary Buttigieg, and the federal delegation have prioritized projects that are good for Seattle, good for jobs, and good for transit. Senator Murray has been relentless in her support of this critical project and other City and regional priorities. As we deal with the effects of COVID-19, it is more important than ever to invest in a transportation system that gets our frontline workers, historically underserved communities and communities of color where they need to go quickly and reliably."
SDOT Director Sam Zimbabwe said the agency projects 12,000 daily riders will use RapidRide G and noted that City Council Districts 3 and 7, where the route runs, grew more than any other districts in the past decades. District 7 in particular led the pack, which has big implications for Council redistricting and should boost transit ridership.
Funding for the project is a patchwork with $80.5 million coming from the FTA, $35.8 million from Sound Transit, and $17.1 million from other sources. The FTA's share actually came through a mix of grants, including $59.9 million from the Small Starts Grant program, $10.9 million from the American Rescue Plan Act, and $9.7 million from the Congestion Mitigation and Air Quality Improvement Program, while the Sound Transit 3 program provided Sound Transit's contribution. The city's Move Seattle Levy also played a helpful role.
The line is somewhat unique in that it will operate in center lanes with some median station stops. The center-running portion of the line stretches from 9th Avenue to 15th Avenue in both directions and from 9th Avenue to 6th Avenue in the westbound direction. Buses will feature doors on both sides of buses to accommodate boarding on the left and right sides as station stops warrant. The City is dedicating bus lanes from 15th Avenue to 18th Avenue E and 6th Avenue to 1st Avenue. The rest of the line will operate in shared general purpose lanes. But the level of bus priority is considerably higher proportionally than almost any other bus route in the city. That kind of lane priority in addition to transit signal priority should help keep buses moving reliability through the corridor and allow for higher effective operational speeds, saving as much as five minutes in travel time.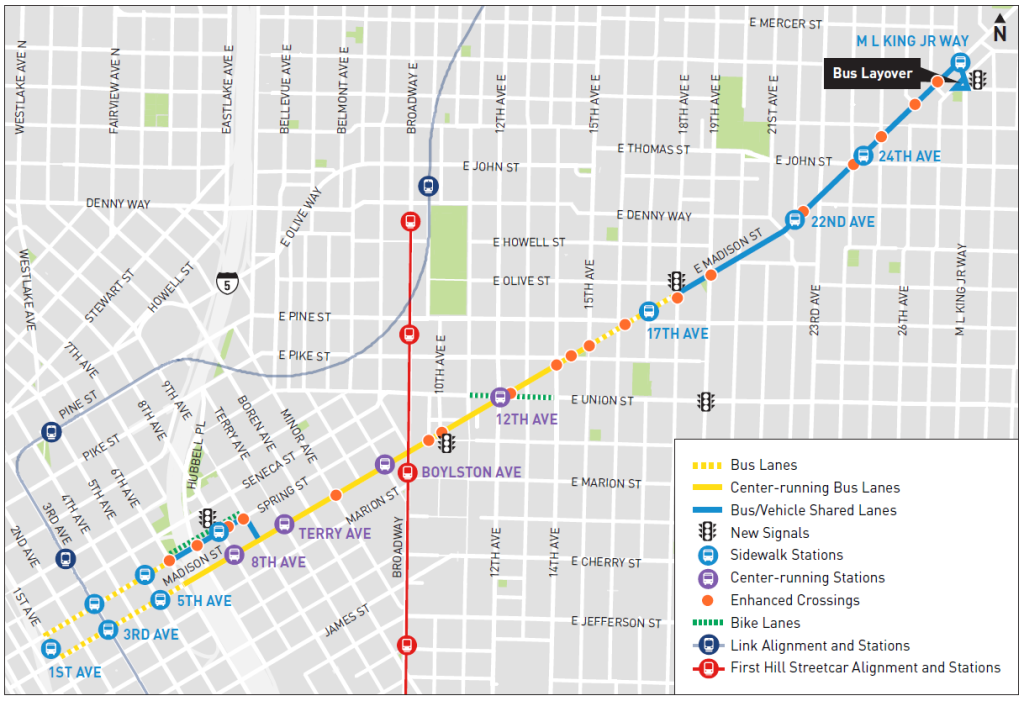 So what else will the new line feature? In short, it will provide:
Six-minute frequencies during peak hours and every 15 minutes otherwise with service from 5:00am to 1:00am on weekdays;
Ten station pairs, including four center-running stations, and one single platform terminal station;
All-door boarding on each side of buses with at least two doors a side;
60-foot articulated diesel-hybrid buses;
Level station platforms with transit shelters, real-time information signs, and ORCA card readers for off-board payment; and
Right-of-way improvements, such as new crosswalks, sidewalks, curb ramps, curb bulbs, bike lanes, landscaping, and street trees.
The line will offer key transit connection opportunities with its westernmost terminus near the Colman Dock ferry terminal in addition to Link light rail at University Street and the First Hill Streetcar further up the line. Key local and regional bus connections will also be available on 2nd, 3rd, 4th, and 5th Avenues as well as with workhorse Routes 8, 11, 12, and 48.
Move Seattle Transit-Plus Corridors after 2020 Reset
| RapidRide Corridor | 1st Revision | 2018 Reset Date | 2020 Covid Reset | Budget in millions | Existing Route | 2016 Daily Ridership | Platform Hours (2016) |
| --- | --- | --- | --- | --- | --- | --- | --- |
| G (Madison) | 2021 | 2021 | 2024 | $134.7 | 12 | 3,300 | 84 |
| H (Delridge) | 2020 | 2021 | 2022 | $51.1 | 120 | 8,600 | 226 |
| R (Rainier) | 2021 | cut | ? | $7.5 | 7 | 10,800 | 255 |
| J (Roosevelt) | 2021 | 2024 | 2024 | $103.4 | 70 | 7,500 | 182 |
| Market/45th St | 2022 | cut | 2024 | $14.6 | 44 | 8,400 | 167 |
| Fremont | 2023 | cut | 2024 | $15.2 | 40 | 11,400 | 284 |
| E 23rd Ave | 2024 | cut | ? | $2.1 | 48 | 5,500 | 183 |
| Move Seattle Transit-Plus portfolio | | | | $328.6 | | 47,100 | |
At The Urbanist, we've covered the many twists and turns over the years. Nearly a decade in the making, the project had its beginnings in 2012 with the Seattle Transit Master Plan. Design work took several years with some redefinition along the way, but it wasn't until 2018 that the environmental review process wrapped up. In 2017, we reported the agency was expecting to open RapidRide G in late 2019, but numerous stumbling blocks arose that led to a five year delay in the timeline. Part of the challenge was securing sufficient funding to proceed, but there were other obstacles like the type of vehicle to be used; Seattle had intended to proceed with acquisition of electric trolleybuses, but procurement issues arose scuttling the effort for eco-friendly buses. Given those challenges, final design work wasn't even completed until last fall.
Nevertheless, construction on the project will finally begin in mid-October with service slated to start some time in 2024 — a year that will be jammed packed with other major transit expansion openings like Lynnwood Link, Federal Way Link, and Downtown Redmond Link.

Stephen is a professional urban planner in Puget Sound with a passion for sustainable, livable, and diverse cities. He is especially interested in how policies, regulations, and programs can promote positive outcomes for communities. With stints in great cities like Bellingham and Cork, Stephen currently lives in Seattle. He primarily covers land use and transportation issues and has been with The Urbanist since 2014.