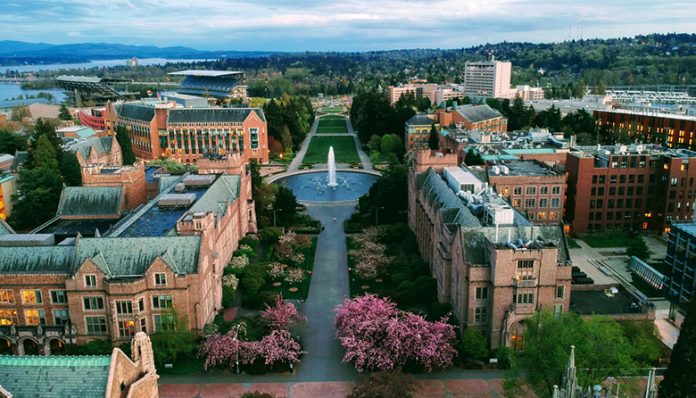 Already the destination for many transit riders, the U District Station offers the most reasons to visit for light rail riders on its opening, October 2nd. Food and retail are easily more numerous and diverse in the U District when compared to Northgate and Roosevelt. The source of overwhelming advantage for the neighborhood is clearly the University of Washington Seattle campus, as well as the existing and coming density that allows all of these businesses to be established and thrive.
The UW's Seattle Campus also is home to the vast majority of the station area's green space, fantastic educational places, and some fairly good food too. Scattered throughout central and west campus are places like Parrington Lawn, Denny Yard, the Quad, and Rainier Vista. East Campus is home to the Union Bay Natural Area with 74 acres of wetlands and pathways that snake through the space. South Campus has Portage Bay Vista and a long stretch of waterfront green space.
UW's Campus also features cavernous libraries and the Burke Museum. Currently limiting access to the public during the pandemic, the UW library system is a collection of welcoming and beautiful buildings. Suzzallo is the most picturesque one and a prime spot for selfies and other photo ops.
But thanks to being zoned as an urban center, the densest mixed-use zoning designation in Seattle, the U District has become known for more than just the university campus and University Way, the nearby dining and shopping street otherwise known as the Ave. Let's take a closer look at the many places that make the U District such a vibrant destination.
Museums, Parks, Theaters, and a Famous Trail
Burke Museum – Recently transformed into an "inside/out" museum in which visitors can watch museum staff engaged in their work examining fossils, animal and plant specimens, cultural and historical artifacts, and Northwest Native art, the Burke Museum offers a unique way to learn about our region and world. It's located on the north end of the UW campus near 15th Avenue NE and NE 45th Street.
Henry Art Gallery – Revolving contemporary art exhibits curated by the UW are on display at the Henry, which is situated at the intersection of 15th Avenue NE and NE Campus Parkway.
Fritz Hedges Waterway Park – One of Seattle's newest parks, Fritz Hedges is set along the shoreline of Portage Bay at the south end of the UW campus. Its bright yellow lawn chairs are a great place to relax and watch the boats passing by.
Grand Illusion – Seattle's oldest operating cinema has become a nonprofit and features indie and foreign films. It recently reopened following Covid safety protocols. It's located at the corner of NE 50th Street and the Ave.
Neptune Theater – Constructed in 1921, the Neptune Theater is only steps away from the U District light rail station and features live music and performances. It also has reopened following Covid safety protocols.
The Burke Gilman – One of the region's best known multi-use trails runs through the south end of the U District. It spans from Woodinville to the east to Seattle's Ballard neighborhood to the west.
Bubble Tea, Coffee, and Booze
Bubble Tea – Boba, or milk tea, is by far the most pervasive drink of choice throughout the U District. Not listing more spots may be a disservice, but we'll be able to sneak in other shops that serve milk tea later. All sorts of flavors, cheese foam, and other options for your bubble tea are available in the U District Station Area.

Citra – A cozy little cafe that serves bubble tea at a great value, the ube soft serve and other frozen treats are also great here.

Oasis Tea Zone – A local family-owned chain with a litany of options for your bubble tea and comfort food options to pair with it.
Don't Yell At Me – Looking for something a bit more elaborate? Then Don't Yell At Me will cater to you with its chic interior, higher quality and prices, flavored pearls, cheese milk foam, and solid ingredients mixed in.
Sharetea – Another international chain, Sharetea started in Taiwan in 1992. The boba is great here, but I prefer getting the pudding. Alternatively, get both toppings.
Cafe Allegro – With an entrance that faces an alley behind the Ave near NE 42nd Street, entering Cafe Allegro feels a bit like joining a secret society, especially since it purports to be Seattle's oldest espresso bar.
Bulldog News – A news stand featuring an impressive selection of magazines and journals, including a large international section. Their walkup espresso stand on the Ave is not to be missed.
Ugly Mug Cafe – Steps from the U District Station on NE 43rd Street, this coffee shop has a cozy vibe and well-crafted coffee made from their in-house roasted beans.
Herkimer Coffee – Another cafe that also serves as a roaster, Herkimer has made a reputation for itself among Seattle coffee aficionados. Located on the quieter north end of the Ave, near NE 55th Street.
College Inn and Pub – The College Inn's basement pub is what you might imagine it to be: cramped, wood paneled, and often bustling with university students, faculty, staff, and neighbors. It closed in 2020, but was brought back under new ownership earlier this year. Easily one of the best places in Seattle to mix intellectual argument with beer. Located on the Ave near NE Campus Parkway.
Flowers – Oh, Flowers, why did you have to flaunt Covid safety protocols and get (temporarily) closed earlier this year? One of the oldest bars on the Ave, and also a restaurant serving mostly Mediterranean fare, Flowers has a divey vibe all its own. The cocktails are recommended.
Big Time Brewery and Alehouse – Brewing their own selection of beers directly on the Ave, Big Time Brewery also offers pub fare.
The Mountaineering Club – Located at the top of the Graduate Hotel at NE 45th Street and Brooklyn Avenue, the Mountaineering Club's rooftop bar offers some of the best views in Seattle. Prices are higher than many spots in the neighborhood and reservations are required.
Restaurants
Off The Rez Cafe – Contemporary Native American cuisine that started out as a popular food truck selling Indian tacos with handmade fry bread and moved into a permanent location covering a more expansive menu at the Burke Museum.
Mee Sum Pastry – Pastries, Taiwanese street food, standard Chinese dishes, and of course bubble tea can all be found in this Taiwanese eatery just north of the light rail station.
Korean Tofu House – Located in the basement of a building off of the main drag on Brooklyn Avenue, pre-pandemic you could often find this restaurant packed with customers enjoying its generous portions of meals served with tasty banchan (Korean side dishes).
Chi Mac – Chi Mac, the Korean term for Chicken and Beer, serves, you guessed it, Chicken and Beer. Well, it's allowed to serve beer when they have a license for that again. The Korean fried chicken is still great though — try the Sichuan pepper flavor.
Beetle Cafe – Serving Indonesian food, Beetle Cafe has Southeast Asian favorites like Hainan chicken, satay, Mie Tek Tek, nasai padang, and of course milk tea.
Cafe on the Ave – A long time favorite among UW students, the large interior space of Cafe on the Ave makes it great for study groups. Its menu offers sandwiches, burgers, pasta, breakfast fare, and desserts made in house. It's also a spot you can head to just for a cup of coffee.
Donut Factory – Looking for a large variety of donuts? Donut Factory is where to go for maple bars, buttermilk donuts, rolls, crobars, and more.
Morsel – Some of the best breakfast food on the Ave can be found at Morsel. An assortment of biscuit options, biscuit sandwiches, and coffee are served here.
Xi'an Noodles – At the northern end of the Ave, Xian Noodles serves hand-pulled noodles and other Shaanxi cuisine. Come for the noodles, stay for the "burgers."
Agua Verde Restaurant and Paddle Club – Located on the shore of Portage Bay near the south end of campus, Agua Verde serves up Mexican fare, including one of the city's best selections of homemade salsas. Outdoor seating is plentiful and often scenic. They also rent kayaks and paddle boards.
Guanacos Tacos Pupuseria – A specialty of El Salvador, if you haven't tried pupusas, thick corn tortilla stuffed with savory fillings, you should soon. Located in a colorful building facing Brooklyn Avenue one block north of NE Campus Parkway.
Chili's South Indian Cuisine – One of the only places in the whole Seattle region to get South Indian specialties like sambar and dosa. It's a delicious find, especially for vegetarians. Located on the Ave near 42nd Street.
Sweet Alchemy Ice Cream – Small batch ice cream with distinct flavors like Black Sesame and Strawberry Rhubarb Jam. The company also uses many local ingredients, is committing to reducing food waste, and was named as one of the top ice cream makers in the country by USA Today. Located on the Ave just around the corner from the U District Station.
Shopping
Shiga's Imports – Currently closed for remodeling, this is one of Seattle's oldest import shops. Specializing mostly in Japanese goods, it's one of the best places to buy a futon mattress, selling more types and sizes than you can imagine. The family-owned businesses also sells clothes, gifts, art, and packaged snacks on the Ave.
The University Bookstore — Actually an independent bookstore, the University Bookstore offers a great selection of books for all readers on the Ave. They also used to offer great in-store events, which will hopefully ramp up again as the pandemic winds down.
Magus Bookst – A used bookstore with an expansive selection that's great to get lost in. Open on NE 42nd Street just off the Ave since 1978.
Crossroads Trading – A consignment clothes shop that thrives off of students wiling to trade and sell clothes, Crossroads can offer great finds ranging from contemporary to vintage fashions.
Red Light Vintage and Costume – Probably the best place in Seattle to pick up a Halloween costume, but this well-known vintage store on the Ave is worth perusing at any time of the year.
Artist Craftsman and Supply Store – Maybe the largest selection of arts and crafts supplies in Seattle. Staff are knowledgeable and can help you make the best choice for your creative needs. Located on NE 45th Street close to I-5.
Neptune Music Company – Located in a basement beneath the Neptune Theater, this store selling vinyl, CDs, tapes, and more is probably the closest destination to the U District light rail station.
University Village, an outdoor mall, is also now comfortably accessible from the station area with Route 31 and 32 rerouting to run directly there from the station via NE 45th Avenue. You can also walk, bike, or roll on the Burke Gilman Trail all the way to the mall. While the University Village, with its car showrooms and parking garages, seems at odds with the U District Station, there's still plenty to do there between its mix of large chains and small local shops. Good food is also available — Rachel's Ginger Beer, Ding Tai Fung, and Ma'ono Fried Chicken are all tasty choices. And of course, you can get great bubble tea there at Happy Lemon.
If you're getting off at the U District light rail station and heading to campus, don't forget to explore the wealth of destinations and food in the U District station area. UW's campus has the green space, the Ave has the food and drink options, and University Village rounds out the Station area with more places to explore. As new buildings continue to rise, the neighborhood will continue to expand in options, but there are already many reasons to come out and explore the U District Station area.