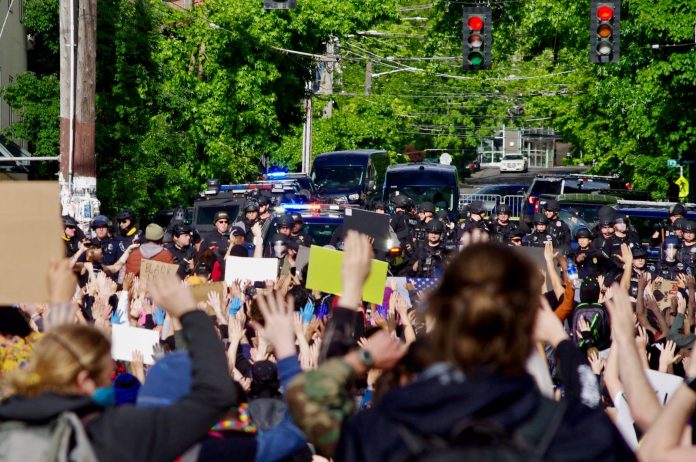 A Seattle Office of Police Accountability (OPA) report released last week belatedly confirmed what Spekulation and some other activists said happened in the summer of 2020: SPD officers had participated in a disinformation campaign and transmitted false radio reports of right wing Proud Boys with guns threatening protesters. The hoax was an attempt to intimidate, disperse, and scare off Black Lives Matter protesters in the Capital Hill Organized Protest (CHOP) outside of the abandoned East Precinct.
OPA Director Andrew Myerberg concluded that this false information escalated tensions at the CHOP at terrible time and violated department policy and the officer code of conduct. The hoax culminated on June 8th, the day after a man drove his car into a crowd of protesters and shot a man who tried to confront him. Protesters were already on edge, and the SPD officers seemed poised to try to exploit that, basically as a form of psychological warfare. However, protestors did not leave and the tension continued. On Juneteenth, a fatal shooting happened in the CHOP followed by another later in the month, which Mayor Jenny Durkan used as pretext to clear the protesters and encampments and have SPD retake East Precinct.
Allegedly, the Durkan administration and SPD senior leadership were unaware of the Proud Boys ruse or chose not to act on it, with Police Chief Carmen Best even promoting to Assistant Chief the police captain who would later take blame for the ruse in the OPA report. Daniel Beekman of The Seattle Times covered the story Wednesday and credited activist Spekulation and Converge Media's Omari Salisbury for uncovering the hoax, which neither the department nor the Mayor Jenny Durkan's office had acknowledged for 18 months.
"Matt Watson, a Seattle artist and activist known as 'Spek,' immediately raised the possibility on social media that there had been a hoax. No one out on the streets had actually seen the Proud Boys group that the officers were talking about on the radio, and the officers were using irregular call signs," Beekman wrote. "But there was no investigation until late 2020, when Converge Media journalist Omari Salisbury asked OPA for body camera video from the officers who had supposedly tailed the Proud Boys group. When OPA couldn't locate any relevant video, the office launched an investigation."
OPA Director Andrew Myerberg chastised the department, but recommended no punishment since three of the employees he centered blame on had already left. Chief Best also resigned in August 2020, blaming budget comments and a lack of respect from the City Council rather than an insubordinate department. A fourth officer, Named Employee No. 2, is still with the department, but Myerberg ruled he had followed orders and didn't outline any punishment.
Yesterday in an hour-long Converge Media special report, Spek joined Salisbury and Carolyn Bick of the South Seattle Emerald to break down the story. Spek noted he had been rebuffed by local media at the time, including The Seattle Times and KUOW. Gathering and analyzing police radio recordings from the community, he wrote up the story that SPD's Proud Boy chatter was faked and shopped the story around in the summer of 2020. Nobody took him up on it. Only after a Salisbury complaint spurred the OPA to undertake an investigation — albeit a slow-moving one — did the story then become legitimized.
In another interesting bit of timing, the OPA investigation took just long enough that Durkan was out of office before it came to light. But better late than never.
Need for deeper investigation
Former Mayor Mike McGinn argued the incident indicated organizational rot and that a deeper investigation and intervention were needed.
"An SPD captain who became an SPD assistant chief ordered this reckless behavior," McGinn tweeted. "Not a line officer – a leader in the department. It has taken 18 months to officially come to light."
McGinn urged the Seattle City Council to use its oversight capacity to request the Washington Attorney General "do a complete investigation into SPD's deception and Durkan's deleted texts." A deeper investigation may be able to find how much the Durkan administration knew and if they obstructed the OPA investigation.
Councilmember Tammy Morales agreed that an outside investigation was needed.
"This misinformation from SPD led to a fortification of the East Precinct and weeks of violence against the people of Seattle," Morales said in a tweet. "As [Omari Salisbury] says, it was a 'strategy planned by the higher ups.' We need an investigation outside City process and we need real accountability"
McGinn has been highly critical of his successors' handling of police reform and called the consent decree process flawed by design.
"Seriously, we are further from a reformed police department today than when Jenny Durkan and I first signed that consent decree in 2012," McGinn said on Crystal Fincher's Hacks and Wonks Podcast.
The request from McGinn and Morales points to the fact that OPA investigations tend to rationalize unprofessional police officer actions and rarely recommend stiff penalties or firing officers, save for incredibly egregious cases like the two officers who were documented to have stormed the Capitol during the January 6th insurrection that marked its one year anniversary today. Salisbury noted he didn't have much faith in OPA's ability to get justice and hold SPD accountable, given how long investigations take and how little come of them.
Mayor Durkan deleted ten months of texts from her City phone, which overlapped with the period of time in question, and then concealed the fact from journalists by partially recreating records to partially comply with some public records requests. After the deception came to light, Durkan fired two whistleblowers in the City public records office who had sounded the alarm, leaving taxpayers on the hook for a multi-million-dollar wrongful termination lawsuit. It's possible the Proud Boys ruse was one of the secrets that Durkan was seeking to bury. But it's also possible she had no knowledge of the ruse at the time and was fueled by other concerns to destroy nearly a year's worth of public records.
We in the media also share the blame for why this story took so long to come light so slowly. Plenty of news organizations unquestioningly reprinted incredulous SPD press releases, such as those claiming shattered candles were improvised explosive devices, while stories coming from protesters were met with a much higher standard for truth and importance.
Harrell, Herbold respond
During his inaugural address on Tuesday, Mayor Bruce Harrell talked about trying to bring people together and uniting the city as "one Seattle." As one of the most prominent Black media voices in the city, Salisbury argued that "one Seattle" cannot be realized until the city reconciles with its police department's violent response to a summer of protests in 2020.
"It's important that everything about the protests comes out and until that occurs we can't move forward and heal," Salisbury said. "We can't be one Seattle until we resolve these issues."
In a statement Wednesday, Harrell denounced the ruse, saying it had done "immeasurable" damage to public trust. He has yet to outline specific consequences for the breach of trust, but has promised to meet with police command staff.
"Misinformation, especially of this inflammatory nature, is totally unacceptable from our Seattle police officers, from whom we must expect and demand the highest standard of truth," Harrell said in a written statement. "While I'm glad the officers who originated this deception are no longer with the force, this kind of tactic never should have been considered, condoned, or carried out in the first place."
In the Converge special report, Bick underscored that this statement was not entirely accurate since one named employee who carried out the ruse is still employed by SPD.
Harrell's statement also included a criticism of Chief Best, though not by name.
"This is clear breakdown of leadership. We simply cannot have a chief or command staff claim that they are unaware of such critical tactical decisions, whether in this instance or abandoning the East Precinct. When I talk about changing the culture of Seattle Police Department, this is exactly the kind of conduct I'm thinking of. This cannot happen again, period," Harrell continued. "We will be meeting with Chief Diaz and command staff to ensure this does not happen again."
Councilmember Lisa Herbold, meanwhile, reminded The Seattle Times that SPD had been cited for an improper ruse before, noting a 2019 recommendation for better training has been only partially implemented. Mayor Harrell said he would be meeting with Herbold, who chairs public safety committee, to hear the Council's recommendations on how to proceed.
Rethinking Chief Best's legacy
His recent statement is a bit of pivot for Harrell and his supporters, who had sharply criticized the Council for disrespecting Chief Best with budget cuts and a proposed pay cut to her command staff, arguing they had unfairly chased her out of office.
Campaign surrogate Tim Burgess, who Harrell appointed Director of Strategic Initiatives, lamented the resignation of Best and centered blame on former Council President Lorena González. "She allowed the debate over policing to become so antagonistic, so disrespectful of the women and men who serve our city, that the police chief — the first Black woman to lead our officers — resigned in protest," Burgess wrote, as The Urbanist flagged at the time. Many centrist and right-wing portrayed Best as a strong leader and a credible reformer, and Durkan clung to her for support (and to take the heat for her at times) during that tumultuous summer, even joking they thought about having a Thelma and Louis moment together at a June 11th, 2020 press conference.
Had she not resigned, Harrell might now be compelled to fire Best, at least based on his statement yesterday.
The Seattle Times identified the captain named in the OPA report as Named Employee #1 as Bryan Grenon. In August 2020, Chief Best promoted Captain Grenon to Assistant Chief just before she turned the department over to Diaz on September 2nd. Diaz kept Grenon on staff, whether because he was unaware of the ruse situation or because he did not think it was a big deal. By then, the OPA investigation should have alerted command staff of the issue if they didn't already know. In August 2021, Grenon left the department and accepted a director job with a private security firm called ADT Commercial. He is also a retired Brigadier General with the Washington Army National Guard.
Telling Beekman that "hindsight is 20/20," Grenon claimed he was not intending to "incite fear" or create a panic when he devised the radio chatter ruse. He also claimed in his second OPA interview that the Proud Boys angle was not his idea, but rather subordinates getting carried away while executing his instructions. His plan, he said, was to fill the police radio channel with mundane chatter to misdirect protesters, who he knew to be listening in, and convince them that there were more police on patrol that there really were. That, he hoped, would discourage ambushes at a time when officers felt vulnerable.
One lie leads to another, the saying goes. For SPD, deceptions have become too much of a pattern.
Without much fanfare, the Seattle Police Department enters its eleventh year under a federal consent decree with no clear light at the end of the tunnel. Police reform has stalled out.
The featured image is by Ethan Campbell.
This article was updated with Morales' statement at 1:10pm.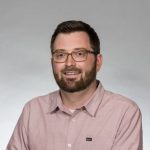 Doug Trumm is publisher of The Urbanist. An Urbanist writer since 2015, he dreams of pedestrianizing streets, blanketing the city in bus lanes, and unleashing a mass timber building spree to end the affordable housing shortage and avert our coming climate catastrophe. He graduated from the Evans School of Public Policy and Governance at the University of Washington in 2019. He lives in East Fremont and loves to explore the city on his bike.