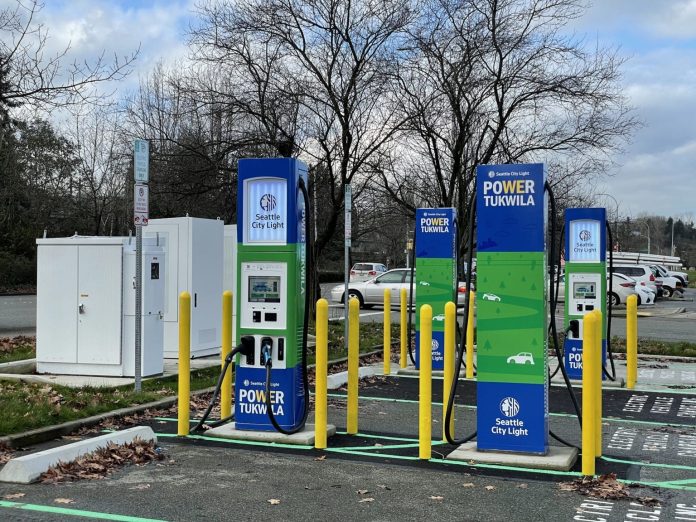 Last year, The Urbanist reported on Seattle City Light's plans to create a surface parking lot to charge electric vehicles (EVs) on the 9,000+ square foot site of a former substation on NW Market Street in Ballard. This proposal represented a new phase of the publicly-owned utility's rollout of EV infrastructure: creating new surface lots in high-demand areas for vehicle owners to charge.
City Light has already installed charging stations for public use at the existing surface lot at its South Service Center in SoDo, as well as at several on-street locations in conjunction with the Seattle Department of Transportation (SDOT). But creating a brand surface new parking lot raised some big questions about how the utility would prioritize development of its surplus land as it encourages EV adoption.
The plan for an EV charging lot in Ballard was put on indefinite hold after a drainage study found that improving the site would require digging a new sewer line. "Seattle City Light decided that the added cost and disruption to vehicle traffic and King County Metro trolley bus operations on NW Market Street made this project unviable," the utility wrote last year. "Seattle City Light may resume work if a less disruptive method of providing site drainage is found."
This was good news for those who hoped for a different future for the Ballard lot, which is located on a major transit line. However, City Light has continued moving forward with other plans to install new surface EV charging lots on properties it owns elsewhere in Seattle, and the utility recently announced plans to install EV charging stations on two parcels: one situated in the bustling downtown neighborhood of Belltown and the other in Morgan Junction, an urban village located in West Seattle. Despite both sites being located near frequent transit, conversion to EV charging lots could occur as soon as this year.
Belltown
The Belltown site is a small piece of property adjacent to the new Elliott Way roadway currently under construction between the waterfront and the rest of Belltown's street grid. Six charging stalls have been proposed at this location, situated just a few blocks from Pike Place Market at the corner of Blanchard Street and Western Avenue.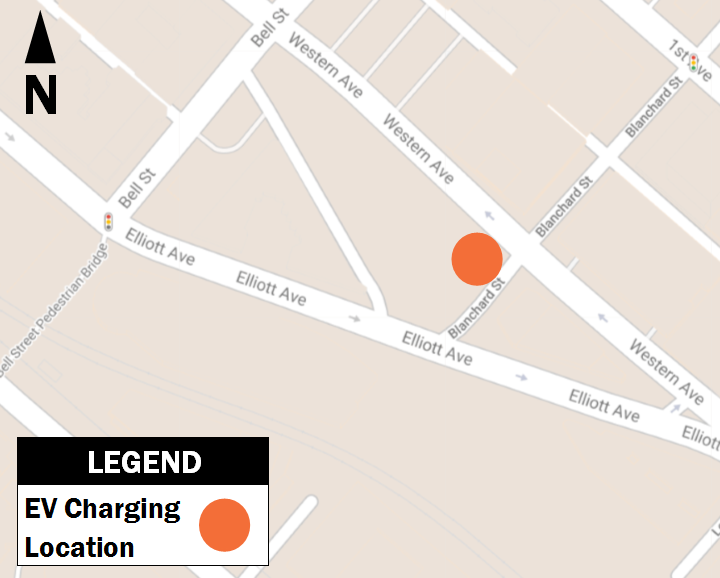 According to City Light, this selection was made because Belltown is lacking in EV charging stations. "The nearest EV fast chargers are in Lower Queen Anne, South Lake Union, and Downtown Seattle," the project website reads. "These chargers are in parking garages, which are less convenient and more expensive than chargers at surface lots. Increasing access to EV chargers in the city will allow people who choose to drive an EV to get the most out of their cars."
But locating EV chargers inside parking garages would make the most sense for the Pike Place Market vicinity, which has numerous city-owned garages, while reserving street level uses for pedestrian amenities would help maintain the safety and vitality of one of Seattle's most walkable neighborhoods. With Elliott Way, the the City is about to open a redirected freight corridor through the Belltown neighborhood. Establishing EV charging stations on a surface parking lot would bring more automobile infrastructure — and traffic — into the neighborhood. SDOT is currently assessing the results of a public survey, now closed, on the proposed project; the agency has said that if feedback is positive the new lot could open by the end of 2022.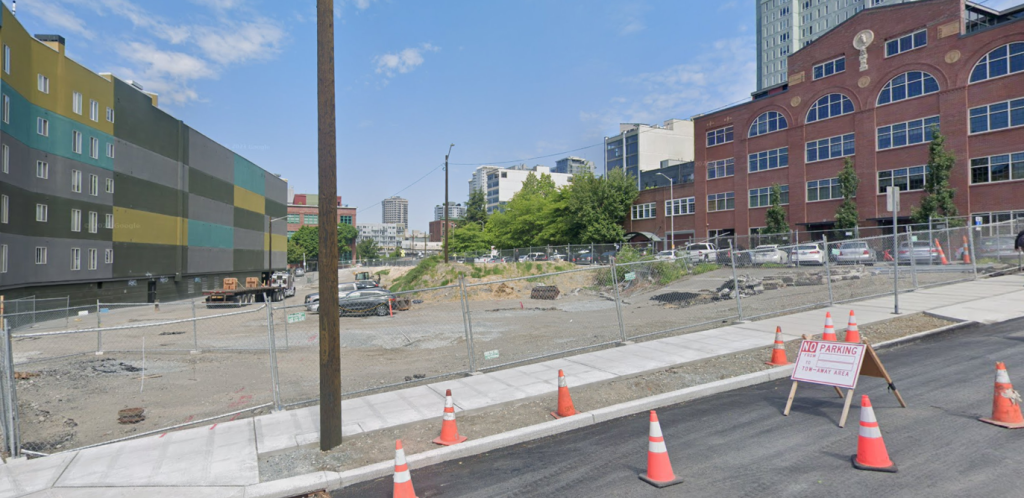 Morgan Junction
Eight EV charging stalls have been proposed on a 4,500 square foot lot in Morgan Junction. News of City Light's plans here were first reported by the West Seattle Blog. The site of a substation that was decommissioned twenty year ago, the lot is currently filled with trees, which the utility says will have to be removed as part of the site cleanup.
"Many of the existing trees are dying or in poor health," this project website says. "Because the contamination requiring removal extends throughout most of their roots, the existing trees will not likely survive after the environmental cleanup, even with the contractor using best practices for tree preservation to remove the contaminated soil. City Light will therefore remove the trees on the property to ensure that all contamination is cleaned and allow for the construction of the charging station and new tree and vegetation plantings." City Light has a survey open on this proposed project through April 22 where the public can provide feedback.
The Morgan Junction lot is zoned for neighborhood commercial development, and would have a forty foot height limit if a building were planned for the site. Located steps from the Metro's RapidRide C Line and Route 128, the land has some of the densest zoning of the entire Morgan Junction urban village. With the removal of the site's trees apparently necessary for clean up, building a new surface parking lot here rather than using the land for other uses seems particularly egregious.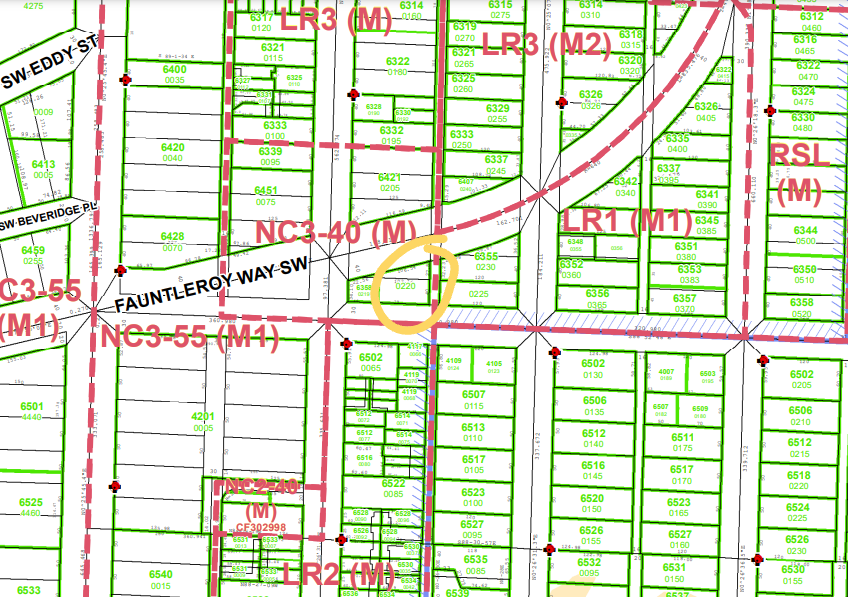 I asked Jenn Strang, media relations manager at Seattle City Light, about these proposed projects and the fact that the properties weren't being considered for affordable housing development. Strang pointed to other properties City Light is utilizing to advance the city's housing goals, including the Habitat for Humanity Copper Pines townhouse project in Loyal Heights, which is about to open on the site of a former City Light substation. Another substation in West Seattle, in Highland Park, is also being eyed for a similar project. But that doesn't seem to be the direction City Light wants to go in with the Belltown and Morgan Junction properties.
"EV adoption drives reduction of harmful emissions and improves public health outcomes, while also providing important mobility options for families and communities all over the city," Strang told me. "Improving charging access is an important role we can play to positively impact the communities we serve. For both projects, City Light identified a vacant utility-owned parcel in service area community that lacks access to public EV charging infrastructure."
I asked Strang how the utility determines when it might want to partner with SDOT to provide on-street EV charging in an area as opposed to utilizing valuable off-street land. "Although it is possible for Seattle City Light to install chargers in the right of way, using the right-of-way isn't always the best use for EV charging, especially when weighing right-of-way charging with other mobility priorities like walking, rolling, biking, transit, and general-use street parking." In 2019, City Light cancelled plans for on-street EV chargers on Broadway just north of the existing protected bike lane after pushback on the location, which is steps from a Link light rail station and in the way of any future expansion of bike infrastructure.
Specifically regarding the Morgan Junction site, Strang said that "Seattle City Light intends to maintain ownership of this Morgan Substation property."
"City Light's real estate portfolio is continually evaluated to best support the utility and has a long-term planning horizon that spans upwards of 100 years," Strang added. "The planned Morgan Junction EV Charging Station satisfies the near-term need to support rapidly approaching transportation electrification demand, while maintaining the property for long-term utility needs that will benefit ratepayers in the future. These future uses could include projects ranging from micro-grids to battery storage and would be designed to ensure that the utility is able to keep pace with ratepayers' growing energy needs."
EVs currently represent just 1.3% of all vehicles on Washington's roadways. This has created a tricky position for a public utility that has been charged with encouraging electric vehicle adoption: EV drivers need access to charging locations, but constructing new surface level parking on or near frequent transit lines will likely just encourage more overall car use and further hinder other city goals around reducing vehicle miles traveled. Yet utilizing on-street parking for EV charging can also conflict with those goals, preventing that space from being utilized by other, more-efficient transportation uses like biking. However, with over a quarter of Seattle's land currently occupied by street right-of-way, there shouldn't be a need to create more space for private vehicles. Seattle's elected leaders clearly need to make a policy decision regarding the creation of new surface parking lots on city-owned land, and just say no.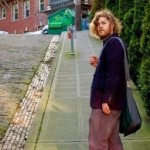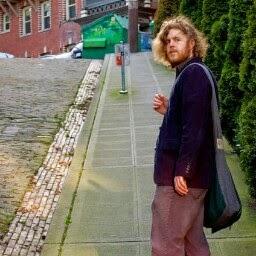 Ryan Packer lives in the Summit Slope neighborhood of Capitol Hill and has been writing for the The Urbanist since 2015. They report on multimodal transportation issues, #VisionZero, preservation, and local politics. They believe in using Seattle's history to help attain the vibrant, diverse city that we all wish to inhabit. Ryan's writing has appeared in Capitol Hill Seattle Blog, Bike Portland, and Seattle Bike Blog, where they also did a four-month stint as temporary editor.