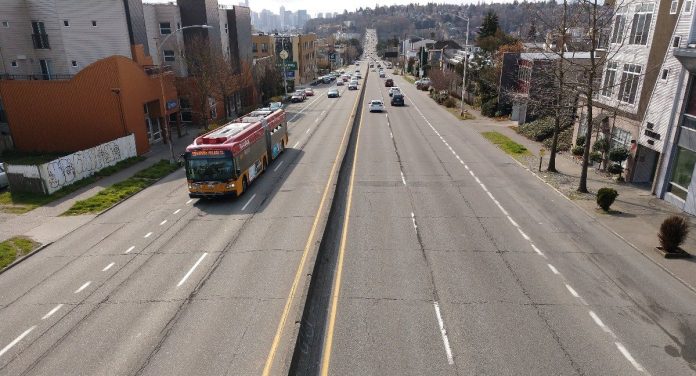 Seattle Councilmember Alex Pedersen's latest newsletter contained a small glimpse into his poor understanding of Seattle's extensive housing and climate crises with his poison pill proposal for the One Seattle Comprehensive Plan update. Pedersen's proposal — which he is calling 'Alternative L' — would limit low-income sixplex housing, or small developments of six homes, to some of the noisiest, most polluted, and unsafe streets in the city. Pedersen, who represents District 4 which includes neighborhoods with a large of proportion of renters like the University District, also revealed he doesn't understand the reality of displacement in Seattle — which is overwhelmingly economic in nature, and not due to demolitions of existing affordable housing.
Two of us (Mike and Amy) are both renters who live in or near Councilmember Pedersen's district. Amy is an architectural designer, designs affordable housing, and sees firsthand how hard the city has made it to add density to the urban fabric. Amy, a young, struggling renter in Roosevelt, will likely be moving outside the city soon because of high rents. How ironic is that? An affordable housing designer not being able to afford to live in the city they design in?
Seattle needs to reverse the pain that years of exclusionary zoning have done to our city. We need to go above and beyond and plan for a future that advocates for denser and more varied housing options: we want to see larger multi-family developments like 12-plexes with corner stores. We want to see an existing single family home subdivided into a duplex for two families, without the current costly limitations. We want to see more intergenerational living and cute accessory dwelling units (ADUs) plopped into existing backyards.
Reading Pedersen's 'Alternative L' sparks deep concern. This gish gallop contains numerous statements unsupported by data. Pedersen's spurious claim that, "Preventing demolitions prevents displacement" is not true. The overwhelming majority of displacement in this city does not result from demolitions — it is caused by economic displacement, which is overwhelmingly due to rising rents from a broad and deep housing crisis that has been decades in the making.
Many Seattle residents, like Amy, are facing economic displacement that will push them into long commutes, or maybe to leave our region entirely. Economic displacement is made significantly worse by exclusionary displacement — the process where multifamily and social housing are off limits for most of Seattle's land area due to single family zoning. In the 1970s, Seattle even studied allowing low-income apartments in Seattle's single family zones — unsurprisingly, the effort was killed by homeowners and community councils in wealthier neighborhoods.
There was another false claim in the councilmember's newsletter as well: "After the upzones of the University District by a previous City Council, we have seen demolitions of naturally occurring affordable housing at a higher rate than promised." We would like to invite Pedersen and his staff to check out the housing report card that the Seattle Office of Planning and Community Development (OPCD) puts out, collating information on demolished units.
Demolitions have dropped significantly since the Mandatory Housing Affordability (MHA) rezones were passed — this is even true in the University District. The overwhelming number of units being demolished in this city are… not naturally occurring affordable housing. They are unaffordable single-family homes largely being demolished for even more unaffordable single-family houses — interesting to note the only housing type that is not subject to MHA payments. (Literally, please read UCLA Lewis Center's report on broadly upzoning to keep land values and housing costs down.)
Pedersen also awkwardly laments that MHA is working, stating "City officials claimed MHA would produce 6,000 low-income units through 2025, and it has produced just 3,300 low-income units through 2021." MHA wasn't designed to solve the affordable housing crisis — it was an incrementalist approach, nominally increasing development in return for affordable housing or funds. The City previously claimed MHA would add 6,000 homes over a decade — Pedersen started the clock before MHA even passed. The legislation passed in March of 2019 – and then spent a year in litigation due to a coalition of homeowners attempting to overturn it (Pedersen's own senior-most legislative aide Toby Thaler being among them). In two years of being fully implemented, the city produced more than half of the units that MHA was anticipated to be built in ten. This is a good thing! We need to be building a lot more affordable housing. Imagine if the MHA upzones had been much broader and more visionary in scope!
Notably, if Pedersen wants to see more affordable housing, Seattle's social housing initiative just qualified for the ballot next year. If this measure passes, the Passivhaus mandate would make it the most progressive. energy efficient, and climate adaptive affordable housing program in North America. This should be the baseline of all new buildings in Seattle in a climate emergency!
When it comes to the affordable single family rentals Pedersen mentions, we would be interested to know where they are. Presently, there are a whopping two three-bedroom single family homes listed on Zillow that meet the city's affordability requirements for a family of four, at 80% area median income ($2,478 rent at max. 30% income). One of those homes likely wouldn't qualify with the requirement for utility costs added in.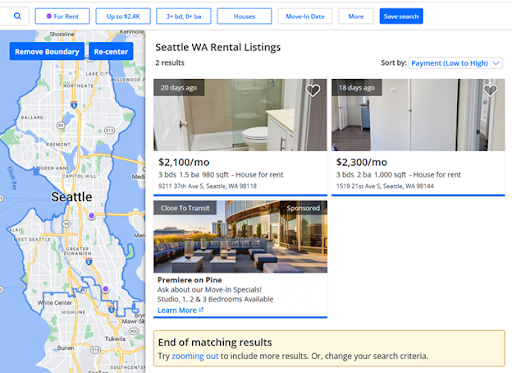 Pedersen's concerns about policies that don't further enrich landowners are also interesting: "The Comp Plan should be about increasing low-income housing, not altering City policies in a way that enriches landowners." Seattle's rampant exclusionary zoning and hurdles to building more housing have resulted in the collective wealth of single-family homeowners increasing by nearly 40 *BILLION* dollars in just the last 30 months.
Perhaps the most insidious component of Pedersen's proposal is that it would limit affordable housing to the loudest, most polluted, and most dangerous streets in the city: arterials and highways. Limiting affordable housing to these toxic streets and using renters as buffers for wealthy residents living off arterials, results in an incredibly bifurcated and segregated city. It is a heinous policy in North American urban planning that results in a very poor quality of life for those living on these streets. Focusing affordable housing on these toxic places results in negative public health outcomes including increased risk of cancer. It is also associated with environmental racism.
The public health impacts of Pedersen's proposal — which by the way, are also inherent in the poor planning of the Urban Village strategy, would be dire. Seattle's Urban Village strategy codifies that some residents, wealthier ones, deserve quiet leafy streets, while others do not. It also reinforces the trend where new development must cannibalize existing low rise multifamily and commercial buildings — highlighting the limits of constraining growth to the tiniest slivers of land in the city. Distributed development with a significantly broader reach would result in less dramatic changes of cities and neighborhoods. Exposure to the environmental noise on arterials can lead to annoyance, sleep disturbance, poor mental health, impaired cognitive function in children, negatively effects the cardiovascular system, and dementia. Add in the myriad of ways in which this proposal would fail to see any of this new affordable housing even realized — and it only gets worse.
The city studied the racial impacts of our Urban Village strategy and determined that yes, this plan is also very racist! In July of 2021 the city released their Comprehensive Plan Update Racial Equity Analysis of Seattle 2035 and Urban Village Strategy. Read more about this report in the South Seattle Emerald article, "City Council Forum Addresses Displacement and Exclusionary Zoning."
We need actual leadership on these issues, not bad faith proposals from wealthy homeowners. Seattle has a massive affordability crisis that has impacts across all economic levels. This crisis is also intricately connected to our inability to meet climate goals. Pedersen's proposal does absolutely nothing to address this — it would, in fact, make things worse for renters. Pedersen's 'Alternative L' would truly be forcing renters to 'take a massive L' on affordability, on quality of life — and push Seattle towards even more rampant inequality as home values and rents continue to climb. Amy, like every other Seattle resident, deserves the possibility to stay in the city, near their job, their home, and community. We need bold and visionary policies in Seattle's comprehensive plan, and beyond, to meet our climate and housing goals.