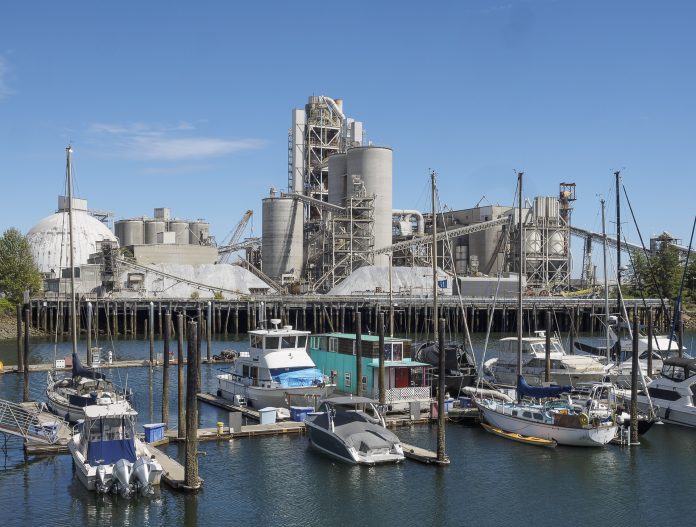 As a volunteer with Friends of Street Ends, a group that works to open and enhance Seattle's shoreline street ends for public access, I had the opportunity to tour the Duwamish Waterway in July, where one dozen street ends abut the shoreline. A centerpiece of Seattle's industrial heritage, the waterway is also important habitat for salmon and trout, as well as many aquatic bird and mammal species. What was most evident, however, was its industry, marine cargo, cement and aircraft manufacturing, and land-based transportation (aka bridges). Still, a few restored shoreline habitats raised hope that a more balanced management to the Duwamish is underway. The tour began at the Harbor Island Marina where moored boats made a picturesque setting.
Bridges are an important element of the Duwamish. Looking north, the West Seattle cantilevered bridge and Spokane Street double leaf swing bridge, as well as the 1928 BNSF Duwamish River Bridge, span the south end of Harbor Island. The BNSF railway bridge is a Strauss Heel Trunnion Bascule — the same typology as the one on the north side of the Ballard Locks at Salmon Bay.
A closer look at the under-belly of the West Seattle Bridge. Note the difference in the beam design between the short and long spans; the longer span recently underwent two years of extensive repairs. Shoreline Street Ends 18 and 19 are beyond and just out of view, on the left side of the photograph.
In addition to industry, the Duwamish is an entrepot for the Northwest's agricultural abundance. Silos are always a compelling photographic subject, as are the equally photogenic cranes.
A view south of the West Seattle and Spokane Bridges. Street End 13, SW Spokane Street, is in the foreground above.
Commerce buzzes on the waterway, its dozens of cranes and laden cargo ships speaking to the importance of the port to Seattle's livelihood.
Ship building and maintenance are vital industries as well. Here, several military vessels are receiving needed repairs.
A boat full of street end enthusiasts.
A classic early 20th Century vented-roof factory with dockside loading facilities. One imagines this edifice was at one time an important contributor to aircraft manufacture.
There are several cement plants along the Duwamish; stark yet engaging, each has an Edward Hopper-like ambiance.
This pump station is part of the 8th Avenue South Shoreline Street End (SSE) on the Georgetown side, and it was mistakenly omitted from SDOT's official SSE list — but we are working to have it included. The Lombardy Poplars and the classically-inspired design of station give an Italianate character this short stretch of shoreline.
Cranes, cranes, and more cranes. While a familiar site from Georgetown's 1st Avenue Bridge, this foursome is even more poignant when seen from the water.
The predominately low-scale development and open water offers splendid views of Mt. Rainier and the Cascade foothills.
An osprey at its new home on a purpose-built platform. With a world-wide distribution, ospreys are almost always found near water as fish is their primary prey.
A great blue heron (upper left) strutting on a patch of recetly restored shoreline.
Aviators of a different sort await delivery to their new homes.
One does not need a motor or sail boat to experience the bridges, ships, cranes, planes, and wildlife of the Duwamish. A canoe, stand-up paddle-board, or kayak may be an even better way to enjoy this rich, urbanriparian landscape. Water access is available from Seattle Street End 28: South Michigan Street/1st Avenue South Bridge; SSE 35: 8Th Avenue South/South Portland Street; and SSE 25: South Diagonal Street. Future posts will explore these, and other SSE's along the Duwamish, in greater detail (and from dry land).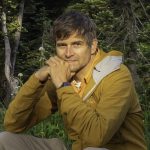 John Feit (Guest Contributor)
John Feit lives on Capitol Hill in Seattle, and volunteers with Friends of Street Ends, Lid I-5, and the Pike|Pine Urban Neighborhood Council (PPUNC).