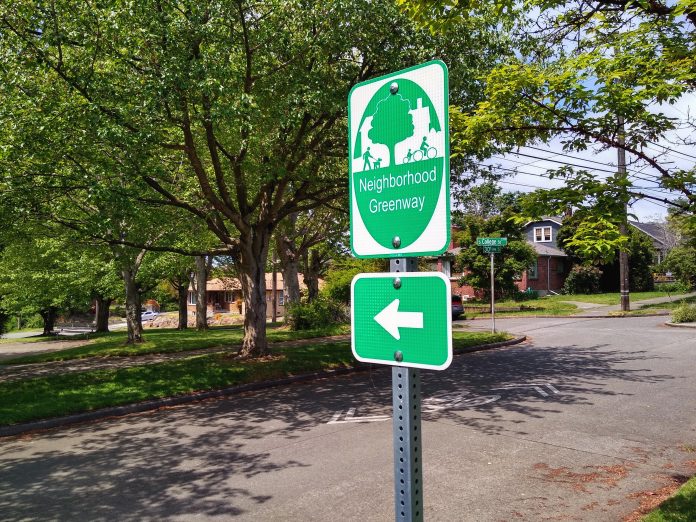 The Seattle Department of Transportation (SDOT) has announced that they've reached a preliminary agreement with the Washington Department of Transportation (WSDOT) over a trail lease that will allow Seattle to finally complete the missing northern segment of the Rainier Valley Neighborhood Greenway running between Mount Baker and Rainier Beach.
The announcement was made last week at the monthly Seattle Bicycle Advisory Board meeting by SDOT greenways program manager Summer Jawson, with Jawson telling the board that there has been "a lot of movement" on the connection recently and that the department is anticipating starting construction in 2023. In a follow up, SDOT confirmed the news but did note that there are some boxes that need to be checked before it can truly move forward.
"We are excited about the progress we have made with WSDOT on the Rainier Valley Greenway and the trail connection. Building this safe biking route is a priority for SDOT, and we appreciate that WSDOT is working with us and has now indicated that they are open to allowing us to build this bike route on their land around I-90," SDOT spokesperson Mariam Ali told The Urbanist. "This is a positive step forward and we are hoping to start construction sometime next year as long as the conversation with WSDOT continues to move forward as anticipated."
WSDOT is currently reviewing the lease agreement to determine if any additional steps are necessary for them to approve construction.
Seattle has been working to create this trail connection for many years now, after a final route announcement for the greenway was made in 2017 which included a section running along 28th Avenue S. That route would have codified one of the least steep connections between the Mountains to Sound Trail on WSDOT's I-90 lid and the rest of Mount Baker. Unlike at streets like 29th Avenue S, there is no existing connection onto the lid. 
Without this final trail connection, it makes no sense to route riders down 28th. The greenway has ended at 30th Avenue S and College Street for years now, with a hopeful but potentially misleading sign pointing in the direction of the planned route. The rest of the Rainier Valley Greenway has been open since 2019. On top of the issues that the circuitous greenway faces — it currently includes over 30 twists and turns from one end to the other — is the fact that it doesn't actually connect to the regional asset that is the I-90 trail.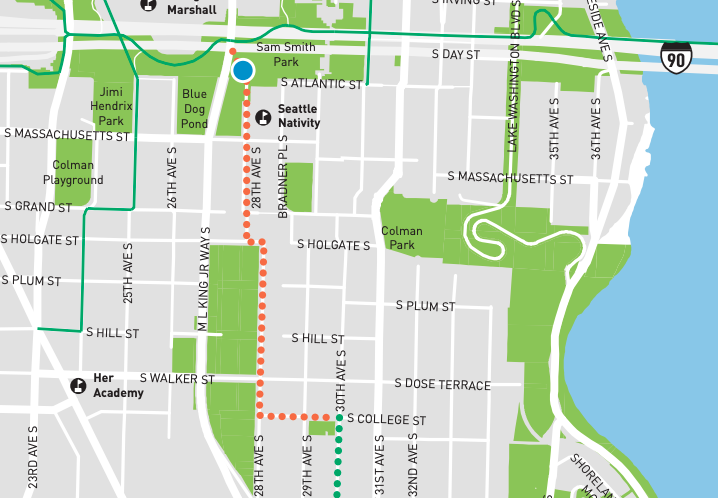 Coming to an agreement over issuing a lease allowing the City of Seattle to construct that trail connection proved trickier than originally anticipated. Since at least late 2016, according to emails The Urbanist obtained last year, the two departments were not on the same page about how to proceed, with WSDOT officials insisting that a cost-free lease for the city could not be issued because the new trail would not constitute a "highway purpose." SDOT employees pushed back on this, arguing for WSDOT to consider a broader definition of a highway propose.
"A considerable benefit to the highway seems apparent when examining the potential for modeshift when users are provided an accessible, safe, and seamless connection to a regional mass transit station in lieu of driving a [Single Occupancy Vehicles] on the highway (the benefit is decreased congestion, GHG emissions, maintenance, etc)," an SDOT planner working on the project wrote earlier this year.
It looks like that persistence has paid off. Finishing the Rainier Valley Neighborhood Greenway would represent one more small step toward improving mobility in the area around Judkins Park light rail station, now on track to open in 2024. In the coming months, SDOT is set to start work on a protected bike lane on MLK Jr Way S running from S Judkins Street, near the Mountains to Sound Trail, to the intersection of Rainier Avenue S near Mount Baker Station. That project was not planned when the Rainier Valley Greenway was originally proposed, but the two facilities should compliment each other, providing multiple routes to connect to the rest of the Rainier Valley. However, adding additional space for people to safely bike on other north-south arterial streets in the neighborhood has not gained traction.
We do not know what the final design for this connection will look like, but plans obtained earlier this year showed the connection minimizing the amount of new trail on the lid itself by creating a short connection to an expanded sidewalk along MLK Jr Way S. That design came about due to the legal pressures on the project and not because it's the best design for the project.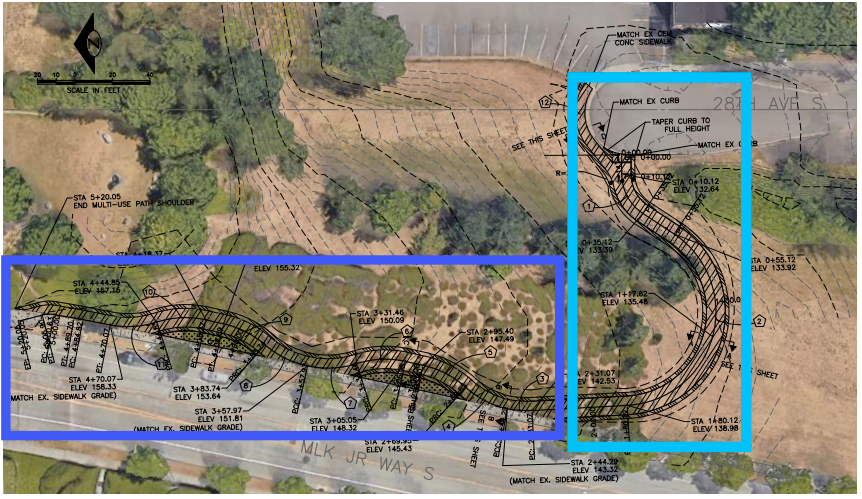 There is also hope that this agreement signals a bit of a shift in relations between the City and the State on mobility issues. In a different session with the bicycle advisory board, freshly installed SDOT Director Greg Spotts said that there was "unprecedented alignment" between the city and state transportation departments on how to move forward on projects. Spotts has been deep in the weeds on the Green Lake Outer Loop project, in which WSDOT agreed to convert an underutilized lane on SR 99 into a walking and biking lane. That project could end up being an incredibly impactful proof-of-concept.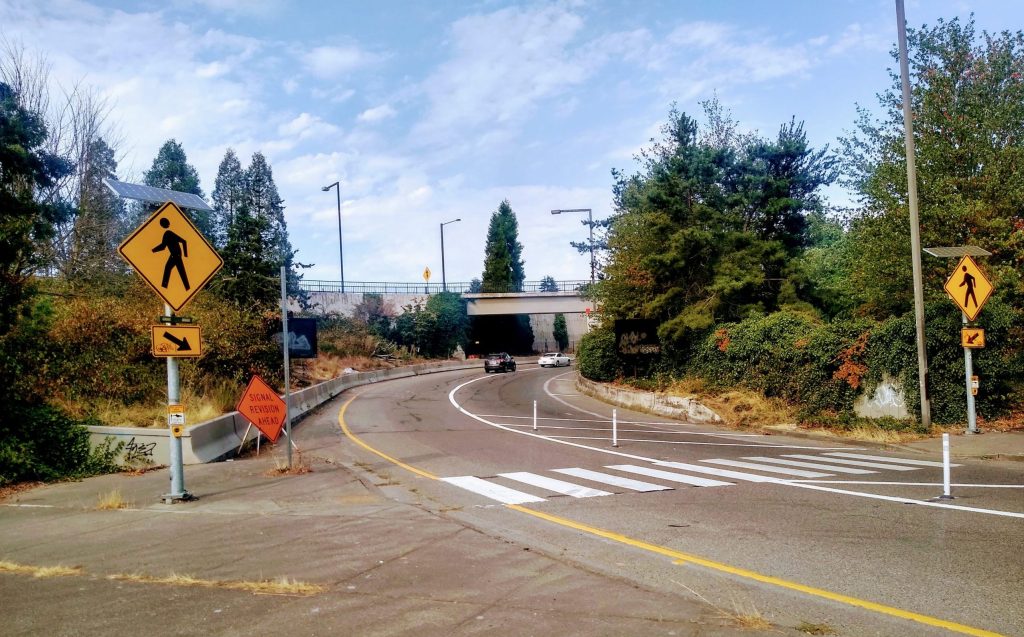 A bigger test for intergovernmental relations is going to be the area around WSDOT's ramps to and from I-90 immediately around Judkins Park Station. This year, WSDOT received a federal grant to study a possible reconfiguration of those ramps. "The opening of the Judkins Park Station will transform this area from a little-traversed gap in the urban fabric to a major destination, increasing potential crash exposure by orders of magnitude," WSDOT's application for the grant noted. But right now the schedule only calls for the state agency to get to a 30% initial concept by 2025, a full year after the station opens. Moving this ahead as swiftly as the Green Lake Outer Loop is a prime opportunity for the city to grab.
For now, the half-decade journey to getting the state to approve a small trail that provides an immediately apparent benefit looks to be nearing its end. Whether lessons are learned from this or not, all will likely agree that it's not a model to be copied elsewhere.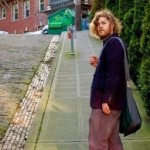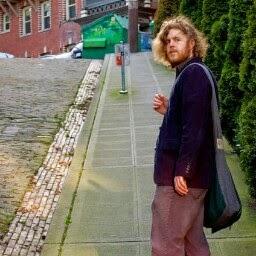 Ryan Packer lives in the Summit Slope neighborhood of Capitol Hill and has been writing for the The Urbanist since 2015. They report on multimodal transportation issues, #VisionZero, preservation, and local politics. They believe in using Seattle's history to help attain the vibrant, diverse city that we all wish to inhabit. Ryan's writing has appeared in Capitol Hill Seattle Blog, Bike Portland, and Seattle Bike Blog, where they also did a four-month stint as temporary editor.