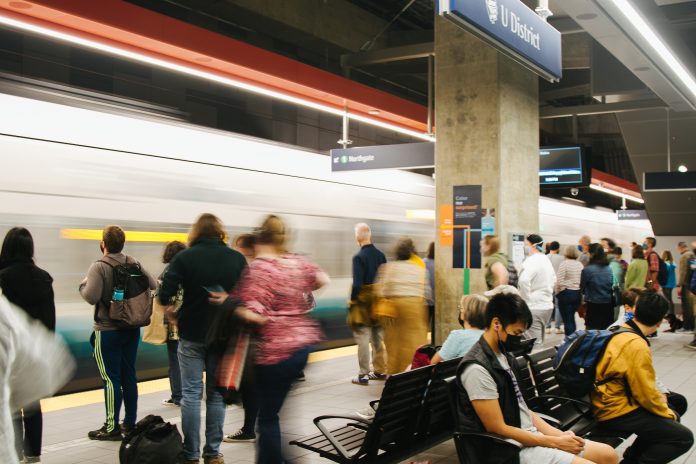 Sound Transit has more maintenance work planned this weekend and is suspending Link light rail service from Capitol Hill to SoDo Station, starting Friday morning. A replacement shuttle bus will mirror service on surface streets, but the agency is advising riders should "allow up to an additional 30 minutes for their trips."
Normal light rail operations will resume at the start of service Monday, November 14.
During the Friday to Sunday disruption, shuttle buses will run approximately every 15 minutes and stop at all stations between Capitol Hill and SoDo. Sound Transit also advises riders to "seek alternative transit options that may better suit their needs." The First Hill Streetcar is one option, as are a number of buses King County Metro or ST Express buses that may offer more frequent service or better or fewer transfers.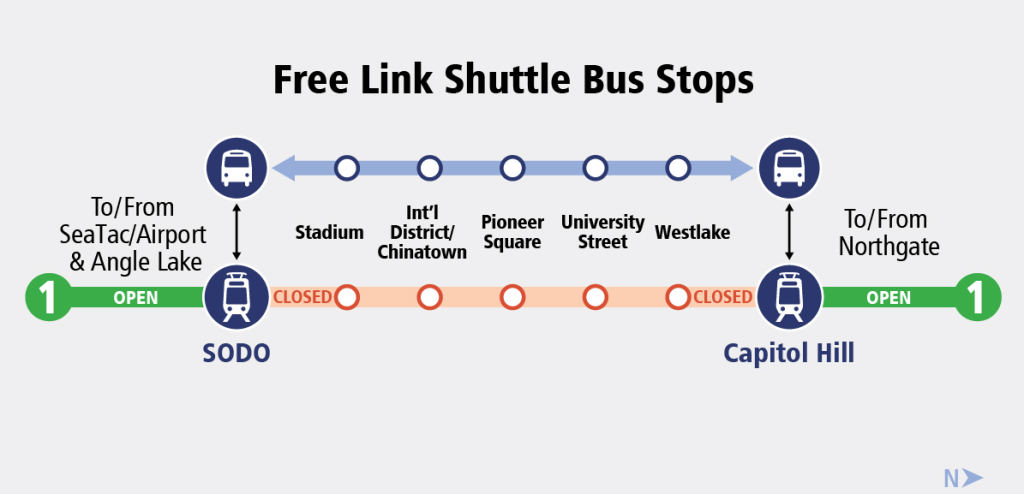 In particular, Sound Transit stressed that Friday commuting could be hectic. "On any of the three days, they can take Route 8 from Seattle Center to Capitol Hill," the agency noted. "Riders traveling between Downtown Seattle and SoDo can take routes 101, 150 or 594. Please note that late-night Link riders can connect to Route 132 at SoDo Station (with departures at 12:05am, 12:35am and 1:05 am) by walking to 4th Avenue and S. Lander Street." The Route 48 is also a great shortcut to transfer between stations around UW and Mount Baker and points south. A full list of other transit options is available at Sound Transit's transit detour page.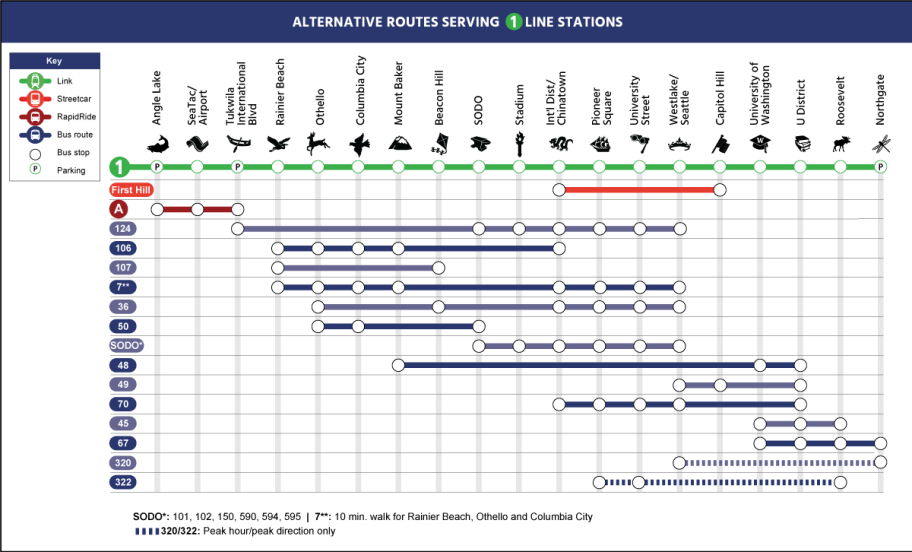 During the tunnel closure, work crews will section the overhead catenary wire system, which provides power to the light rail vehicles, into quadrants, an agency spokesperson said. At present, any work on the tunnel's catenary system requires the entire tunnel to be closed. By dividing the system into quadrants, any future work would only affect a portion of the tunnel, reducing the overall impact on service. In addition, crews will also be performing work needed to tie the future East Link extension into the existing Link system, or "Future Ready" as Sound Transit has branded the series of projects.
In other words, for riders, the silver lining of a three-day closure of this busy section of the light rail system is that Sound Transit is working to ensure future catenary work is less disruptive and can be done in smaller segments. It's also another hurdle to clear to the opening of Sound Transit's East Link, which will be known as the 2 Line.
There's also hope that slowly but surely, the agency is getting nimbler and better prepared to do maintenance work without shutting down light rail service for extended periods or track lengths or with subpar transit alternatives planned. Earlier pressure from transit advocates (spurred in part by The Urbanist) convinced the agency to shorten closures and better communicate with riders about tile work in the Rainier Valley.
East Link work continues with hope of early opening on Eastside
Unfortunately, East Link has been beset with a number of construction delays and defects and is now targeted to open in late 2024 instead of 2023. However, Sound Transit officials are studying the possibility of opening a segment of East Link earlier in 2024 on the Eastside-only segment, which would span eight stations from South Bellevue to Redmond Technology Center at Microsoft's campus. Since the construction defects are west of Bellevue along I-90, opening the Eastside segment early appears technically feasible. But the agency does face practical constraints.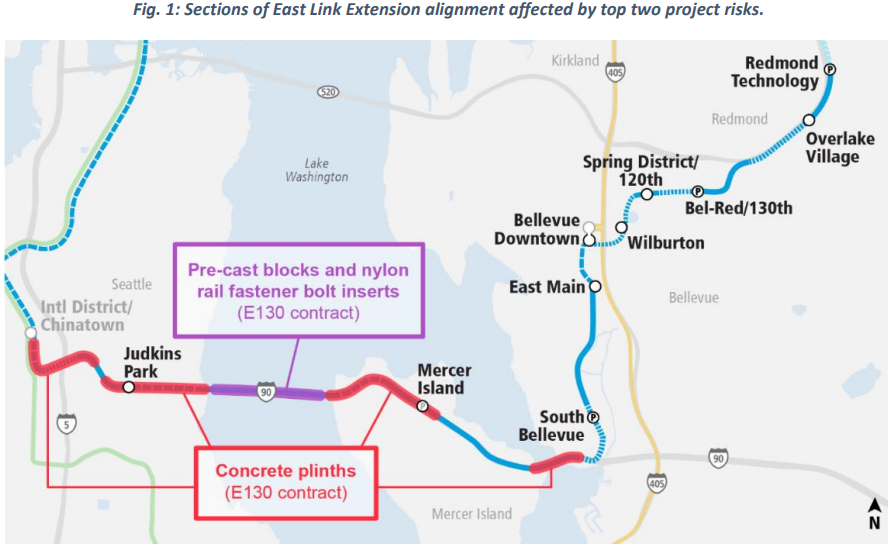 Sound Transit CEO Julie Timm said the agency would need 12 to 15 months to clear federal safety protocols and secure federal permission to open this smaller segment, as Christopher Randels reported in The Urbanist. Sound Transit boardmember Claudia Balducci had led the push to open Eastside light rail sooner, but she told The Seattle Times that they'd need to be able to open the Eastside segment at least six months earlier than the rest of the line to make it potentially worthwhile to phase the opening. Otherwise, it will be considered too much hassle for too little gain. So, an early Eastside opening could end up hinging on how delayed the rest of the line is. Thus far, the agency has been optimistic their late 2024 timeline is still feasible to open the entire East Link line.
Future Ready work expected in Q1 2023
This weekend's maintenance work closure is the last one scheduled in 2022, but Sound Transit does have more Future Ready work planned in early 2023. A specific timeline hasn't yet been posted to the Future Ready site, but Q1 is tabbed and does involve more work to tie together East Link into the existing 1 Line. Plus, "additional track work in the Downtown Seattle Transit Tunnel is needed to maintain the aging tracks through that area," the agency wrote. "Impacts are still to be determined."
It's the on-going growing pains of the region's fast-growing light rail network, but the good news is eventually we're going to be grown up.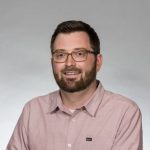 Doug Trumm is the executive director of The Urbanist. An Urbanist writer since 2015, he dreams of pedestrianizing streets, blanketing the city in bus lanes, and unleashing a mass timber building spree to end the affordable housing shortage and avert our coming climate catastrophe. He graduated from the Evans School of Public Policy and Governance at the University of Washington. He lives in East Fremont and loves to explore the city on his bike.