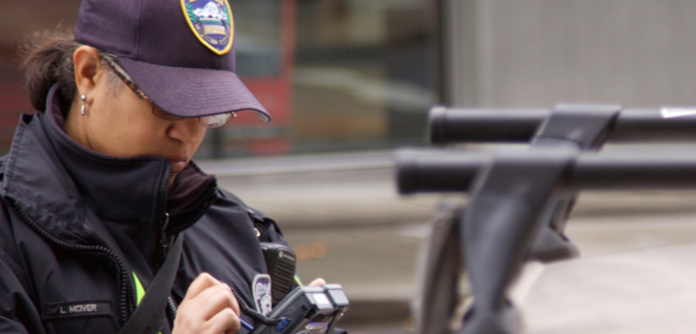 Seattle is nearing its final 2023-2024 budget and some big decisions are still in flux. The Mayor's budget puts parking enforcement back in the Seattle Police Department (SPD), but the City Council's balancing package keeps it in the Seattle Department of Transportation, where we think it belongs.
At 9:30am Monday, November 21, the budget committee will be discussing changes and the meeting will include a chance for public comment. Seattle Neighborhood Greenways has published some helpful talking points and a letter-writing tool if you can't make it. We urge you to make your voice heard before the final vote expected on November 28.
The Urbanist, Transit Riders Union, and Seattle Greenways agree on four key budget priorities.
The following four critical transportation priorities would make the budget better reflect our city's values:
Keep the traffic enforcement division in SDOT, don't move it back to SPD: The division should stay within SDOT to allow greater collaboration to make our streets safer using more strategies than just ticketing. Civilian workers belong in a civilian-led department, and parking enforcement officers should be partners in curb space management – to get people parking in places that allow everyone access to sidewalks, bike lanes, curb ramps, and more. (Read Patrick Taylor's op-ed for more.)
Fund protected bike lanes and pedestrian safety improvements in District 2. Since the Mayor released his proposed budget at the end of September, seven people have been hit and killed while walking, rolling, or biking in Seattle, and more than half of these deaths came in D2. These deaths are a policy choice the city has made over the years by refusing to invest in safe street infrastructure in the South End. Council should shift funding from car infrastructure and from neighborhoods that have historically seen high investment in street safety projects to fund protected bike lanes and pedestrian safety improvements in D2. This also applies to new car tab revenues that had been largely earmarked by the Transportation Chair for his Council District 4.
Automated speed camera enforcement expansion needs to be equitable. Automated speed cameras are effective at getting drivers to slow down in school zones, and better than armed officer enforcement. In fact, 95% of drivers that receive a ticket never get a 2nd ticket at that location. However, there are surveillance concerns and high ticket costs are disproportionately harsh for lower income residents. In the long term, please investigate tiered ticketing based on income. In the short term, this program must issue warnings instead of tickets for first violations and create alternatives for people who can't pay.
Reverse cuts that make our City less accessible for disabled people. The balancing package cuts $4 million for sidewalk maintenance and $1.5 million for Americans with Disabilities Act (ADA) compliance in parks. Uneven and crumbling sidewalks pose extreme mobility challenges to people with disabilities and create tripping hazards – especially for elders – and many of our parks are extremely inaccessible. Even at the current rate of funding, it will take centuries for Seattle to repair the 150,000+ sidewalk issues that the city knows about. Council should not cut funding to these vital and already extremely under-funded programs.
These budget priorities are the priorities of the Solidarity Budget coalition, which came together to push the city to treat the budget as a moral document and do better to align it with espoused values of racial equity and justice. The Solidarity Budget helped win positive changes like investing in the Green New Deal, eliminating ShotSpotter surveillance in Rainier Beach, cutting 80 ghost cop positions, and restoring JumpStart funding to community-identified priorities. JumpStart funding was passed to boost affordable housing production and fun Green New Deal priorities. It can't be a piggybank for the general fund. The Solidarity Budget coalition continues to push to #StoptheSweeps and to fund housing, food security, school counselors, and more.
It was a tough budget cycle since revenue forecasts are bad and getting worse. Advocates were still able to eke out a few wins, but future budgets won't be able to avoid the issue of raising more progressive revenue to avoid austerity cuts and make sorely needed investments. Without new revenue streams, Seattle will fail to rise to the occasion to address the crises we face around safe streets, housing and homelessness, and climate.
The Urbanist editorial board consists of Ray Dubicki, Ryan Packer, and Doug Trumm.