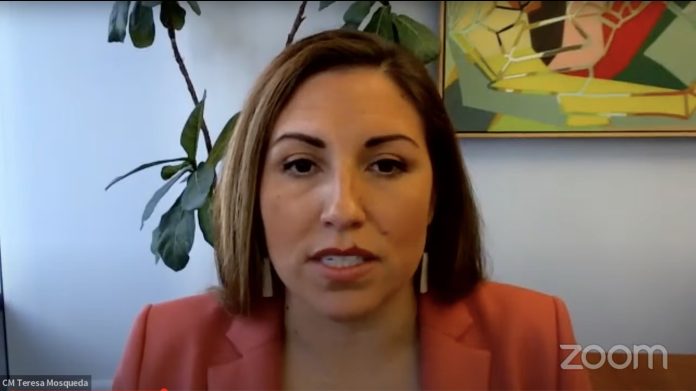 Council actions rearrange Mayor's budget proposal based on short term coverage from JumpStart tax.
Seattle's budget season is moving into its final stages as Budget Committee Chair Teresa Mosqueda published the City Council's balancing package on Monday. The package proposes to reallocate money from Mayor Bruce Harrell's initial priorities, including the restoration of salary increases to human service providers, the retention of parking enforcement in Seattle Department of Transportation (SDOT), and the addition of limited investments in council priorities.
While many projects will be stalled in their design phases or deferred for future years, the Seattle Police Department (SPD) will see increases over the two year life of this budget. These include already agreed upon hiring bonuses and salaries to expand the department by 30 positions.
The tight budget balancing reflects a widening gap between expected revenue and expenditures. Budget forecasters are projecting an economic recession in early 2023, impacting many of the regressive sales, business and operating, and real estate taxes on which Washington's local governments rely for funding. Mosqueda emphasized how a good year for one progressive tax like JumpStart cannot forever cover the collapse of others.
"We must include new progressive revenue for the next biennial budget," Mosqueda said. "We cannot continue with these short-term solutions that we delicately balanced in this budget."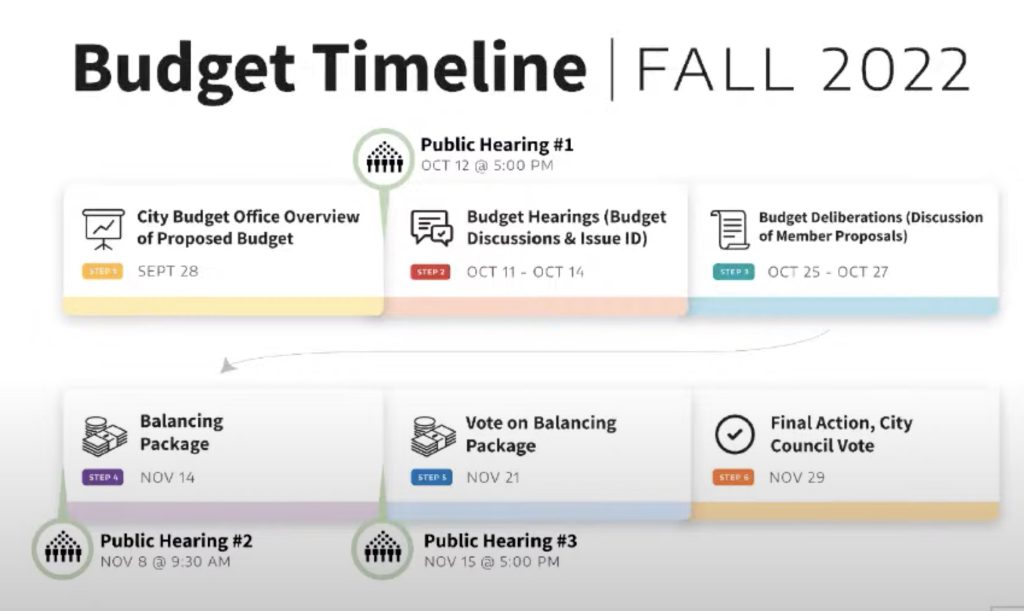 From here, the Council will hold a series of public meetings about this unified budget package before councilmembers will have the opportunity for amendments. Final votes before the budget is sent to the mayor for approval are expected in the last days of November.
Rearrangements
The council's balancing package proposes to restore full salary increases to human service providers at a rate that keeps up with inflation. Under Mayor Harrell's proposed budget, the already underpaid workers would have received raises capped at 4%, which would not cover the rising cost of living in a time of high inflation. In accordance with legislation passed in 2019, the council's balancing proposal restores the promised inflationary increase — a 7.9% in this case. This raises the expenditure from a $15.5 million over two years to $28.2 million.
The police department's budget will be allowed to grow over the biennium. SPD is expected to increase by a total of 30 new police officers over that time, with 105 officers leaving and 120 hired each year. Police recruitment will be completed in accordance with the hiring initiative approved by the city council over the summer. That plan includes hiring bonuses for police officers up to $30,000 and totaling almost $1.8 million.
Cost savings are expected in SPD as the balancing package reallocates money from 200 vacancies in the department. Of these positions, 80 will be unfunded and abrogated — that is completely removed from the city rolls. Another 120 will be simply unfunded and ready to be filled with only administrative approval should budget and need arise. Total savings is over $29 million which is specified to return to the department for SPD priorities.
The budget will move forward with retaining the city's Parking Enforcement Unit (PEU) in SDOT. Administratively, this zeros out about $40 million from SPD and puts $58 million into SDOT. The approximately $18 million difference over two years fills several vacant positions in the PEU, adds overtime and supplies, and lets everyone pick out new uniforms to go with the new office.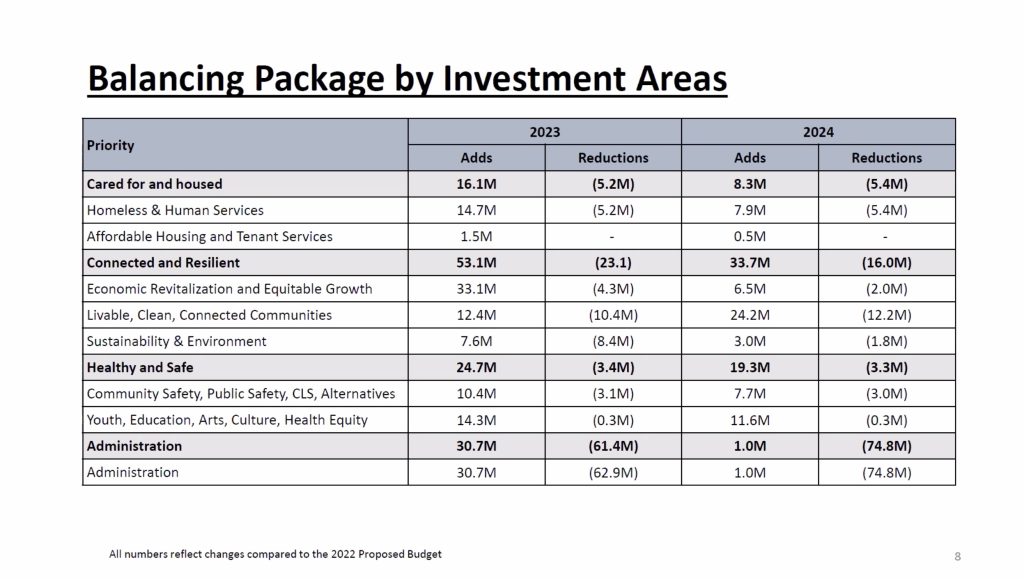 Councilmember Mosqueda also used the balancing package to announce several initiatives, including a $9 million investment each year into School Based Health Centers, $1.5 million in abortion care, and increased medic unit funding for the Seattle Fire Department. The chair's announcement also touted $20 million each year in Equitable Development Initiative projects and another $20 million in Green New Deal investments each year.
One project axed from the Mayor's package is his proposed gunfire detection system (often referred to as ShotSpotter), with an amendment by Councilmember Kshama Sawant zeroing out the $2 million for the program over the biennium. The removed funds pull the 2023 planned consultant selection and 2024 system purchase. Inclusion of ShotSpotter by the mayor was controversial, with other cities seeing little reduction in crime due to the program and civil rights advocates pointing out the potential for clashes when police ride into an area on high alert even if the lead is false. This can contribute to overpolicing in communities of color where it is typically deployed — Rainier Beach, had been proposed in this case.
Other projects that are reduced or reallocated include:
$3.5 million for decarbonizing Seattle Parks and Recreation facilities
$500,000 funding for the Urban Forestry – Green Seattle Partnership
$8.3 million for the Memorial Stadium Redevelopment projects, opting instead for a $10 million general obligation bond
The first two items would have been paid with funds raised through the city's JumpStart Fund. The last two items were expected to be paid through the Real Estate Excise Tax.
Temporary stop gap and progressive revenue
Much of this reallocation follows the "dire economic forecast" projected for the city's revenues. Just two weeks ago, the council heard there would be a net $64 million decrease in the Real Estate Excise Tax, a net $9.4 million decrease in the General Fund, and a net $4.5 million decrease in Sweetened Beverage Tax revenues over the biennium. Fortunately, the originally controversial JumpStart payroll tax is in place and brought in more revenue than expected to be used to cover the gap for the time being. Councilmember Mosqueda called out this fact.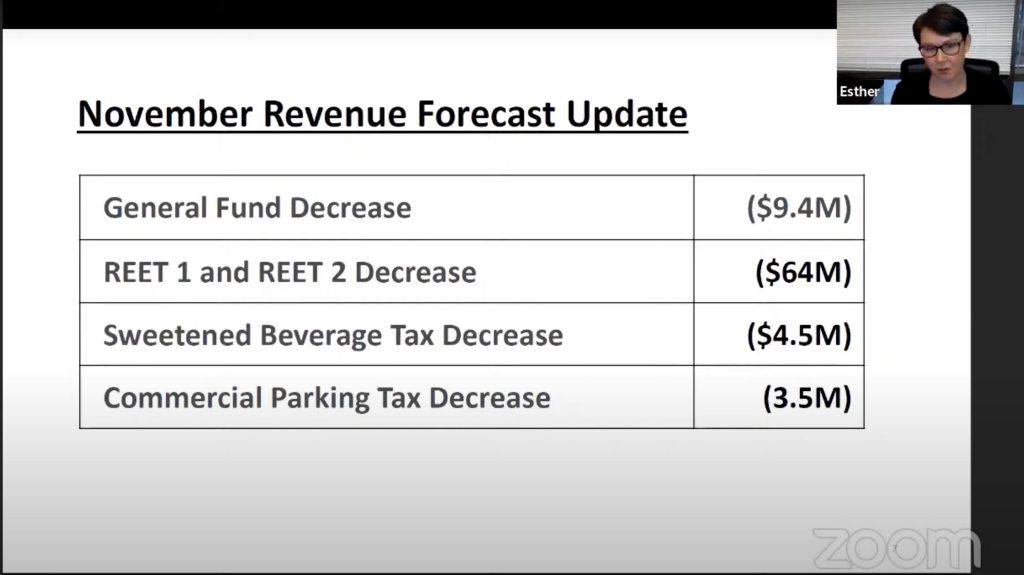 "None of this work would be possible without the short-term flexibility that is being provided from the higher than expected revenue from the JumpStart progressive payroll tax." Mosqueda then emphasized her view that using the tax to secure the general fund rather than focus on the priorities for which JumpStart was created is strictly a temporary solution. "I have to underscore that the use of the higher than anticipated revenue and the flexibility we are showing within JumpStart is only short-term, two-year, time-limited. It cannot be longer."
Unfortunately, projected deficits extend well past the two-year deadline, leaving city leaders to face the difficult reality that revenues need to rise or services will be cut. A firm anti-austerity position appears have the support of a consortium of public advocacy groups and labor unions. It was these groups who blessed the use of the higher-than-estimated JumpStart funds to cover this, and only this, biennium's budget gap.
That opens the door to raising revenue, a process on which the council and administration look to be moving ahead. The Revenue Stabilization Work Group, chaired by Mosqueda and Senior Deputy Mayor Monisha Harrell, features a mix of nonprofits, labor, employers, and the Seattle Metropolitan Chamber of Commerce, which had sued to attempt to block JumpStart implementation. The work group is charged to "recommend solutions at the intersection of the City's increasing General Fund budget revenue gap and reliance on declining and regressive tax sources."
As it was revenue from the progressive JumpStart payroll tax that prevented austerity and deeper cuts this budget cycle, the work group has a model for moving forward. Whether that is enough to break through ongoing corporate resistance to progressive revenue mechanisms is an open question. If they do not, then the delicate balance that created this budget will become very brittle.
Clarification: An earlier version of this article noted $3.5 million cut to Seattle Public Libraries for resiliency hubs, but money was reallocated to another department for similar work based on a recommendation from the Green New Deal oversight board. We remove that from the cut list to avoid confusion. The resilience hubs are still intended to happen.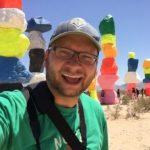 Ray Dubicki is a stay-at-home dad and parent-on-call for taking care of general school and neighborhood tasks around Ballard. This lets him see how urbanism works (or doesn't) during the hours most people are locked in their office. He is an attorney and urbanist by training, with soup-to-nuts planning experience from code enforcement to university development to writing zoning ordinances. He enjoys using PowerPoint, but only because it's no longer a weekly obligation.