But development outside of Washington State's urban growth areas continues to place pressure on an ecologically rich, but fragile ecosystem.
Congress has passed a funding bill for fiscal year 2023 that provides a $19 million boost for Puget Sound Action Agenda, the long-term recovery plan developed by the Puget Sound Partnership. The increase raises the total funding to $54 million, an amount that nearly doubles the funding allocation from only three years earlier.
"This is a welcome and long-overdue down payment on Puget Sound and Salish Sea recovery," Russ Hepfer, Vice Chairman of the Lower Elwha Klallam Tribe and member of the Puget Sound Partnership Leadership Council said in a press release. "Our salmon are in crisis and tribal treaty rights are at risk. We've been losing habitat faster than we can restore it and our waters are being contaminated by chemicals and stormwater pollution. We are restoring the Elwha River, but what good is it if our salmon have to swim through contaminated waters to get home? Fixing these issues requires more funding, so it's gratifying to see an increased level of investment that will help accelerate the recovery actions we know we need."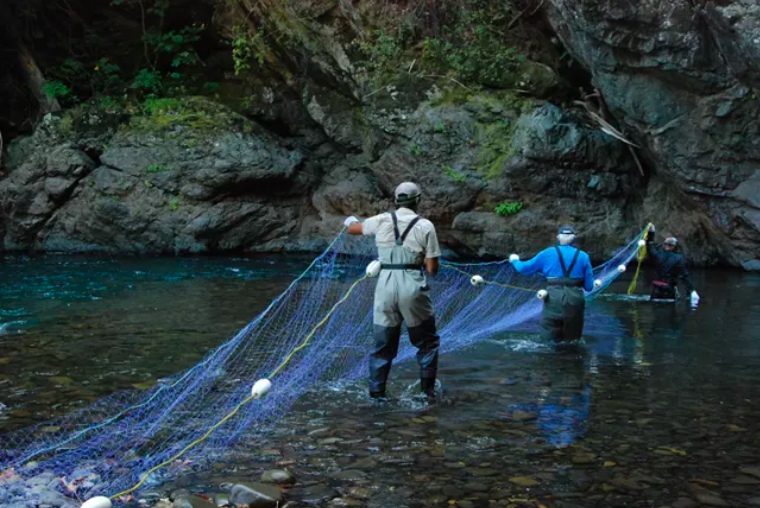 Governor Jay Inslee describe the increase as "historic" and said it came a "crucial time for Puget Sound recovery."
"We need to redouble our efforts to protect and restore habitat for our salmon, orcas, and other wildlife, clean up the water, and cool our rivers and streams. We thank our delegation for their leadership in securing this funding and their support of the region's work to restore Puget Sound," Inslee said.
Created in 2007, Puget Sound Partnership is the state agency tasked with "leading the the region's collective effort" to restore and protect Puget Sound. The majority of the its funding comes from federal Puget Sound National Estuary Program, which designated Puget Sound as an estuary of national significance in 1988.
Advocacy from Washington State lawmakers
The Puget Sound Recovery Caucus, led by Representative Derek Kilmer (D – 6th District) and Representative Marilyn Strickland (D – 10th District), championed legislation to increase federal funding for conservations efforts in Puget Sound. These lawmakers also were critical in the passage of key provisions the Puget Sound SOS Act, which Rep. Kilmer first introduced with then Representative Denny Heck in 2015.
The Puget Sound SOS Act, which affirms Puget Sound's recovery as a national priority, was integrated into the National Defense Authorization Act, signed into law by President Joe Biden on December 23rd.
All of this is good news for ecologically rich Puget Sound, yet given the complex and varied threats it faces, 2023's record funding amount still falls short of what experts have determined would be needed to finance all needed recovery efforts. To illustrate, in 2014-2016 the agency estimated that the full cost of implementing its Action Agenda would have been $875 million.
It is also clear that years of neglect have taken a toll. In 2021, the Puget Sound Partnership published State of the Sound, a report summarizing how well recovery efforts are advancing. The report concluded that "ecosystem conditions are not good enough to say the system is either resilient or recovered." Additionally, it determined that the ecosystem indicators with the least progress, such as population growth among salmon and orca, have shown an "alarming lack of improvement."
Unplanned population growth poses a major threat to Puget Sound
Smart growth is the first strategy for ecosystem protection and recovery outlined in the Puget Sound Action Agenda. It aims to:
Ensure smart development and protect intact habitats and processes by channeling population growth into attractive, transit-oriented urban growth areas (UGAs) with easy access to natural spaces.

Puget Sound Action Agenda 2022-2026
The map below taken from the Action Agenda illustrates where urban growth areas (UGAs) exist in the Puget Sound Region. According to report, engaging in smart growth will require the Puget Sound recovery community to work alongside a wide range of stakeholders, including state and local decision-makers, affordable housing agencies, transportation authorities, investors and developers, and vulnerable communities, to name a few.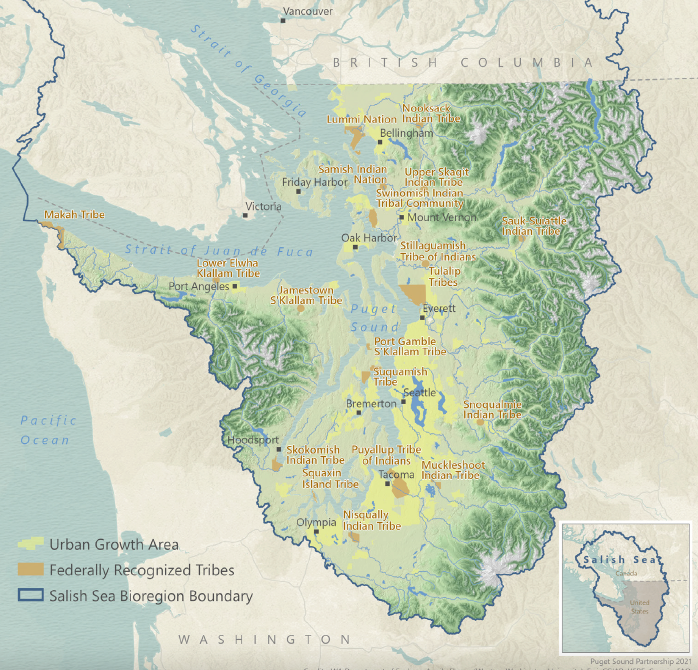 The state's Growth Management Act (GMA) is a vital tool for advancing smart growth in the Puget Sound region, but in its current form the GMA is unable to achieve its stated goals, the Action Agenda argues.
To prevent conversion of ecologically important lands, we must improve implementation of, and make modifications to, the Growth Management Act (GMA) to foster the protection of these natural areas and working lands.

These protections should be incorporated into regional infrastructure planning and supported by creating incentives for new market demands for growth in city centers.

Puget Sound Action Agenda 2022-2026
As reported by The Urbanist, Gov. Inslee has made increasing housing a key priority in his 2023 legislative agenda and sees insufficient zoning capacity in urban areas as a major hurdle to overcome.
"Unfortunately we have some restrictions on land use in our state that makes it impossible to actually build housing in many of our urban areas. So we will be asking the legislature to free up some additional land to allow multifamily housing particularly close to transit corridors," Inslee said.
While housing growth efforts, such as a statewide push to legalize missing middle housing like townhouses and backyard cottages, fell flat last legislative season, many state Democratic officials are expected to continue to advocate for similar policies to increase housing in urban areas in 2023, as shown by the State Legislative Preview shared with The Urbanist by partner organization Futurewise.
Although recent conversations around housing have centered on Washington State's housing affordability crisis, environmental concerns are also part of the equation. Lack of housing is known to create longer commutes, as people struggle to find affordable homes near their workplaces. Sprawling developments get built farther and farther outside of urban centers where land prices are cheaper, forcing an expansion of road and parking surfaces to serve those car-dependent communities. All of this creates more tire particle runoff, which is toxic to salmon, in Puget Sound streams.
While legislation aimed at closing the illegal sprawl loophole in the GMA was passed last legislative session, without the ability to build more housing in urban growth areas, development pressure on agricultural and wild lands will continue to be immense. The Puget Sound Action Plan estimates that if growth levels continue at similar rates, 1.7 million additional residents will live in the Puget Sound region by 2050, the equivalent of an additional two and a half Seattles.
But it's also important to remember that even without population growth, current pollution trends already negatively impact the health of Puget Sound. Sprawl-based population growth only magnifies the detrimental impacts of human activity.
It took Washington lawmakers years to make the health of Puget Sound a national priority and bring in the most robust funding yet for its recovery. Now The Urbanist and housing advocates will be watching to see if lawmakers can make progress on solving the state's housing crisis in a much shorter timeline.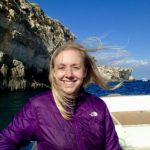 Natalie Bicknell Argerious (she/her) is a reporter and podcast host at The Urbanist. She previously served as managing editor. A passionate urban explorer since childhood, she loves learning how to make cities more inclusive, vibrant, and environmentally resilient. You can often find her wandering around Seattle's Central District and Capitol Hill with her dogs and cat. Email her at natalie [at] theurbanist [dot] org.