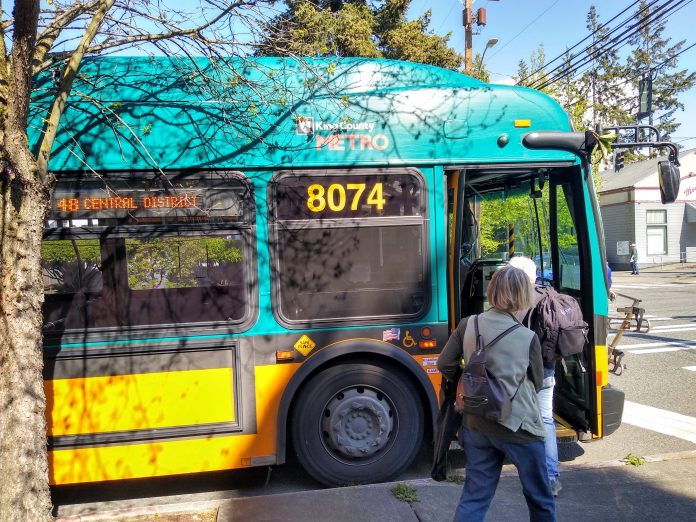 One of King County Metro's frequent workhorse routes connecting multiple current and future light rail stations along the east side of the city could see additional dedicated space set aside on its route to bypass traffic, but there are going to be additional hurdles to jump through before that could happen.
Last year, The Urbanist reported on plans for the Route 48 Transit-Plus Multimodal Corridor, noting that the approximately $2.6 million project did not include new dedicated transit lanes outside a short segment in Mount Baker. The project scope mostly includes transit-oriented upgrades to signals along the entirety of the 23rd/24th Avenue corridor between Montlake and Mount Baker. In contrast with most of the six other "Transit-Plus Multimodal Corridors" promised to voters in 2015 as part of the Move Seattle levy, buses would still sit in mixed traffic after the project is completed, even as increased traffic volumes in Seattle take a toll on the reliability of buses across the entire system.

The project's Complete Streets Checklist (pdf), obtained via a records request late last year, shows that additional dedicated bus lanes were considered for the corridor. Some were discarded, and some may still move forward, but not until after the Transit-Plus Multimodal Corridor is completed later this year.
The bus lane that was discarded would have be installed on a short block of southbound 23rd Ave E between E John Street and E Madison Street, taking the place of what is currently a dedicated right turn lane where buses can continue heading southbound through the intersection.
"SDOT did evaluate a southbound bus lane between John St and Madison St during the Project Development phase," SDOT's Mariam Ali told The Urbanist. "However, based on traffic analysis and observations, a southbound bus lane on this block was not included in the project scope. While the traffic models estimate that this bus lane would have saved 5 to 7 seconds per transit vehicle in the AM and PM peak hours, creating a bus lane for this block would create a high volume of vehicles needing to change lanes within a short distance, including trucks at 23rd Ave E which is a designated minor freight route."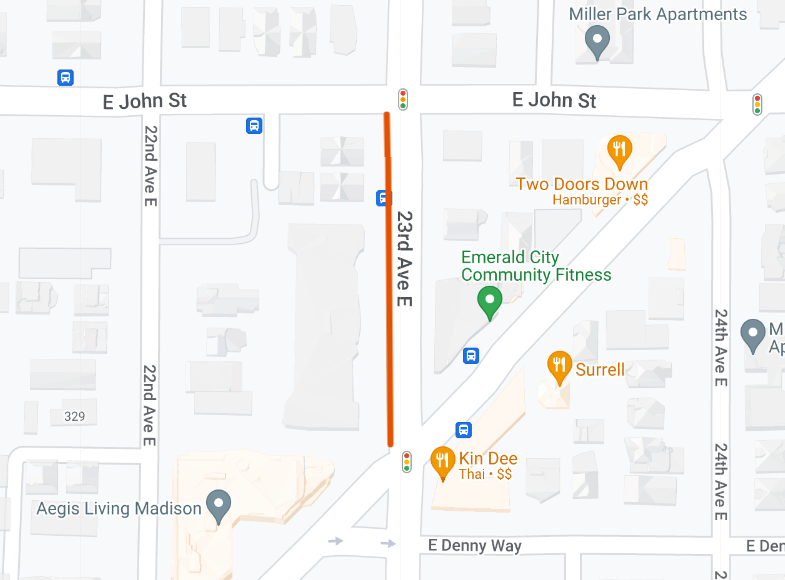 Still on the table is a longer bus lane for northbound buses along 24th Avenue E between Boyer Avenue E and E Roanoke Street, just south of Montlake Boulevard, which will be expanded by the end of 2023 into a nine lane street with space for northbound buses. But the final decision on having a northbound transit lane here will have to wait.
"This was not considered as part of the [Transit-Plus Multimodal Corridor] project since we needed more time for additional analysis and due to budget concerns for delivering the remaining Route 48 TPMC scope," Ali wrote. "The earlier traffic analysis for this bus lane segment did not fully reflect future operations at the SR 520, so we want to better understand that. We also want to evaluate providing a two-way left turn lane by removing a southbound general-purpose lane, both to reduce the impacts to northbound general-purpose traffic and to provide a space for left-turning vehicles to safely wait to make their turns."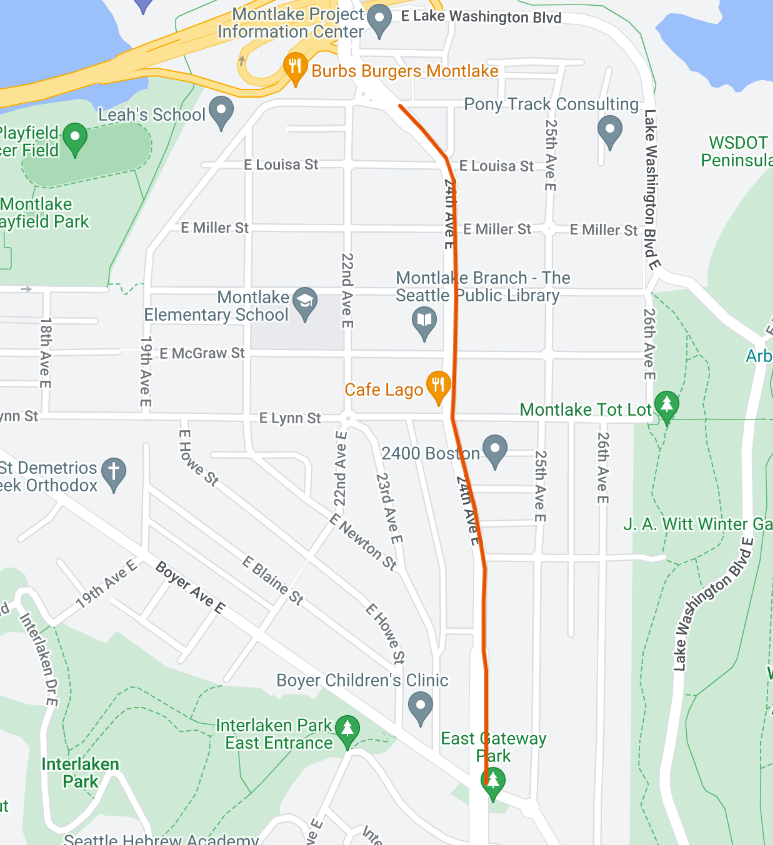 The segment through Montlake where SDOT is evaluating the bus lane is also the site of a years-long "vision zero" project that the department just wrapped up, though the scope of that project was also severely limited and likely represents a lost opportunity to reallocate some space along the fast moving 23rd and 24th Ave corridor. Speed data presented on vehicles heading through the heart of Montlake around McGraw Street in 2017 (as the project kicked off) showed an 85th percentile speed for northbound drivers of 37 mph, and by 2022, after the project had wrapped up, showed a drop of just 2 mph. Southbound drivers, recorded driving at 35 mph in 2017, were recorded driving the exact same speed in 2022.
The Montlake vision zero project raised the prospect of making space for buses in 2017 but punted on the idea. "As we get closer to upgrading bus service to RapidRide on 23rd Avenue E (currently scheduled to start operating in 2024), we'd like to revisit the neighborhood to discuss going from four to three lanes," project materials from the time noted.
With upgrades now set to start construction, it looks like bus lane decision has been punted yet again. Or optimistically, the proposal for a bus lane on the corridor has not been completely shelved again. With the Route 48 bus poised to be a well-used connection between UW, Judkins Park, and Mount Baker Stations, and the amount of city traffic only continuing to increase, it is not really a question of whether the 48 will need its own dedicated lane but when.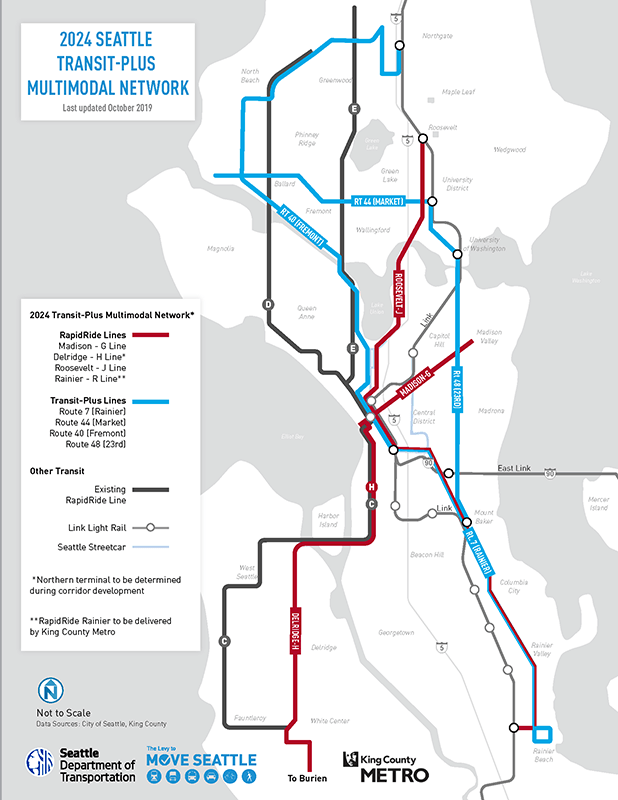 Since 2018, when three of the promised RapidRide corridors laid in front of voters in 2015 were downgraded to these "transit-plus" corridors, The Urbanist and the Move All Seattle Sustainably (MASS) Coalition have advocated for dedicated space for transit on the corridors identified. Regardless of what they were going to be called, the coalition is not ready to let a budget reduction lead to the city stepping away from the easy wins that come from reapportioning street space.
"The city's budget and timelines for funded projects must emphasize guaranteeing right-of-way for people walking, biking, and riding transit," the coalition wrote in a letter to then-Mayor Jenny Durkan that year. "This means speeding up timelines for painting dedicated bus lanes and creating protected bike lanes." That remains the case today.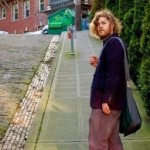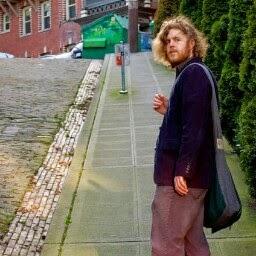 Ryan Packer lives in the Summit Slope neighborhood of Capitol Hill and has been writing for the The Urbanist since 2015. They report on multimodal transportation issues, #VisionZero, preservation, and local politics. They believe in using Seattle's history to help attain the vibrant, diverse city that we all wish to inhabit. Ryan's writing has appeared in Capitol Hill Seattle Blog, Bike Portland, and Seattle Bike Blog, where they also did a four-month stint as temporary editor.