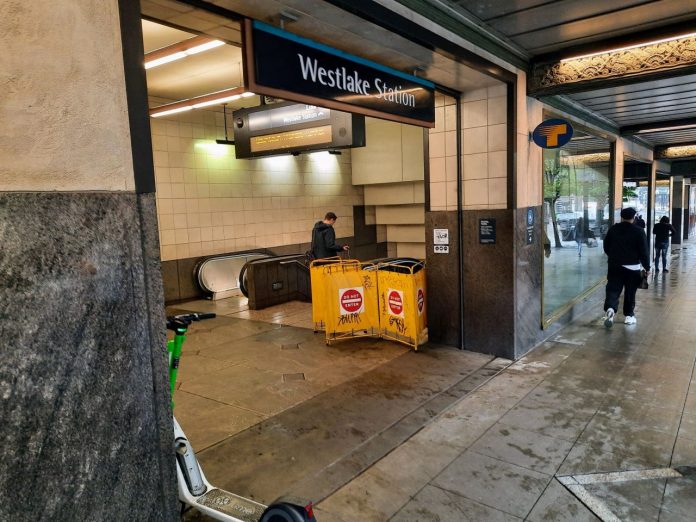 Westlake Station's northbound platform is reopening ahead of schedule, allowing service to return to normal.
Sound Transit CEO Julie Timm revealed Saturday that the disruption to light rail service in downtown Seattle will be shorter than previously announced thanks to a new plan to repair damage to Westlake Station's roof. As of Monday morning, trains are running on both sides of the track in the Downtown Seattle Transit Tunnel, with frequencies boosted to every 10 minutes at peak hours.
Link light rail service has been heavily disrupted since April 27th due to structural damage caused by a (non-agency) crew installing a new post clock outside the flagship Ben Bridge jewelry store on Pine Street above the station. The crew dug too deep and created a hole in the roof, with concrete potentially threatening to bust loose and imperil riders, though no one was injured by the construction blunder.
"The new plan was the result of finally getting access into the ceiling today, eyes on the damage, and added scaffolding above the ceiling to do the repairs safely and that can be dismantled later without disruption," Timm said in a tweet. Another perk of the plan: "No need to disrupt service again once repairs are complete," she added.
The agency's approach to the hazard had been to close the northbound platform at Westlake Station which necessitated single tracking light rail throughout downtown Seattle and greatly reducing headways to make the truncated service work. This made trips much slower for riders, who had been used to eight-minute frequencies at peak times and single-seat rides.
After initially planning to run shuttle train service at 32-minute intervals, Sound Transit improved the detour plan as Stephen Fesler noted in his coverage: "As of Friday evening, Sound Transit is still using a single-track operations between Westlake and Stadium Stations. The system is effectively running as a two-line service with mandatory transfers at Pioneer Square Station for continuing journeys north or south. Trains are operating about every 15 to 20 minutes on the 1 Line and trains are holding at Pioneer Square Station for about three to five minutes to facilitate platform transfers at the station. Boarding and alighting from trains at Westlake, University Street, and International District/Chinatown Stations is limited to one platform. For most riders, this operating strategy is generally much better than the earlier versions."
Luckily, service is slated to fully be back to normal by Tuesday, May 9th.
"Link light rail will return to regular service when trains begin running [Monday] morning, ending an unplanned period of single tracking through downtown stations," Sound Transit spokesperson John Gallagher said in a statement. "During peak hours on Monday, trains will be running every 10 minutes instead of the usual eight minutes while service ramps up. By Tuesday, trains are expected to be running at their normal eight-minute frequency during peak hours."
The agency had originally announced the service disruption would last as at least two weeks, but full service restoration is actually happening in 11 days thanks to some creative problem solving to address the safety risk. This will be welcome news to riders who had been dealing with awkward forced transfers and reduced frequencies.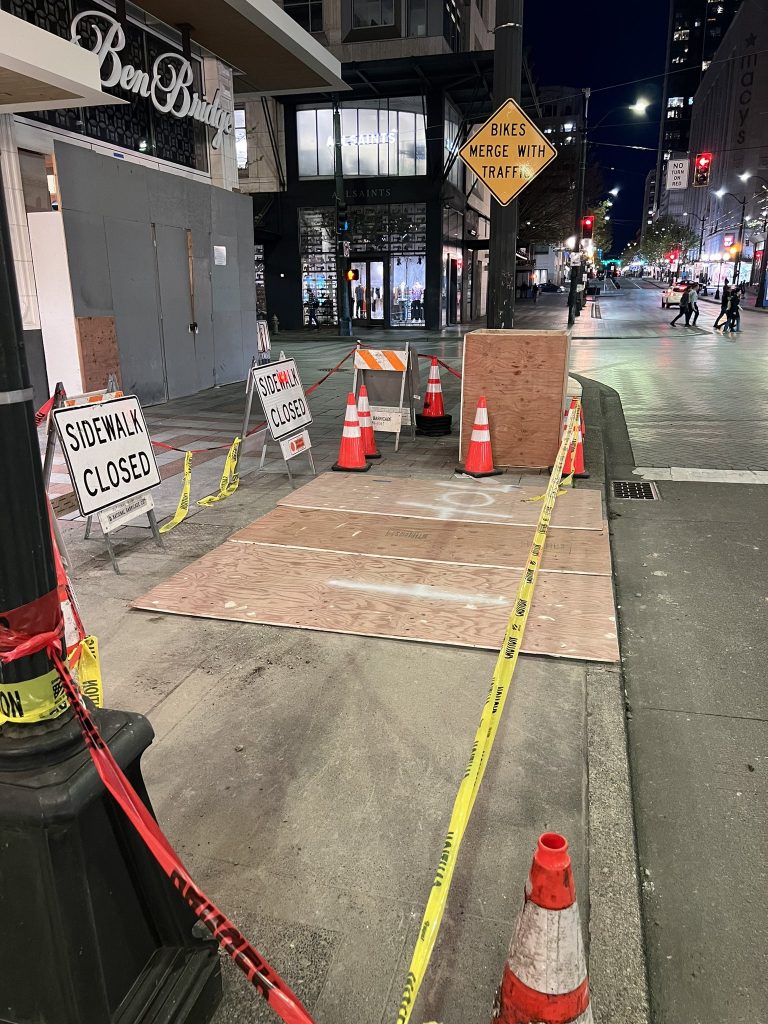 "The return to regular service means trains will no longer be single tracking through downtown stations, and passengers will not be required to transfer at Pioneer Square station if they are traveling in either direction beyond that point," Gallagher added.
Dismantling the scaffolding could have disrupted service once more, but Timm said the agency was able to use scaffolds that won't require a platform closure to dismantle after repairs are complete.
"The closure of the northbound platform allowed Sound Transit personnel to more closely examine the damage and determine what repairs will be necessary," Gallagher said. "Crews erected scaffolding on the station platform to remove debris and inspect the area. They will be removing the scaffolding tonight and the platform will be fully open tomorrow morning. Work will be continuing to repair the damage, but in a way that allows for a return to service."
While the unexpected construction mishap caused chaos initially, Sound Transit ultimately managed the crisis and was able to restore service ahead of schedule. The agency has placed a greater emphasis on service quality and reducing disruptions following criticism that it had not handled planned construction work in the Rainier Valley well as part of its "Future Ready" maintenance program to update stations and tracks ahead of East Link's opening.
Sound Transit CEO Julie Timm deserves praise for her handling of the crisis. She was more forthright than the agency had handled negative news in the past and tweeted live from the scene at Westlake Station as her team determined the northbound platform could be reopened by Monday. She incidentally is our guest for our Monthly Meetup urbanist talk series at 6:30pm Tuesday.
Importantly, the sense that riders are being prioritized is one of the things that is being repaired along with the damaged station roof.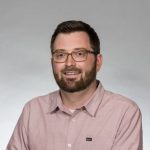 Doug Trumm is the executive director of The Urbanist. An Urbanist writer since 2015, he dreams of pedestrianizing streets, blanketing the city in bus lanes, and unleashing a mass timber building spree to end the affordable housing shortage and avert our coming climate catastrophe. He graduated from the Evans School of Public Policy and Governance at the University of Washington. He lives in East Fremont and loves to explore the city on his bike.