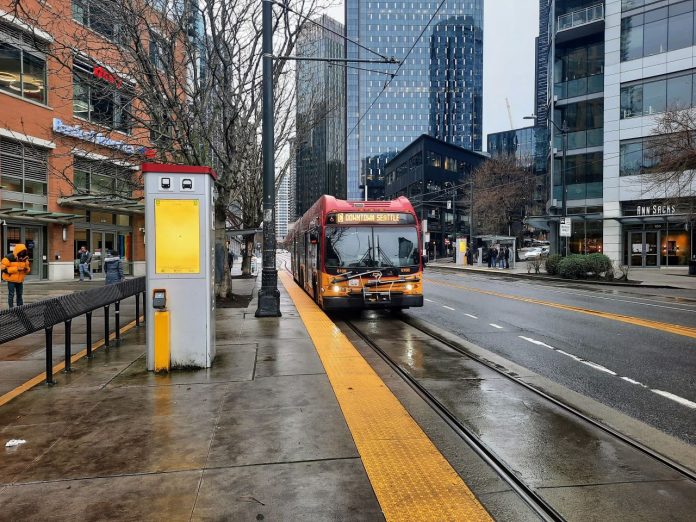 Major stakeholders are pushing to shift Denny Station west, which could lead to deletion of nearby South Lake Union Station and delay the project with further study.
In a letter to the Sound Transit Board last week, Seattle Mayor Bruce Harrell again was going off menu, as the board very slowly and laboriously zeroes in on preferred alternatives to advance to the final study clearing the way for Ballard Link light rail construction. The board must make a decision in July or risk further delay regardless of the alternative selected.
At issue is a four-year closure of Westlake Avenue that Sound Transit's preliminary analysis has indicated would be necessary to construct the agency's baseline alternative for Denny Station underneath Westlake Avenue. Amazon and other major employers have balked at such a closure, raising concerns about construction traffic impacts in the vicinity of their headquarters.
Harrell was absent from the Thursday board meeting as the agency shared its Denny Station presentation, but he did send Seattle Department of Transportation (SDOT) Director Greg Spotts in his stead to reiterate the points in his letter, which centered on the board's "duty to our communities to mitigate construction impacts."
"[T]he City of Seattle supports continued development of the Denny/Westlake station refinements — both the 'shifted north' and 'shifted west' concepts — for further analysis and review," Harrell wrote. "Both refinements make progress in reducing the impacts of full street closures, a key concern we heard at Board meetings from community members and business owners. Based on that metric alone, both refinements have introduced new approaches to allow for improved transit and vehicle access during construction."
Buses can detour around the Westlake Avenue closure easily enough on parallel streets, but detouring the South Lake Union Streetcar would be more complicated, with the agency exploring truncated service. Ridership is much stronger on Westlake bus routes than the 1.3-mile streetcar, though the Center City Streetcar extension could boost ridership and make truncated service more viable — if the stalled-out project ends up being completed before construction starts. Harrell declined to elaborate beyond his letter when reached for comment on how he's weighing the tradeoffs entailed in adding the new alternatives.
The Shifted North alternative would entail a $170 million increase in costs over the Westlake baseline, according to Sound Transit estimates. Meanwhile, the agency revealed the cost for the Terry alternative is now projected at $340 million more than the baseline alternative due to additional work related to construction mitigation and relocating a major fiber (high speed internet) line serving the area. The Shifted West alternative saves $440 million, but only by jettisoning an entire station that was projected to serve 10,500 daily riders.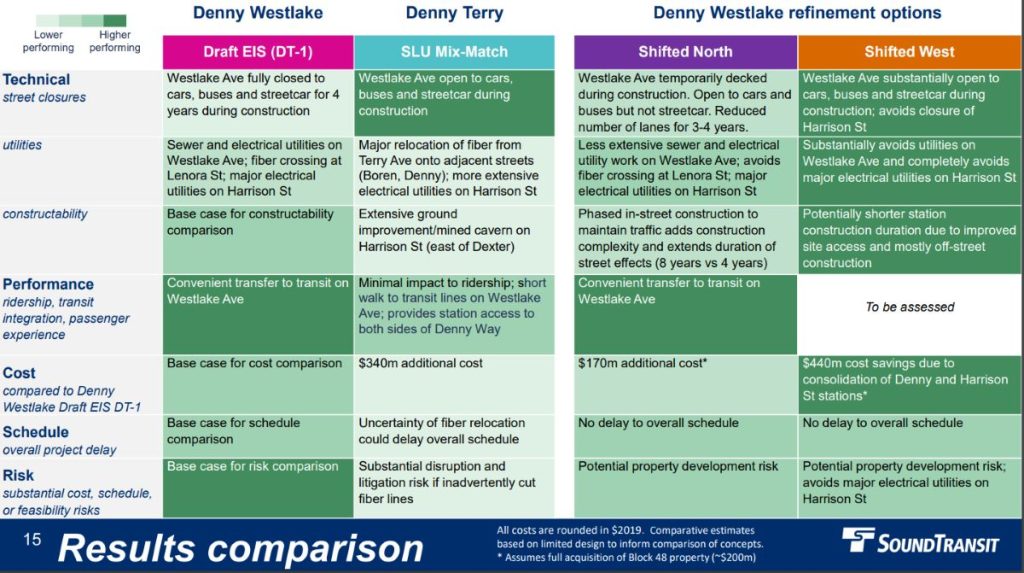 Jared Axelrod, a public policy manager for Amazon, testified at the meeting in favor of the "Shifted West" station.
"We have strong concerns with the currently identified Preferred Alternative for a Denny Station on Westlake Avenue. Such a location and the associated construction impacts, which include four plus years of a Westlake Avenue closure, would have detrimental impacts on the South Lake Union community, which includes our employees, visitors, and small businesses — which is especially relevant with downtown recovery and employer return to office plans."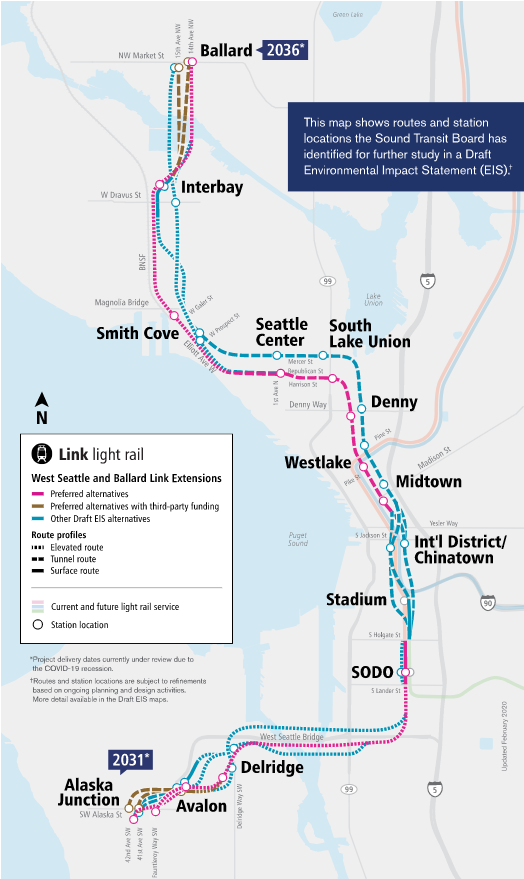 Previously, Amazon had supported a station on Terry Avenue as an alternative to Westlake Avenue, but Axelrod said the company has withdrawn support due to concerns about higher costs and risks. For the retailing giant, the most important concern for this foundational investment in Seattle's future is how long Westlake Avenue will be closed during construction.
"In particular, we see a lot of benefit to the Denny Westlake shifted west option," Axelrod said. "Based on the initial study, the shifted west option seems to alleviate many of the strongest concerns over a full multi-year closure of Westlake Avenue. As to the shifted north option, a prolonged closure of Westlake from four years currently to potentially eight years with this new concept is a step in the wrong direction. The board should prioritize reducing not extending the closure of this important connection through the Denny Triangle and South Lake Union neighborhoods."
Amazon did not comment on how canceling a light rail station serving more than 10,000 riders would square with its climate pledge "to build a cross-sector community of companies, organizations, individuals, and partners working together to address the climate crisis and solve the challenges of decarbonizing our economy."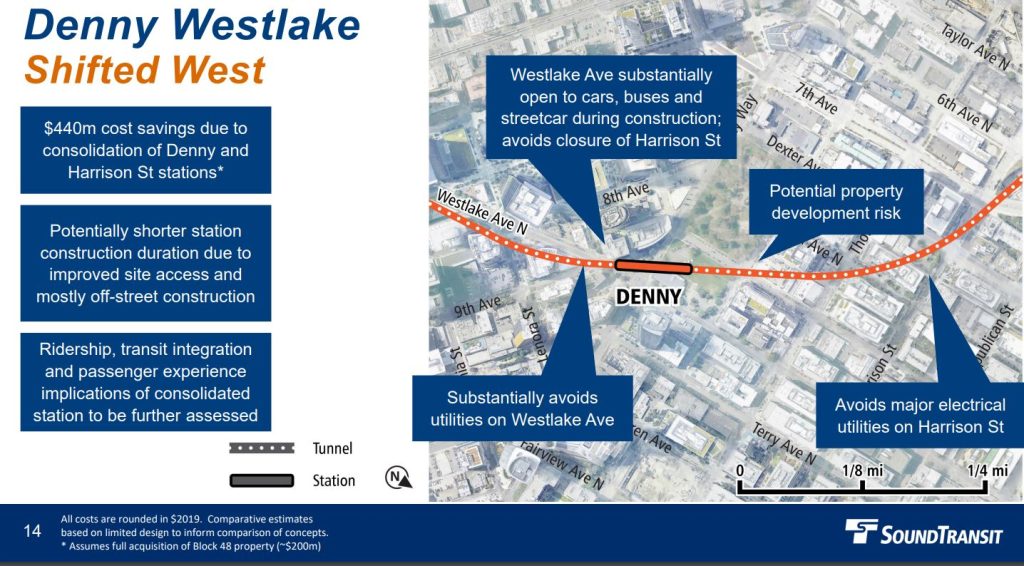 While backing further study, Harrell seemed to oppose the idea of dropping the South Lake Union Station, pronouncing "the City of Seattle remains committed to the South Lake Union and Denny stations in this growing, economic hub for our region and the future riders these stations will serve." Nonetheless, dropping the South Lake Union Station is exactly what the Shifted West alternative would appear to require, since it puts the station within a quarter mile of each other and that is what Sound Transit has assumed in its analysis.
"However, we need to learn more before we consider advancing these new concepts," Harrell wrote. "The South Lake Union 'Harrison Street' station is projected to have high ridership and a critical connection to many bus routes. We need to understand how the 'shifted west' consolidation plan would impact this ridership and transit integration. In their follow-up efforts, Sound Transit staff should communicate with stakeholders and work with King County Metro to ensure their feedback is incorporated before reporting back to the Board."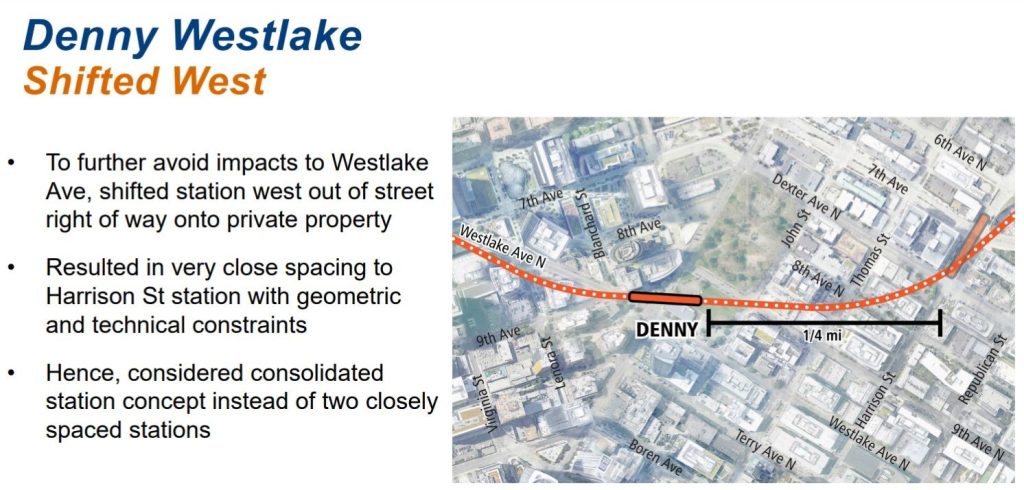 King County Councilmember Claudia Balducci asked for the agency to prepare an equity analysis and stressed the ridership implications. She is worried of the prospect of losing the station on Harrison Street that was queued up to be a major transfer point with buses running on Aurora, the highest ridership bus corridor in the region.
"We have to look at which markets we're serving if we shift to a different alternative," Balducci said.
Balducci asked if the agency was studying moving the Harrison station to a different location rather than dropping it if Denny shifted west, and Executive Corridor Director Cathal Ridge said that was not being studied and that doing so would take additional time.
Delays stemming from additional time to study late-addition station options has emerged as a trend for the agency, especially for Ballard Link where three other stations also had late additions still in the mix, risking delays as they are studied and further delays it turns out they are more complicated than existing options to design and construct.
"I want us to remember that we were advised by that Technical Advisory Group to immediately implement a recommendation that whenever we're presented with a proposal to do some more study or delay the project that we also should be presented with the tradeoffs we are accepting," Balducci said. "How much is it costing us? Are there any opportunity costs that affect implementation of the project, and does that impact other projects? We need to start building that so that when we make the decision to delay, we make that with full knowledge."
Citing displacement concerns and community pushback, Mayor Harrell proposed adding two new stations options sandwiching Chinatown-International District (CID) to replace the agency's baseline options for International District/Chinatown Station and Midtown Station. With Chair Dow Constantine also backing the option and pledging County land for the purpose, a majority of the board voted to make "North and South of CID" sandwich the Preferred Alternative directing the agency to continue further studies. Keeping it as the Preferred Alternative in July would require the agency to complete another Draft Environmental Impact Statement (EIS) since their first one didn't include the option.
The board also added a new west-shifted option for the Uptown Station, responding to concerns about noise, vibration, and traffic from Seattle Center nonprofits, businesses, and arts organizations, including SIFF Cinema Uptown and KEXP, whose recording studio is next door to the Republican alternative.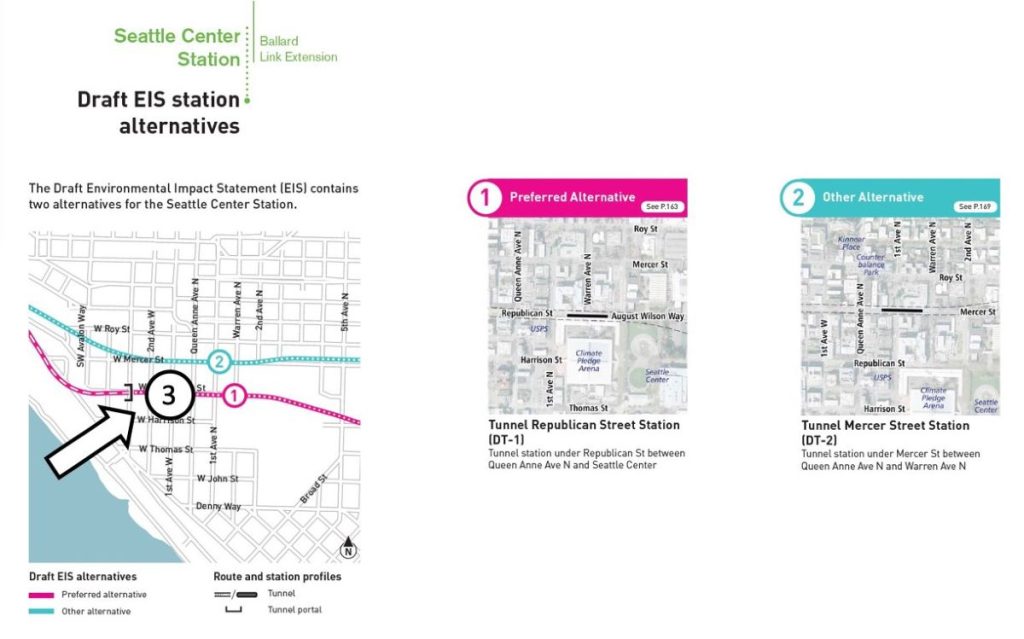 Balducci asked Ridge for more specifics on how much delay would result from preparing another Draft EIS that includes all the new station options the board has added, but Ridge didn't yet have that information. She asked to have it ahead of the July vote so that the board could make an informed decision. Boardmember Kent Keel (a University Place Councilmember) also stressed the need to come to a decision and avoid delay.
For now, Harrell pointed to assurances that a few more months of study and weighing options will not impact the project schedule.
"The value of this work over the last 60 days has been validated with this status report and provides the staff team with a framework to complete the remaining analysis necessary in advance of the July Board meeting," Harrell wrote in his letter. "The City of Seattle has been assured by Sound Transit staff that this necessary evaluation can be completed efficiently within the project schedule. The City of Seattle would not support this work if it added an undue burden to the Ballard Link Extension project schedule or other projects."
Come July, however, Harrell and the board will have a decision to make and no further runway to stall. Barring a unicorn option that pleases everyone, puts construction impacts away from all powerful stakeholders, and can be delivered on time and within budget, their decision will have real tradeoffs that they will have to own.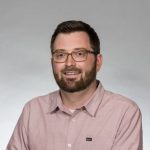 Doug Trumm is publisher of The Urbanist. An Urbanist writer since 2015, he dreams of pedestrianizing streets, blanketing the city in bus lanes, and unleashing a mass timber building spree to end the affordable housing shortage and avert our coming climate catastrophe. He graduated from the Evans School of Public Policy and Governance at the University of Washington in 2019. He lives in East Fremont and loves to explore the city on his bike.