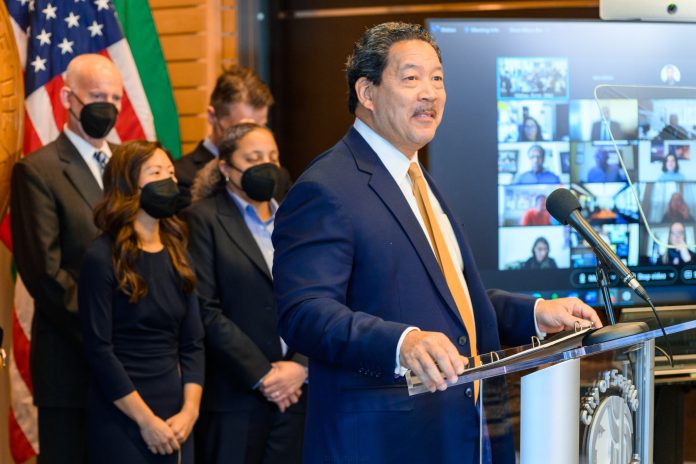 Mayor promotes Burgess to deputy mayor following Monisha Harrell's departure.
Mayor Bruce Harrell is parting ways with Senior Deputy Mayor Monisha Harrell, the Seattle Times reported on June 21. As one of the Harrell administration's more progressive voices on public safety, her departure could signal a shift in policy at a pivotal moment for policing, homelessness, and community safety in Seattle.
"Differing viewpoints on public safety matters" is exactly what the Seattle Times' "sources close to the situation" said was the friction point leading to her departure, although both Harrells played down conflict and had kind words for one another in their statements.
"Executive General Manager Adiam Emery and Director of Strategic Initiatives Tim Burgess will be named deputy mayors," Sarah Grace Taylor reported. "Special Projects Director Andrew Myerberg will get a title change, making him chief innovation officer and giving him a spot on the mayor's executive team. Myerberg was originally appointed director of public safety by Mayor Harrell in January 2021, but was moved to his current role in late 2022."
Myerberg ran the Office of Police Accountability during the 2020 protests that saw police repeatedly tear gas protesters and an entire section of the Capitol Hill neighborhood, leading to an elaborate coverup around the decision to abandon East Precinct. Critics contend Myerberg failed to hold the Seattle Police Department (SPD) and the Durkan administration accountable for their mismanagement of the situation and subsequent obfuscation. Nonetheless, Mayor Harrell promoted Myerberg (now repeatedly) after he took over.
Crystal Fincher and Erica Barnett discussed the shakeup on Fincher's latest Hacks and Wonks podcast. (Fincher is also a board member at The Urbanist.) Both agreed the move portended a shift to the right with the influence of hardliners like Tim Burgess increasing within the administration.
"I see it as the power struggle within the mayor's office has landed in Tim Burgess's court. So Tim Burgess is the longtime advisor to Bruce Harrell – former city councilmember, works in the mayor's office, and is now going to be the deputy mayor," Barnett said. "And he is much more of what I call a law-and-order person. He very much supports what I would call punitive approaches to low-level crimes – things like shoplifting, drug use, etc."
Burgess's title as "Director of Strategic Initiatives" theoretically had been outranked by the Mayor's three deputy mayors, but in practice he has exerted considerable influence well before his recent promotion.
In 2019, Burgess launched his own political action committee (PAC) called People for Seattle that raised hundreds of thousands of dollars from wealthy donors in support of more conservative Seattle Council candidates. In 2021, he spearheaded the effort to criminalize camping in parks via the Compassion Seattle initiative, which was tossed out in the court for violating the rules governing charter amendments. Nonetheless, Harrell pledged to adopt the measures in Compassion Seattle, Burgess endorsed him and attacked his opponent, and the issue played well for Harrell in the election, contributing to a landslide victory.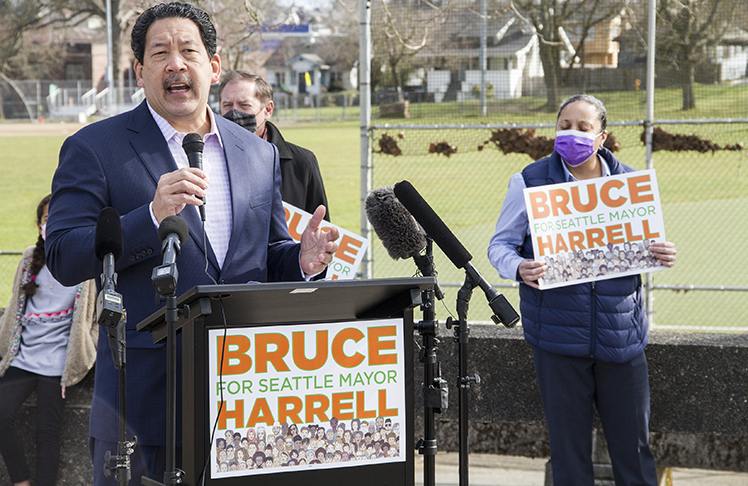 Before his career in politics, Burgess was a beat cop later promoted to work in public relations for the Seattle Police Department. He went on to co-found a successful direct marketing fundraising firm called Domain Group and earned his fortune selling the company to Merkle in 2005. He then leveraged $294,000 of his personal fortune to win his first run for office in 2006, defeating incumbent Seattle City Councilmember David Della.
During Burgess's subsequent decade-long career on city council, which culminated in 71 days as temporary fill-in mayor after Mayor Ed Murray's resignation, he earned a reputation for holding the council's right flank as a hardliner, particularly on issues of homelessness, policing, and taxation. Most of Burgess's time overlapped with Harrell's 12-year council career.
"And I think Monisha Harrell definitely had a different point of view and approach," Barnett continued. "She was and is much more oriented toward harm reduction, toward trying to figure out ways, for example, for drug users to get into recovery as opposed to going to jail. That's an oversimplification, but those are the fault lines within the mayor's office. And I think that the faction that's led by Tim Burgess has obviously won that battle. And I think perhaps because Bruce Harrell is probably more oriented to that point of view than he is to his niece's – Monisha Harrell's – point of view."
Fincher added that Monisha's resume was strong with her statewide work on issues like substance use disorder and police reform and the criticism that it was a nepotism hire since she is the mayor's niece were off base. Monisha was seen as a key figure in standing up a "third" civilian public safety department and in negotiating a fair contract with the Seattle Police Officers Guild (SPOG) with police reformers hoping to reinstate accountability mechanisms stripped out in the last contract.
"And a lot of things that we're still waiting on – she was on Hacks and Wonks talking about trying to stand up a Department of Public Safety, talking about standing up alternative responses so that you could have the most appropriate responder – that's not always going to be an armed cop responding, but someone, if it's a substance abuse crisis, if it's a mental health crisis – but things just seem to have gone sideways," Fincher said. "But, with no friction or resistance in this mayor's office seemingly, kind of worrisome about the direction of public safety, especially as there is a SPOG contract being negotiated right now. Just wonder what's going to happen from here on out."
A new SPOG contract is overdue, with Seattle police working an expired contract for Harrell's entire term. The police guild is likely to seek retroactive pay increases, which likely means the immediate price tag will balloon the longer the sides wait to come to terms. This could be a huge hindrance with the City facing large budget shortfalls even before factoring in police backpay and raises.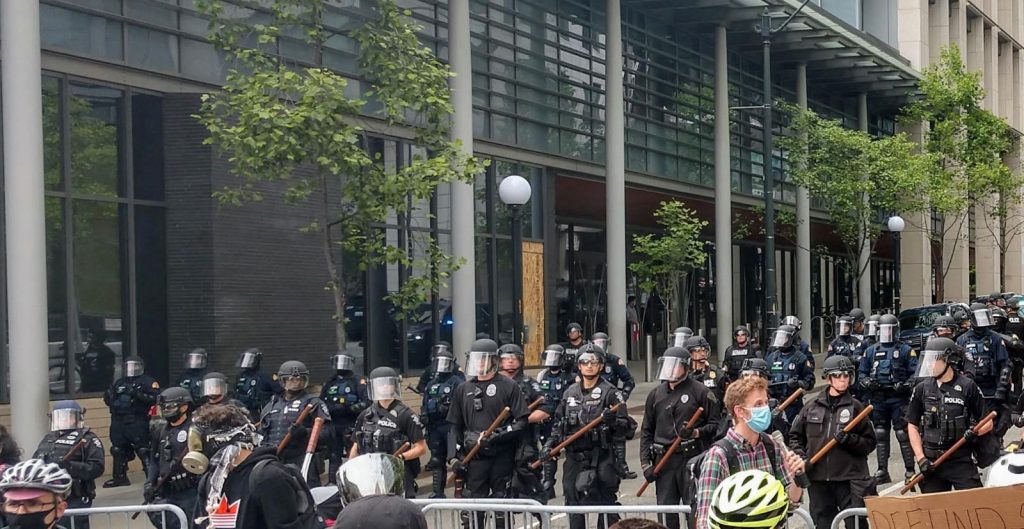 Mayor Harrell may be gearing up to dump this budget mess on the City Council's lap, which could mean a return to the open feuding footing common during the Durkan administration. In comparison, Harrell's term thus far has seemed a relative honeymoon with the mayor-council relationship more collaborative and conciliatory – except when Harrell was candidly recorded talking to police officers and pledging an offensive.
When it comes to the styles among Harrell cabinet members, Barnett added that Monisha had earned a reputation as a good listener and collaborator with City Councilmembers and their staffs and that Burgess is known for a different approach.
"I think this third department is probably going to still happen, but it may happen in a different way," Barnett said. "And I'm not entirely confident that Burgess is going to be someone who changes his mind on beliefs that he has formed very, very firmly over many, many years about public safety. This is the guy that proposed criminalizing 'aggressive panhandling' when he was on the City Council. So, it's a very, very different perspective from what Monisha brought to it. And just also, I wonder what's going to happen within the City itself when there isn't somebody like Monisha sitting down with folks and listening and saying 'okay, I hear you' and taking that back to the mayor's office."
In her newsletter, Amy Sundburg noted that Monisha's portfolio included public safety and standing up the third department responsible for civilian emergency response. Resistance from SPD (and perhaps a lack of full support in the cabinet) had delayed that initiative. "Harrell reported to the City Council more than once about the progress of an alternative emergency response, including the term sheet that specified a timeline for the project," Sundberg wrote. "The first deliverable for the project was supposed to be a white paper due by the end of 2022 that is now six months late and counting."
Delivering a new police contract that increases accountability and lays the groundwork for a third department will be a major test for the mayor, as will be delivering on promised plans to revitalize downtown, reduce homelessness, tackle the opioid epidemic, and reduce violent crime. Overcoming such challenging policy areas will require the mayor and council working together, trusting one another, and proposing bold solutions that meet the scale of the problem. Without a bridge builder like Monisha, this work could get harder.
For two years, Mayor Harrell has largely been able to coast on past efforts, rebranding, and punting new initiatives to task forces and further studies. His poll numbers remain high, but eventually, if firmer foundations are not laid, he will reach his Wile E. Coyote moment chasing Road Runner off a cliff with gravity finally catching up. Vibes are not enough to carry an administration forever.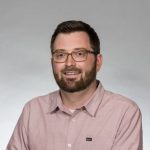 Doug Trumm is publisher of The Urbanist. An Urbanist writer since 2015, he dreams of pedestrianizing streets, blanketing the city in bus lanes, and unleashing a mass timber building spree to end the affordable housing shortage and avert our coming climate catastrophe. He graduated from the Evans School of Public Policy and Governance at the University of Washington in 2019. He lives in East Fremont and loves to explore the city on his bike.