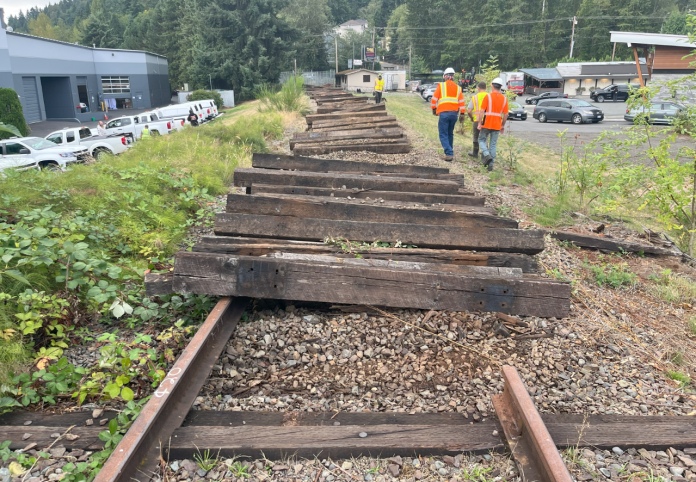 One of the last segments of the planned Eastrail bike superhighway that will ultimately connect across the entirety of East King County is finally getting going, as the City of Woodinville starts work on a 2.6-mile stretch of former rail line. When completed, the new trail will run right to the Snohomish County line, setting up unprecedented connections further north. The ultimate vision is a trail connection that will take users all the way from Arlington to Renton.
Earlier this month, Woodinville officials joined U.S. Representative Suzan DelBene (D-1st District) in celebrating the removal of a "golden spike" along a long-neglected stretch of former railway near growing downtown Woodinville, marking the symbolic start of work on what will eventually become the northernmost segment of the 42-mile Eastrail multiuse trail corridor. The City had already started work on rail tie removal along the corridor, following approval of the segment's "railbanked" status earlier this year. Railbanking allows an indefinite interim trail use, with the potential for rail uses returning to the property never off the table.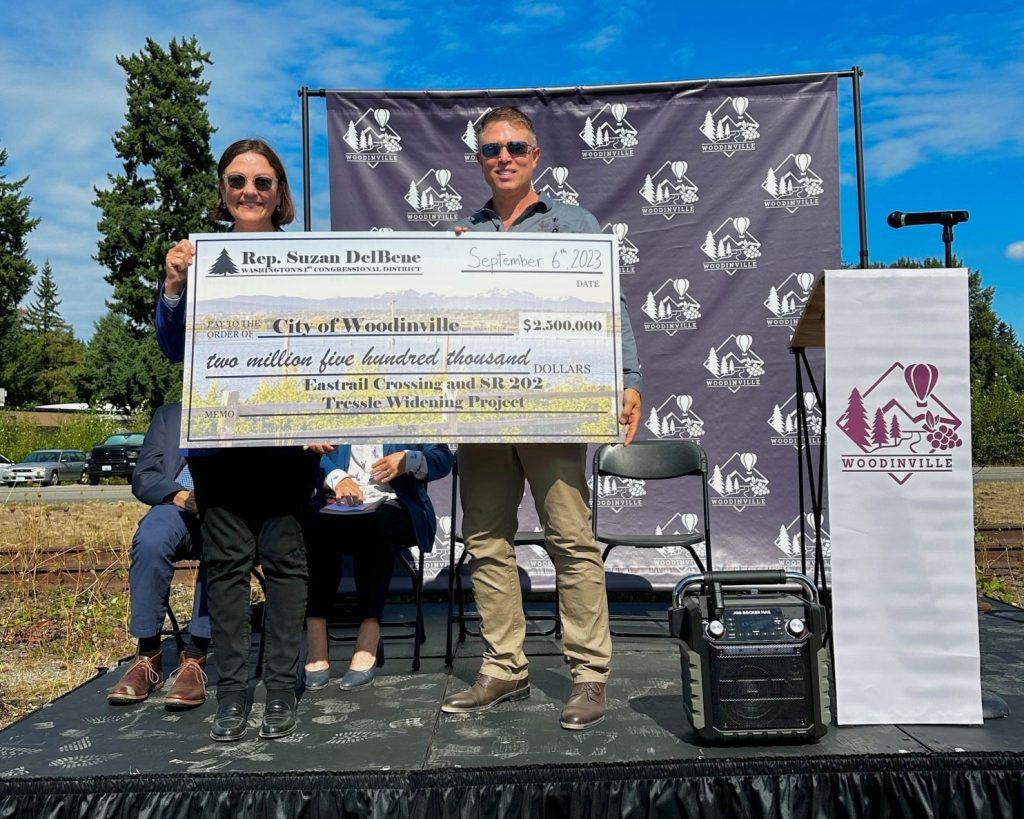 Representative DelBene came bearing a check for $2.5 million, which will add to earlier funding secured to replace an aging trestle bridge over State Route 202 in downtown Woodinville, creating a newly remade "welcome mat" into the city. The trail will also allow users to avoid the state highway below, which is being widened from four to eight lanes. The $17 million project has also received funding from the Move Ahead Washington transportation package and is expected to be fully funded soon.
Design work on the broader trail in Woodinville is scheduled to start next year, with construction to start in 2027. In the meantime, plans to open major segments of Eastrail in Bellevue by 2025 will keep the corridor moving forward. The numerous jurisdictions in charge of different segments has led to out-of-alignment timelines, but ultimately Eastrail will come together as one unified corridor.

Leaders in Woodinville have been touting the potential for Eastrail's arrival in the city to change the way people get around, and have made securing funding for the project a top legislative priority.
"It really connects the north end of town to the south end, behind Chateau Ste. Michelle, and on to Kirkland, Redmond and Bellevue, as well," Woodinville Mayor Mike Millman told The Urbanist. "And so it connects a lot of our neighbors to a very sustainable trail, and offers commuting opportunities, because we have a lot of tech workers here that work at Google, Microsoft, Amazon, maybe even Boeing on down in Renton. So a lot of people have expressed excitement about being able to commute."
Colin Petkus, who is community collaborations manager with Eastrail Partners (the nonprofit created to galvanize this trail effort), agreed and pointed to broader connectivity.
"I think there's been a lot of focus on Eastrail connecting Bellevue and Kirkland and the tech hub there…and I feel like with the ceremony we had in Woodinville, we're really thinking about the other parts of this trail, which is the broader regional connectivity," Petkus told The Urbanist. "It's kind of a lot of these disparate projects. It's easy to lose track of the fact that the end result of all of this that we're starting to build into now is the connection all the way from Arlington, on the existing Centennial Trail through a lot of rural Snohomish County, right into the heart of downtown Woodinville."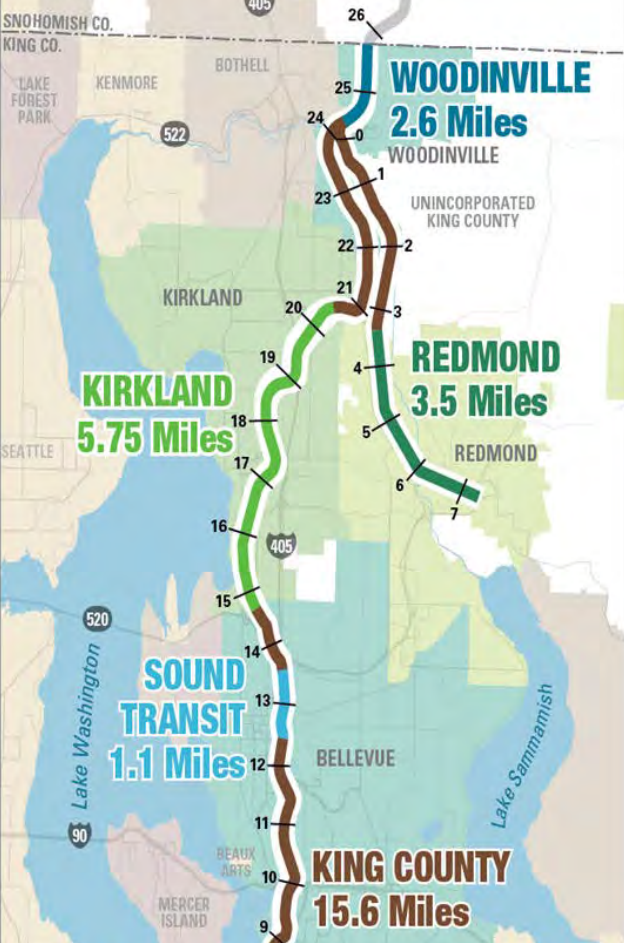 "Personally, as the mayor of Woodinville, it's been frustrating to me that we're the last and largest section of the Eastrail corridor to get working on this, and that is one of the reasons why I worked so hard on this…we shouldn't be last," Millman said. He touted the potential for Woodinville to be able to create linear parks along the trail right-of-way, something Kirkland has created a regional template for with its eye-popping Feriton Spur Park, which includes an outpost of Chainline Brewing.
Kirkland has been hard at work on its segment of Eastrail, the Cross Kirkland Corridor, opening a new flagship bridge over a massive intersection near Totem Lake earlier this year.
In Woodinville, the city is considering how to integrate things like pickleball or basketball courts, and water features for kid's play. With downtown Woodinville poised for tremendous growth in housing over the coming decade, demand for parks and public spaces from new residents will pair well with the potential opportunities that come with Eastrail.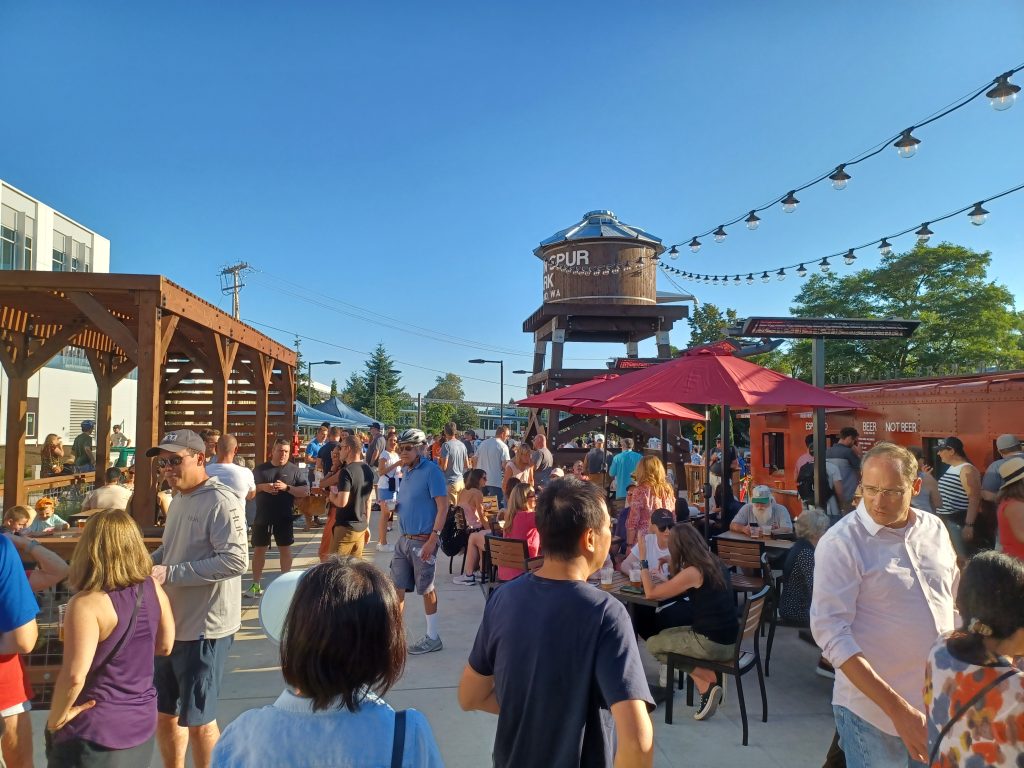 On the Snohomish County side of the border, work to bridge a sizeable gap between Woodinville and Snohomish is also moving forward, but snags around property rights issues have been slowing things down. The Snohomish County Council approved a purchase agreement around the right-of-way from the Port of Seattle in 2016, but the project has remained underfunded. This month, Snohomish County submitted a request for a $7.2 million planning grant from the U.S. Department of Transportation as part of the Reconnecting Communities program.
That grant would allow the county to get the entire 12-mile segment to 90% design, fully-shovel ready. "This project is a high priority for residents of Snohomish County and is of regional significance," the County Council wrote in a letter of support. "We see this project as a critical link between the two most significant trail systems in Snohomish and King Counties, connecting hundreds of miles of trails and dozens of communities throughout the region."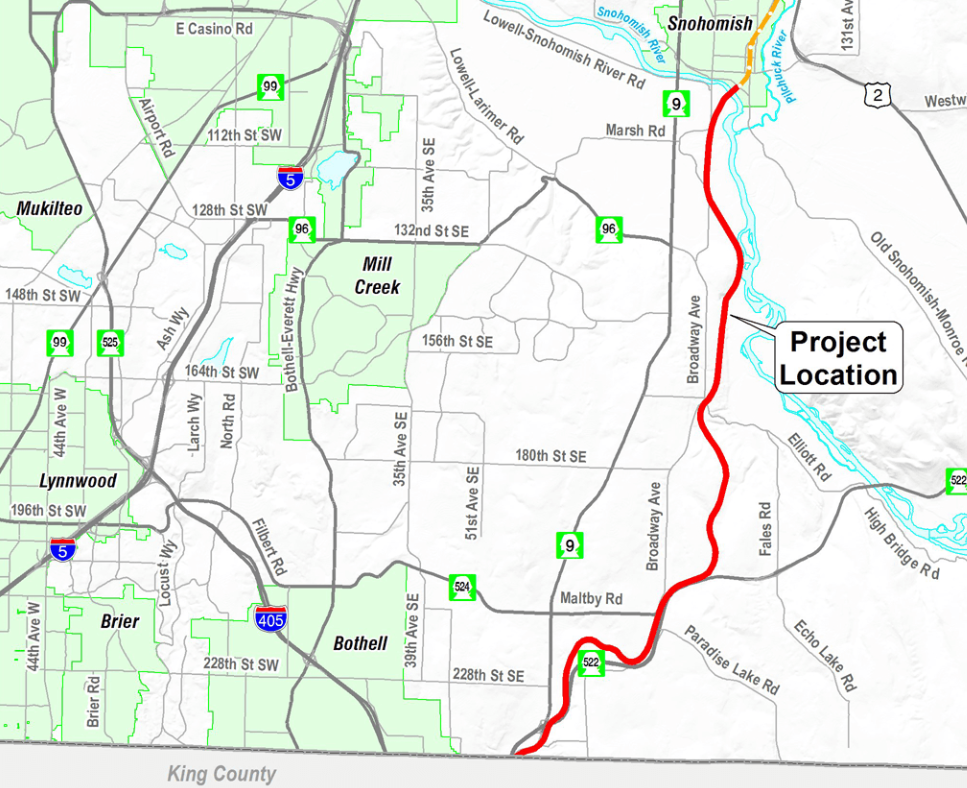 With work starting in Woodinville, the full picture of the Eastrail vision is coming more into focus, and its goals around providing transportation connections as alternatives for trips that make the most sense right now in a car.
"Obviously, we're happy to have people who already know about the trails want to use them," Petkus said. "But I think the demographic that we're really excited about is the people who don't realize this trail's coming to their area, maybe don't currently do active transportation, or aren't currently recreating along much of the trail system, who might say, hey, well, you know, now I can get from my neighborhood to my job or to my school or to my community to the business districts."
As more segments of Eastrail open, its use as a clear alternative to the state highway system will become more and more apparent.
"[Y]ou build connected infrastructure [and] that goes from being just something that recreational cyclists who already feel comfortable riding on the roads might use or people might drive to really being essential infrastructure that allows all ages and abilities to use trails as part of their transit picture."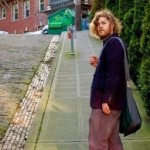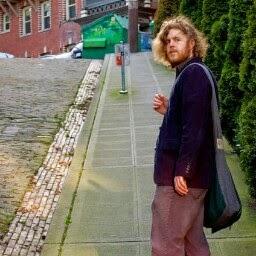 Ryan Packer lives in the Summit Slope neighborhood of Capitol Hill and has been writing for the The Urbanist since 2015. They report on multimodal transportation issues, #VisionZero, preservation, and local politics. They believe in using Seattle's history to help attain the vibrant, diverse city that we all wish to inhabit. Ryan's writing has appeared in Capitol Hill Seattle Blog, Bike Portland, and Seattle Bike Blog, where they also did a four-month stint as temporary editor.