With prices dropping and a state rebate coming soon, e-bike sales are booming. Here are tips for those looking to hop on the e-cargo wagon.
E-bikes are having a moment in Seattle and beyond. Prices are dropping, sales are climbing, and more and more people are discovering that electric-assisted bicycles can help flatten the city's hills and open up more opportunities to those who might not otherwise bike.
"My wife is seven months pregnant, and she drops our kiddo off at daycare, and then we'll stop at the grocery store and pick up groceries on the way home," said David Urbina, who leads the group rides program at Cascade Bicycle Club. "It allows her to keep biking."
Paul Tolmé, media relations manager at Cascade, agrees that many riders are using e-bikes as a replacement for a car on short trips around the city.
"A large percentage of car trips are three miles or less, or even one mile or less," Tolmé said. "These are the low hanging fruit in terms of reducing greenhouse gas emissions from our transportation sector, which is the largest contributor to greenhouse gas emissions in Washington State."
While the transportation sector composes 39% of Washington State's climate pollution inventory, it's an even larger share of Seattle's emissions at nearly two-thirds.
In addition to owning a bike, Seattleites have the added option of shared e-bike rentals, through three companies: Bird, Lime and Veo Ride. Though rental levels are down from their pre-pandemic peak, they're on the rise again.
Kim Pearson is shared mobility program coordinator at the Seattle Department of Transportation (SDOT) and she said that the number of shared e-bike rentals between January and August 2023 was up 14% over the same period in 2022. Through September of this year, people took nearly one million shared e-bike trips, which is impressive, though those numbers are a far cry from more than two million trips bike share riders took in 2019 — when bikeshare prices were significantly lower.
The introduction of scootershare in 2020 seems to have caused a shift, said Pearson.
"It's catching up from after the pandemic," Pearson said, "But also I think a lot of people are moving to scooters," which, she notes, have already reached a rate of 2.8 million trips this year.
Prices plummet, legislature passes rebates
According to a market research study by Circana, the total value of e-bike sales in the U.S. has surged from $240 million in 2019 to $885 million in 2022.
Ken Cisco, retail manager at Seattle Electric Bike, a worker-owned e-bike shop near Green Lake, says he's also seen sales rising and prices consistently dropping as manufacturers find ways to reduce costs while preserving safety and quality.
The store's best-selling bike, the mid-range-priced Tern Quick Haul P9, retails for $3,300. "It has customizable assist modes you can change via Bluetooth from your phone, and hydraulic disc brakes," Cisco said. "This bike, a year ago, would have cost you over $4,000."
To help first-time buyers get started and to encourage the shift from cars to e-bikes, the legislature added $5 million to the 2023-25 biennial budget for e-bike rebates. According to the Washington State Department of Transportation (WSDOT), the agency is still sorting out the details of the program, which reserves 60% of the vouchers for lower income households.
A WSDOT blog post from August notes that when the project commences, low-income households can receive $1,200 toward the purchase of a new e-bike, while others who don't meet income eligibility requirements can receive $300. In the two years authorized for the program, WSDOT estimates it will give out 2,300 vouchers at the $1,200 level and 6,200 at the $300 level.
Etiquette and rules of the road
With all these new electric bikes hitting the roads and mixed-use paths, is Seattle ready for the influx? In the European Union and the UK, e-bike sales now make up a fourth of all bicycle sales – and in response to this boom, and to tackle climate change – European cities are rapidly building new cycling infrastructure. Since 2015, for instance, Paris has doubled its bike lane system from a little over 400 miles to more than 800 miles.
Christiana Farrell, a transportation planner at SDOT, says the city is committed to following through on improvements outlined in the Bicycle Master Plan, noting four South End projects in particular: Martin Luther King King, Jr. Way, Georgetown to South Park, Georgetown to Downtown, and Beacon Avenue S. However, SDOT has delayed each of those projects so they are not coming as quickly as initially promised.
Urbina says, however, that while Seattle has made great improvements in creating new separated bike lanes across the city, much more needs to be done. "Having e-bikes in traffic can create a false sense of security for both the cyclist and for the drivers around them," he said. "It's better to have separation."
As usage increases, etiquette and rules for e-bikes are critically important, especially in places where they share with walkers and what Cisco refers to as "acoustic bikes" without motors.
According to SDOT, on mixed-use trails such as the Burke-Gilman, all cyclists – whether e-bike or acoustic – are limited to speeds of 15 miles per hour. In addition, all e-bike riders are required to ride in a "safe and prudent" manner.
On top of that, there are limits on which class of e-bikes are allowed on mixed-use trails, Farrell said. In 2018, the legislature passed a bill defining three classes of e-bikes. Class 1 e-bikes have electric assist only while pedaling, and automatically stop power when reaching a speed of 20 mph. Class 2 e-bikes are allowed to have a throttle that can power the bike even when not pedaling, and speeds are also capped at 20 mph. Class 3 e-bikes have electric assist only when pedaling, but can reach speeds of 28 mph before the engine stops assisting.
According to Farrell, Class 1 and Class 2 e-bikes are permitted on multi-use trails while Class 3 e-bikes are prohibited. Pearson said there are no limits on e-bikes using bike lanes, but speed limits and the "safe and prudent" standard still apply.
In a quirk of municipal law, electric scooters are not allowed on sidewalks, but Class 1 and Class 2 e-bikes, like their acoustic bike cousins, are technically allowed on sidewalks. Class 3 e-bikes are prohibited. As always, e-bikes and standard bicycles should be ridden prudently on sidewalks and riders should always yield to pedestrians.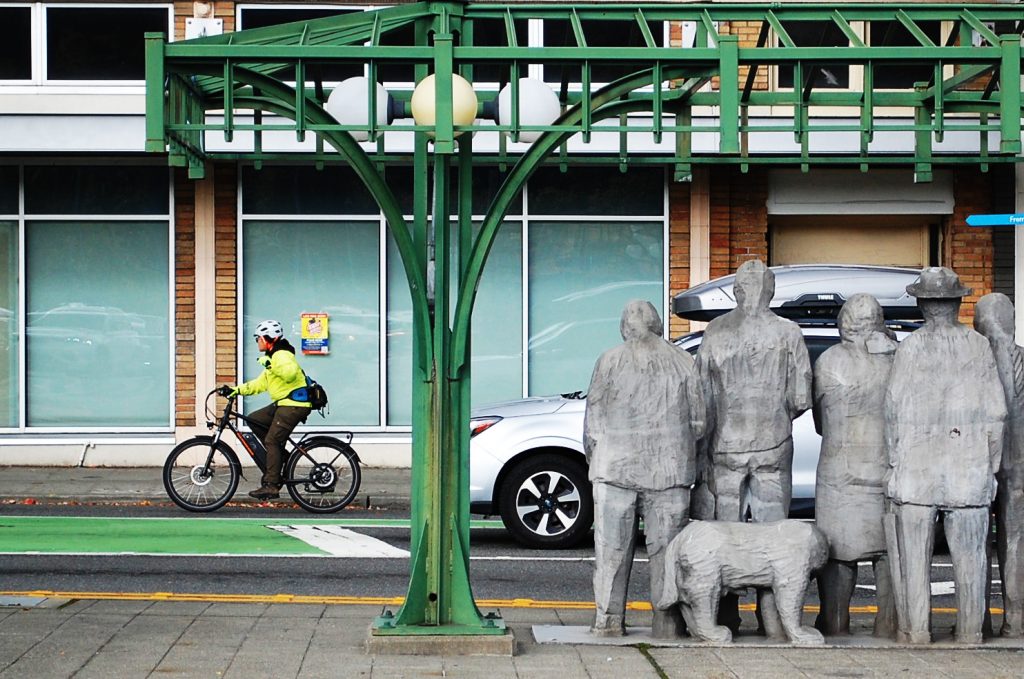 "Oftentimes safety and etiquette go hand in hand," said Urbina about general e-bikes on roads or paths. "Don't pass someone in an unsafe manner, even if you have the ability to really ramp up the throttle and get around them faster than you would on an analog or acoustic bike."
Urbina says that e-bikes are allowed on Cascade's group rides, but the organization asks that riders act respectfully around those without power assist, and keep their speeds in line with other riders.
One other rule to consider: Metro's bus bike racks. E-bikes must weigh 55 pounds or less to be put on any bus rack. Sometimes removing the battery can bring an e-bike under the limit.
How to buy your first e-bike
Ken Cisco, with Seattle Electric Bike, says the company started about 14 years ago, and was purchased by its employees in 2022. The company, which provides both sales and service at three locations in Seattle, Bothell and Bellingham, stocks a wide variety of models from about a dozen brands. Prices range from around $1,200 to upwards of $8,000.
Cisco advises first-time buyers to avoid inexpensive e-bikes online from unestablished brands. "I get tons of calls from people all over Western Washington who bought something online or at Costco or a Sports Authority-type store. And when they experience a problem, there's no one to take care of that problem."
When servicing established brands at his shop, Cisco says that his staff can plug into an e-bike's electronics to run a diagnostic check and determine what's wrong.
When shopping for your first e-bike, Cisco suggests thinking about what you'll be using the bike for: Hauling kids to school? Commuting to work or grocery shopping? Are you interested in riding on mountain trails, or keeping to city streets? What's your budget?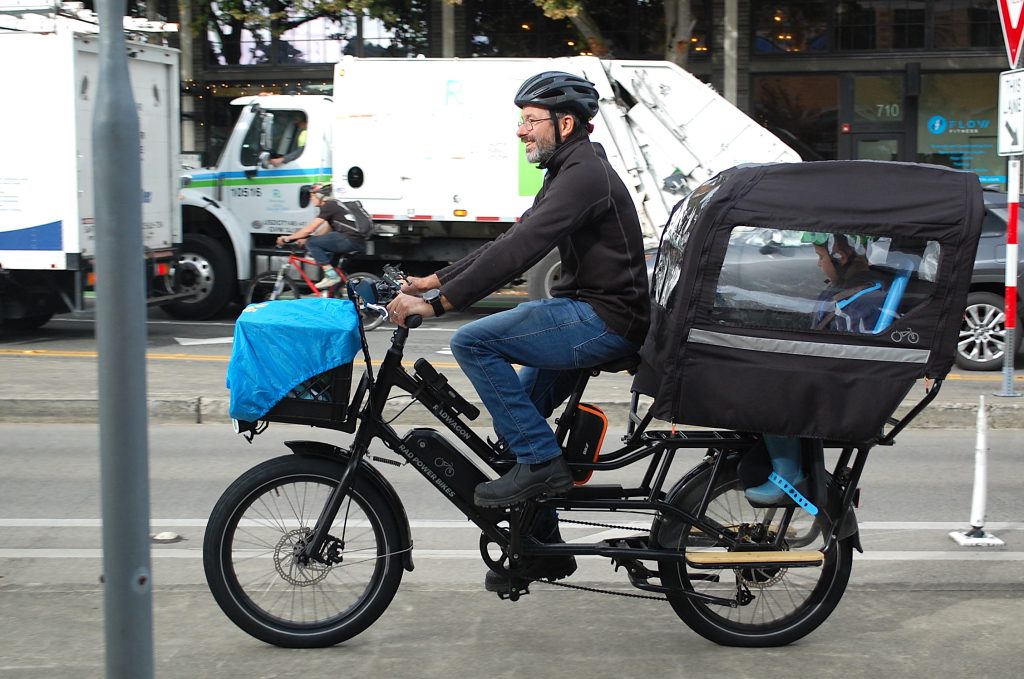 For a solid commuting and hauling e-bike that can be adapted to carrying small children, Cisco recommends the Tern Quick Haul P9, which retails for $3,300 and includes hydraulic disc brakes, back cargo rack that can carry up to 110 pounds, a Bosch pedal motor with 65 newton-meters (Nm) of torque, and a low-set frame that makes getting on and of easy, especially for seniors. With telescoping handlebars, the bike fits people ranging in height from 4'10" to 6'4". The bike weighs just over 50 pounds, making it suitable for bus racks. Plus, the bike stands on its own if tipped upright, so it can be vertically parked in a closet or other small space.
If you're looking for a Class 3 bike that can do speeds of up to 28 mph, Cisco recommends checking out the Marin Sausalito E2. At $3,000, it's another mid-priced e-bike with a 85 Nm motor, hydraulic brakes and a low step-through making it easy to get on and off. At 42 pounds, it will fit on a Metro bus rack.
For a more affordable bike, Cisco suggests the IZIP Brio. At $1,499 you'll get something that more closely resembles an acoustic bike, including mechanical disc brakes, larger wheels, but a low step-through frame. Like an analog bike it comes in different sizes. The motor offers 40 Nm of torque and is controlled by a throttle rather than pedal assist. "This one is no frills but a very nice bike," Cisco said. "There's nothing on it that's not useful."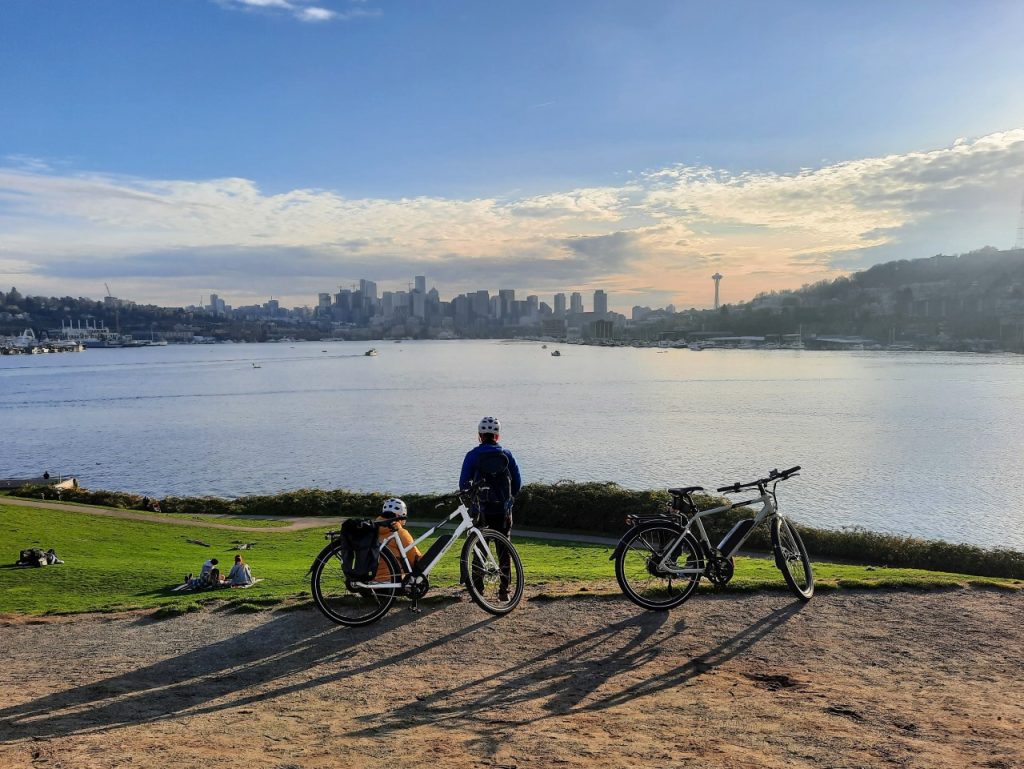 Cisco recommends that if you do buy an e-bike online, check with a local service shop to determine if they can fix it when something goes wrong.
"That's really important, regardless of how much you're spending, he says. "Because even the cheapest of the cheap e-bikes is $800. And if it becomes an $800 brick, the fact you didn't pay $1,200 doesn't matter."
In general, Tolmé at Cascade believes that e-bikes are helping get more people out of cars and pedaling, and that's a good thing for bike advocacy and earth's climate.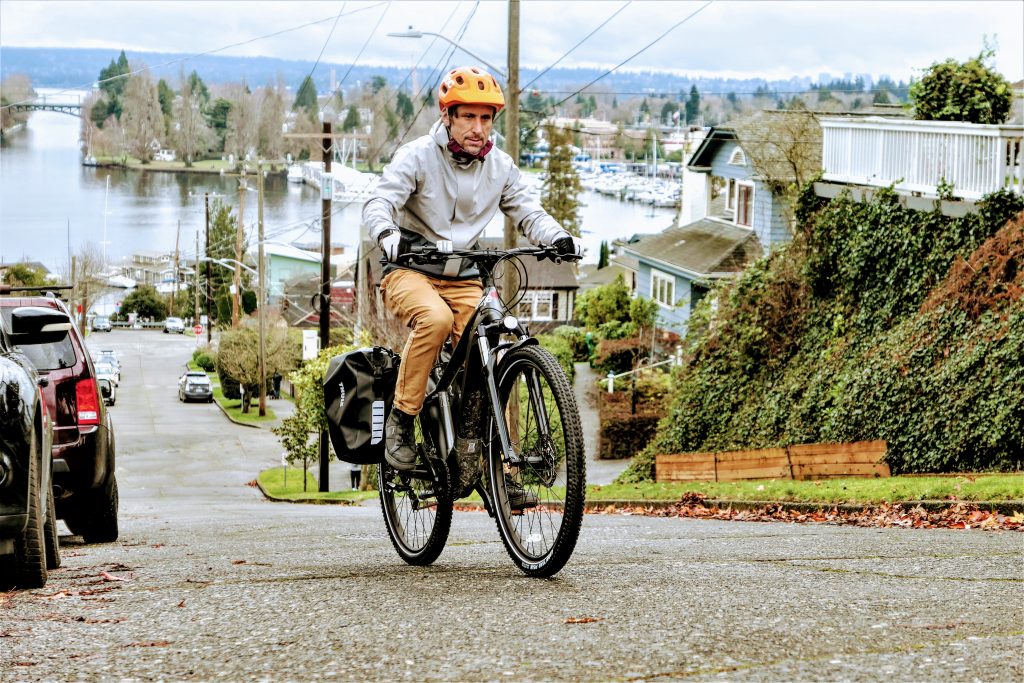 "As an organization, we have supported electric bikes since the outset. They really enable more people to ride bicycles," he said. "Technologies on bikes have changed throughout the decades. In a sense, they're just another form of bicycle."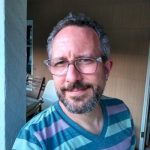 Andrew Engelson is an award-winning freelance journalist and editor with over 20 years of experience. Most recently serving as News Director/Deputy Assistant at the South Seattle Emerald, Andrew was also the founder and editor of Cascadia Magazine. His journalism, essays, and writing have appeared in the South Seattle Emerald, The Stranger, Crosscut, Real Change, Seattle Weekly, the Seattle Post-Intelligencer, the Seattle Times, Washington Trails, and many other publications. He's passionate about narrative journalism on a range of topics, including the environment, climate change, social justice, arts, culture, and science. He's the winner of several first place awards from the Western Washington Chapter of the Society of Professional Journalists.