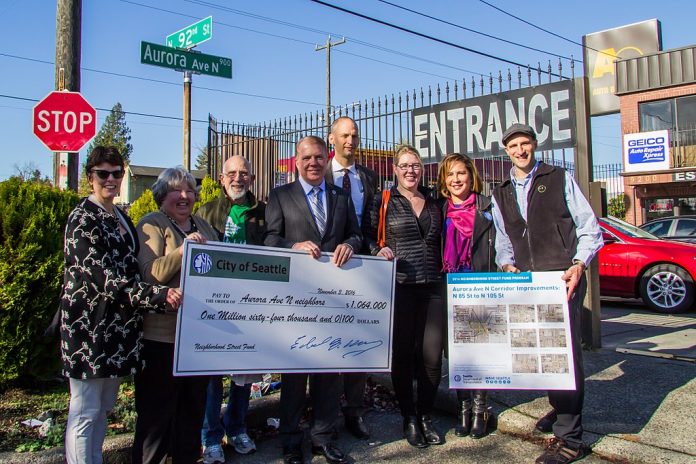 Although the City strives for democratic engagement, Neighborhood Street Fund and Your Voice, Your Choice force competition while failing to address widespread safety infrastructure inequity.
The concept is catchy, simple, and on the surface appears to be quite democratic. Seattleites are invited to propose ideas for how to improve transportation-related projects in their communities through two City programs, the Neighborhood Street Fund (NSF) and Your Voice, Your Choice (YVYC).
Important deadlines for both programs are coming up soon. On February 22nd, idea collection for Your Voice, Your Choice, and community prioritization ranking for the Neighborhood Street Fund, come to an end.
Seattleites can participate online through the program websites, which also contain information for those who prefer to engage in-person.
In both NSF and YVYC, proposals go through rounds of competition before the finalists are selected and funded. Funding currently comes from the Move Seattle levy, which allocates millions of dollars into small scale infrastructure improvements.
NSF and YVYC are examples of participatory budgeting, a practice which is supposed to engage people who have not historically been involved in government or budget processes by letting them directly decide how to spend part of a public budget.
However, big questions exist over whether open access actually equates to broad participation.

In the past, District Neighborhood Councils used to weigh in on NSF proposals. However, Seattle cut ties with the District Neighborhoods Councils under Mayor Ed Murray because they were found to not be representative of their communities. As a result, now anyone can participate. The expectation would be that public engagement would increase; however, the relatively small pool of participants suggests that this has not occurred. Additionally, disparities in infrastructure across the districts raise important equity questions.
Neighborhood Street Fund
Now in its second cycle, NSF is expected to fund about 10-12 projects with a budget of approximately $8 million between 2019 and 2022. Projects between $100,000 and $1 million are eligible for consideration, and the website outlines approximate project element costs on its FAQ.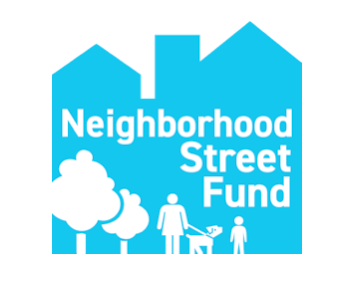 The program is currently in its community prioritization phase in which Seattleites can rank and comment on different proposals.
The proposal page itself is fascinating and extremely transparent. It's possible to view proposal information from all of the district in both in-depth and summarized formats. You can also see what proposals have been ranked, who has ranked them, and what comments have been submitted.
It all feels very transparent and democratic until you look a bit closer at how the system actually works.
NSF Problems
Low Participation: With less than a week to go, few rankings have been made. Currently the proposal with the most rankings is the Duwamish Longhouse Pedestrian Safety and Accessibility project, which has been ranked by 129 people at the time this article was written.
Website Format that Steers Participants toward "Popular" Projects: While the graphics on the website are interesting, they may be steering people toward ranking projects that have already received attention. Lots of worthy projects has received very few rankings, making them appear less credible. For instance, Pedestrian Safety Improvements near the Fremont Troll has received a lot of attention, while Fixing the Dangerous Woodland Park Ave N and Bridge Way Intersection has received much less attention. Arguably, the Woodland Park Ave N. project would have a much more significant safety impact on the same neighborhood. It can be difficult to sort out which proposals would really have an impact, so it appears that people weigh in on items that have name recognition or have already received attention.
Publicity Goes Really Far: Because participation is so limited, even a small amount of publicity can result in a project moving forward. For example, earlier this week The Urbanist published a post on the Ballard Ave Pedestrian Mall. Since then, the project has seen a jump in votes to reach 91 rankings, making it second only to the Duwamish Longhouse.
Potential for Fraud: Yes, it may sound paranoid, but it would be really easy to game the system through fraud. All you need to create an account is a name and an email. Participants do have to sign a "community pledge," but it is doubtful that it would slow down people who are really dedicated to the success of a specific project.
Does not Address Major Infrastructure Equity Issues between Districts: After the community prioritization and voting phases conclude, a Move Seattle oversight committee decides which proposal swill be funded with an "emphasis on equitable distribution of funding and project location across the city." However, even a brief read through of the proposals reveals the major inequity that exists in infrastructure across Seattle. Over a quarter of Seattle neighborhoods do not have sidewalks. Many proposals from the far north and south regions of the city read more like anguished pleas for basic infrastructure rather than ideas for how to improve their community.
Additionally, participants have pointed out that the competition structure forces advocates to work against each other for limited funds and then feel bad if they win out, blocking other also badly needed projects. A reader said as much in a comment on a 2017 article also looking at the shortchanging of pedestrian infrastructure:
Some of us are working on Safe Routes to Schools for a new school campus containing 3 schools for 1,660 K-8 kids on N. 90th, one block west of Aurora. Over the last couple of years we spent hundreds of volunteer hours to enter the "hunger games" competitions to get NPSF and NSF grants. We were fortunate. We beat out others who also had great needs and obtained some fairly large grants to do a fraction of what needs to get done. (Sorry guys, better luck for you next time, at least we got ours … does it really have to work that way?) …Thankfully, and to their credit, SDOT reorganized some of their priorities to provide even more improvements and are doing a fantastic job helping. But even after those improvements many of the parents are afraid to let their 11 year old kids navigate the remaining hazards. They'll drive their kids to/from school
Your Voice, Your Choice
YVYC is a newer program than Neighborhood Street Fund. It also operates annually and funds smaller street and park projects with budgets of $90,000 or less. The total 2019 budget is $2 million.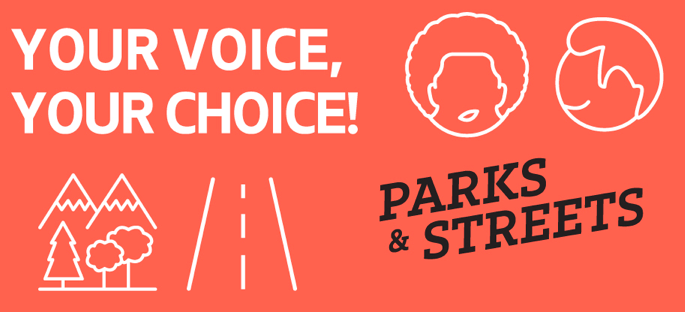 Currently the program is in the idea collection phase, in which all community members are encouraged to submit proposals, which can be made online or in-person at Seattle Public Library branches.
After the idea collection closes on February 22nd, the program will advance to the project development phase, which appears to be extremely similar to community prioritization in the Neighborhood Street Fund. For the 2019 cycle, this phase will occur March 18th to April 12th.
One special aspect of Your Voice, Your Choice is that it includes youth 11 and up (must be 13 and up to vote online) in voting. This is because it started as Youth Voice, Youth Choice in 2016.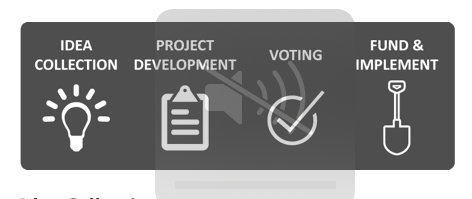 The programs share the same strengths and weaknesses. Although Your Voice, Your Choice may attract higher rates of participation, the highest rated project gained 870 votes in 2017, the rate is still relatively low and raises questions about equitable engagement.
What About a Vision Zero Levy?
It is clear that when it comes to distribution of pedestrian and cyclist safety infrastructure, Seattle neighborhoods are not equal. As mentioned earlier, a review of the project proposals, in particular for NSF, reveals the inequity that exists between different neighborhoods in terms of basic safety infrastructure like sidewalks. Furthermore, the inclusion of ambitious proposals, such creating a Safelink for Pedestrians and Cyclists between Wallingford and University District Light Rail, reveals that people are hungry for investments that are bigger and bolder than what these programs can fund.
Levy funding for Vision Zero would go a long way to address this disparity. Until stable and sufficient funding is found for Vision Zero projects, both NSF and YVYC will continue on as a bizarre sort of Hunger Games, in which districts are pitted against each other for cash, with the more infrastructure starved districts doomed to come up hungry every time.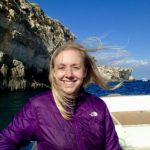 Natalie Bicknell Argerious (she/her) is Managing Editor at The Urbanist. A passionate urban explorer since childhood, she loves learning how to make cities more inclusive, vibrant, and environmentally resilient. You can often find her wandering around Seattle's Central District and Capitol Hill with her dogs and cat. Email her at natalie [at] theurbanist [dot] org.