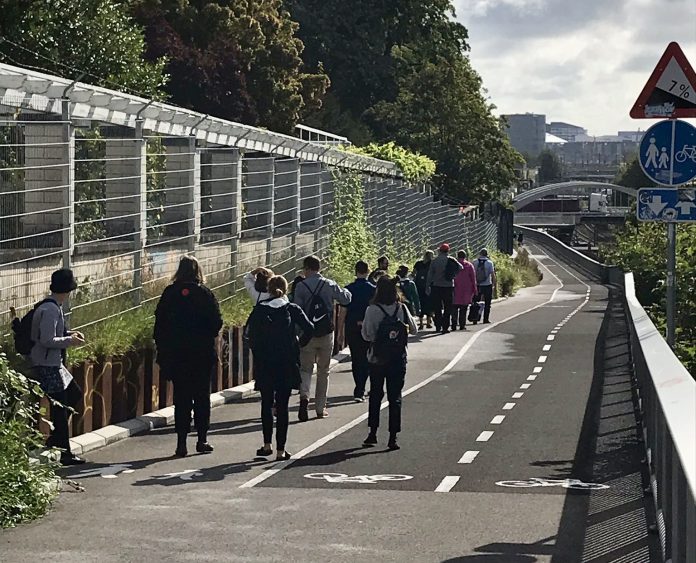 Councilmember Lorena González traveled to Copenhagen with a delegation of local leaders in August to study the policies and infrastructure that have given rise to the city's world renowned public life. Sponsored by the Capitol Hill EcoDistrict and the ScanDesign Foundation, the delegates spent a week immersed in fieldwork and lectures, strolling and cycling across a city where the streets are so safe that most Copenhageners choose to cycle though the winter.
But the trip was about more than just enjoying one of the most livable urban environments in the world. The delegation was commissioned with returning home with actionable strategies to implement in Seattle. People cite Copenhagen as model because in the last three decades Copenhagen is leading the world in reducing carbon emissions. (Seattle, where emissions continue to tick up, could stand to Copenhagenize.) Specifically, the Capitol Hill EcoDistrict aims to transform Capitol Hill, the densest urban village in the Pacific Northwest, into a global example of sustainability, social equity, and cultural vibrance.
On Tuesday evening from 5-7pm, the Capitol Hill EcoDistrict is holding a Public Life Community Celebration at 12th Avenue Arts in which the delegation will be sharing ideas for how transform public spaces in Capitol Hill inspired by what they learned during their time in Copenhagen. At the event, the Capitol Hill EcoDistrict will also be collecting feedback from the public, and sharing ideas for its next step: completing a public life planning study of Capitol Hill.
In the run up to the celebration, I had the opportunity to chat with Councilmember González about her experience in Copenhagen, which could be best summarized in her own words as "a pretty transformational way to look at a city." Our conversation ran the gamut from human centered design to resilience planning for climate change. Here are some of the highlights from what Copenhagen taught Councilmember González about sustainable urbanism.
Create public spaces that invite people in
A consistent point that González raised when discussing what she learned in Copenhagen was the importance of inviting more people into public spaces rather than shutting out some groups, such as people who are homeless. Cities across the US, including Seattle, have a history of employing strategies like hostile architecture, which make it uncomfortable to linger for too long in a space. The result is that these public spaces become places to simply pass though, rather than destinations for people to experience.
By contrast, urban designers in Copenhagen have succeeded in creating safer, more vibrant public spaces by doing precisely the opposite. "Copenhagen shows us we have to create more invitations, not less invitations to these public spaces," González said.
In Copenhagen, design is focused on making all people feel comfortable or "invited into" a public space, resulting in a wide range of users who keep the it activated and safe. A specific example that impressed Councilmember González was a situation where a public park in area of dense multifamily housing had become a hotbed for illegal activity. Nearby residents, who relied on the park for access to green space, felt unsafe using the park. Rather than just cracking down on illicit activity in the park, city officials added amenities such as children's play equipment, lighting, and walking trails that offered new ways for residents to experience the space. The result was a decrease in crime and an increase in park use.
"They created more invitations so people felt they weren't going to compete with the people who were already using the park," González said.
The idea of creating invitations in Copenhagen also goes beyond design and planning for public spaces. People are encouraged to participate in planning processes. While neighborhood planning has existed in Seattle for decades, it has not been very inclusive of people who are low-income, immigrants, or people of color.
"Inviting people to participate is the smart policy choice," González said, explaining how more inclusive participation has led to more effective design and planning in Copenhagen.
Infrastructure should prioritize people
Copenhagen feels different than most modern cities because its infrastructure design prioritizes people to a higher degree, González said. Land use codes and infrastructure are designed with the human scale in mind, and special attention is to paid to people walking, biking, and rolling and how they are competing with motor vehicles on the street.
According to recent reports, Copenhagen has 250 miles of protected bike lanes within the city. For comparison, Seattle's Bicycle Master Plan includes about 100 miles of protected bike lanes that it hopes to complete by 2025, but isn't fully funded.
Because Copenhagen has invested in so much in building people-first infrastructure, walking and biking for transportation is a way of the life. "You see people of all colors, shapes, and sizes on the street feeling completely safe," González said.
Councilmember González said one of her most heartfelt experiences in Copenhagen was when she learned about Cycling Without Age, a Danish nonprofit founded by Ole Kassow, that pairs nursing home residents and other seniors who are unable to cycle with volunteers who take them out for cycling trips in distinctive red buggies. Studies have shown that seniors who participate experience mental and physical health benefits.
In general, Copenhagen showed González that with human-centered infrastructure, a city can make it comfortable and fun for all residents to engage in active transportation, which increases social activity and engagement while also lowering carbon emissions.
Set aggressive timelines for climate goals
In 2011 Denmark experienced an extreme weather event known as a "cloud burst." In less than an hour and a half downtown Copenhagen received five inches of rain, leading to significant flooding damage. While meteorologists predict such cloudbursts as a once in a thousand years event, evidence indicates that climate change will increase the frequency and intensity of cloud bursts in Denmark.
City officials in Copenhagen responded to the flooding incident by creating a Cloudburst Management Plan which has led to the installation of green stormwater infrastructure throughout the city, perhaps most strikingly at Tåsinge Plads, a former parking area which has been transformed into the world's first climate adapted green space, which González described as an example of a "win-win-win" scenario for how it introduced new green space to a dense multifamily housing environment while also making the neighborhood safer from flooding risks.
Councilmember González was impressed by the seriousness with which the City of Copenhagen responded to the flooding threat. "They didn't wait to take action," she said. Instead Copenhageners accepted that they had to assume that "at anytime there could be a 100-year weather event."
Copenhagen's proactive approach is not limited to green stormwater infrastructure and floodwater management. The city has set the aggressive goal of 2025 for carbon neutrality. If it succeeds, Copenhagen will be the first carbon neutral city in the world. It has set the target of 2025 despite the fact that the city continues to grow; in fact, projections estimate that the current city of about 624,000 will increase by 100,000 new residents in the next ten years.
Carbon reductions in Copenhagen are expected to come in the form of energy efficient buildings, a more efficient smart grid system for distributing electricity and heat, and elimination of the use of coal for energy.
It helps that Copenhagen has already reduced carbon emissions by automobiles by 40% since 2005. By contrast, a recent report by the New York Times reveals that Seattle's automobile emissions have increase by 71% since 1990's, a roughly 14% jump per person. If Seattle is to catch up to Copenhagen in the race to carbon neutrality, significant shifts in transportation modes that favor walking, cycling, and public transit will need to occur.

Copenhagen even has good tacos
A lot of times people in the US make the statement that social and environmental policy discussions are different in Nordic countries, like Denmark, because the population is more culturally homogenous. However, immigration to Denmark continues to increase, and the country continues to become more multicultural and global in its outlook. In a growing cosmopolitan city like Copenhagen, this has led to a rich international food scene that has earned accolades, such as 19 Michelin stars.
Similar to the safe bike infrastructure, vibrant parks, and climate friendly policies, Councilmember González also found herself a fan of the food scene. "I was told I would never find good tacos in Copenhagen," González said, "but I did. They were delicious."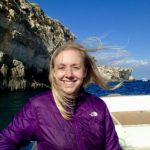 Natalie Bicknell Argerious (she/her) is a reporter and podcast host at The Urbanist. She previously served as managing editor. A passionate urban explorer since childhood, she loves learning how to make cities more inclusive, vibrant, and environmentally resilient. You can often find her wandering around Seattle's Central District and Capitol Hill with her dogs and cat. Email her at natalie [at] theurbanist [dot] org.