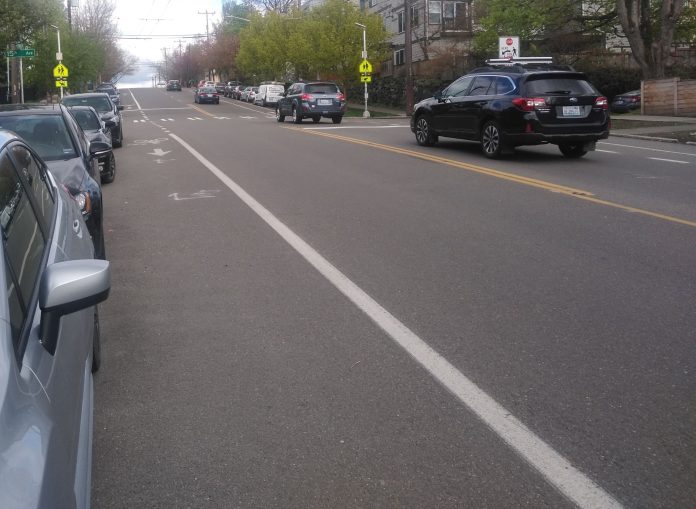 The Seattle Department of Transportation (SDOT) has released updated plans for a protected bike lane it plans to install on E Union Street by the end of the year. The design is very close to the ones that we reported on last Spring, with a key update: the bike lanes will now extend uninterrupted from 14th Avenue to 26th Avenue.
The 2019 plans had included a two-block gap on either side of 23rd Avenue. Due to concerns about maintaining vehicle capacity through the 23rd Avenue intersection, SDOT was reluctant to remove a vehicle lane to make way for a bike lane. The newest plans show that they've been able to make it work.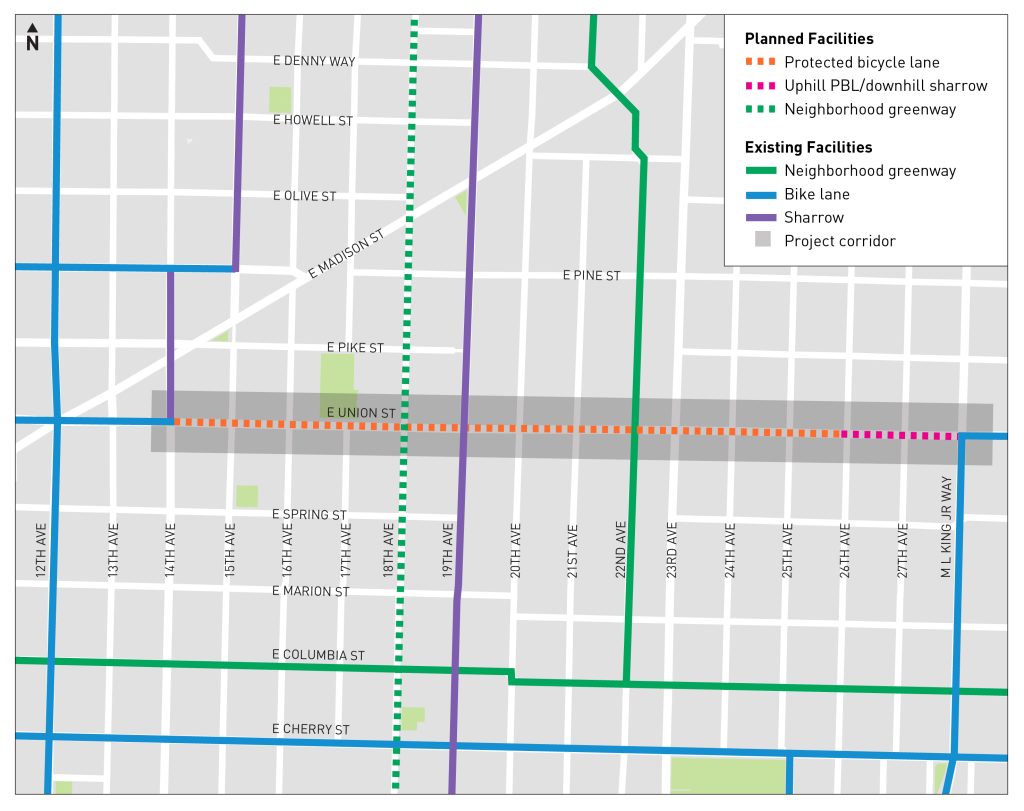 While we don't know exactly how the updated intersection will function, SDOT's newest plans do show parking being removed on the east side of the intersection in front of Uncle Ike's Pot Shop. "We are working to minimize impacts to parking and bus stops, but we may need to make additional changes to meet the city's safety and operational standards," SDOT said.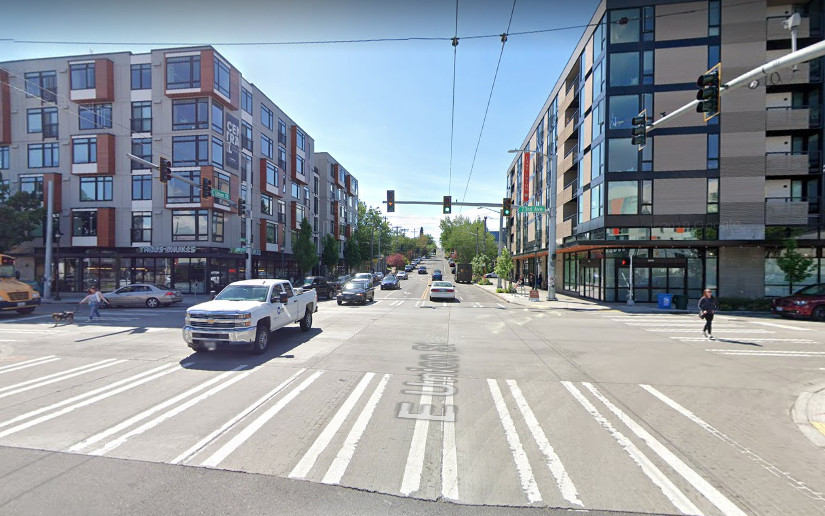 The plans do still call for terminating the protected bike lane for riders heading east at 26th Avenue, two blocks short of the connection to MLK Jr. Way. People on bikes heading west from MLK Jr. Way will have a connection all the way to 14th Avenue, with bike lanes west of there planned as part of the Madison Street RapidRide G Line project.
There is a survey online now through February 7th on the updated designs, as well as an open house at the Liberty Bank Building (2323 E Union St) on Wednesday January 29th from 5:30pm-7:30pm.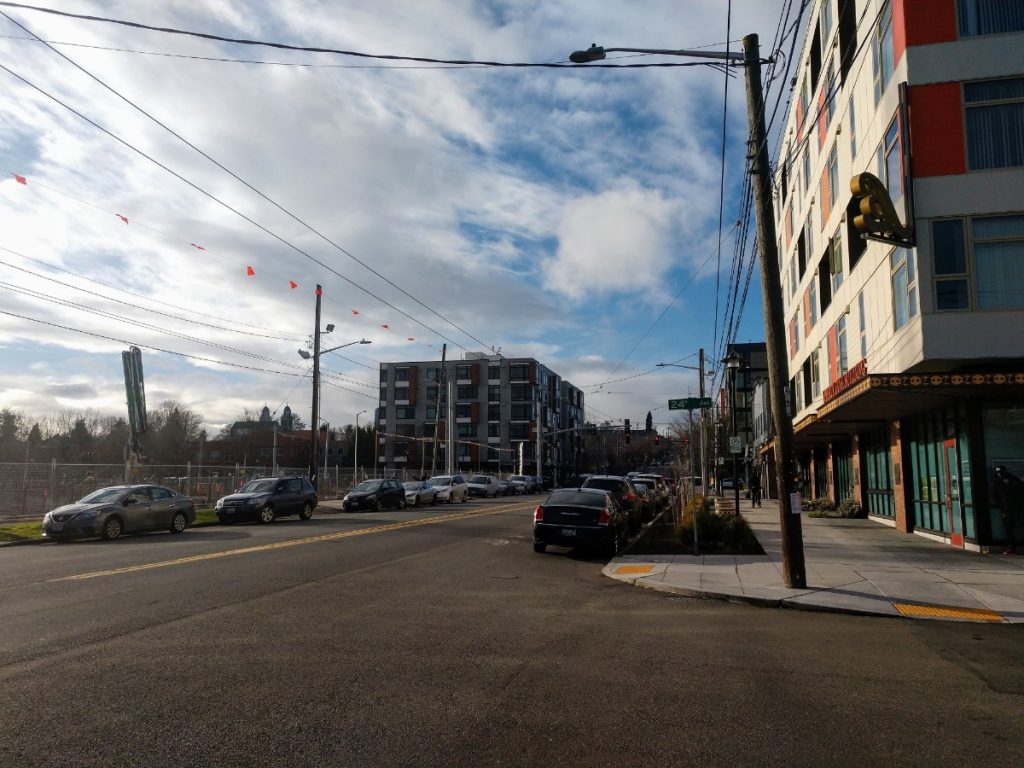 Last spring, when the first designs were announced, a survey was conducted as well. The Urbanist has obtained them through public records request. The survey showed an overwhelming majority supported having a comfortable and predictable bicycle connection through the neighborhood as an important aspect of the project. Of the 877 respondents who completed the survey, more than 600 listed the bicycle connection as important. Fewer than 200 noted that retaining as much parking as possible was important.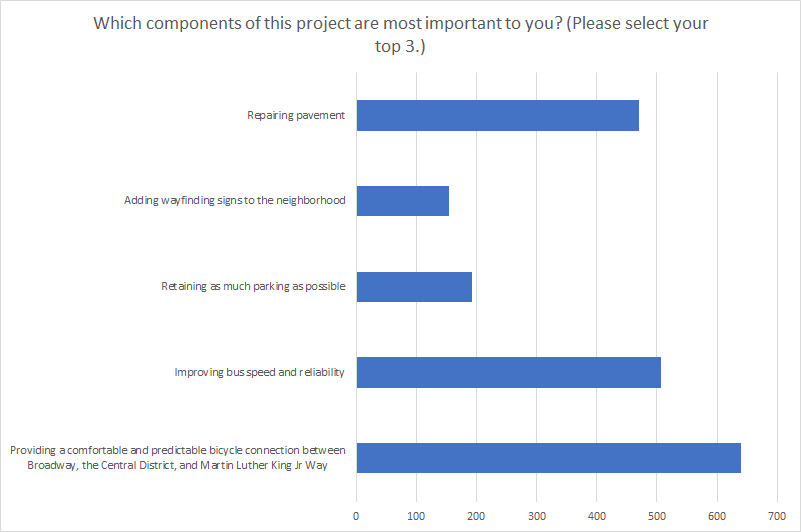 E Union St is a pivotal east-west connection given its relative flat topography and access to amenities. PCC Market has just announced plans to open a store at 23rd and Union, and plans for Africatown Plaza are taking shape nearby. Making the corridor bike friendly and calming traffic on Union in the process is a huge win, but it's important to continue to show the city that the project still has support. Don't forget to take the survey.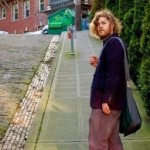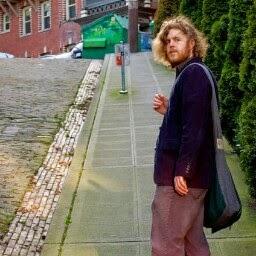 Ryan Packer lives in the Summit Slope neighborhood of Capitol Hill and has been writing for the The Urbanist since 2015. They report on multimodal transportation issues, #VisionZero, preservation, and local politics. They believe in using Seattle's history to help attain the vibrant, diverse city that we all wish to inhabit. Ryan's writing has appeared in Capitol Hill Seattle Blog, Bike Portland, and Seattle Bike Blog, where they also did a four-month stint as temporary editor.