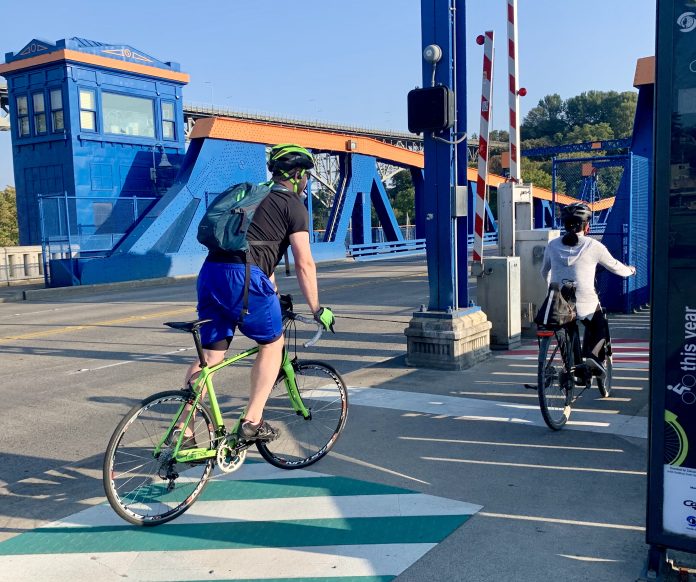 Before Covid, the Fremont Bridge was set to surpass the 1.2 million bike trips logged in 2019, yet cyclists and pedestrians still have to compete for space on one of Seattle's busiest thoroughfares.
The bright blue and orange Fremont Bridge is one of Seattle's most distinctive pieces of infrastructure. Completed in 1917, the Fremont Bridge was was the first double leaf bascule drawbridge to be raised in the region, making it cutting edge for its time. A major overhaul of its approaches, decks, railings, and mechanical and electrical systems completed between 2005 and 2007 preserved the landmark, including the iconic paint job, but did little to change the distribution of transportation modes served by the bridge. Now the pedestrian and bike advocacy group Ballard-Fremont Greenways is advocating for the City of Seattle to make updates to the Fremont Bridge that would increase safety for cyclists and pedestrians, while also giving priority to transit.
Improving access and safety on the Fremont Bridge has risen to the top of the group's priorities because of the high amount of bike traffic the bridge accommodates. Since the City of Seattle installed a bike counter in 2012, data has shown consistent growth in crossings made by cyclists with a record-breaking 1.2 million trips logged in 2019.
As more and more Seattleites use active transportation for commuting and recreation, the Fremont Bridge has become a vital link over the Ship Canal and Lake Union for commuters and recreational cyclists from the Fremont, Ballard, Wallingford, Phinney Ridge, Greenwood, Crown Hill, and Queen Anne neighborhoods. It also serves as a point of connection between the Burke-Gilman Trail and Westlake Protected Bike Lane (PBL), two of the most heavily used cycling routes in Seattle.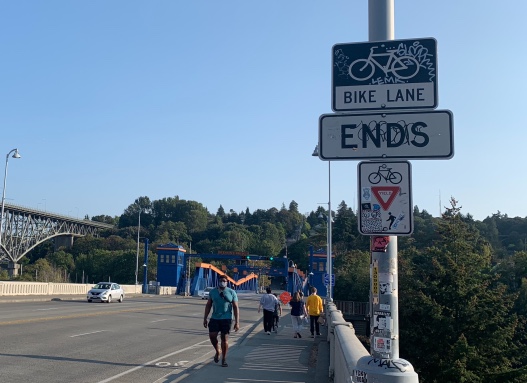 But the Fremont Bridge's design, which includes sidewalks as narrow as six feet at key points, makes it difficult to accommodate cyclists and pedestrians, who are forced to share the same two-way pathways while crossing the bridge. While narrow, the Ballard Bridge, the next alternative to the west, is narrower still and notoriously dangerous.
How can the Fremont Bridge be made safer for pedestrians and cyclists?
"We can fix it!" wrote Ballard-Fremont Greenways in a letter referencing the current situation on the Fremont Bridge the group recently submitted to the Seattle Department of Transportation (SDOT) and City officials.
The letter, which has been endorsed by The Urbanist, proposes installing a two-way protected bike lane on the easternmost end of the bridge combined with a southbound transit–and bike-only lane. Back in May, Seattle Neighborhood Greenways included similar Fremont Bridge alternations in its citywide plan for 130 new miles of open streets to promote physically distancing and improve mobility and exercise opportunities during the pandemic.

The two-way protected bike lane would create a continuation of the Westlake Trail into Fremont and connect to the Ship Canal Trail, while the southbound transit- and bike-only lane would provide an alternative route for cyclists continuing on to Dexter, Nickerson, or Florentia. The group is also advocating for painted bike crossings at the messy Westlake/Dexter/Nickerson/4th Ave N intersection and addition of bike lanes on Nickerson and Dexter.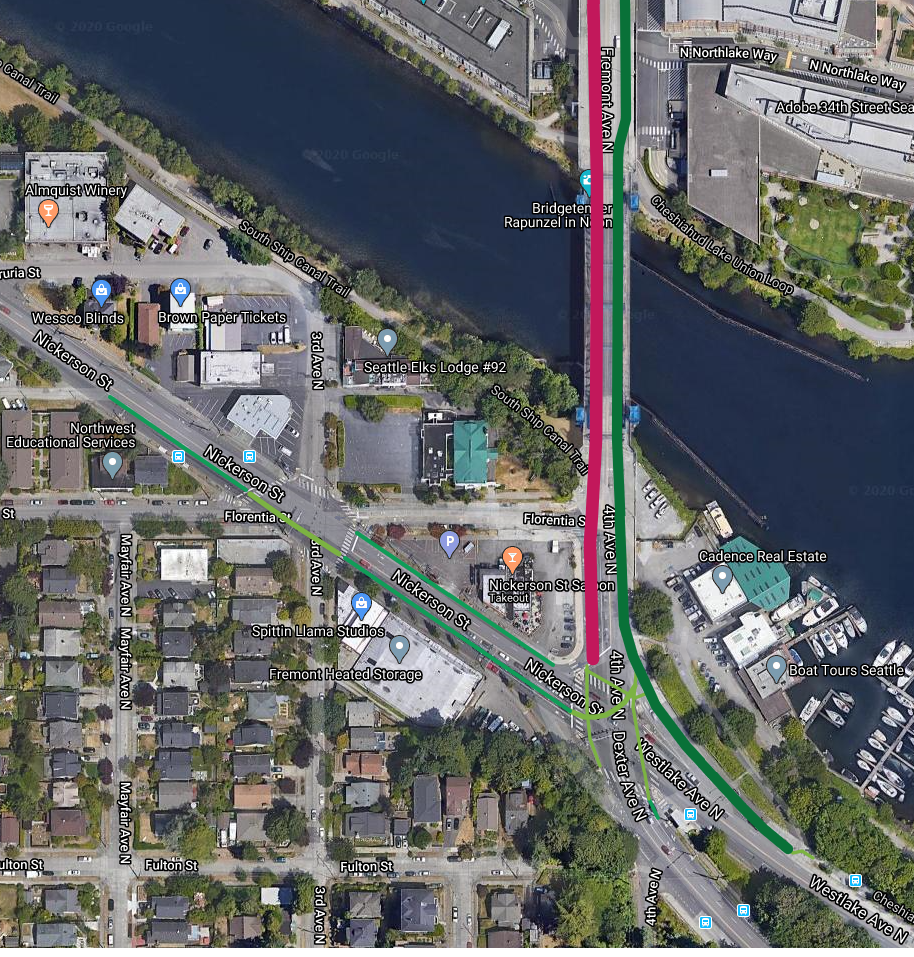 While different designs were considered, including adding both southbound and northbound transit- and bike-only lanes, Ballard-Fremont Greenways settled on its preferred alternative because of how well it would allow for the new infrastructure to connect to existing bike lanes and trails, facilitating safety and comfort for users of all ages and abilities. The preferred alternative also was found to have fewer impacts on freight and motor vehicles crossing the bridge than some of the other design options considered.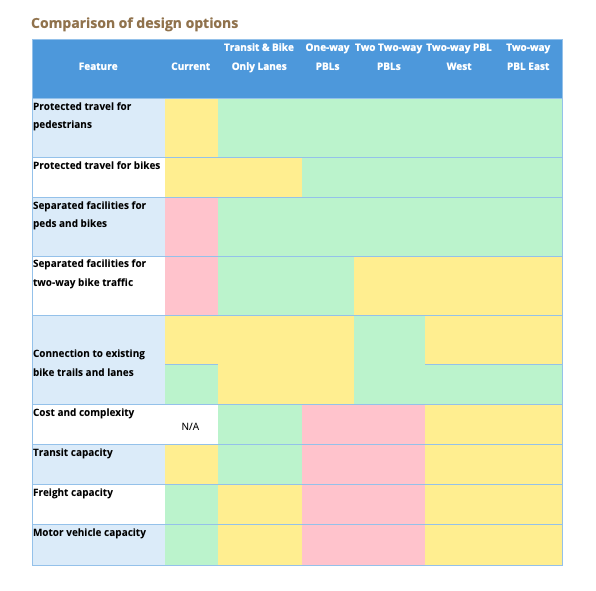 So far the advocates have not received a response to their plan from SDOT or District 6 Seattle City Councilmember Dan Strauss. To heighten awareness of their proposed plan, volunteers passed out flyers to pedestrians and cyclists crossing the Fremont Bridge over Labor Day weekend.
Ballard-Fremont Greenways is asking for supporters to advocate for making crossing the Fremont Bridge safer and more comfortable for pedestrians and cyclists by contacting City officials and spreading the word to friends and family.
Correction (9/10/2020): This article has been updated to reflect the correct number of bike trips (1.2 million) on the Fremont Bridge in 2019 rather than the misstated 1.9 million figure.
Update (9/17/2020): SDOT Spokesperson Ethan Bergerson offered the following response to KING5: "Safety is our highest priority at SDOT. We are taking the concerns raised in this letter seriously, and are currently evaluating the request for a new protected bike lane on the bridge. Our review will assess how the bridge functions for all types of travel including bikes, cars, pedestrians and the numerous bus routes that travel over this bridge. We are also looking into what kind of surface treatment may be needed to support bicycling across the bridge deck. We intend to provide a formal response next couple of weeks."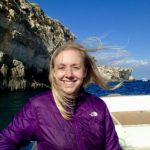 Natalie Bicknell Argerious (she/her) is a reporter and podcast host at The Urbanist. She previously served as managing editor. A passionate urban explorer since childhood, she loves learning how to make cities more inclusive, vibrant, and environmentally resilient. You can often find her wandering around Seattle's Central District and Capitol Hill with her dogs and cat. Email her at natalie [at] theurbanist [dot] org.